Highster Mobile is one of the most popular spy apps that work on both iPhone and Android cell phones. It is simple and easy to use and has a wealth of cell phone monitoring features.
The Highster Mobile cell phone monitoring software is designed for parents to monitor their children, or for employers to monitor their employees' corporate mobile phones. We tried monitoring both a 2019 iPhone 11 and a 2019 Samsung Galaxy Note 10.
Decide if this is the right spy app for you after reading our review.
Is Highster Mobile worth buying?
✓ No Jailbreak needed for iPhone
✓ Excellent IM Monitoring for Android devices
✓ Many features for internet safety
✓ Control Panel is intuitive and easy to use
✓ Easy to download and install
Summary: The program will let you remotely monitor which websites your target is visiting and track their GPS location. You will also get to see call logs, as well as virtually everything else about the mobile device, including messages on social media platforms or chat apps, emails, photos, texts, and more. All you need to view logs from your control center is a stable internet connection and any web browser.
Highster Mobile's key features
Highster spy has a massive list of excellent features. Keep in mind that most only work on the Pro plan , and some are only available for an Android phone. To activate the no-jailbreak version functions on an iPhone, you will need the target's Apple ID and password.
Monitor SMS Text Messages: Monitor and store all text messages, even after they are deleted from the target phone.
GPS Tracking of Location: The GPS location of the target device is uploaded continuously on a Google Map. Know exactly where your close ones or employees are at any time of the day.
Easy Live Control Panel: Highster Mobile features a sleek dashboard, where you can access all logs, set up time triggers, display options, and more.
Monitor Chat Apps: Most cell phone monitoring apps can only monitor SMS. Using Highster mobile, you can also log WhatsApp, Viber, WeChat, and hack Kik messages.
Log Photos and Videos: Log and store all movies and photos so that you can access them from your account.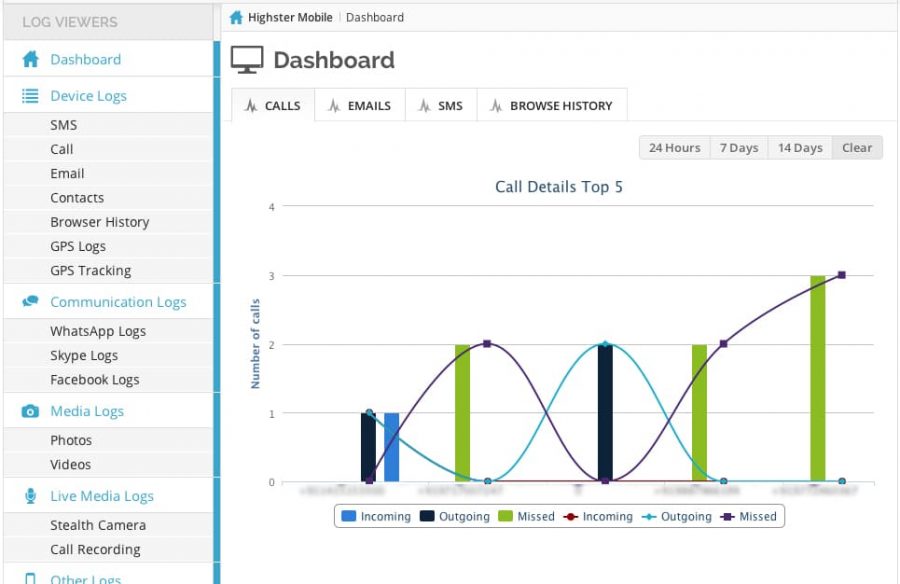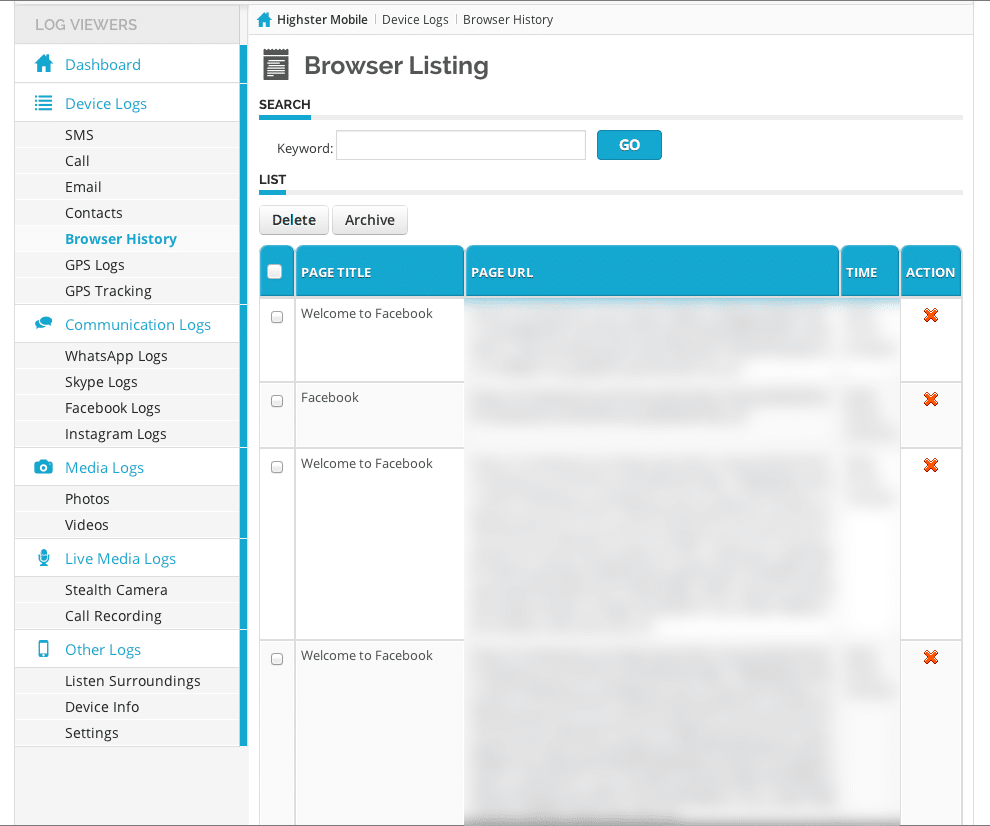 Log Calls: Log all incoming and outgoing calls. You will see the duration, time, and telephone number for each call.
Track Browser History: Track and store the cell phone's browser history. Know which sites your children, loved ones, or employees are visiting.
Monitor Social Media: Using Highster Mobile will let you into the secrets of Snapchat texts, Facebook, Twitter, Instagram, Skype, and more. You can access all text messages and photos sent from or to the device.
Stealth Camera: Highster Mobile Features a Stealth Camera, which will let you spy on the device's surroundings remotely through the cell phone camera.
Keylogger: Keep track of every keystroke to read messages from any app, passwords, URLs, and more.
Other Features: Access emails, contacts, calendar, apps, and all information on mobile phones. It will allow you to send commands remotely so you can collect the data immediately.
Highster Mobile on Android devices
Highster mobile is an excellent app when it comes to monitoring an Android phone.
With the Pro plan at $69.99 (one-time payment), you will be able to monitor calls and even restrict incoming calls.
→ It will allow you to read all text messages, including those sent via chat apps such as Telegram, Facebook Messenger, LINE, Skype, Viber, WhatsApp, Kik, hangouts, and iMessages.
→ You will also get full access to all social media accounts, such as Instagram, Facebook, Twitter, and Snapchat, to read all Tinder messages, access multimedia files, photos, videos.
→ You will get access to the device's real-time location on a Google Map (geo-fencing), and you can receive GPS location alerts if the device enters a restricted zone.
Other features include: tracking incoming and outgoing emails, access to calendar, notes and activities, contact list. It is highly effective when it comes to internet security, allowing you to view browsing the history, block websites, but also view and block installed apps. You can also set up keyword alerts.
We tested all these features on our 2018 Samsung Galaxy Note 9 and were quite pleased with the results. After installing Highster Mobile, it hid immediately, and within minutes, we could see the data appearing on the website control panel.
Does Highster Mobile require rooting?
"Rooting" Android devices means granting the user extended administrator permissions. A root user is allowed to do almost anything to any file in the system. Android runs on Linux kernel, and rooting is restoring a standard Linux function that was removed for OS versions after Android 4.0.
Many of the Highster Mobile features work perfectly fine without rooting the target device. But if monitoring emails and incoming messages from Facebook, Instagram, Snapchat, WhatsApp, and Skype is important to you, rooting is a must. Also, physical access to the device for a couple of minutes is inevitable.
Highster Mobile on iPhone
Highster Mobile is an iPhone spy app with no jailbreak needed. It may be accurate, but its features for the iPhone slightly limited when compared to the Android version. Highster Mobile as an iPhone tracker can still log calls, read SMS and WhatsApp, and log browsing history, and much more.
However, it has fewer options for social media monitoring and chats app monitoring.
Other than that, the options are similar to the ones for Android. When we tested these features on our 2018 iPhone XS, we found that they all worked perfectly. Within minutes, we could see updates appearing in seconds.
Does Highster Mobile require jailbreaking?
Jailbreaking the iPhone is a much more complicated and riskier process than rooting. It's a bypass of Apple user prohibitions to install software outside the App Store and modify the system as an admin. Note that jailbreaking invalidates the device's warranty.
Luckily, Highster Mobile cell phone spy software doesn't require jailbreak and can be installed on any iPhone remotely , using the target's Apple ID and password.
Is Highster Mobile compatible with my device?
Supports all Android devices up until Android 10.
Supports all iOS devices (iPad/iPhone).
How does Highster Mobile work?
The first steps to start using Highster Mobile is purchasing the subscription and following further clear instructions from the welcome email. In it, you will also find the download link, your account credentials, and the license key.
Next, you need to download the app to the target device. Here are the steps:
Step 1: Click the over-the-air (OTA) download link using the target device to download the software.
Step 2: Click Install the app and enter the target telephone number.
Step 3: Activate the app by entering the license key you received after the payment.
Step 4: Access the Highster Mobile user dashboard from the login page using any of your devices to view logs.
Alternative way:
An alternative way to install the app is using Bluetooth, QR Code scanning, and transferring the apk file from your computer to the target device via USB cable.
The providers promise that the installation process takes not more than 5 minutes, but in reality, our tests show around 10 minutes, and users' testimonials confirm that.
Once installed on the target device, Highster Mobile gathers user's information like files, call logs, text messages and internet history, etc. and sends this data to your online account.
If your target changes the phone number, it won't affect the mobile app's performance in any way, and you don't have to reinstall it.
How to install Highster Mobile remotely?
Remote installation of Highster is so easy that the end-user needs little to no technical knowledge to perform it successfully.
If your target device is an iPhone, you only have to enter the target's Apple ID and password after clicking the link from the email you get after buying the subscription.
Highster Mobile pricing and plans
Highster Mobile has two plans: Basic and Pro.
| Basic | Pro |
| --- | --- |
| $29.99 | $69.99 |
| One-Time Payment | One-Time Payment |
There is no yearly subscription package. When it comes to Android cell phone monitoring, the difference between the Basic and Pro versions is considerable.
Why?
The Basic version provides a broad set of functions that let you monitor GPS location, phone calls, SMS, and emails. It does analysis and sends you comprehensive reports to feel confident about someone's activities you want to monitor.
The Pro version has a full comprehensive range of options to keep track of the Android phone activity. Despite essential functions, you can: block unwanted applications and websites, have total control over all text messaging apps, restrict incoming calls, and use a keylogger.  We recommend the Pro version for parental control and employee phone monitoring.
Does Highster Mobile provide customer support?
Highster Mobile promises the highest level of customer care 24/7. If you purchased the app, the support is free and ready to walk customers through the installation process or tend to the questions & issues.
If you haven't bought the cell phone spy software yet and require help, you can submit a support ticket on the site or write to their email address, but it may take them up to 24h to answer. There's also telephone support available, although the call isn't free.
In the "Support" section of the official website, you will also find a convenient Highster Mobile troubleshooting reference. Make sure to start there as it explores the most common issues and can save you some time.
Is Highster Mobile legit?
Using the Highster Mobile is lawful if the target device is your property from a legal perspective.
This means that parents are entitled to monitor their kids' target devices, and the business owners have the right to track mobile phones they distribute to employees.
Although, every person you want to monitor has to be informed about the surveillance and give their consent first if they'd reached the full legal age.
Note that it's the user's responsibility to comply with the local jurisdiction laws , so please double-check the state laws before buying any cell phone tracking app for possibly illegal purposes.
Is Highster Mobile detectable?
Yes, the app icon is visible on the target device's Application Menu & Manager and cannot be hidden. It only disappears after the application is removed from the target phone.
Final thoughts
Highster Mobile is a top-shelf cell phone spy software.
Their customer service can be slow to respond at times, and Highster doesn't offer any free trial. Still, a comprehensive knowledge base, detailed welcome instructions, and a 30-day money-back guarantee fully compensate for these minor cons.
It stands out from other cell phone spy software by exceptionally affordable pricing, and functionality always up-to-date with the latest OS versions. It is easy to download and has a minimalistic control panel you can access remotely to keep track of your target's phone activity and their GPS location.