Is completely free reverse phone lookup even a thing?
Whether you're sick of phone calls from strangers or want to protect your kids from suspicious unknown callers, we've gathered a bunch of both completely free and effective paid solutions to help you out. Find out who's calling and whose number is this in your missed calls list in a matter of seconds, using these actionable methods:
✔ Reverse phone lookup via Google search.
Oldie but goodie. Tracing a phone call back to the person can be as easy as skimming through Google search results.
✔ Reverse cell phone search using social networks.
No-frills way to decipher a mobile phone number by checking out LinkedIn, Facebook, or Pipl.
✔ Reverse phone lookup service by apps.
Reverse phone search results by providers like Truecaller, TruthFinder, Whoscall, and Reverse Lookup will do the job without costing you anything.
✔ Reverse phone search on tried and tested websites.
Being a reverse phone detective is a child's play when you rely on a popular reverse phone lookup service like White Pages, Kiwi Searches, or Spokeo.
Is there a free reverse phone lookup service?
If we're talking about specialized websites or software equipped with a comprehensive mobile phone number directory that will uncover even concealed caller's personal information – then the answer is no. To use such a sophisticated reverse phone detective, you'll have to dip into your pocket, although it won't cost you much.
On the other hand, it's possible to find a person's phone number, full name, and other related data for free if they shared it somewhere on the Internet. Then Google can crawl such info from all over the web and share it with you.
There's another way to perform a mobile phone number lookup – free features of some apps and services like White Pages, Kiwi, or Whoscall. In turn, they have certain limitations that can give you a pause.
Read on to find out more; we'll cover all your options in this article.
How can I find out who a phone number belongs to for free?
Using Google for free reverse phone lookup
There was a time you could use Google's phonebook search directories to get a phone number lookup.
In 2010, this option was officially closed by Google. People from all over the world were finding their phone numbers in this phone database and asked Google to remove it. Then the company decided to delete the service as there were too many requests.
Although the official Google lookup free service was discontinued, you're still very likely to find the desired info behind a mobile phone number if the owner mentioned it on any website at least once.
How do you find the owner of a phone number using Google?
Type out the phone number (see what comes up in the search result, include the area code as well).
Look through each of the top-ranked URLs to know if you can find any information about who has this phone number.
If the said number isn't attached to a ranked business, you might have to dig a little deeper.
Pull up the results that are linked to a social networking platform.
If the owner used the number in their public profile, Google would display those results.
If no phone index comes up in the search engine results, try using any other information you might have. For instance, use their email address if you have it or their occupation if you know what they do for a living.
Pick a few websites your target might be using.
Then add the site parameter to your query with a mobile phone number by typing "site:[website URL]" (e.g., site:twitter.com) in front of it and see what comes up.
Google can only find a mobile phone number that was disclosed by the owner or shared by internet users. If the number you are trying to find to identify the caller is not mentioned anywhere online, you have as good as no chance to succeed.
If you're wondering how to find a phone number for free, bet you never knew that you could use your social networks to do so. A prime example of this is Facebook.
Here users would enter the phone number they're searching for in the platform's search bar. The user profile associated with the number would then pop up in the results and voilà!
Due to privacy concerns, Facebook disabled this capability in April 2018.
A great alternative you can use is LinkedIn Lookup. It allows you to get contact details about users based on the necessary information they provide in their profile. They, however, need to have made this information public.
You could also use third-party websites like Pipl to look up phone numbers and match them to their social media profiles. Both Google and social network lookups won't cost you a cent. However, these methods involve a lot of guesswork and leave things to luck. We recommend you to start your reverse phone lookup attempts with them, in case this shot in the dark hits the mark.
Seriously free phone number lookup apps
Having a phone number lookup app on your phone is undoubtedly one of the most effective ways to screen your callers in real-time. But, like any other completely free reverse lookup, the following software has certain limitations:
There is no particular cell phone directory available to these providers, so the amount of numbers and information on their owners are quite limited. This software looks up and introduces you to the data released by phone companies, which is already publicly available. The presented applications can only search for numbers registered in the U.S.
Here are some top picks for call lookup apps that can do the trick for no charge:
Reverse Lookup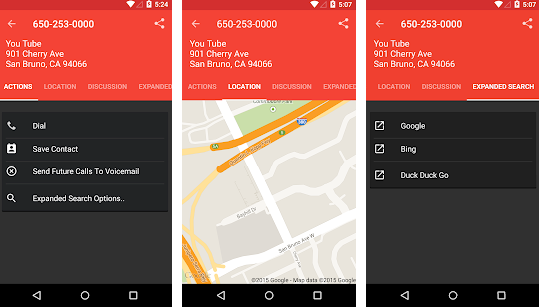 Reverse Lookup is a free intuitive app for devices that run on iOS. It effectively retrieves caller information associated with cellphones and landlines as well as fax and toll-free numbers. It currently supports phone numbers in the US and Canada.
Whoscall App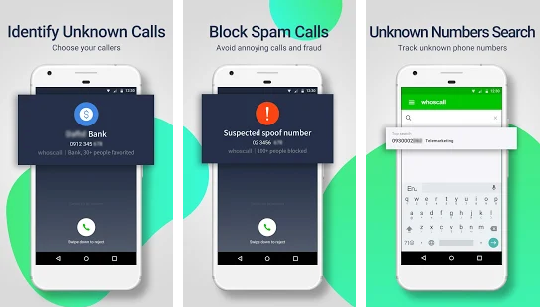 Whoscall allows free reverse cell phone lookup with name or number. It provides fully integrated features that enable you to not only search a mobile phone number but also identify phone scams, manage, and block spam.
TruthFinder App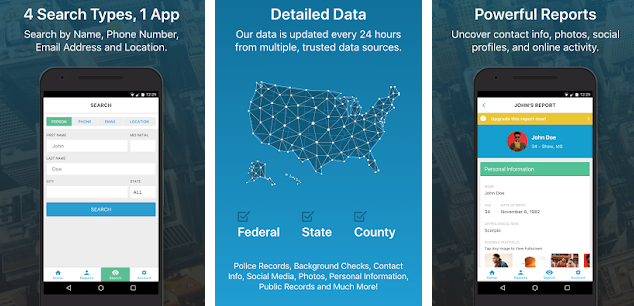 TruthFinder is revolutionary. You can do a free phone number lookup, but you can also get a full background report on the individual. How's that for thorough?
Truecaller App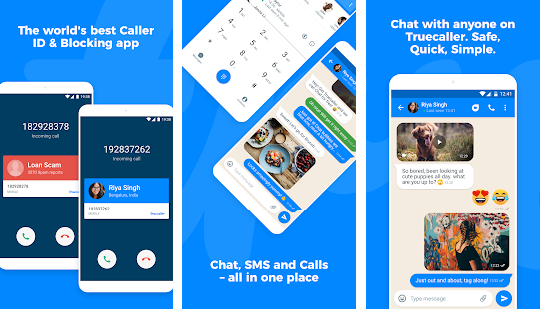 Truecaller's database spans over 250 million people worldwide. It automatically identifies any unknown SMS or calls you may get. In addition to this, the app also instantly blocks all unwanted spam and telemarketing calls.
Whitepages reverse phone lookup
Whitepages is one of the oldest reverse phone lookup services in the industry, boasting a massive database of over 275 million phone users. Leveraging on its 20-plus years' experience, you can use the website to look up information on who's called you, whether they used a cell phone or a landline number, and more.
This free phone number lookup method works as ABC: All you need to do is to enter the phone number you want to look up in the website's query field and hit search.
The results will display the name of the owner, their address information, and their wireless carrier.
Alternatively, if you know the person's full name or address but want to check phone number ownership, you can use it to match the phone number you're looking up.
While the free version of Whitepages allows you to find a caller's necessary information, you can use their premium plan to run a background check on the caller, request for financial information (like the credit card number), and learn about their criminal history if any.
Alternative ways to do a cell phone number lookup
Reverse phone search by name with Kiwi Search
With names alone, you can find their phone number easily with Kiwi Search, which can be used as a completely free reverse phone lookup.
By entering the name of a person, you can instantly get quality and essential personal information like:
Age
Aliases
Contact information (phone, email)
Criminal records
Social media information
Current or previous address
Education & job history
Registered phone location & details
Related photos

Kiwi Searches helps in running the background check on anyone. The people's search feature will enable easy, seriously free reverse phone lookup, just by knowing someone's name.
All you need to do is fill in a name in the search box below to perform a reverse phone lookup.
Reverse Phone Lookup with Spokeo
Spokeo can search for people and check their background using any kind of basic information on them: name, phone number, home address, or email address.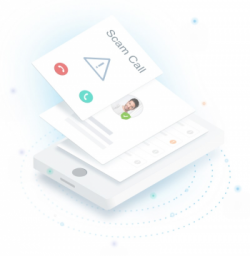 There's also a unique search option for enterprises that look for business partners or wish to take a look at competitor's data. Other benefits include:
Every searcher's privacy is strictly protected
Excellent customer support is available 24/7
Almost every celebrity's background info can be found on Spokeo
Spokeo sponsors reunion of adopted children and their birth families
The provider's sources of information are reliable: these are white page listings, public records, and social media.
What is the best free reverse phone lookup?
The acknowledged top lookup service providers are Kiwi Search and Spokeo. Both are designed with an average user in mind and can be used by anyone. The entire search process is easy: just enter the data and get a report.
When it comes to functionality, Spokeo can find a person using almost any information on the target. Kiwi, on the other hand, can't search info by a given address (neither email nor physical one) yet.
Kiwi Search seems to be more flexible when it comes to pricing. It is the only well-known provider boasting a fee for a one-time search. At the same time, Spokeo offers just the monthly packages and limits the volume of searches to 100 lookups, anything above that must be paid individually.
Let us compare the prices:
| | |
| --- | --- |
| Kiwi Searches | Spokeo |
| | | | |
| --- | --- | --- | --- |
| Single report | $0.95 | 6-month membership | $4.95 per month |
| Single report for criminal or bankruptcy search | $28.86 | 3-month membership | $7.95 per month |
| Monthly subscription | $13.95 | Month-to-month plan | $13.95 per month |
FAQs
What is a phone number lookup?
Phone number lookup refers to searching records using just a phone number to find someone's name and address and identify who a telephone number belongs to. The greatest thing about these services is the possibility of free use.
What Should I Know About Free Reverse Phone Number Lookup?
Mostly, reverse phone lookup is offered free of charge if we're talking about landline numbers, but mobile phone numbers are rarely identified for free;
Issued by private phone companies, the latter is much more difficult to access, unlike landline numbers managed by a whole network of regional companies;
Most people use online phone number directories to identify an unknown caller or to look up an old friend;
Usually, the paid services require a one-time payment. The average price is $15. Annual fees are standard as well and amount to about $40. Obviously, unlimited services cost significantly more than that.
Cell phone number lookup is a matter of privacy concerns for many people, so the lookup service providers believe the modern world is not ready for their technology yet.
Source: howstuffworks.com
What are the main methods of reverse phone number lookup?
As we said before, there is not just one reliable way to lookup phone number free. Try them out risk-free and choose the one that suits you best.
There are more effective ways to track a phone number for free than typing the phone number into the Google search machine.
Here are four main methods of phone number lookup:
Search Engines and Websites
Type in the phone number you want to do a lookup for. It may be Google, Yahoo, Bing, or any other search engine you like. There will be results with the mentioning of this very and similar numbers all over the Internet.
Phone Number Lookup Websites
Just like you use Google and other search engines to look up a phone number, you can use particular services on the Internet. There are a few of them, and each has its own phone numbers base to work with.
Lots of us have all the required and necessary info included on our profiles, especially if you are working with your Facebook or LinkedIn. You can use a searching section of those social networks for free phone number lookup.
Phone Numbers Lookup Apps
This solution is very reliable and the most effective of all we have mentioned here. The results of your lookup can be more relevant and up-to-date than any other. Those apps keep their phone numbers bases regularly updated.
How to use free cell phone number lookup?
The process of phone search is easy and fast. You need to:
Enter the website of the search service;
Print the number;
Run the process and find out all the information.
In several seconds you will find out all the information that you need to get.
How to do phone number lookup using other free online websites?
There are numerous websites you can use to find out whose number is calling you, aside from the ones we mentioned above.
Reputable websites won't charge you for a search that yields no results. If it does, that's a definite red flag.
That being said, another top website you can't go wrong with is Phone Lookup.
Why would someone use a free phone number lookup?
Reverse phone number lookup is a sensible thing to do in situations when you need to find out the unknown caller ID, area code, owner name behind the mobile phone number, or other personal information.
Here are some cases when using reverse phone lookup service is necessary:
You've missed a potentially important phone call and wish to know if you should call back;
Someone is calling on your kids' cell phones when you're not around, and you need to figure out whose number is it;
Unidentified cell phone numbers are disturbing you, and you want to deal with the intruders who waste your precious time quickly;
Reverse phone lookups are useful when people lose contact info from their cell phone directories. Reverse searches are much faster than calling every mobile phone number on the list of calls;
You suspect that the people calling you might be dangerous and have to decide whether to speak to them or report them right away without waiting for the police to do the reverse phone lookup for you;
Is it legal to look up a phone number for free?
The up-to-date cell phone number searches are operating in the legal frame. These services use only publicly available information.
These days they can gather information using different social media networks, databases, and specific address books.