Are you thinking about hacking someone's WhatsApp account?
WhatsApp is a popular free platform used by billions of internet users.
People install it to take advantage of a large number of its simple, useful features and exchange text messages with attached videos and audio files, using Android or iOS phones, PC or Mac computer, or another smart mobile device. They can easily share a lot of information.
It's no wonder that a lot of people may start thinking about how to hack WhatsApp and get access to a person's essential data and monitor their activity.
Why do YOU need to hack someone's WhatsApp messages?
You want to protect your kids from cyberbullying and prevent them from risky behavior.
Or you need to catch a cheater and, of course, to track signs of the employee's inappropriate conduct to prevent data leaks.
If you are looking for a secure method to hack WhatsApp with spy apps, read on to learn about software that works.
There are a lot of ways to hack WhatsApp. We will provide you with quick tips you can follow when using an app (such as mSpy or Highster Mobile) to hack WhatsApp conversations, view attached video files, and listen to audio files, even if they were deleted.
How to hack WhatsApp account without verification code
If you are looking for a free method of hacking someone's WhatsApp account, then MAC spoofing is the way to go.
Though a bit technical, the process is implemented by following the instructions below.
Take into consideration that you cannot use this method to hack WhatsApp without the victim's phone.
Uninstall your version of WhatsApp from your device.
Access to your target's phone.
Find the MAC (Media Access Control) address of the target device. It is usually in the form of six pairs of numbers, e.g., 01:53:35:47:78:cb. The MAC address can be found from Settings>About Phone>Status>WiFi MAC Address in Android devices, and for iPhone, you can use Settings>General>About>WiFi Address.
Find and record your own MAC address.
Enter the target MAC address into your phone to fool WhatsApp and access your target's account.
Use MAC Spoofing apps such as Wifispoof or Mac Daddy X for iPhones and Terminal Emulator or BusyBox for Android.
Download and reinstall WhatsApp on your device and configure it using the target phone number.
A confirmation code will go to the target phone for verification, so make sure you have that device with you. Use the confirmation code and then delete it.
Access to your victim's account. Now you can reset your own MAC address.
Exploiting WhatsApp web
Another method of hacking someone's WhatsApp account is to make use of WhatsApp's web service.
Remember, you cannot perform this hack on someone without access to their phone. The steps are as below:
Open WhatsApp on the target phone and click the menu icon at the top-right hand corner.
Click on WhatsApp Web.
From Chrome, open the desktop site. You'll be presented with a QR code.
Scan the code from your target phone, and you'll be signed in automatically.
Note: The versions of Android 7.1.2 and iOS 10 activate a constant notification on the target's phone whenever the WhatsApp web is activated.
Hack chats with mSpy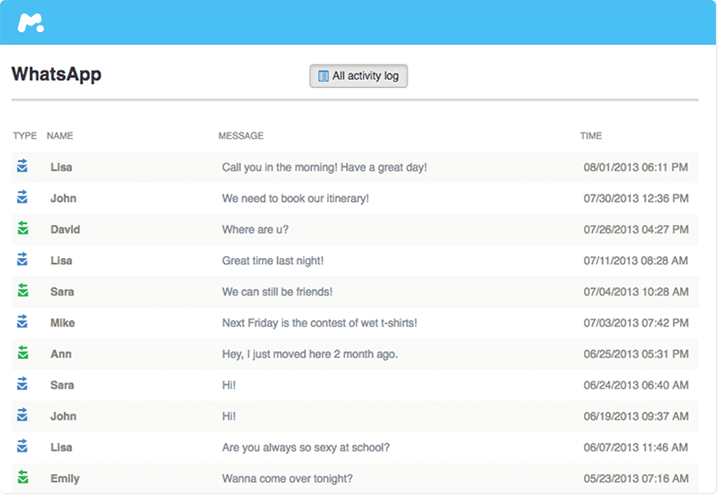 The first method we are going to discuss is monitoring WhatsApp communication with mSpy.
A spy app that can be working on iPhone and Android phones and provide a good result on all target devices when you need access to WhatsApp files.
Follow these simple steps to hack WhatsApp messages and control behavior of your employees, children, and other family members on this popular messaging network.
It doesn't take much time to download mSpy.
You need to visit its official website and don't do anything than just a few clicks. You don't need any code skills to do it.
Start the process by installing the app on a rooted iPhone or Android device. Make sure the app is compatible with the system.
The tool starts monitoring the hacked WhatsApp at once.
It will upload the captured data from the victim's WhatsApp account to your user account on the app's online portal. You can view the WhatsApp data in real-time.
To view the captured data and read WhatsApp conversations, you have to log in to your online dashboard.
Want to view recorded conversations? Click on IMs on the control panel and select WhatsApp from the list.
You can use the search to find some specific keywords.
Don't have time to view all the conversations? You can do it later if you download the WhatsApp conversations you need.
The process of installing the app on the iPhone is a bit different, though:
Activate cloud storage on the target phone.
Next, enter the target's iCloud credentials in mSpy.
The accounts will sync, and you'll have access.
Download mSpy Whatsapp Tracker
Why choose mSpy?
WhatsApp spy software is an all-in-one monitoring tool that you can use to track all WhatsApp chats, see the date and time of each conversation.
Besides, you can access collected data remotely and even spy on WhatsApp activity even on iOS devices without jailbreak.
There are other features you can benefit from:
You will be able to read messages on many social media platforms easily. For example, you can hack Facebook account and monitor any call performed via other messenger applications.
You can locate a cell phone, thanks to the GPS tracking feature.
You will be able to monitor the internet activities and view the address of any webpage visited by the user of the target device.
The app allows to monitor screen activity and listen to surrounding sound in real-time.
Use recovery software iMyFone

Need to extract WhatsApp conversation messages from a target iPhone? Follow these steps to succeed:
Download iMyFone from App Store and install it.
Find the Repair button, click on it and choose WhatsApp to check it.
Start scan and wait for some time before it is completed.
Choose specific WhatsApp files you want to recover.
Click on the button Recover to Computer to get the opportunity to view the backup WhatsApp file.
Need to extract files from Android smartphones? The process is practically the same as it is with iOS devices. You can repeat the same steps.
Need to extract files from Android smartphones? The process is practically the same as it is with iOS devices. You can repeat the same steps.
Hack WhatsApp messages without a target phone
The same recover software works with iCloud and iTunes backups, and the process is similar to what we have described.
Open iMyFone recovery software and click on Repair.
Select the Recover button to restore data from the latest iTunes backup.
Click Start scan, choosing the files you need.
Recover the chosen WhatsApp files to your computer to restore all text messages, videos, and other data.
When it comes to iCloud extraction, you need to log in to the iCloud account and follow the steps described above.
Send an image to hack WhatsApp
This method is for those people who want to hack WhatsApp without the target phone.
Wondering how it works?
You need to insert malicious code into an image and send a photo to your victim.
When he/she opens that image, the system starts working and infects the device, giving you full access to all WhatsApp files.
This method is not secure. It requires strong coding skills and is not for beginners.
Hacking WhatsApp account with an image is an effective way to access your victim's messages and other important files. WhatsApp account can be hacked within seconds.
Hacking WhatsApp chat history: Final words
WhatsApp is an encrypted messaging platform that allows any user to send text, audio, and rich media messages, make voice and video calls from a smartphone and other mobile devices for free. That's why it is popular among internet users.
Parents, employees, and individuals can be interested in having WhatsApp spy software with the latest sophisticated features that will be able to work with any version of WhatsApp.
Now you know how to hack WhatsApp account. We have provided you with information about different methods of hacking a WhatsApp account.
Monitor someone's online activity, and read his/her text messages, get access to shared files, see attached images, watch videos.
Need more advice? Check this article. They will provide you with tips on how to secure your WhatsApp chat history and protect your device from a hacker.