How to Hack WhatsApp Account Without Touching Someone's Phone
WhatsApp Hacking Tool
Enter the target's phone number below and see all their WhatsApp messages and contacts
WhatsApp is one of the most popular messaging platforms, boasting billions of users. It provides a convenient instant messenger for sending and receiving WhatsApp messages, audio files, videos, and make calls. Users share a lot of sensitive information on the platform , and you may find it necessary to access someone's WhatsApp account.
Perhaps you want to protect your kids from online bullies, monitor an employee to prevent company data leaks, or catch a cheater. So, how do you go about hacking a WhatsApp account? In this article, we explain the most widespread methods to hack WhatsApp account conversations.
How to Hack WhatsApp Without Access to Phone
One of the easiest and safest ways to hack WhatsApp is to use cell phone spying software. mSpy is an excellent choice for accessing files on the target device, be it iPhone or Android phones. mSpy will take up just 15 minutes of your time to set up. You don't even need any coding skills or access to the target iPhone to hack someone's WhatsApp account, read WhatsApp messages without their phone, as well as other social media accounts.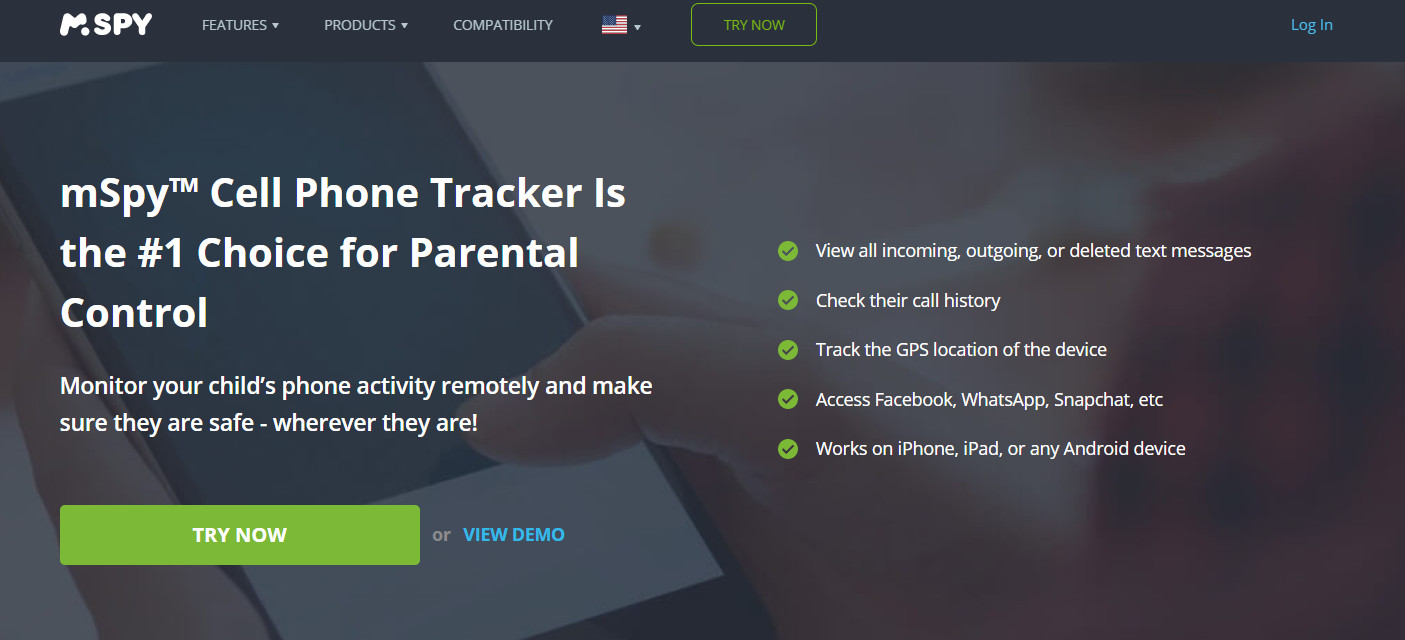 mSpy allows you to view anyone's WhatsApp without their phone in real-time. It uploads data from the hacked WhatsApp account to your web-based control panel. You can then access the WhatsApp contact list, see media files, VoIP call logs, and read the conversations with timestamps via the online dashboard.
Not only that, but with mSpy, you can also hack their Instagram account or even gain access to their private Gmail.
Before installing the spy app on a target device:
Android
: Go to
Settings > Google > Security > Google Play Protect
on the target device and turn off
Scan device for security threats
.
iOS: On the target device, go to Settings > iCloud > Storage & Backup, activate iCloud backup, and tap Back up now.
Follow these simple steps to hack someone's WhatsApp and keep an eye on the online behavior of your employees, children, and other family members on this popular messaging network: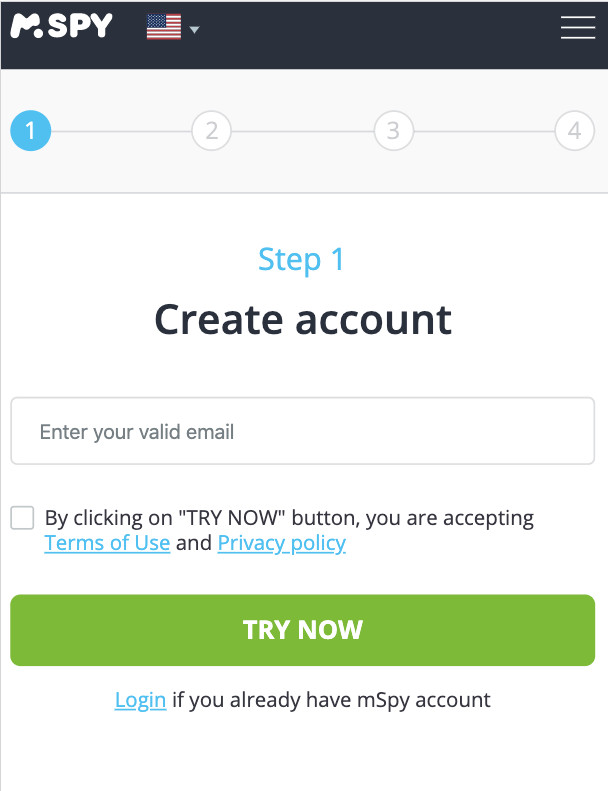 Choose the device type and pick a suitable subscription to proceed with the payment.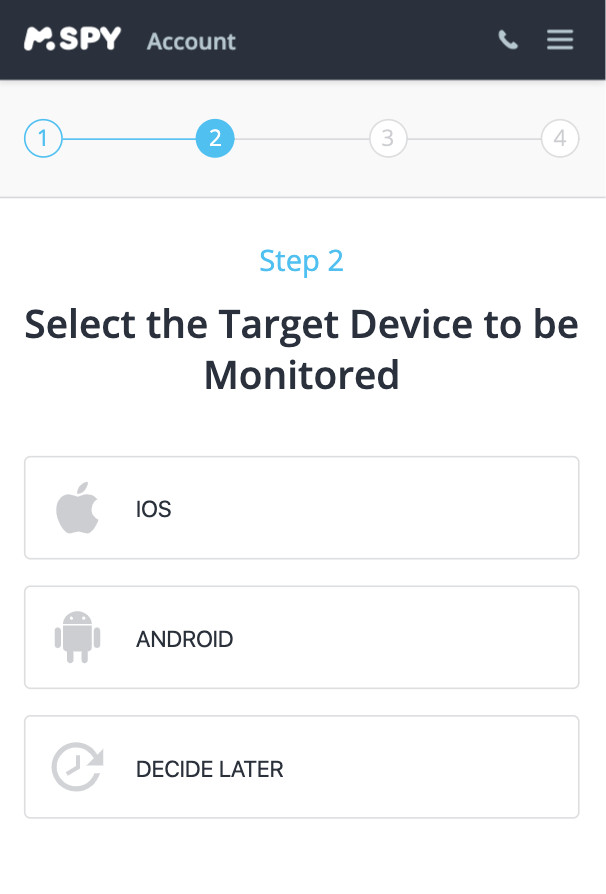 You'll receive a welcome email with your credentials and further installation instructions. After completing that, you will be able to access their WhatsApp account.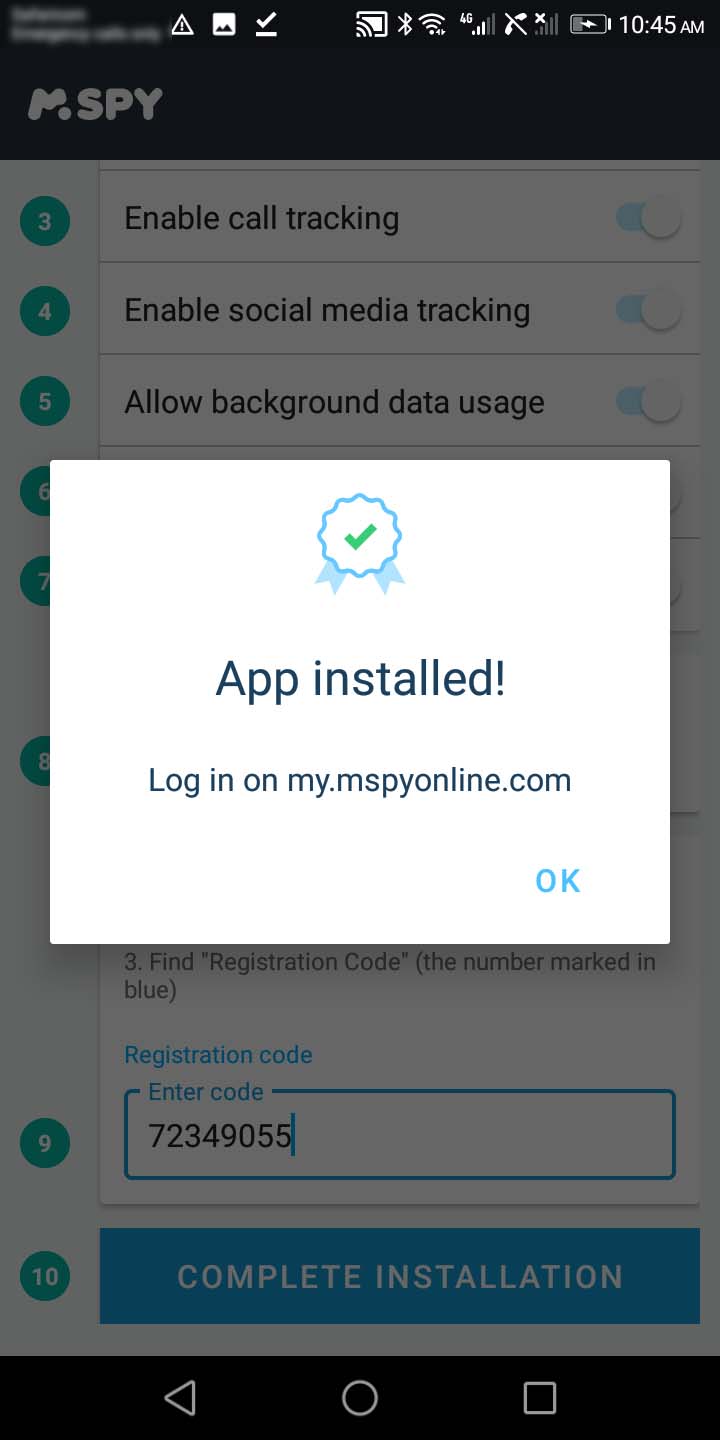 NOTE You'll need physical access to the Android device to download the spy app file or the Apple ID of the target device.

After installation, log in to your control panel and choose Social Networks > WhatsApp on the sidebar. There, you'll be able to hack their WhatsApp account.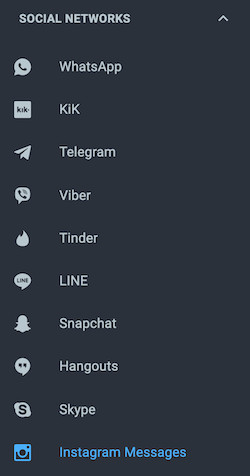 Now you have remote access to the target's WhatsApp chats, multimedia, contacts, and calls 24/7 from any browser.
Hacking WhatsApp for Free: Is It Possible?
There are three kinds of free WhatsApp hacking tools .
The first one makes you complete a survey to confirm you're a human, such as Wapphacker. Then they collect and use personal information to their advantage, returning no results to the user.
The second one simply doesn't work, like Spyme.us, inviting you to click a broken or an outdated link on random blogs to track WhatsApp online without a survey.
The third is shady free apps without trusted official websites that promise you top functionality free of charge, e.g. WhatsApp Sniffer Spy Tool. Those WhatsApp Sniffer Spy tools are obviously scams, seeking to install malware on your devices.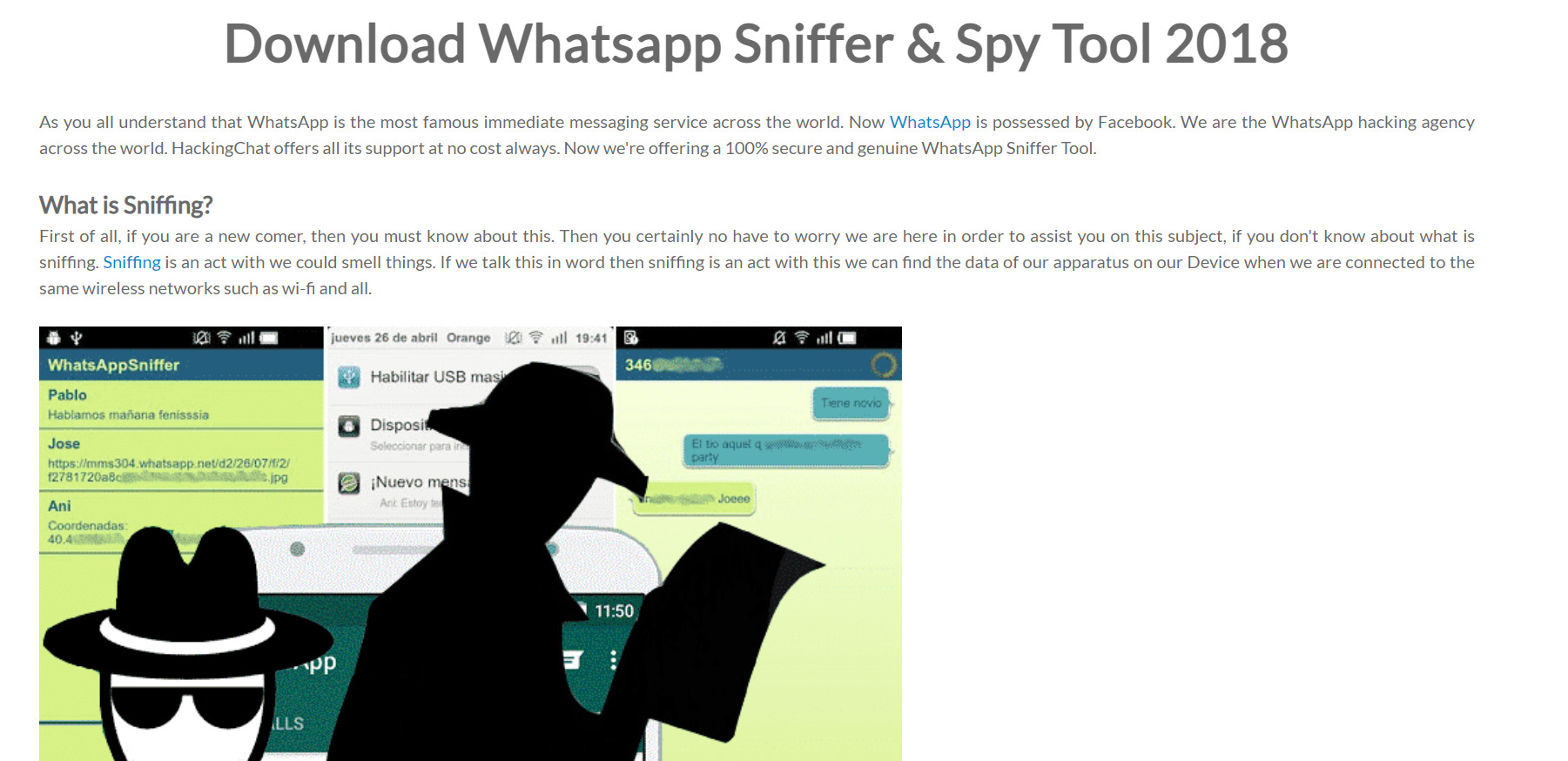 Most WhatsApp online hacking tools are used in the following way:
Go to the WhatsApp hacker website, type something like "WhatsApp Sniffer Spy Tool"
Enter the cell phone number of your victim, including the country code.
Pass the so-called "human verification" that collects your info.
Choose the files you want to check and download the compressed file to your PC.
How to Hack WhatsApp Account by Cell Phone Number
One easy way to hack someone's WhatsApp account is through the target's phone number. For this method, you will need to have the WhatsApp app installed on your cell phone. Besides, you should also be able to get the verification code that is received through a message on the target's cell phone.
Step 1: Open the WhatsApp application installed and enter the target's mobile number to hack their WhatsApp.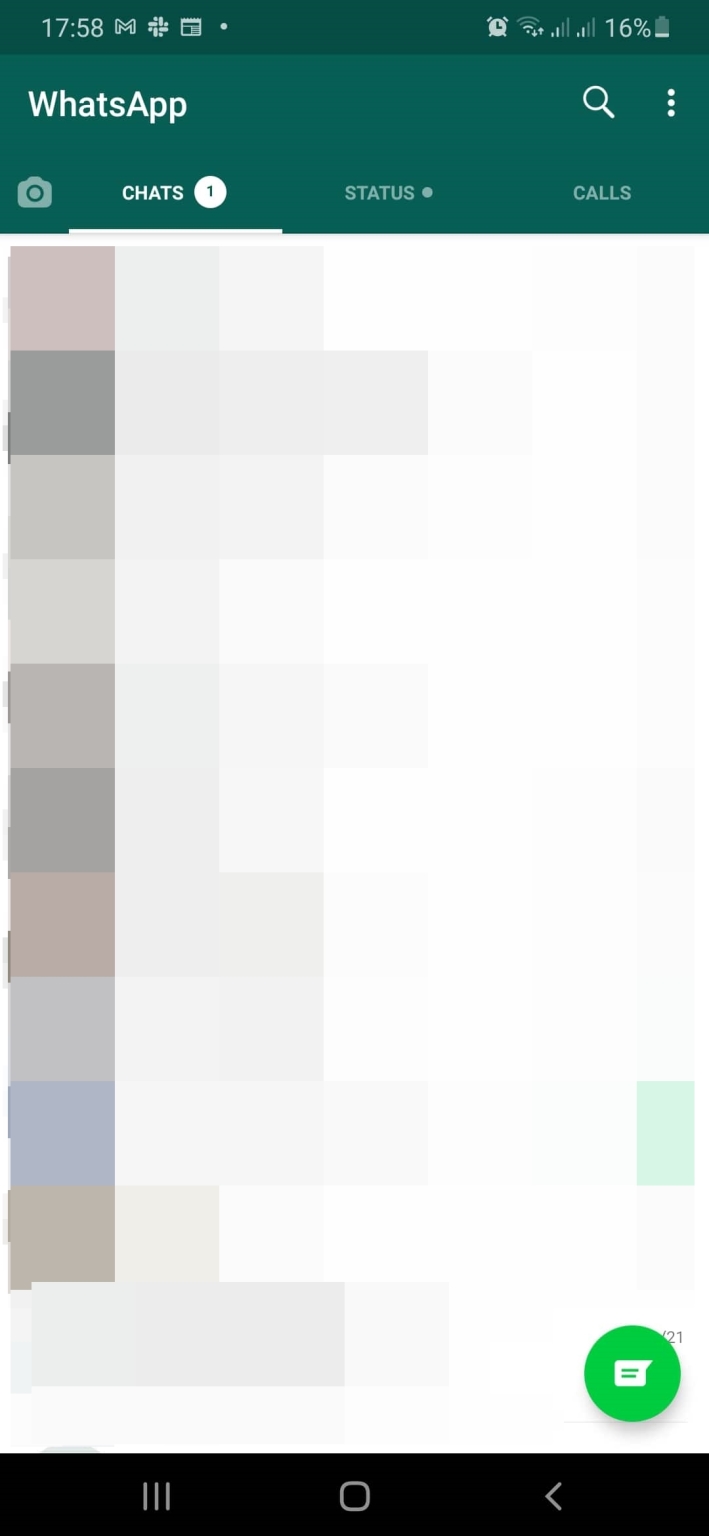 Step 2: You will then be asked for the 'PIN'. The PIN will be available through SMS on the target's mobile phone.
Step 3: After successful login, you will be able to view the content of that WhatsApp account – conversations and other media files.
A major downfall of this method is that the target person will receive a notification about your login . They will be able to log in again and kick you out unless you change the password. This, in turn, is unsuitable for further real-time WhatsApp tracking.
How to Hack WhatsApp Without Logging the Target Out
If you are looking for a free method of hacking someone's WhatsApp account, then MAC spoofing is the way to go. The process will take considerable time and requires technical skills, though.
You cannot use this method to hack WhatsApp without the victim's phone.
If you perform MAC spoofing correctly, it should create a clone of your target's account . You will receive the same messages and updates as your target simultaneously, without logging them out. Follow these steps:
Step 1: Uninstall WhatsApp from your device.
Step 1: Find out the MAC (Media Access Control) address of the target device.
Android: Settings>About Phone>Status>WiFi MAC Address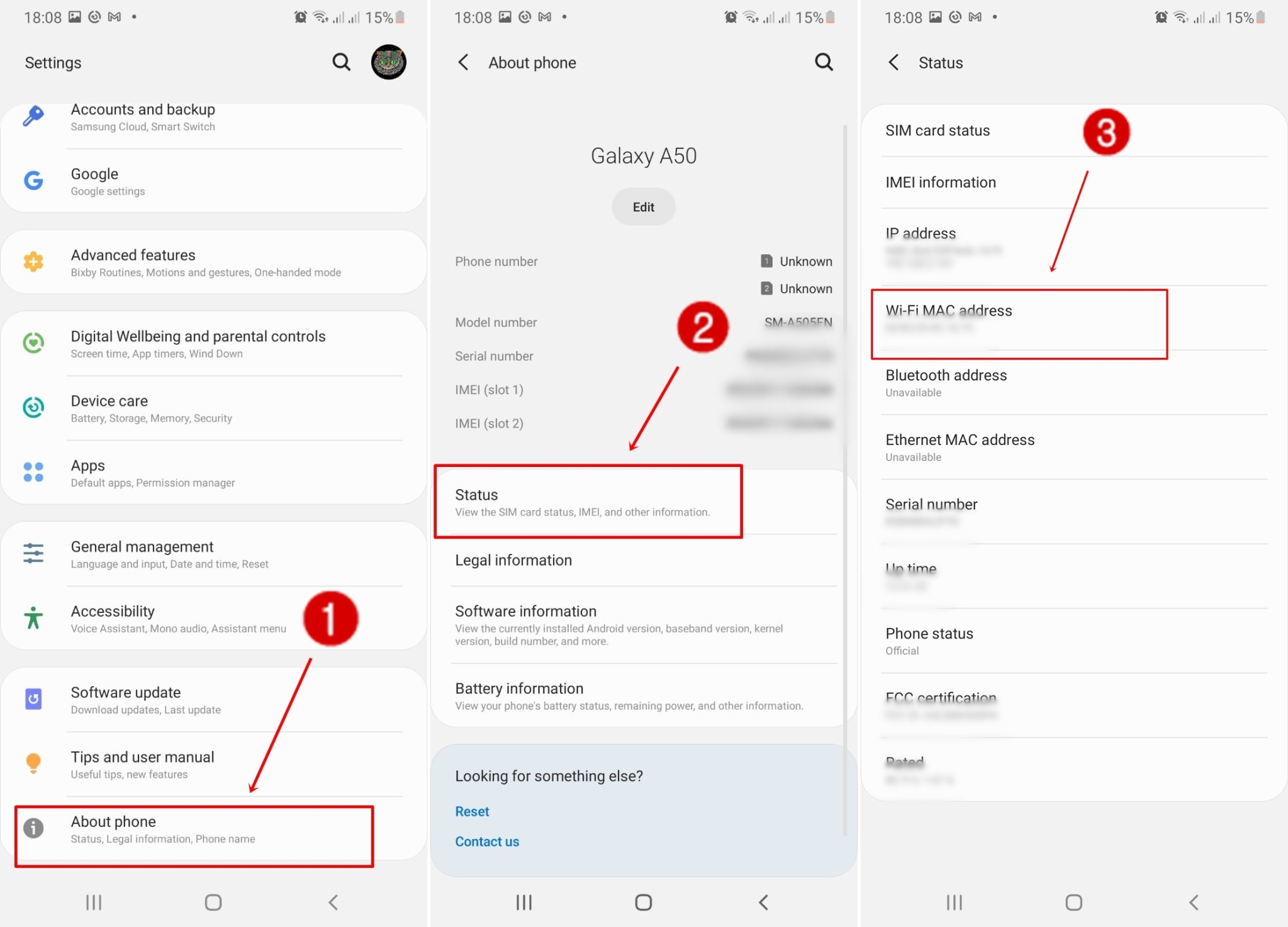 iPhone: Settings>General>About>WiFi Address.
Step 3: Now find and record your MAC address.
Step 4: Enter the target MAC address into your phone to fool WhatsApp and access your target's account.

To change your MAC address, use MAC Spoofing apps such as Wifispoof or Mac Daddy X for iPhones and Terminal Emulator or BusyBox for Android.

Download and reinstall WhatsApp on your device and configure it using the target device number.
A confirmation code will be sent to the desired phone, so make sure you have that device at hand. Use the code and then delete the message containing it.
Access your victim's account. Now you can reset your MAC address.
Unfortunately, many users experienced technical difficulties and claim that MAC spoofing apps don't work as they should or don't have any effect on WhatsApp.
How to Hack Someone's WhatsApp Using Chrome
Another method of hacking someone's WhatsApp account is to make use of the official WhatsApp Web service.
The versions of Android 7.1.2, iOS 10, and above activate a constant notification on the target's phone whenever the WhatsApp web is in use.
Here is how you can hack someone's WhatsApp using Chrome:
Open WhatsApp on the target device and click the menu icon at the top-right hand corner.
Click on WhatsApp Web.
Using your browser, open the WhatsApp Web site. You'll be presented with a QR code.
Scan the code using your target device, and you'll be signed in automatically.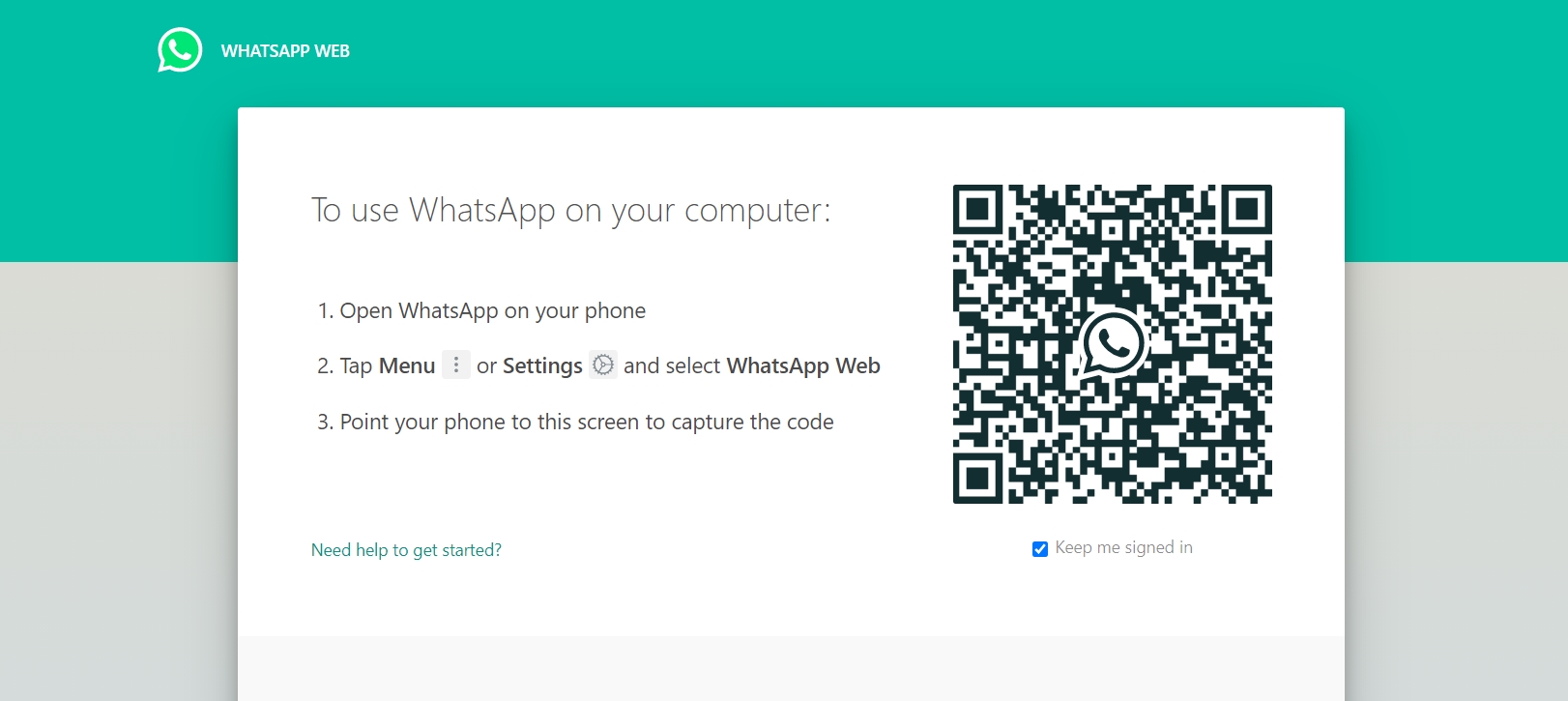 This method is only valid if you can access the target device for QR-scanning. Also, there's no way of hiding this hack from the surveillance subject – the active WhatsApp Web icon will be visible on their phones all the time.
Use Recovery Software iMyFone to Hack WhatsApp
To hack WhatsApp account without their phone from a target iPhone or an Android device, follow these steps:
Download SpyBubble and install it.
Launch the app and choose a recovery mode.
In the next step, you'll need to choose the data source: iTunes/iCloud for iPhone or Google Backup for Android.
Alternatively, just connect the device to the computer and click Start. Even if the cell phone monitoring is damaged or locked, you can extract the files.
In the spy app menu, choose WhatsApp and pick the chats you wish to download.
Click on the button Recover to get the opportunity to view the backup WhatsApp file.
Hack WhatsApp Chat History by Sending an Image
This method is for those who want to hack WhatsApp without target phone. The idea is to insert malicious code/link into an image or a GIF and send it to your victim. This method allows hackers to obtain WhatsApp passwords or access WhatsApp backups to access data.
First, hackers write the hacking code or create a fake WhatsApp login link.
Then, they insert it into a file, mostly it's a photo, or a GIF.
In the chat with the victim, they tap Attach 📎 > Document and choose the infected file.
Once the user opens that image, they either get redirected to the malicious website or download a virus on their phone.
When the hacker gets access to the victim's data, they can go on hacking their WhatsApp contacts by sending files on the target user's behalf.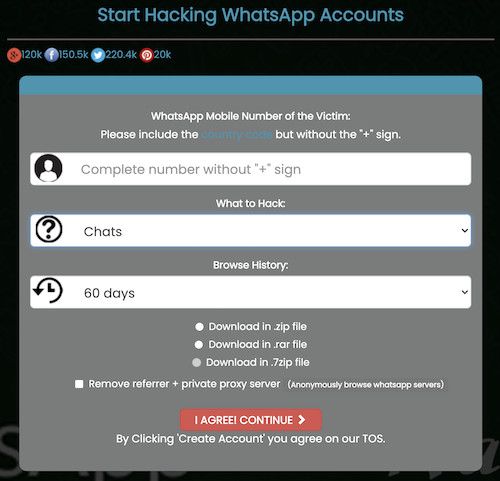 You're going to need strong coding skills to encrypt a malicious link to the file that will infiltrate the device, so this method is not for beginners. Last but not least, this way of WhatsApp hacking is illegal .
How to Hack WhatsApp Using Whazzak
We found this online tool and decided to mention it here as a warning – it's obviously a scam. Whazzak is an online hacking tool for WhatsApp that claims to be able to hack anyone's WhatsApp account in a matter of seconds. When you open the tool's website location, you'll see a long explanation and an option to proceed to the tool.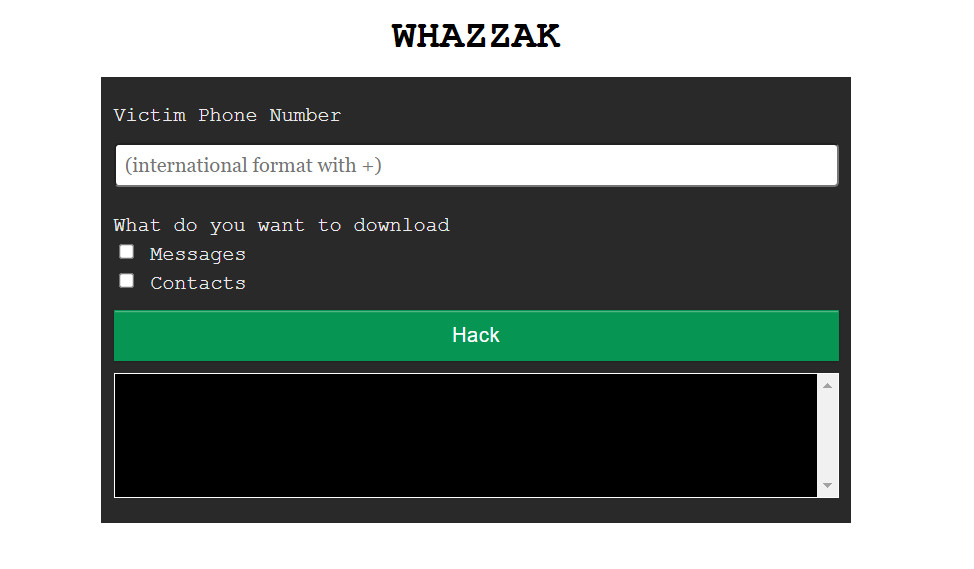 Once you open the tool, you'll see the following options:
Add the victim's phone number
Choose whether you'd like to download their messages, contacts, or both
Our experts have inspected the code and found that there are no network transitions, meaning that there's no traffic nor communication between the servers. Also, once this tool is "done hacking," it will prompt you to download the results. You'll be forced to fill out forms and do other spammy activities. However, even if you do all of those, nothing will happen because there's no download. So, don't even bother.
While these "free WhatsApp hacking tools" promise a lot, and they seem very straightforward, we're sorry to tell you that they're likely scams. No real hacker would ever do this type of stuff for free, especially since we know that hacking is illegal and can get you into a lot of trouble.
So, is Whazzak safe? Unfortunately, no. The whole tool is a scam and does absolutely nothing.
WhatsApp uses strong end-to-end encryption which is nearly impossible to crack. You'd need decades of expertise to hack it. So, stay clear of these "free hacking tools." Instead, opt for spy apps like mSpy.
How to Protect Your Phone from WhatsApp Hacks
To protect your WhatsApp account from being hacked, start with setting up two-factor authentication. Using the WhatsApp QR code feature, you can log in to your WhatsApp account from the web and view the different devices where your account is active. For protection, you can click the option 'Sign out from all locations'. Another way is to reinstall WhatsApp.
Final Words
Of all the methods we explored, verified spying apps and recovery software have returned the best results while hacking WhatsApp without their phone. Although these are both paid options, they are almost 100% risk-free and effective in the long run, unlike other ways presented in the article.