mSpy Review: Real-time Monitoring Software

The app is one of the oldest and has become the market leader in the field of spy software. The software was launched in 2011 and has since received constant upgrades. It has over 1 million users from all over the world.
mSpy has a wealth of spying features, including a keylogger, geolocation, social media, internet filtering, and chats app monitoring and much more. While several competitors have arisen since 2011, mSpy still has an edge when it comes to the number of features for both iPhone and Android and offers a very competitive price. In our mSpy review, we will discuss its features and price, how to install, use, and how it works.
Pros & cons of the mobile tracker
mSpy tracks about anything that you could think of, plus it stays undetectable. A massive list of monitoring options offers a comprehensive solution for monitoring the behavior on someone's phone. On top of that, for an affordable price, you get an aware parental control software where no-jailbreak or root are needed. However, there are fewer options on the no-jailbreak iPhone version. But, it is still one of the few cell tracking application companies which provide 24/7 customer support in 8 languages.
How does mSpy work?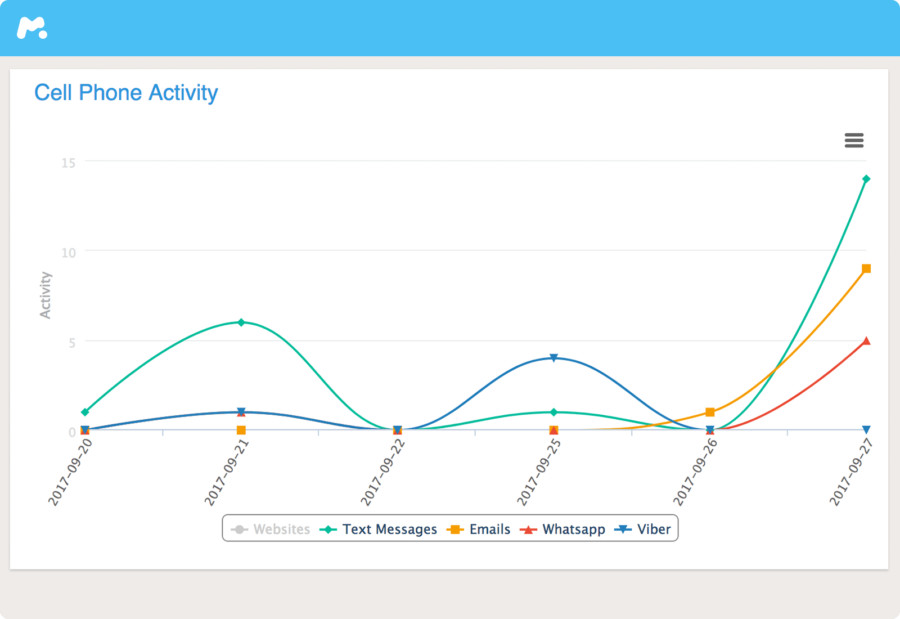 The concept behind mSpy is simple. After the app is installed on your target device, it works by sending information from that device to the mSpy servers. From there, you can access virtually everything on your target device from the mSpy dashboard.
Is mSpy detectable?
mSpy is an undetectable app. Once you have installed it on your target device, it will remove its launch icon and operate in stealth mode. It will continue to send information to the mSpy servers as long as the phone is connected to the internet. The phone's user will never know it is there.
How to use the software
mSpy is very easy to use. Just follow these easy steps:
Go to the mSpy website and choose a plan. You can choose between monthly and yearly plans, for a Basic, Premium or No Jailbreak (iPhone only) version.
Now, get a hold of your target device. It can be hard to do, but it is necessary. One way could be to give someone a phone with mSpy already installed.
Download and install the correct version for your phone using the install link from the mSpy website.
Now that the software is installed, it will become undetectable, and you can see everything about the phone when you log in to the website control panel
Key Features
mSpy has many advanced features, several of which you will find nowhere else. These include:
Location tracking
mSpy will allow you to track an iPhone or any Android on a Google Map. The location reports will be sent in real-time to the mSpy servers.
Geofencing
Besides only tracking location, you can also set up restricted areas using Google Maps. As soon as your target device enters one of those zones, you will receive an alert. The alert will come via email or the online dashboard.
Tracking chat apps and social media
Every year, new chat apps and social media are launched. Spy app developers need to keep updating their software to keep up. While many spy apps can now monitor WhatsApp, few can monitor any others. mSpy can monitor WhatsApp, Facebook Messenger, Snapchat, Viber, Skype, Line, Telegram, iMessage, Twitter, Tinder, serve as an Instagram viewer which makes it much more functional as a spy app.
mSpy keylogger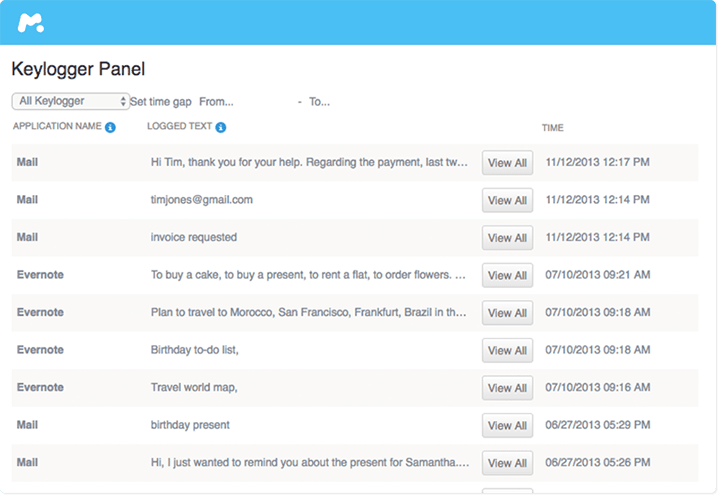 The mSpy keylogger makes the app the ultimate spy tool. This feature will let you read every single keystroke ever typed on the device! That includes emails, text messages, URLs, logins, passwords, and so much more.
Call monitoring and blocking
One way to keep your child safe is to monitor their calls. You will get a list of every call the device makes or receives. You can also block calls from any list of numbers. It will keep your child safe from undesirable friends, trolls, or stalkers.
App monitoring and blocking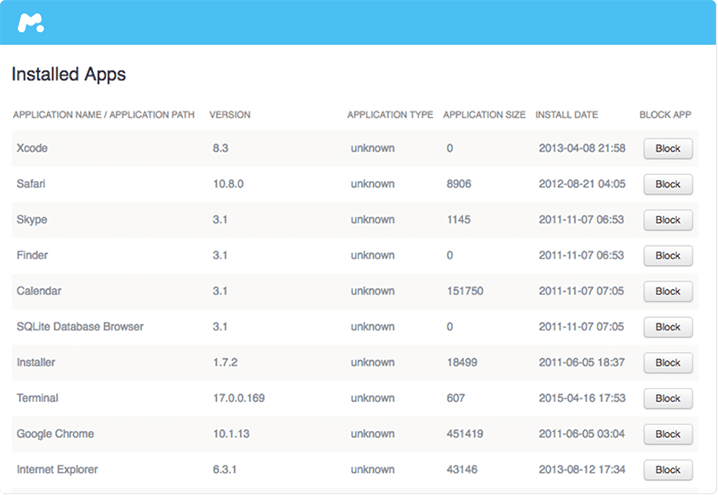 With mSpy, you can block any app from the target device. It will let you block Tinder from your kids' device, but also have a good idea which apps your children or employees are using. You can also pause or delete unwanted apps.
Blocking websites and restricting web access
mSpy lets you block any website or category of websites. It makes it an excellent app for parental control. You can also use it as an educational tool, only allowing certain types of sites during specific periods. You can also opt to restrict internet access altogether.
Monitoring Wi-Fi points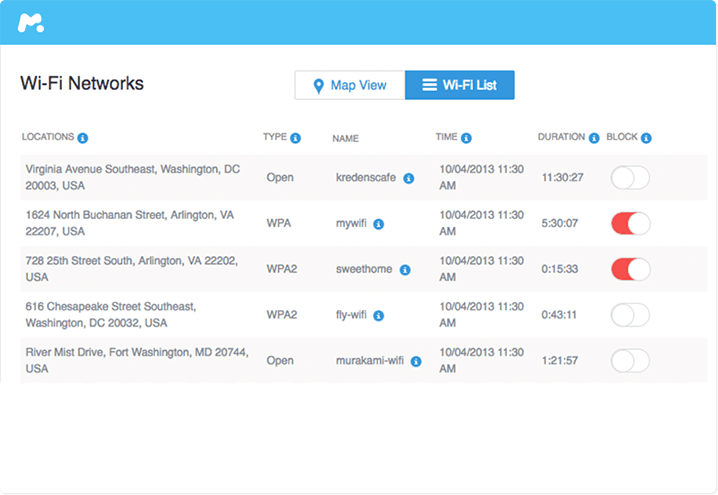 Besides tracking location, mSpy will let you monitor which Wi-Fi points your target device is using. It will give you added information on the device's location and provides an extra layer of security.
Other Security Features
mSpy has a wealth of other safety features, including phone locking, data wiping, and SIM change notifications. With these and the above features, mSpy is one of the best, if not the best all-round spy app or parental control app.
mSpy iPhone Monitoring

mSpy is an iPhone spy app where the list of its features is the largest on the market. No other spy app can offer the same number or quality of features. Monitor WhatsApp, Snapchat, Skype, and SMS. Track your child or employee's location with GPS and get location alerts with Geo-Fencing. Keep track of everything ever typed with the Keylogger.
All of these features work well. However, there is one caveat. You need an iPhone that has had a jailbreak. It will allow all of the features to work correctly. Many of them will still work without jailbreak, but not all. If you cannot or do not want to perform a jailbreak on your iPhone, mSpy also has a no-jailbreak version.
No jailbreak
The mSpy no jailbreak version works in a very different way than the regular version. If you want to use it, all you need is the phone's Apple ID. You will not need to install anything on the target device. After you buy the license, you can add the ID in your mSpy dashboard. mSpy will get all the information on your target device from the iCloud servers. This version is easier to use, but it has fewer options for app monitoring. It can still monitor WhatsApp, though Snapchat and Tinder are off the list.
Compatibility
mSpy is compatible with iOS 7 to 9.1. The no-jailbreak version is compatible with all iPhones.
Android monitoring
mSpy has more features for Android monitoring than any of its competitors, except for FlexiSPY. It is the only app that can monitor Tinder and Snapchat. Since Android is a more flexible operating system than iOS, we recommend buying an Android device if you want to have the biggest list of monitoring features.
Do I need to root my Android device?
That depends. While you can use mSpy on a non-rooted device, we recommend rooting anyway. That is because you can only monitor instant messaging apps, like WhatsApp, Snapchat, or Tinder on rooted Androids.
Compatibility
mSpy is compatible with all Android phones, using Android 4 or higher. It means it will work on all modern Android phones.
Customer support

mSpy is one of the only spy apps that offers full customer support. If you need help installing the software, rooting your Android phone or jailbreaking your iPhone, they can help you. Use the chat feature on the website, or call them at +1 855 896 0041.
How much does mSpy cost?
mSpy is much cheaper than many of its competitors. It offers a yearly plan, which is much less expensive than the monthly fee. While $199.99 may seem a lot, mSpy is cheaper than most of its competitors, especially if you consider that the price comes down to $16.67 per month if you choose the yearly plan. That is less than three cups of coffee, a small price to pay for peace of mind. Besides these three options, there is also a Family Kit, which will allow you to monitor three devices for a 25% discount.
Our verdict
The app provides highly functional features both for iPhone and Android.  Besides that, it has a no-jailbreak version and an intuitive control panel that is easy to use. Thanks to this time-effective app, you can easily track and control all smartphone's activities. On top of that, the product's user interface looks perfect on various screen sizes: on desktops/laptops (Windows/OSX), tablets (iOS/Android/Windows), and mobile (iOS/Android) devices. When the time comes to remove mSpy, just grab the target's device and secretly uninstall it.