mSpy App Review 2023: Is It Legit or Is It a Scam?
It's no secret. There are a plethora of spy apps in the market today. And that doesn't bode well for parents who simply want to keep an eye on their kids' online activities.
Despite the mess, one app that never quite misses from any spy apps list is mSpy. Most people love it for its features, but that hardly ever tells the full story.
So, we took it upon ourselves to dig deep and tell you everything to know about the phone tracker. That includes things like:
Functionality
Compatibility
Hottest Features
Pricing Plans
Installation and Setup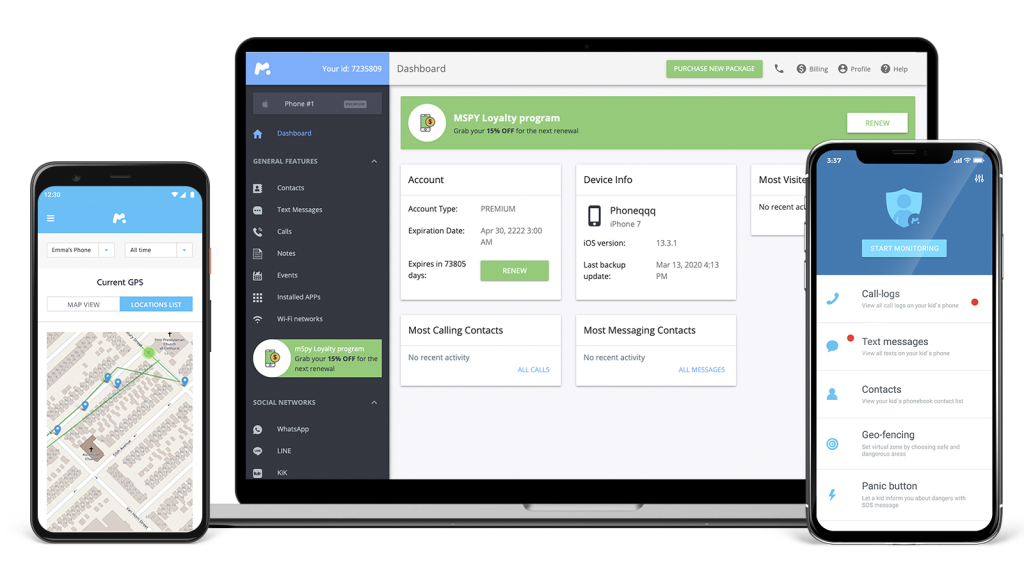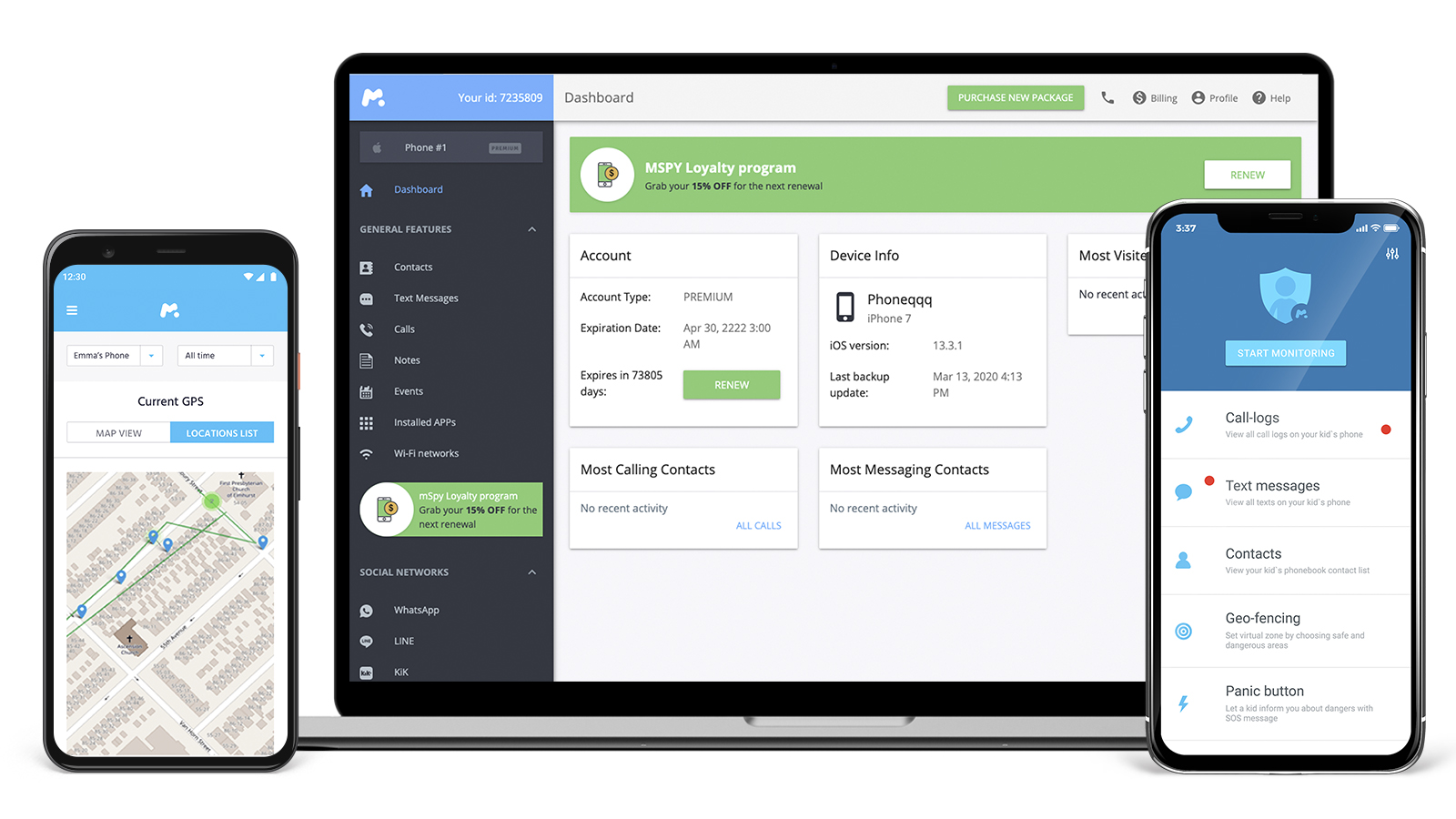 We found out quite a lot that can help you decide if mSpy is the app for you. Do you have to install mSpy on target phone? Yes, yes you do. But with that said, let's get right into it.
Quick Details
Our rating
9.5 / 10
Compatibility
iPad, Android, iPhone
Live Demo/Free Trial
Yes/14-days money back guarantee
Key Features
Keylogger
Geofencing
Website Block
Social media monitoring
Jailbreak/rooting required
No
Link
Read more here
What Is mSpy?
Simply put, the mSpy app is a phone tracker that lets you monitor your child's phone activities remotely. It allows you to ensure their safety by giving you a glimpse of:
Their call history
Their GPS locations
Their incoming or outgoing text messages
Their social media activities
And the best part is that it does all this without them knowing. As such, you can rest easy knowing that your child is always safe.
Does mSpy Really Work?
Some spy apps never receive updates and then don't work on all the devices that they should. We researched this app in depth, and our conclusion is that mSpy works very well and is completely legitimate.
Is mSpy safe?
Yes, mSpy is a trusted company that's been operating for 10+ years. The data collected by mSpy from you is encrypted, and their privacy policy states that it will only be shared with third parties for the purpose of providing mSpy services or to comply with legal obligations.
How Does mSpy Work on Android?
If you're wondering how does mSpy work, essentially, the mSpy phone tracker is planted on a target's device. And afterwards, it'll start collecting information from the device.
But that can be better explained in these three simple steps below. Here's how to use mSpy:
Pick a Subscription Plan
To get started, you need a valid subscription plan with all the features of the app you'd like to access.
Install mSpy on the Target Device
You'll then need to follow a set of instructions to install the convenient phone tracker solution on the target device.
Start Monitoring
Finally, you'll login to mSpy's online control panel and view the data collected from the child's device.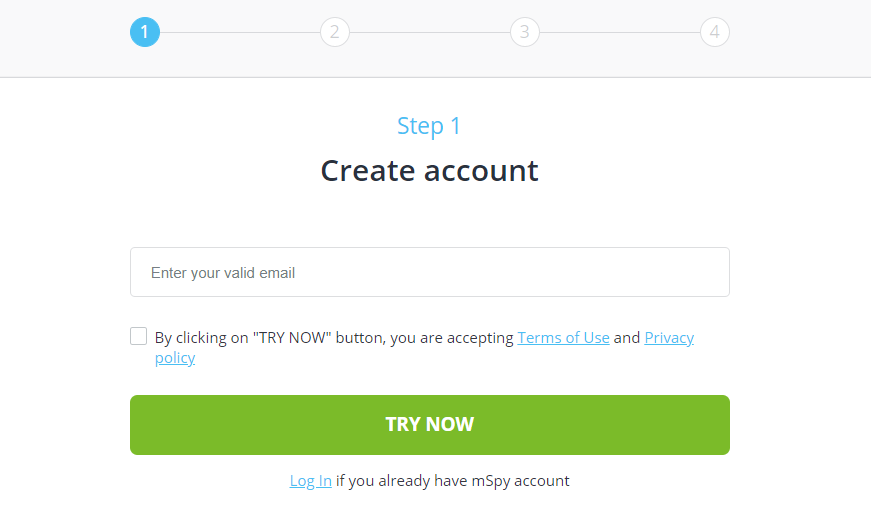 How Does mSpy Work on iPhone?
If you don't use an Android device, are you wondering how does mSpy work on iPhone? The process is a little different for iPhone owners. On phones like the iPhone 6 or even the 12 Pro, you'll only need to have the iCloud credentials to set up and install the app.
Below is a simple three-step explanation of the process as well:
Create a Free mSpy Account and Pick a Subscription Plan
You'll need an active and valid subscription to get started with using the mSpy app on the target iPhone.
Enter the iCloud Credentials on mSpy
Login to your account from the mSpy login page and enter the iCloud credentials of the target device you want to monitor.
Start Monitoring
mSpy will begin collecting information from the target iPhone and updating the dashboard.
However, while the process is simple, there are a few extra steps to cover. But we'll look at them later on.
mSpy Compatibility
This mobile phone tracking app works on two main operating systems – Android and iOS. That means you can use it on iPhones and literally any Android phone of your choice.
| | |
| --- | --- |
| Operating System | Minimum Version |
| Android: | Android 4.0 (Ice Cream Sandwich) |
| iOS: | iOS 7 |
While mSpy supports older versions of Android and iOS, it will work fine with newer versions too. As such, mSpy will work with anything from an iPhone 6 to the latest Samsung Galaxy S21 series.
But if in doubt whether it'll work with your phone, you can use our free mSpy compatibility checker.
After typing in your phone model, the checker will display whether it's compatible with the mSpy phone tracking app or not.
mSpy Premium Features
mSpy is known for its features. And on that, it equally over delivered for us too. There were tons of features to choose from too. But we mainly focused on these 10:
SMS Monitoring
Call Logging
Contacts Monitoring
Media Files Tracking
Keylogger
Location Tracking
Social Network Monitoring
App Blocking
Wi-Fi Monitoring
Browser History
SMS Monitoring
This is perhaps what mSpy does best and without fail. Its SMS monitoring features are simply amazing. And it's not just because it works.
The first thing you'll notice about mSpy's SMS monitoring is that it uses a conversation view to display messages. This might seem basic, but not for everyone.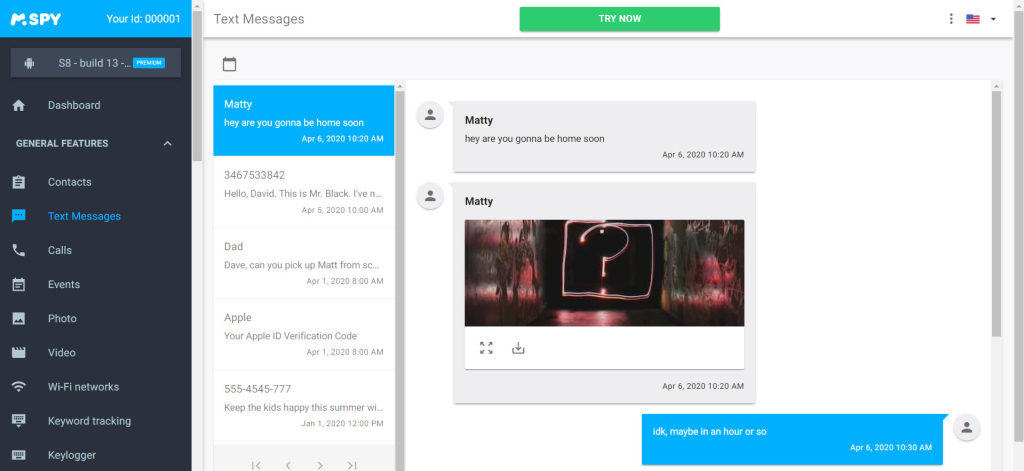 Several other phone trackers hardly use the conversation view. And this means it's much harder to navigate to a specific conversation without fumbling.
Additionally, each individual SMS also displays helpful informations such as:
The contact's name
The date
Any MMS attachments sent with a text
You can thus easily navigate to a conversation then to a specific message that was sent in a particular date.
However, we do also want to point out that there are no filter options at all. As such, you can't perform custom date queries or even search for a particular phrase.
Call Logging
The call logging feature of the mSpy app is also simple and straightforward. But almost a little too straightforward at times.
It's one of the features you really can't miss when navigating on mSpy's dashboard. And it will enable you to see all incoming and outgoing calls from the target phone.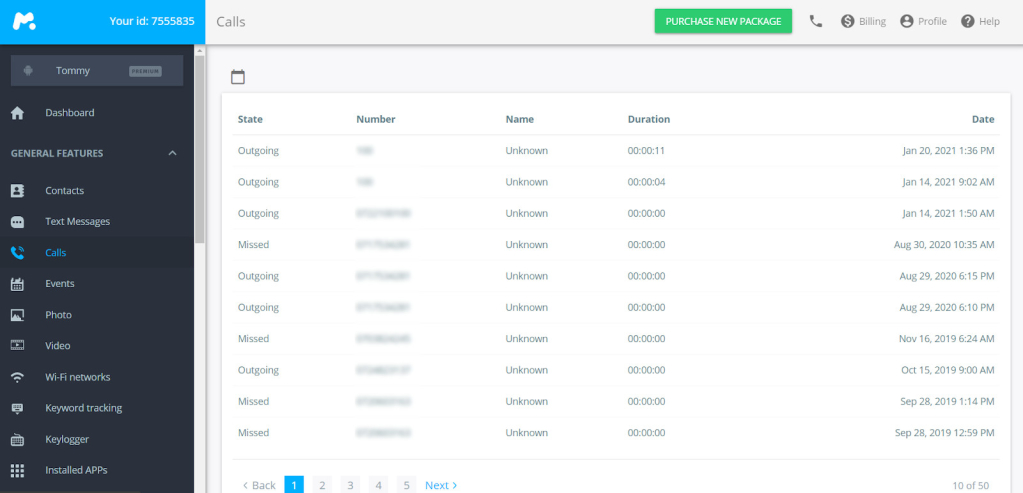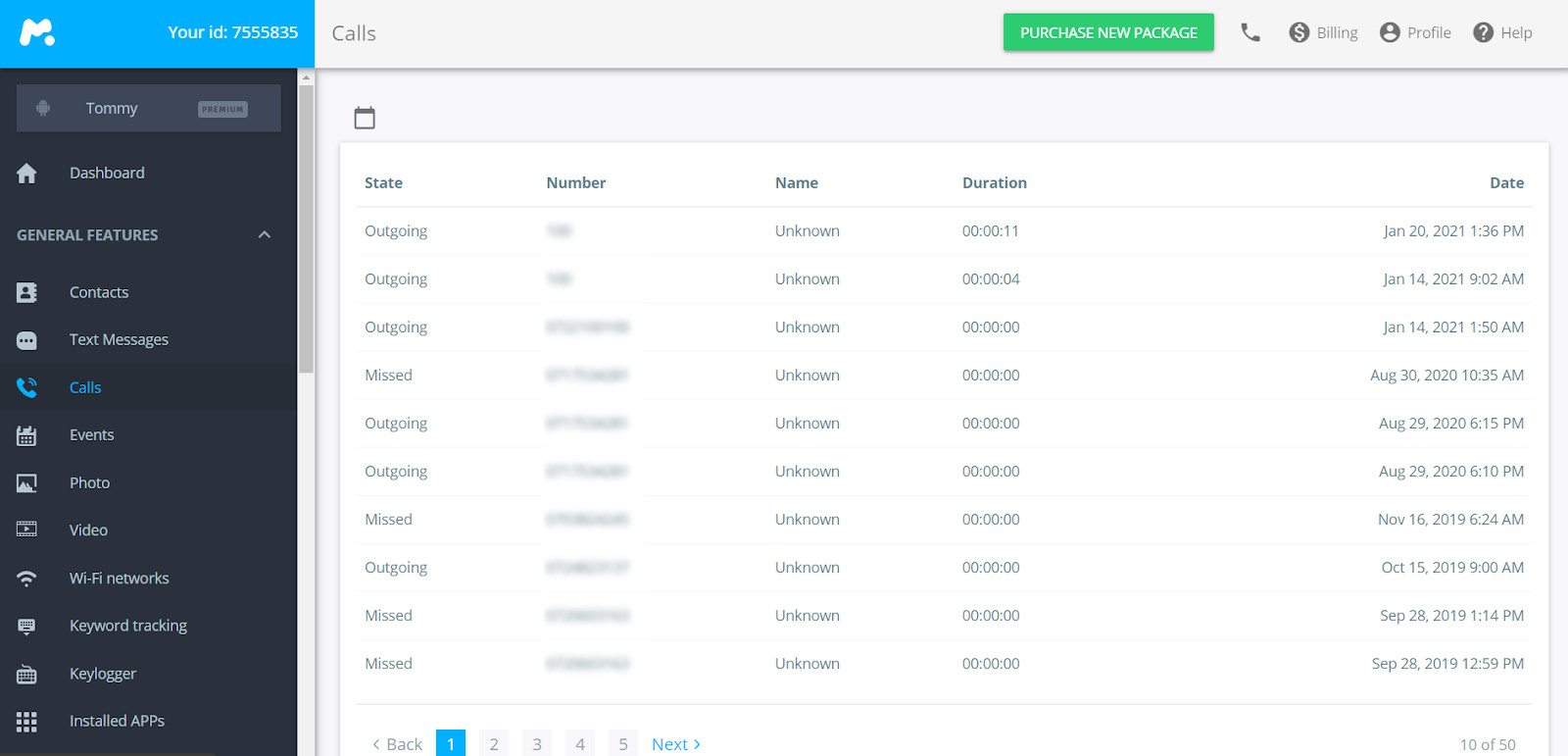 In addition to the phone calls and the direction of the call, you'll also be able to see:
The number called (both directions)
The name of the caller (if they're in the contact book)
The duration of the call
The date the call was made
For most people, that is pretty much all that's needed. You can easily tell the phone calls that took longer and know which person your target is in constant contact with.
But on the other hand, that's really all you get. Meaning you cannot listen in on the conversations if you wanted to. And that's a bummer.
Also worth mentioning is that there's no filter or search options here too. As such you'd have to sift through all records to find the particular one you were looking for.
Monitoring Contacts
The contacts monitoring feature doesn't have much going on around it. After setting up the mSpy app on the target phone, it took a few minutes before all contacts got uploaded.
On the left pane, you have the names of the contacts and their details get shown on the right. As such, to view the number, you'd have to click on the name first.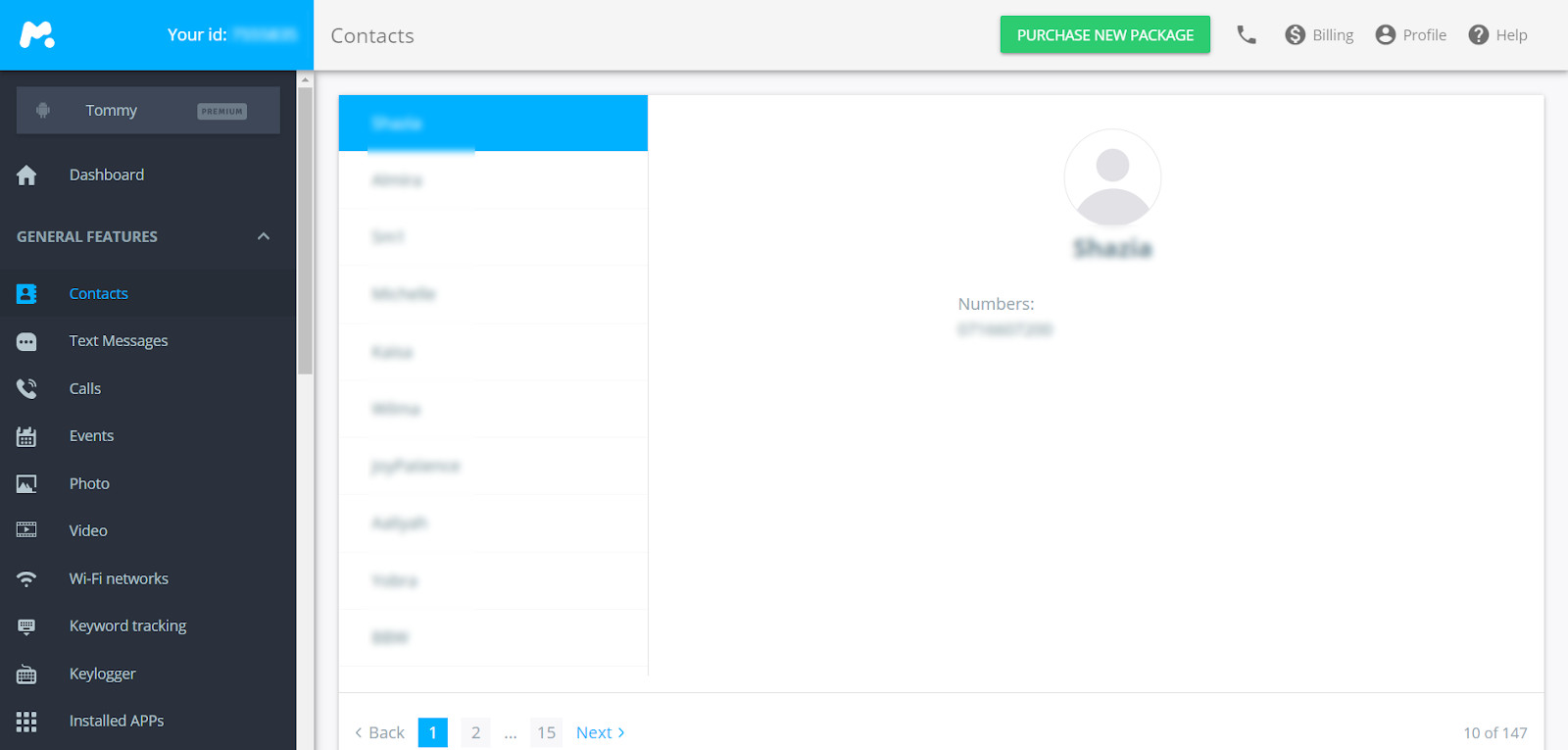 Sadly, during our test, we realized that the contacts weren't sorted alphabetically. This meant that getting a particular contact took a while.
But if there aren't many contacts on the target phone, you'll have a relatively easy time here.
Tracking Phone Media
There's no particular feature called "Media Tracking" on mSpy. That's because we bundled up Photos and Videos together.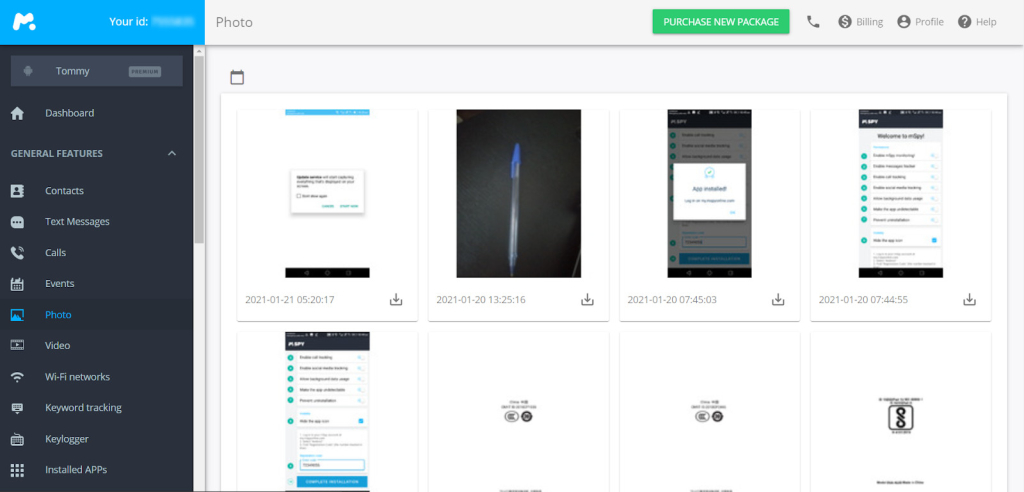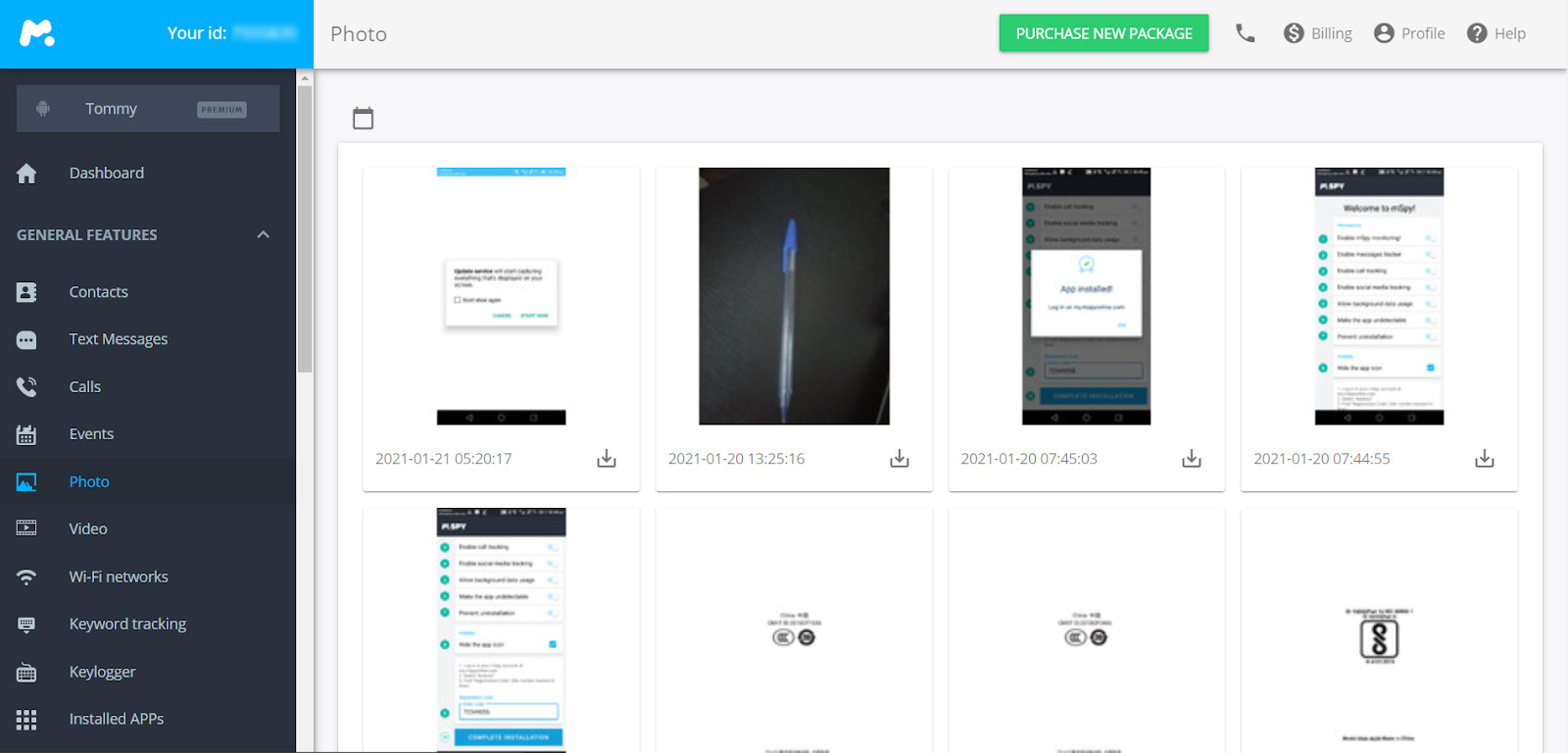 Both pretty much work in the same way since photos are strictly populated under "Photos" in the dashboard. And the same is true for videos.
Photo Uploads
mSpy was vicious in detecting newly taken photos and uploading them on the dashboard. And in fact, it even uploaded screenshots we took during the review.
The photos were organized according to the dates they were uploaded. We found this pretty neat since it made it super easy to find photos by date.
Also, the photos came with their original file names. This meant that you could always find out the exact time a photo was taken.
Video Uploads
This section also had the same look and feel as the photos section. But the only difference is that mSpy showed a thumbnail of the video clips.
The only actions you're allowed to perform on the videos are either to view or download them. And by default, these are only uploaded on a Wi-Fi connection.
Videos too are organized according to date. However, similarly to photos, only videos taken after mSpy installation will be uploaded.


mSpy Keylogger
This could very well be one of the other greatest features of mSpy that takes mobile phone tracking to the next level. That's because many other features depend on the keylogger.
With the keylogger, you get all the raw keystrokes the target user entered into the target device. In the screenshot below, you can see just how precise the mSpy keylogger was in its job.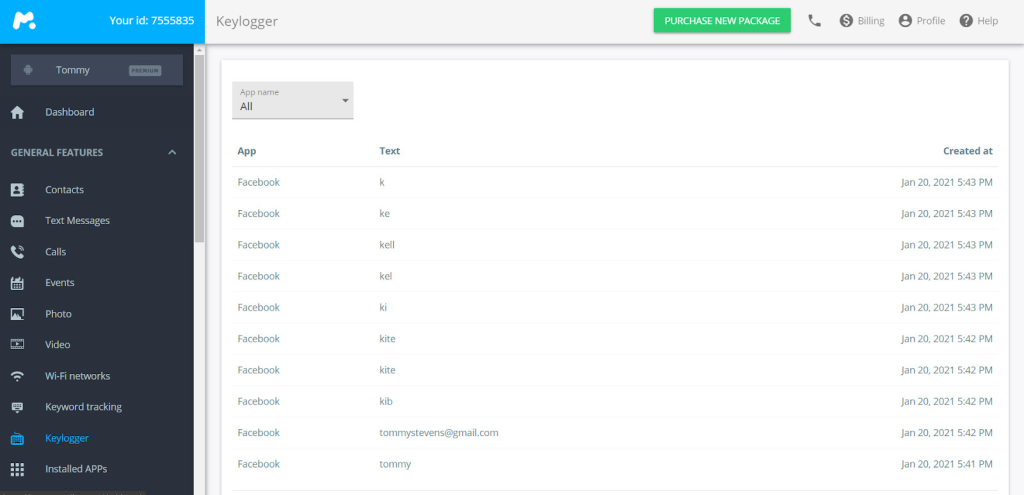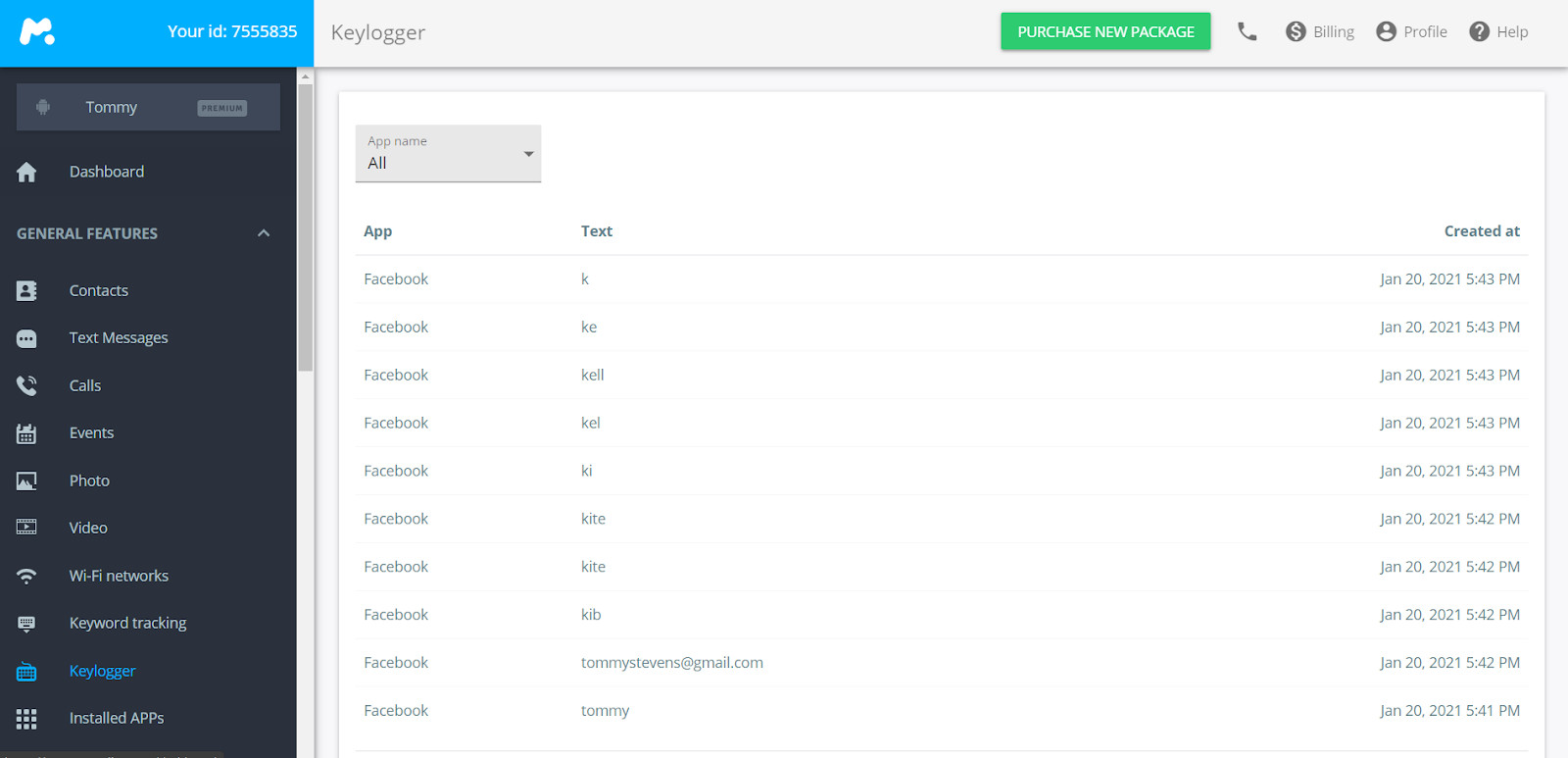 The app would record even the slightest inputs. And this could give you a sense of the thought process of the target user while typing.
Also worth mentioning is the fact that mSpy indicates the app where the keystrokes were recorded.
Keyword Tracking
Hidden under the mSpy keylogger, the mSpy app also has an impressive keyword tracker that can take parental monitoring to the next level.

You can instruct mSpy to notify you whenever it detects a set of keywords. To do that, you simply create a rule by specifying:
The target keyword
The place/app it should be monitored from
Whether or not to receive notifications when a keyword is detected
This can come in handy in many situations, especially when you want to know about something particular.
Location Tracking
Tracking the movements of the target user is also made really easy. Every location that your target visited is always logged and updated on the dashboard.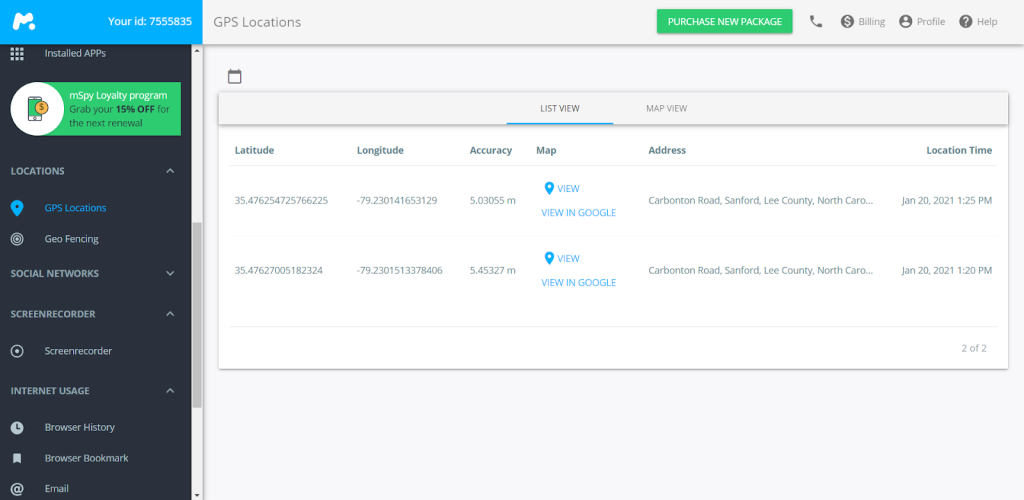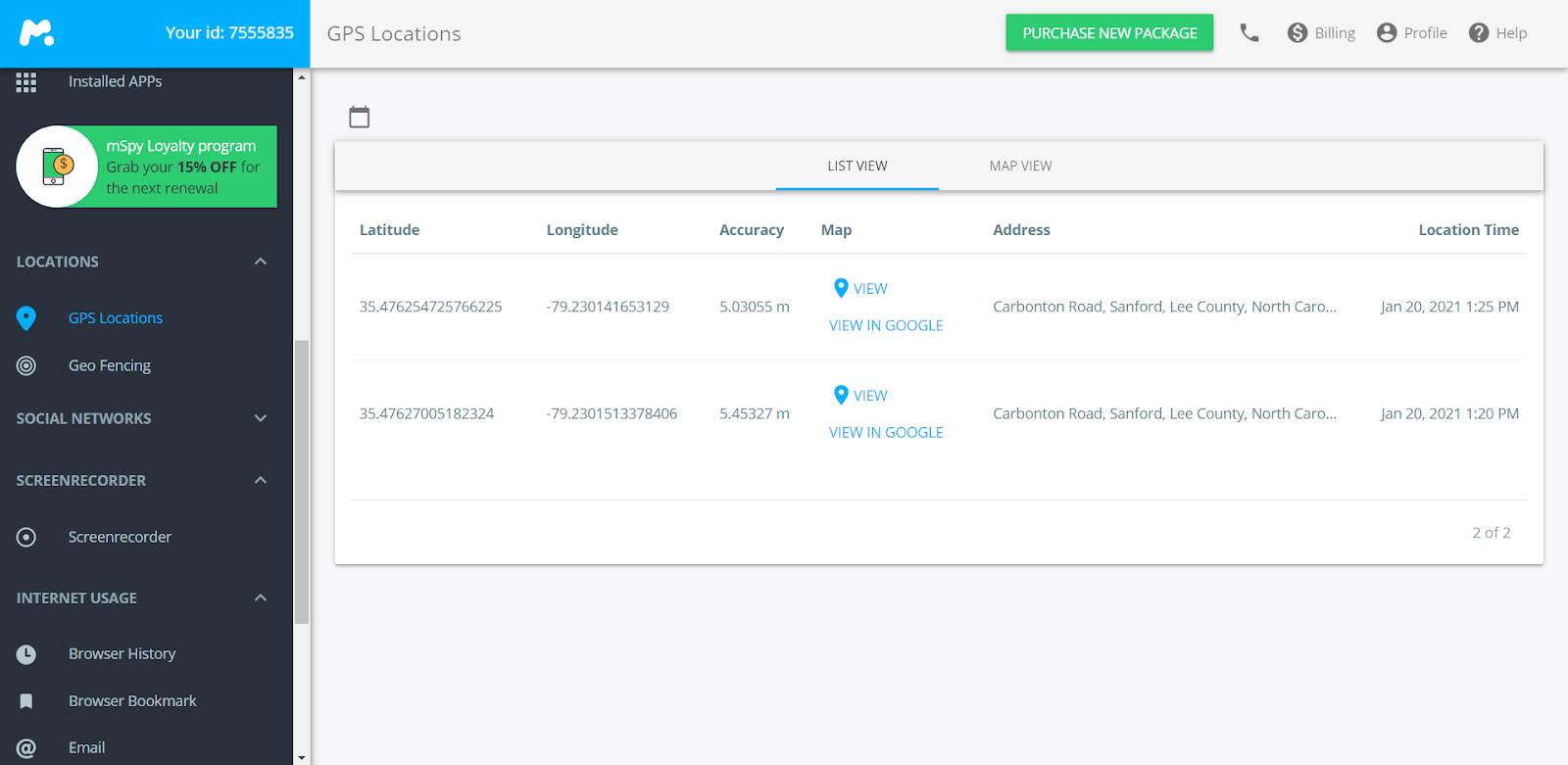 From it, you'll be able to view things like:
The accurate GPS coordinates and location data
The date and time the record was taken
The overall accuracy of the point in meters
What's more is that mSpy also has a map view if you'd rather see the points visually. And from this, you can see all of the target's movements.
Geofencing
If you thought location tracking was cool, mSpy's geofencing is way cooler. That's because you get to have more control over what should be monitored.
Essentially, geofencing lets you set up virtual zones on a map. When the target user enters or leaves a particular zone, you'll get notified so that you can take action.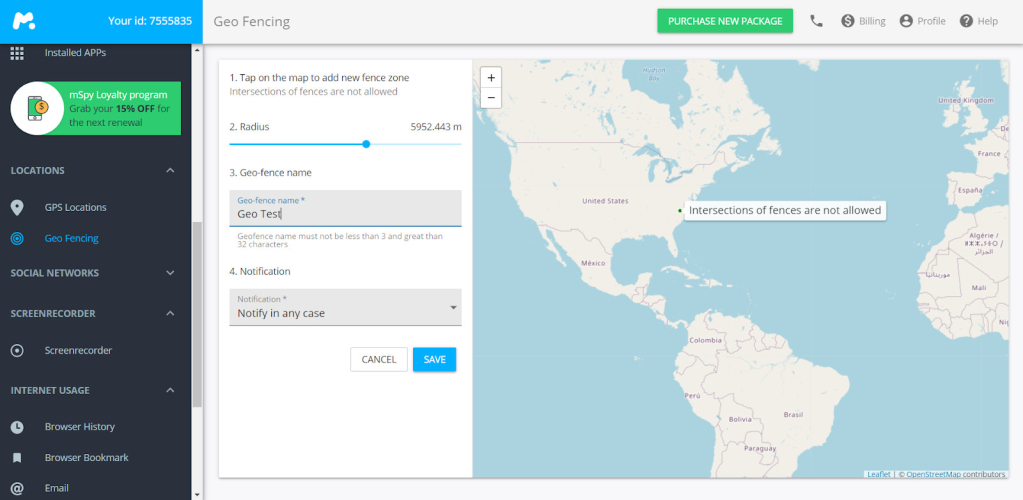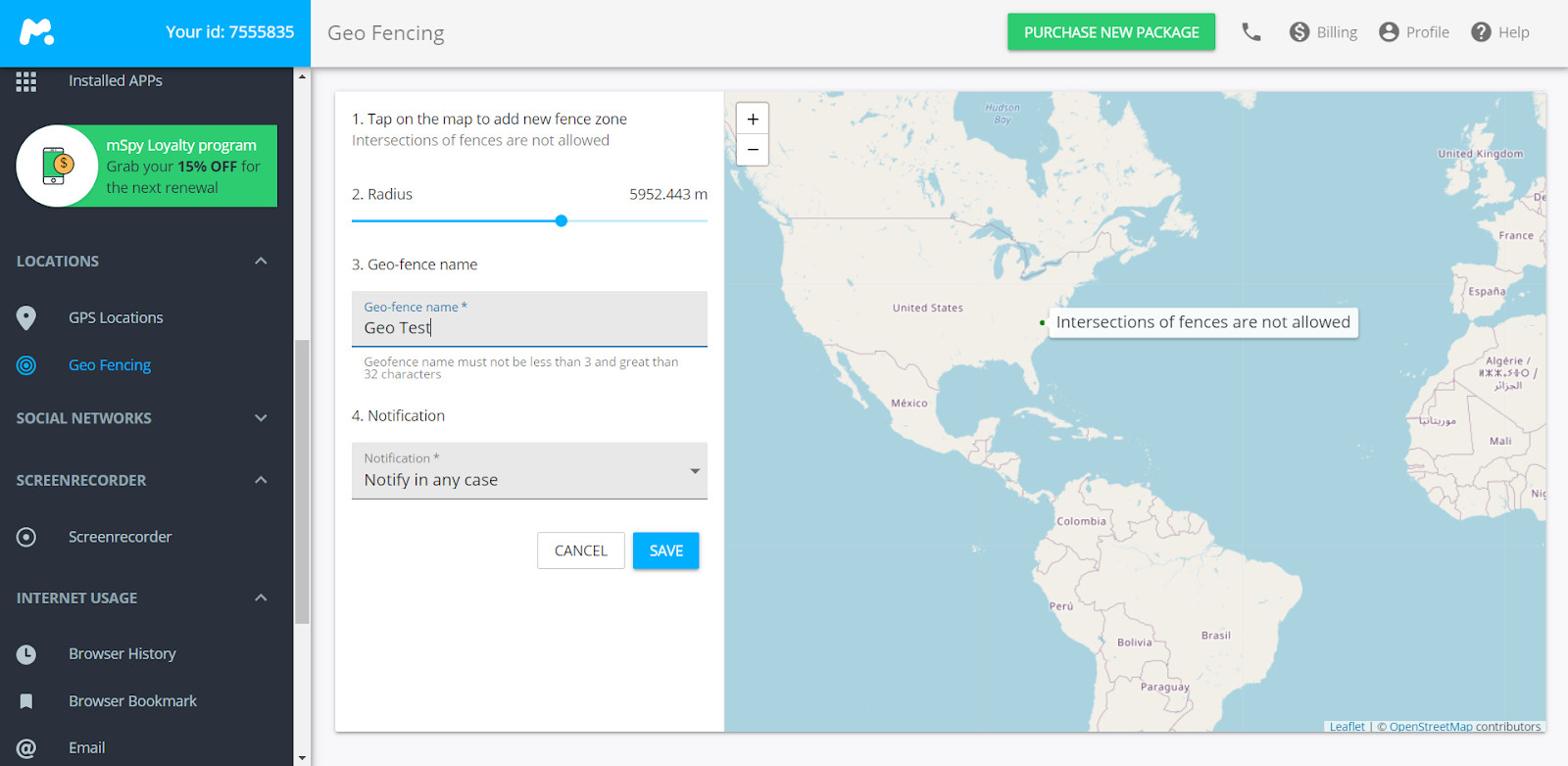 Setting up a virtual zone is easy too. But you'll have to specify details such as:
The radius
The name of the zone
Whether or not you need email notifications
This is a much easier way of tracking movements without always logging in to mSpy's dashboard.
Social Media Monitoring
There are tons of things you can do with mSpy's social network monitoring feature. And they aren't just limited to only the popular apps like mSpy for WhatsApp and Messenger.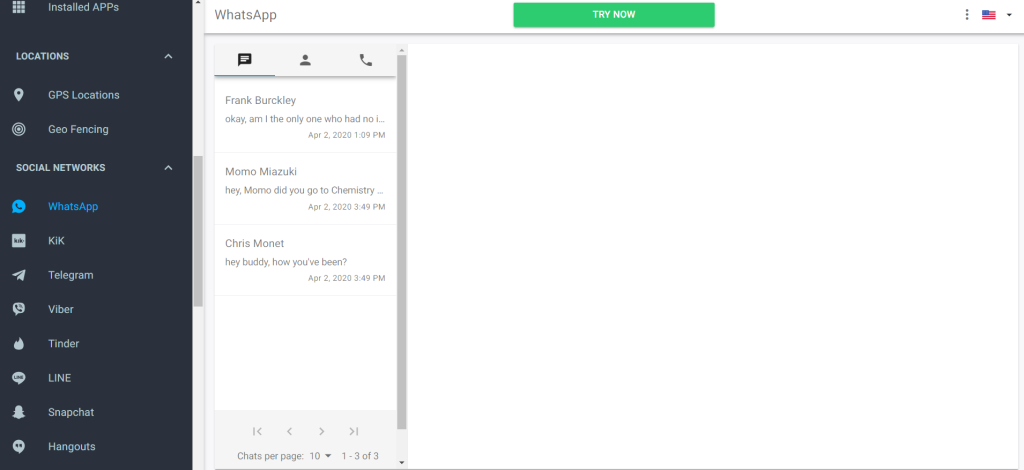 mSpy lets you monitor activities from the following apps too:
Snapchat
Instagram
Telegram
iMessage
Tinder
Viber
In addition, it provides the same neat and easy-to-use conversation view that we saw in the SMS section. As such you can practically see everything at a glance, whether you use the mSpy Snapchat tracker or the mSpy Instagram tracker.
For apps like WhatsApp, mSpy even has a section that shows outgoing or incoming WhatsApp calls. And all this really adds to mSpy's unique abilities.
However, there's a catch.
Social media monitoring is only possible on rooted/jailbroken devices.
App Blocking
One other powerful feature of mSpy is its app blocking capability. Basically, this lets you restrict which apps can or cannot be used on the target device.
Since mSpy already has a list of all installed apps on the target device, you can practically block anything. Simply tap the "Block" button to get it underway.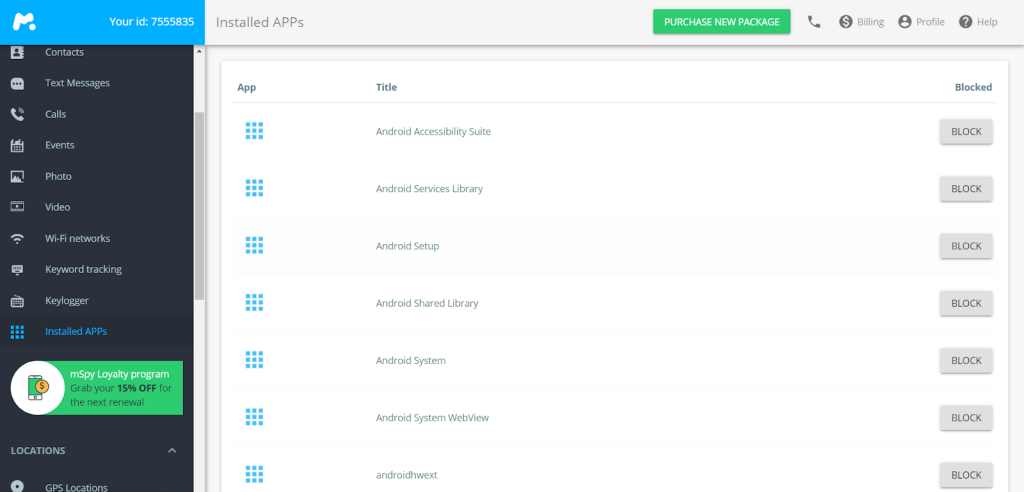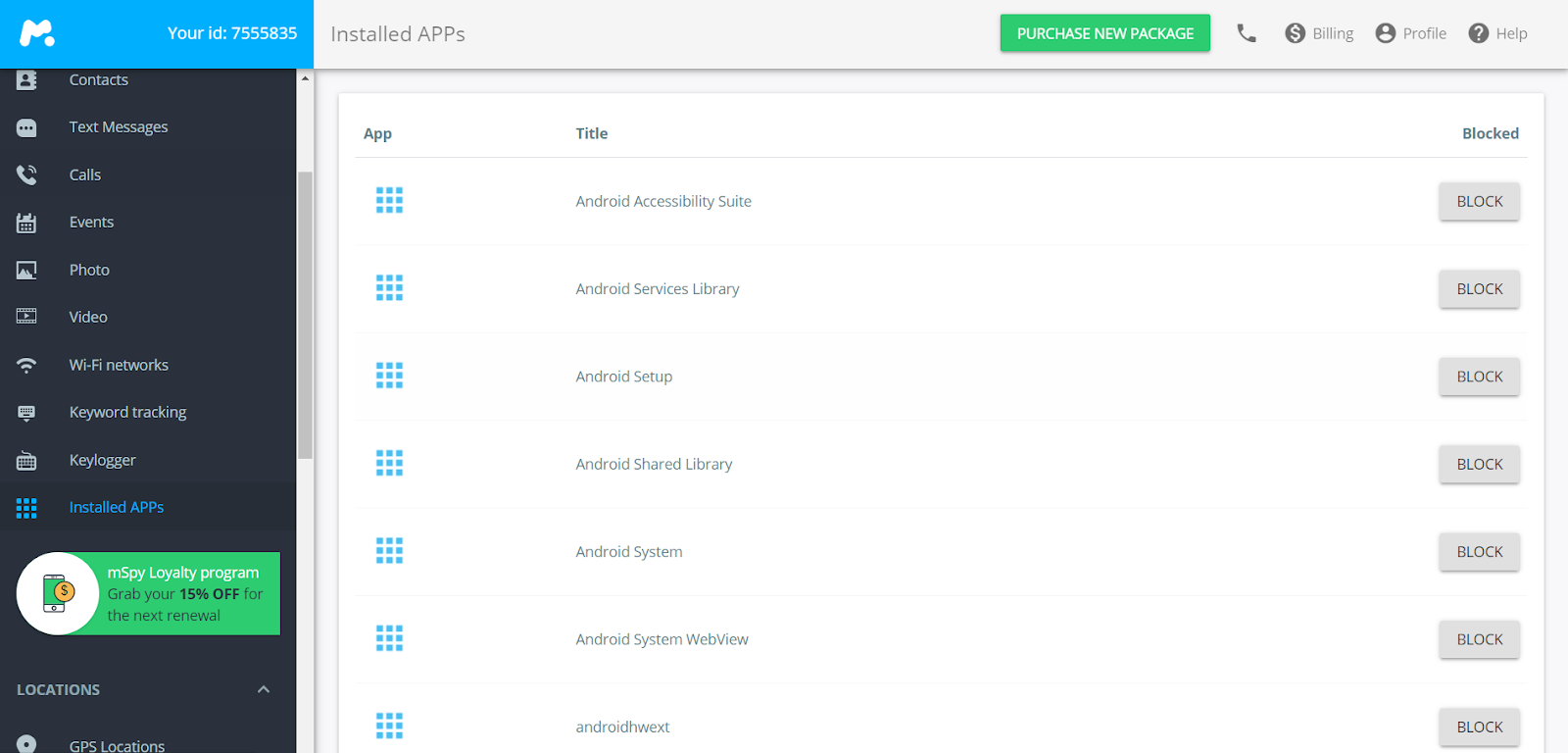 mSpy will then display a black screen whenever the target attempts to open the blocked app. However, this didn't always work as planned.
On one occasion, it was still possible to access a blocked app. As such, we'd advise you to use this feature only when necessary. It could easily blow your cover.
Wi-Fi Monitoring and Blocking
If you also want to know the exact Wi-Fi networks your child connects to, you can. And mSpy's Wi-Fi monitoring feature is the right tool for that.
You can access the feature by either clicking on "Wi-Fi Networks" or "Block Wi-Fi" on the left sidebar menu.

From there, mSpy will show you details like:
Wi-Fi SSID and BSSID
Connection time
GPS coordinates of the Wi-Fi access point
In addition, if you can also switch to the map view if you want to see everything at a glance. But it's only from the list view that you can block a Wi-Fi connection.
While the feature is pretty handy, it also goes down as one of the features you should use with care. That's because mSpy relies on a Wi-Fi connection to send collected data your way.
Browser History
mSpy also lets you view the target's browser history. And this also applies to deleted browsing history too.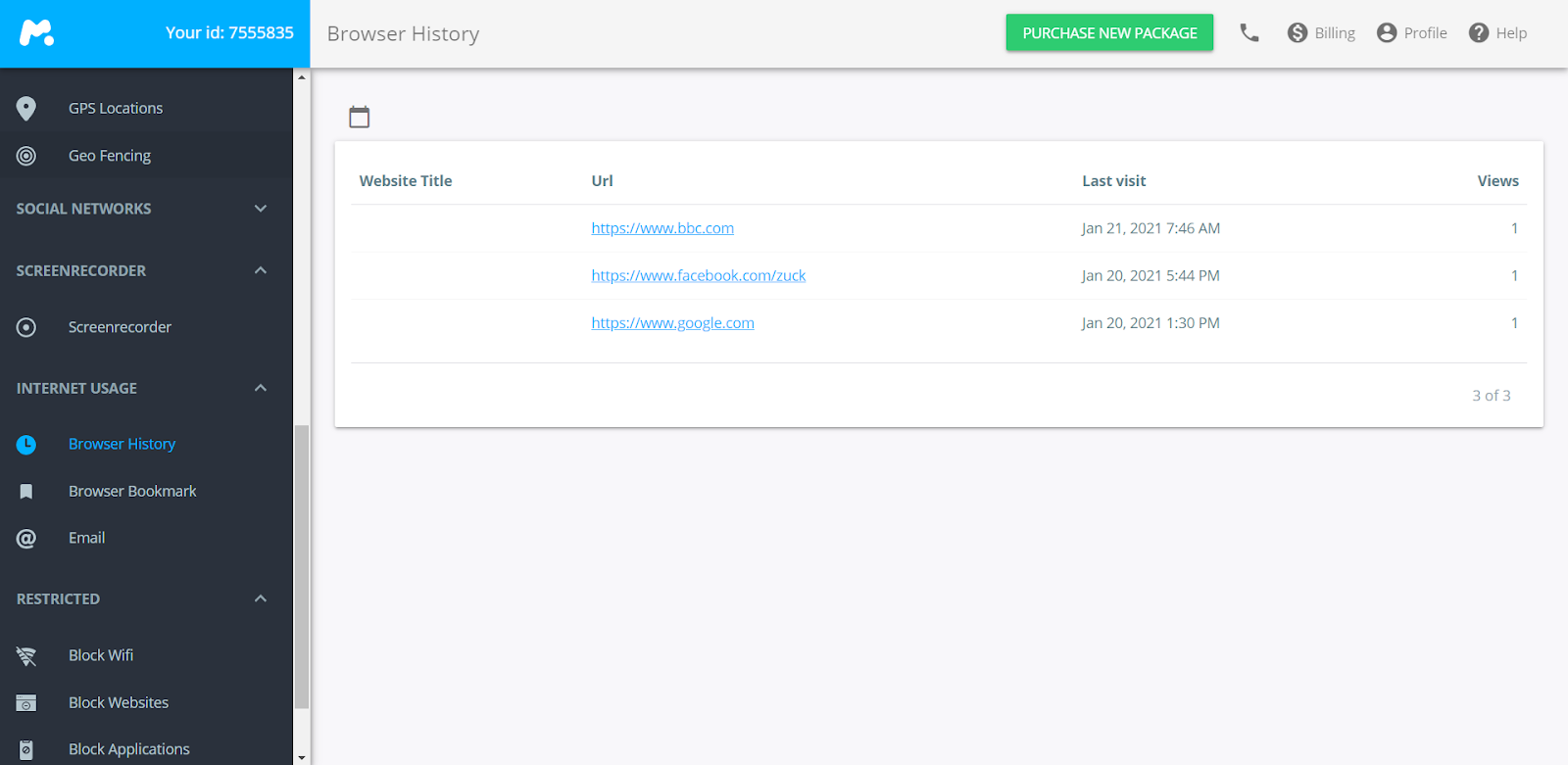 There's not a lot to see under the browser history section apart from the URL and date the site was accessed. However, this information can still help you draw some valuable insights.
For instance, mSpy was still able to detect Facebook URLs while using the Facebook app. In addition, it also showed how frequently I visited the sites too.
mSpy Price
How much does mSpy cost? mSpy offers two main subscription plans which it prices differently. These are the Basic and Premium plans.
Both plans only allow you to install mSpy on a single device. But the Premium Plan comes with a few extra advanced features such as:
Geofencing
Social Media Monitoring
App Blocking
Wi-Fi Monitoring
However, mSpy offers a Family Kit Plan which is ideal for those who'd like to monitor more than one device. To get it, you'd have to get in touch with their customer support.
In addition, mSpy also offers a complementary service called mAssistance that goes for $53.99. Basically, this is to help those people who experience difficulties during installation, and it's added to the total mSpy price.
They also have a Support Priority Line for $12.99 if you need any prompt assistance from the tech team which is also an affordable price.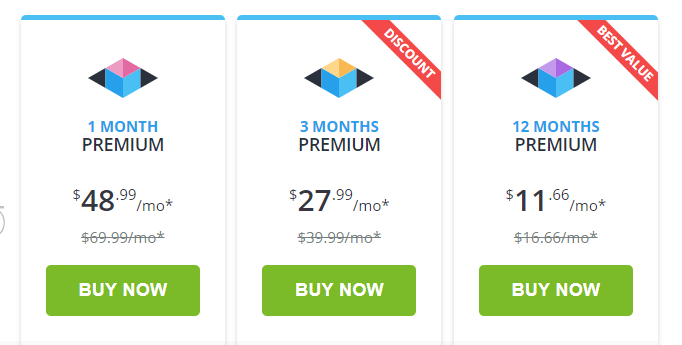 Mspy basic vs premium – which to choose?
Here are some of the main differences between mSpy basic and premium:
mSpy Basic:
Offers basic features such as call and text message monitoring, GPS location tracking, and access to browsing history.
Doesn't offer more advanced features like social media monitoring or keylogging.
Is priced lower than the premium version.
mSpy Premium:
Offers all the features of the basic version, plus additional advanced features like social media monitoring, keylogging, and access to multimedia files.
Is priced higher than the basic version.
Provides a more comprehensive and detailed overview of the target device's digital activity.
When deciding between mSpy basic and premium, it's important to consider your specific needs and budget. If you only need basic monitoring features, the basic version may be sufficient. However, if you require more advanced features or want a more detailed overview of the target device's digital activity, the premium version may be a better choice.
mSpy Installation, mSpy Login, and Setup
Now that you're familiar with everything mSpy has to offer, the only real task that remains is installation. But its installation greatly depends on the target phone's OS.
As such, this section talks about how to get mSpy on the target phone on both Android and iOS.
How to Install mSpy on Android
Installing mSpy on Android is simple. However, it does have a few steps that you need to follow correctly before you can start monitoring.
They include:
Part 1: Registration and Pre-setup
Part 2: Download and Installation
Part 3: Completing mSpy Setup Wizard
Part 4: Hide mSpy App Icon and Finalize Setup
Part 5: Start Monitoring
Requirements:
Physical access to the Android device
Active mSpy subscription
Active internet connection
Part 1 – mSpy Free Trial Registration and Pre-Setup
You'll need an active mSpy subscription to get started. As such, this will involve creating a free mSpy account then picking a subscription of your choice.
To kick things off, here's what you'll do:
Step 1: Navigate to mSpy's website and click on the green "Try Now" button on the top navigation bar.
Step 2: Enter your email and complete the wizard by picking a subscription plan of choice.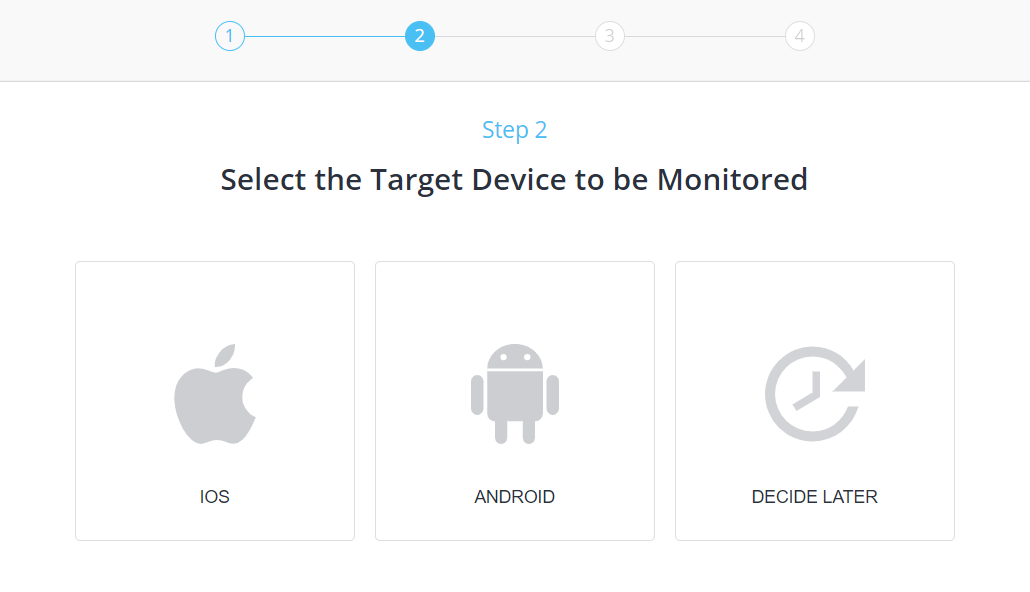 Step 3: Get the login credentials from your email and use them to login to mSpy's control panel.
Step 4: On the dashboard, select Android as the target device and fill in the kid's name, age, and device model.
Step 5: On the target device, open the Play Store app and then navigate to Play Protect > Settings (Cogwheel Icon).
Step 6: Turn off both options under Play Protect Settings i.e. Scan apps with Play Protect – Disabled, Improve harmful app detection – Disabled.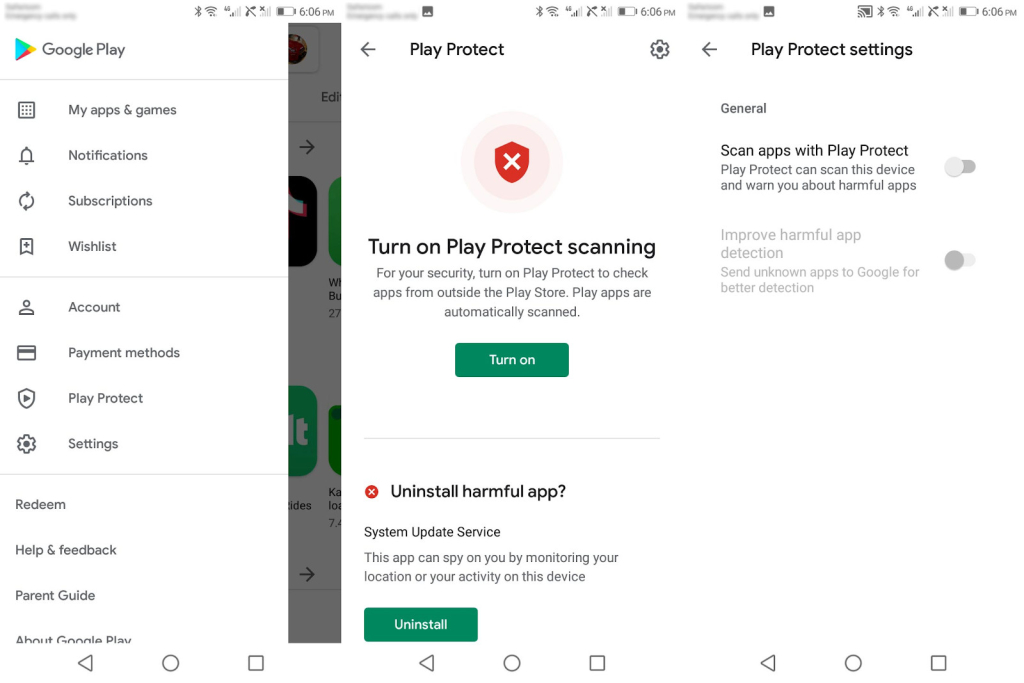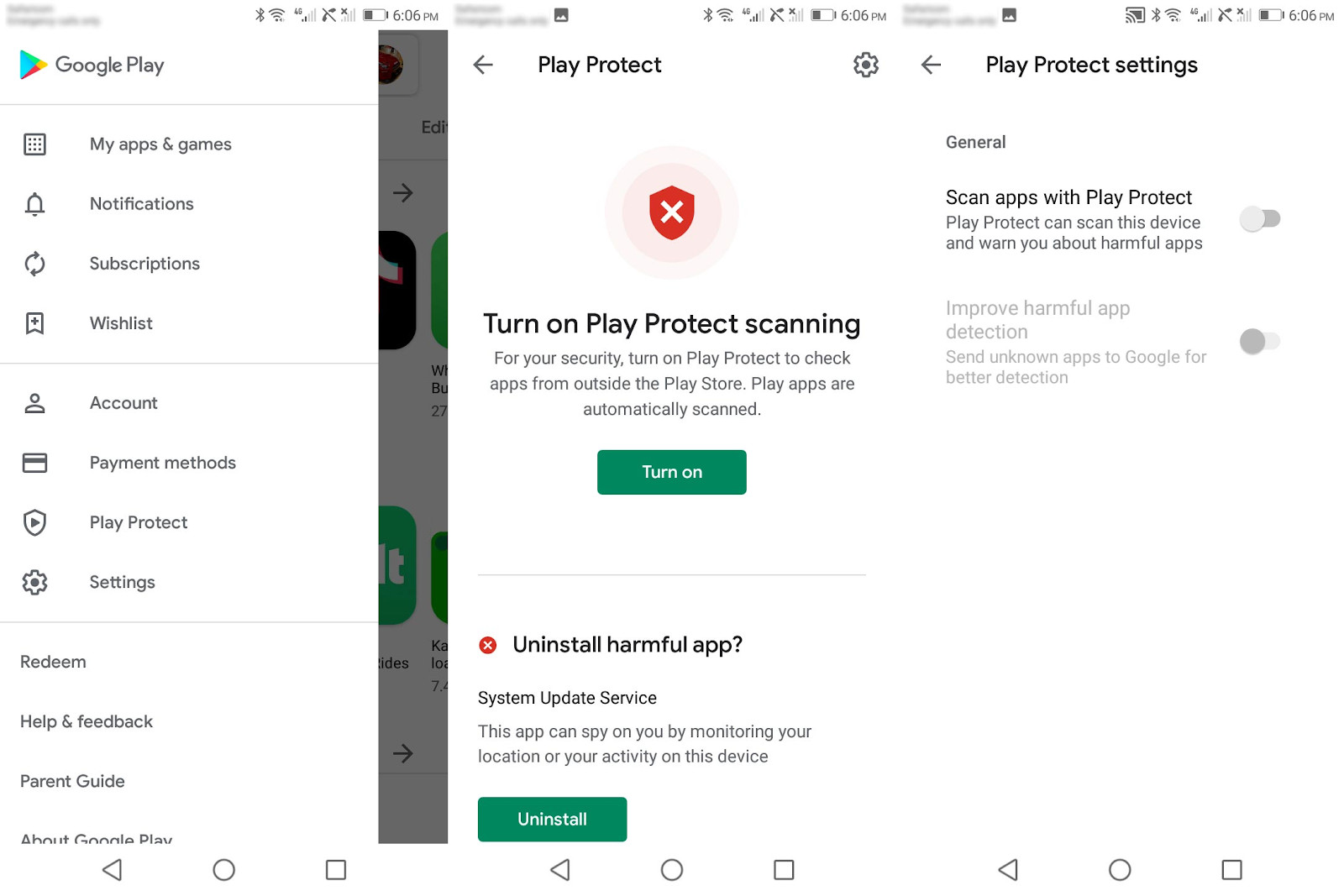 Part 2 – mSpy Installation and Download
Still on mSpy's setup wizard, you'll now get the download link to use. Note that you'll need to download the app on the target phone.
This is how to carry on with the process:
Step 1: Open a browser of your choice and key in the download link on the address bar and hit enter.
Step 2: Complete the verification captcha to download mSpy's APK file.
Step 3: Once the download is complete, tap on the APK file and enable "Install from unknown sources" if prompted.
Step 4: Tap on the "Install" button to begin the installation process.
Step 5: Click on "Don't remind me again" in case a virus notification popup appears on the screen and hit "Ignore".
Step 6: Tap on "Open" so that you can begin mSpy setup wizard.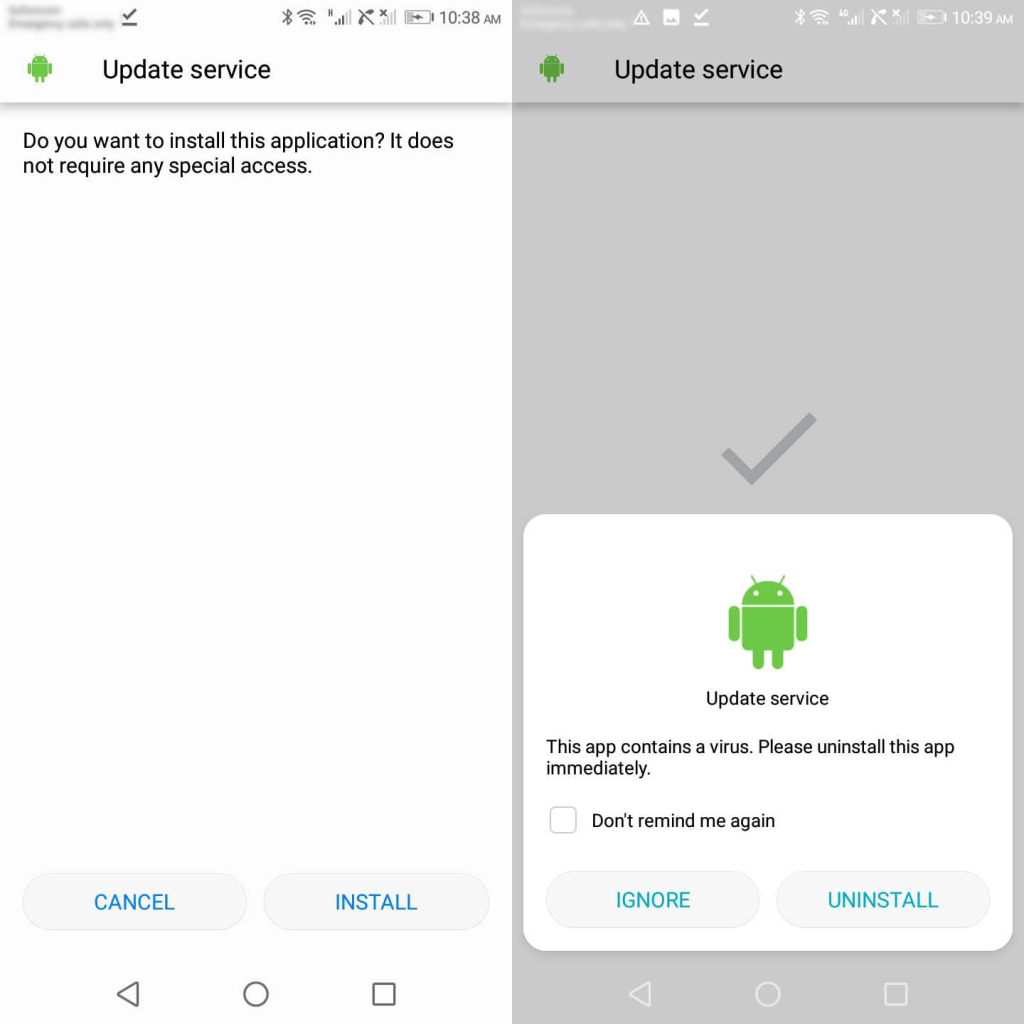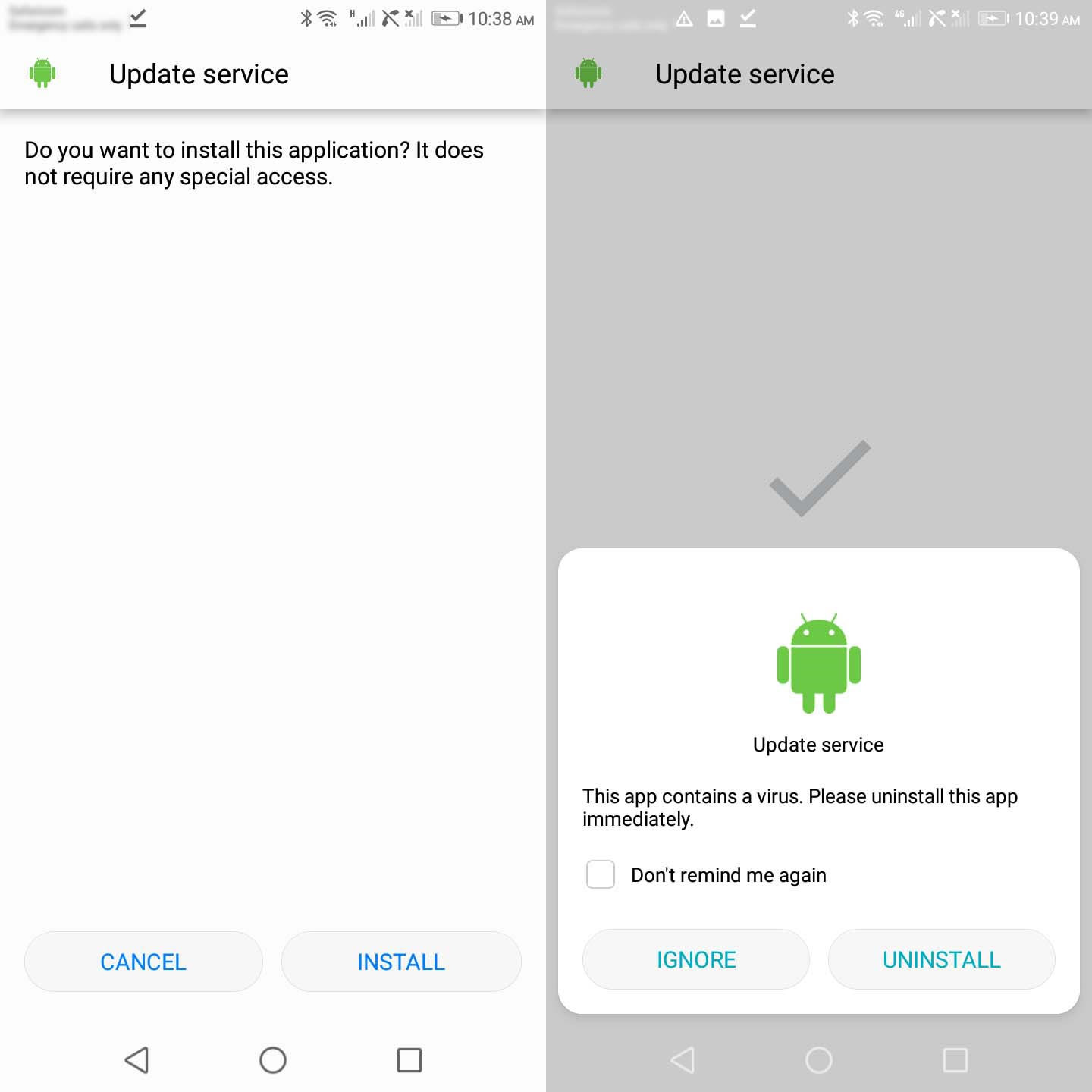 Part 3 – Finalize mSpy Installation
mSpy is successfully installed on your phone, but it will require a few permissions to work. These permissions are what allow it to collect information from the target device.
As such, here's how you'll go about mSpy's setup wizard:
Step 1: Tap on the button next to "Enable mSpy monitoring" to grant mSpy all the basic permissions it needs.
Step 2: On the pop-up notification that follows, click "Allow" on all to grant mSpy the necessary permissions.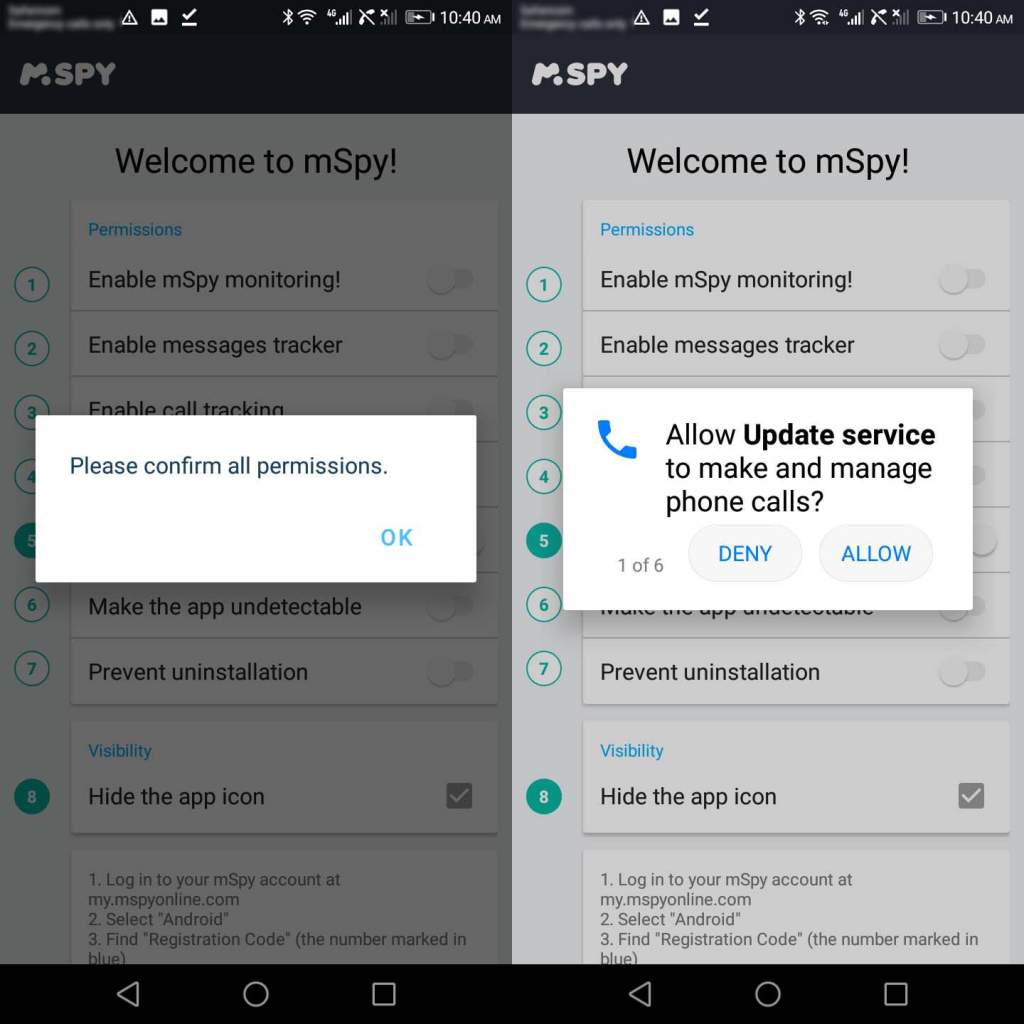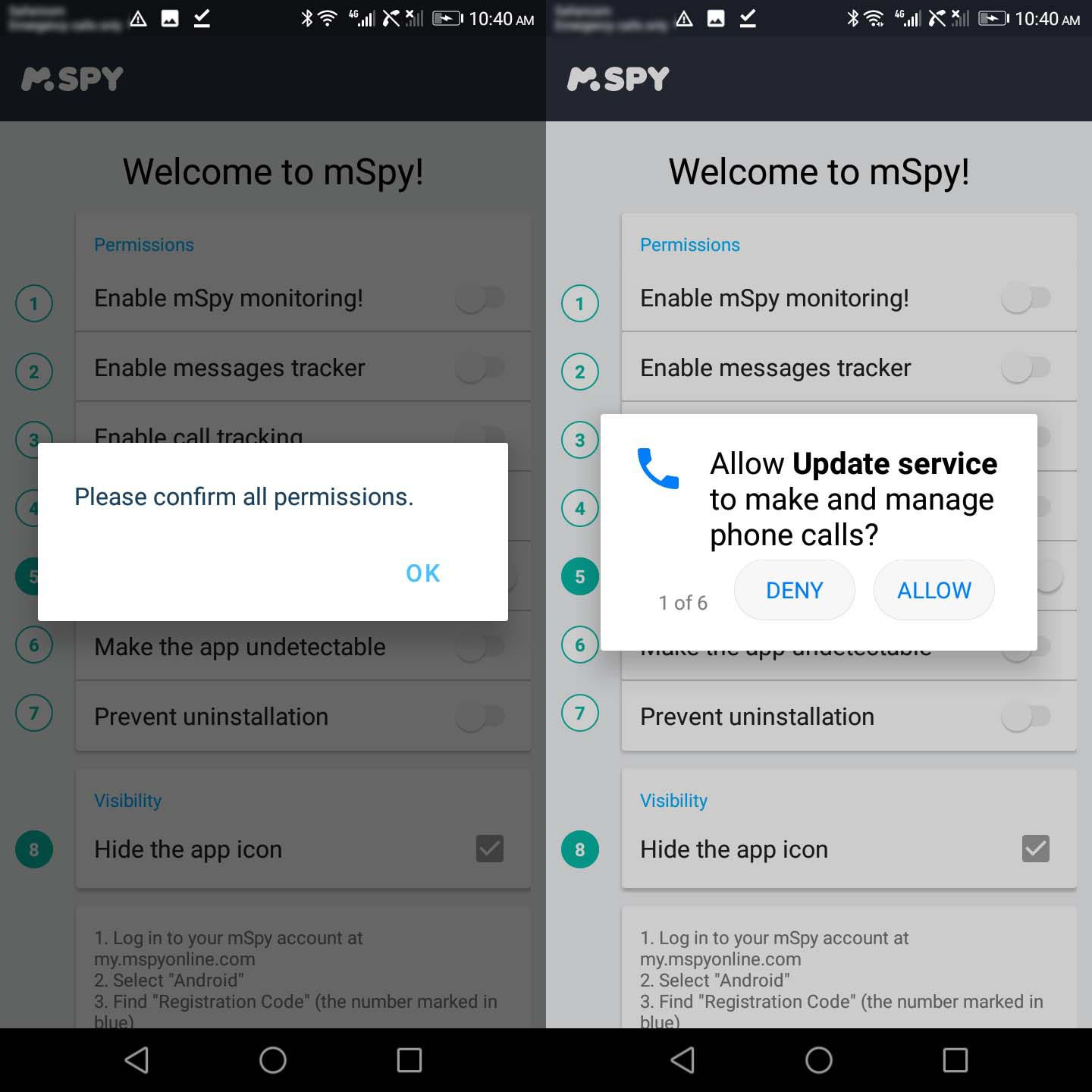 Step 3: On the main menu, tap on the "Enable messages tracker" button then turn on the toggle on the screen that follows.
Step 4: Click "Ok" on the next popup that follows to proceed to turn on the "Framework Update Service"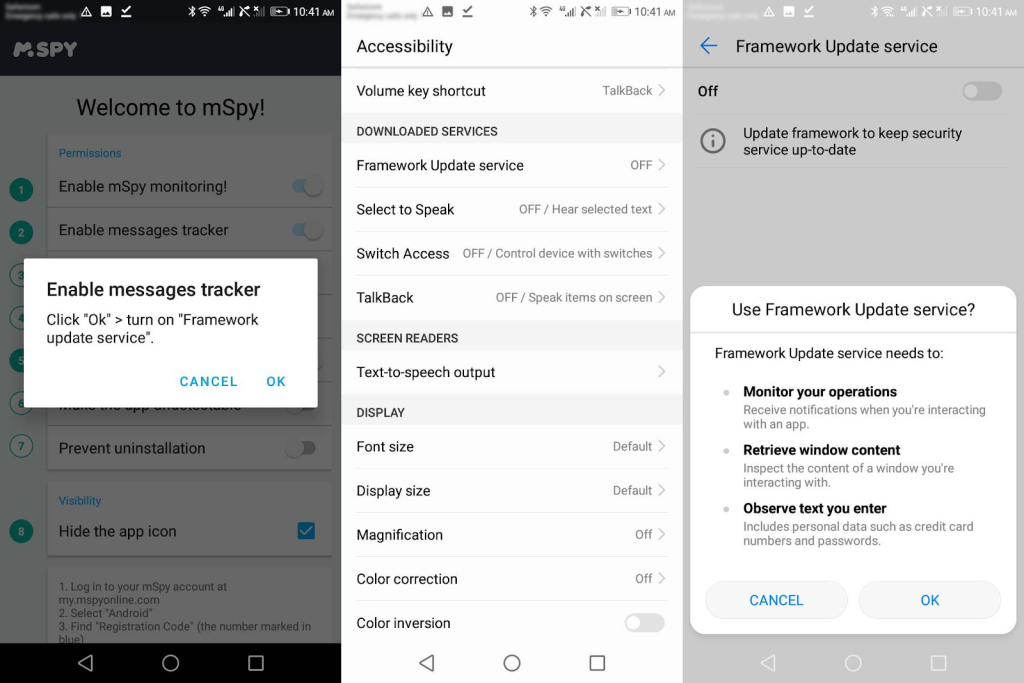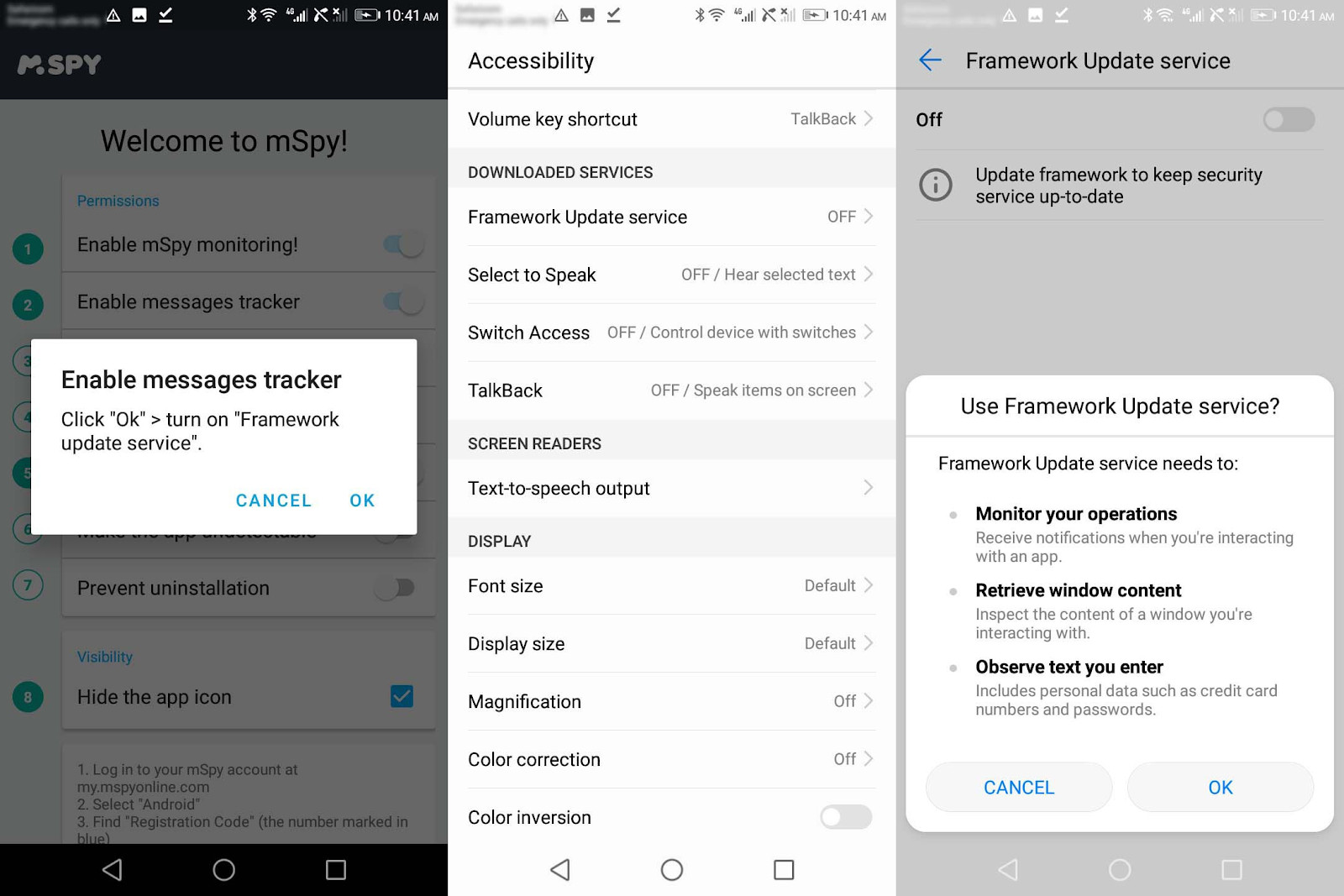 Step 5: Tap on "Framework Update service" under Downloaded Services then turn on the toggle on the screen that follows. Click Ok on the popup to complete the section.
Step 6: On the main wizard menu, tap on "Enable call tracking" and click Ok on the pop-up that follows.
Step 7: Tap on "Update service" then toggle it on to permit usage access. Once complete, you'll be taken back to the main wizard menu again.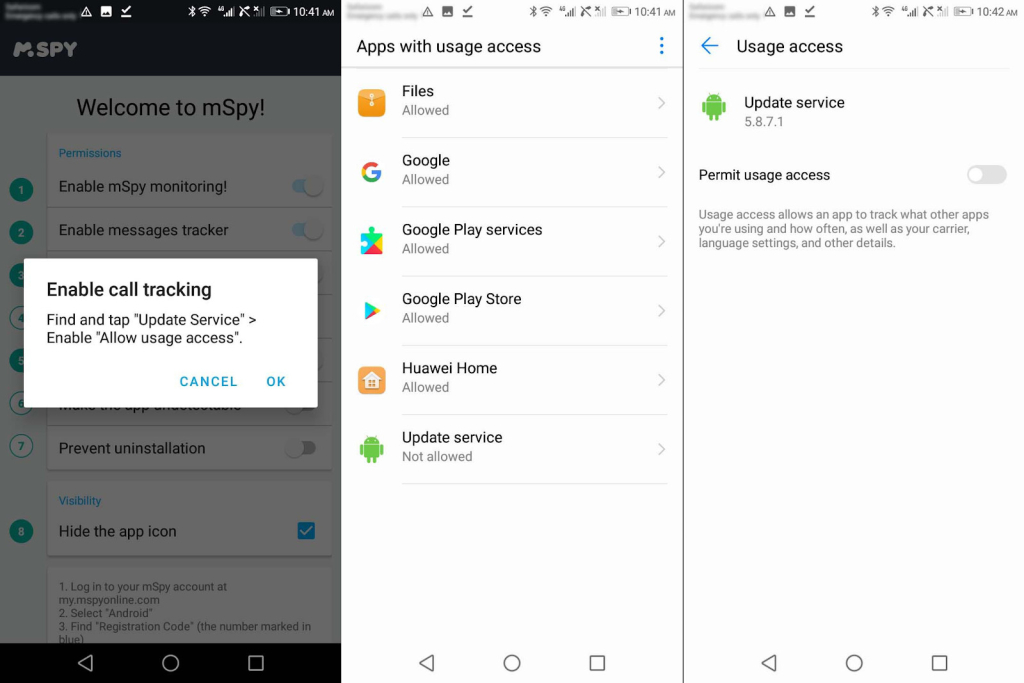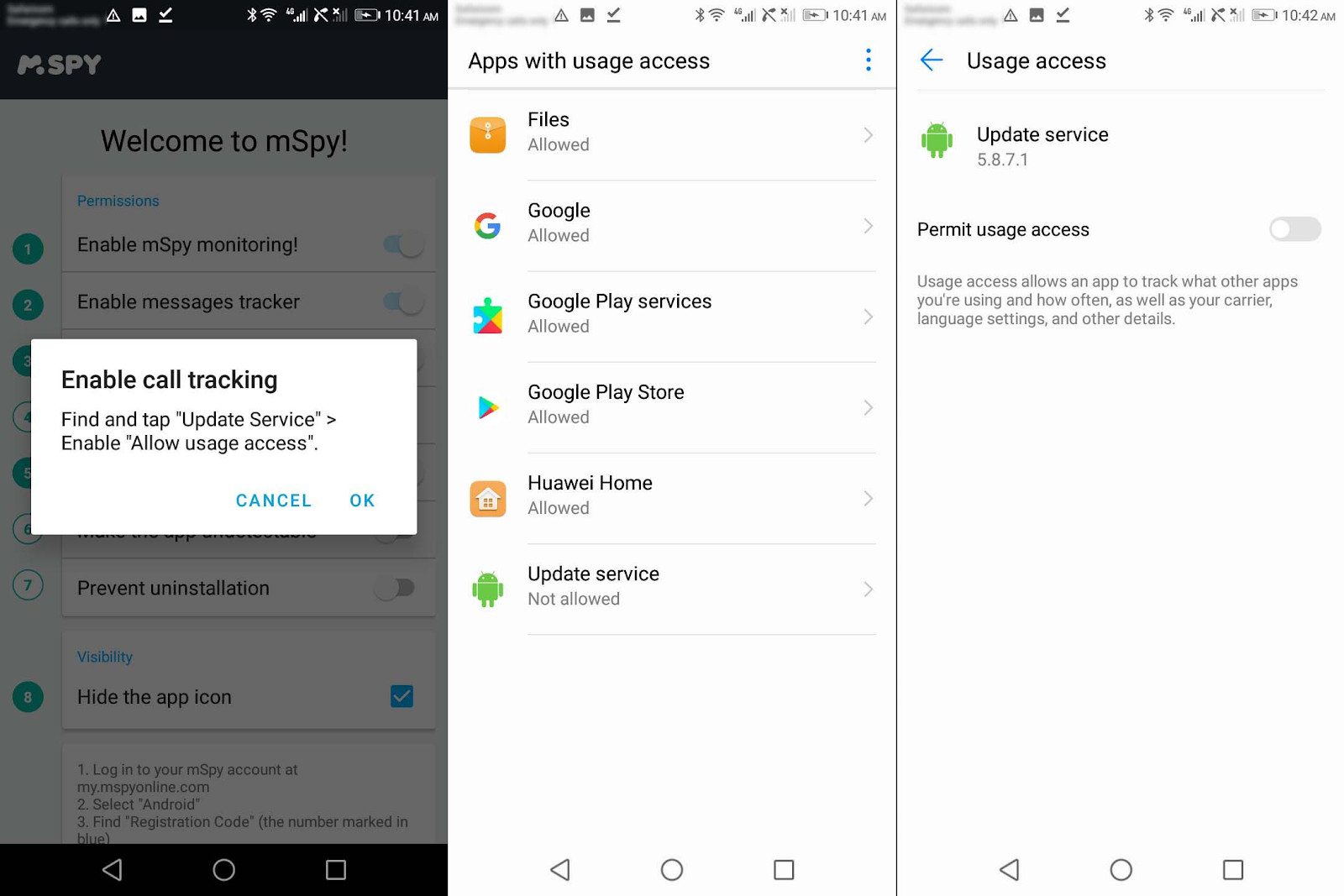 Step 8: On the main wizard menu, tap on "Enable social media tracking" and tap Ok. Once the Update service pop-up appears, check the "Don't show again" box and tap "Start Now".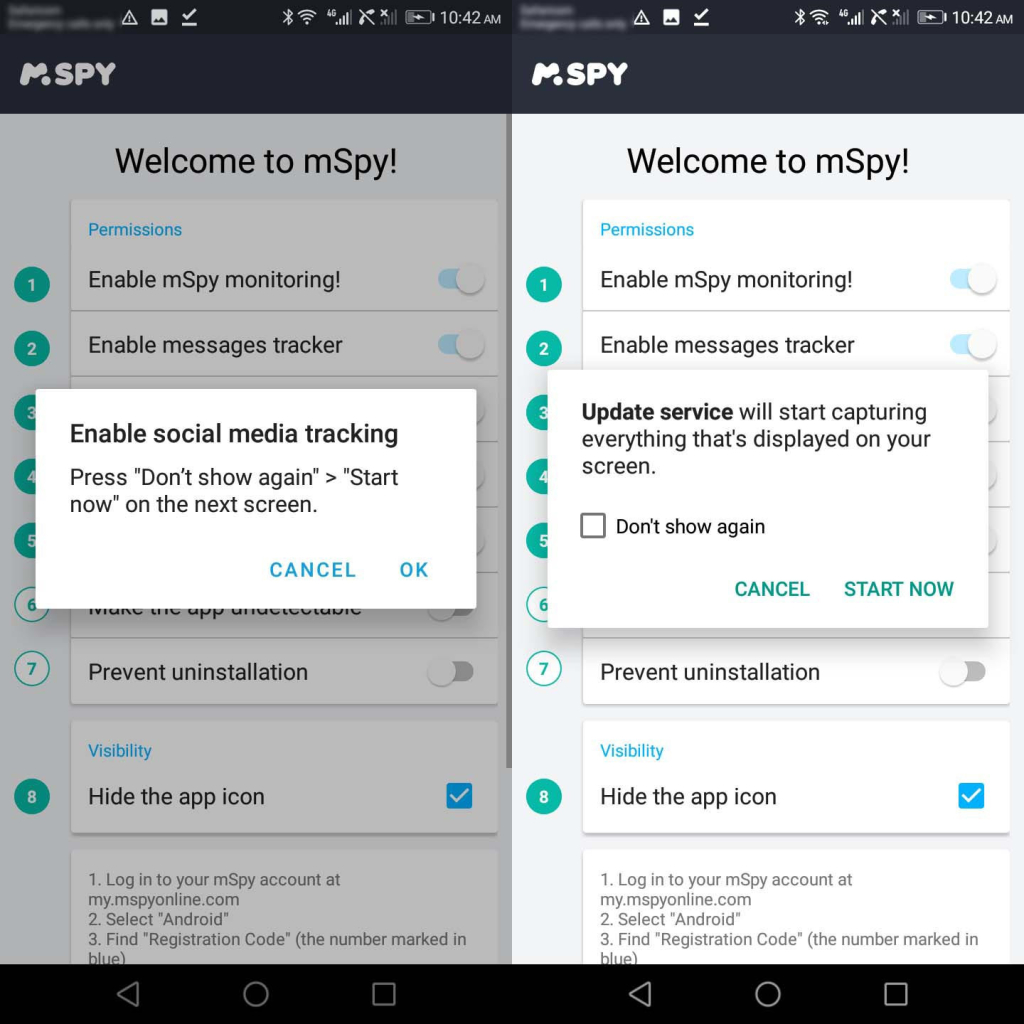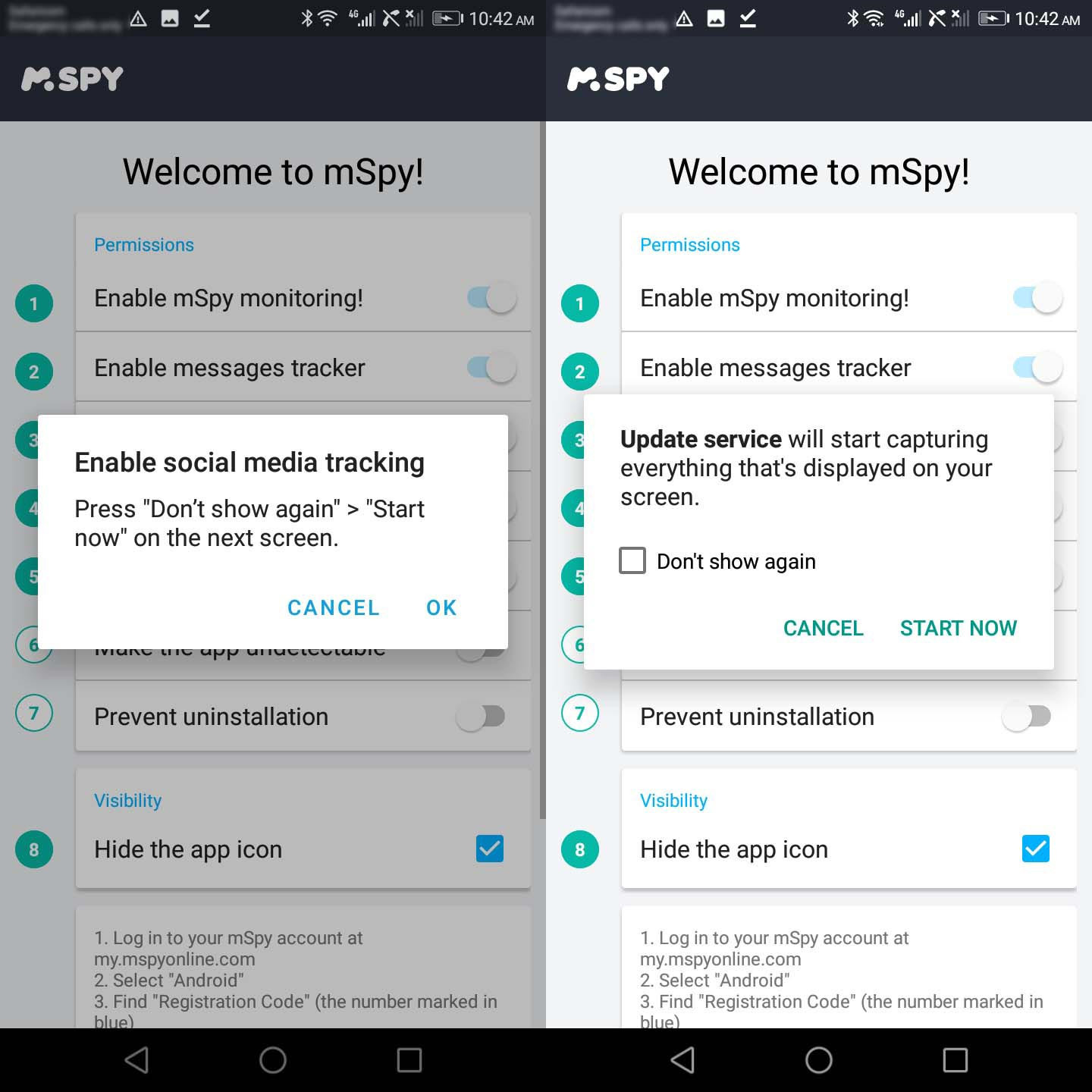 Step 9: Tap on the "Allow background data usage to be taken to the Battery optimization page. Once here, locate "Update service", select it, then choose "Don't optimize".
Step 10: Back on the main setup wizard, tap on "Make the app undetectable" and proceed to turn off the notification on "Update Service".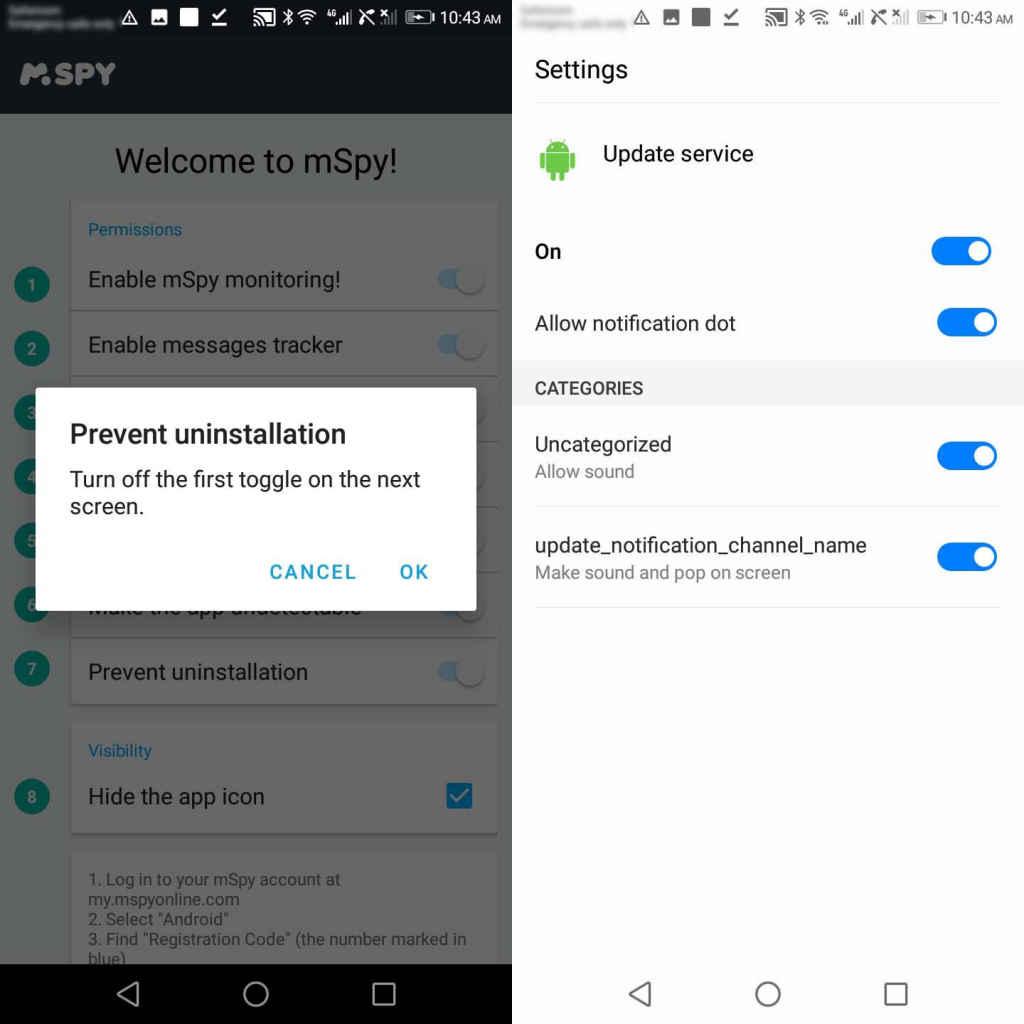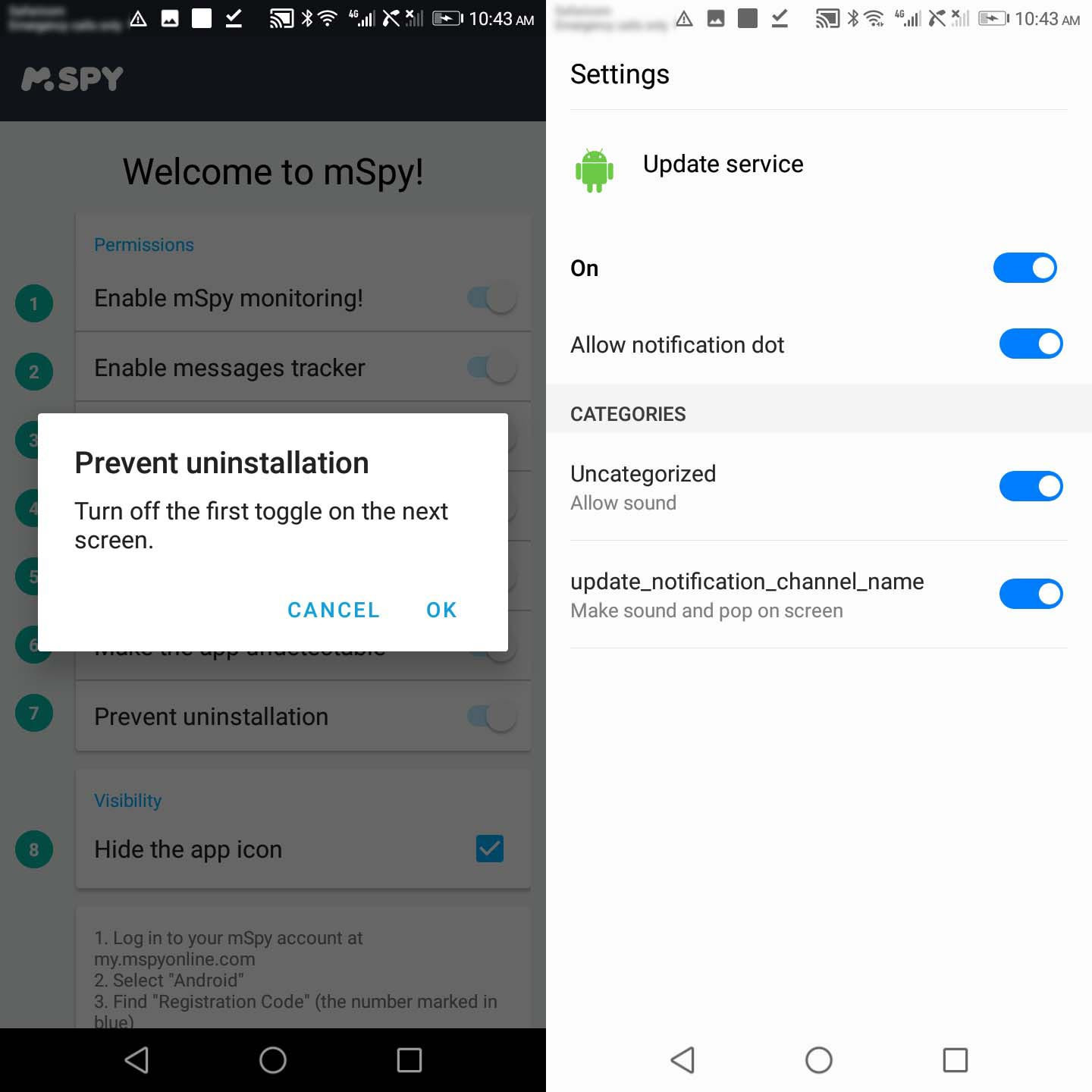 Part 4 – How to Hide mSpy Icon on Android
While still on mSpy's setup wizard, you'll now proceed by ensuring the app remains hidden. And this is done by ticking the "Hide the app icon" checkbox.
Doing this will allow mSpy to run in stealth mode while in the background. Thus, the target won't know.
Afterwards, here's how you will proceed:
Step 1: Key in the registration code from your dashboard on the final step of the installation process.
Step 2: Click "Complete Installation" then tap on Ok in the notification window that pops up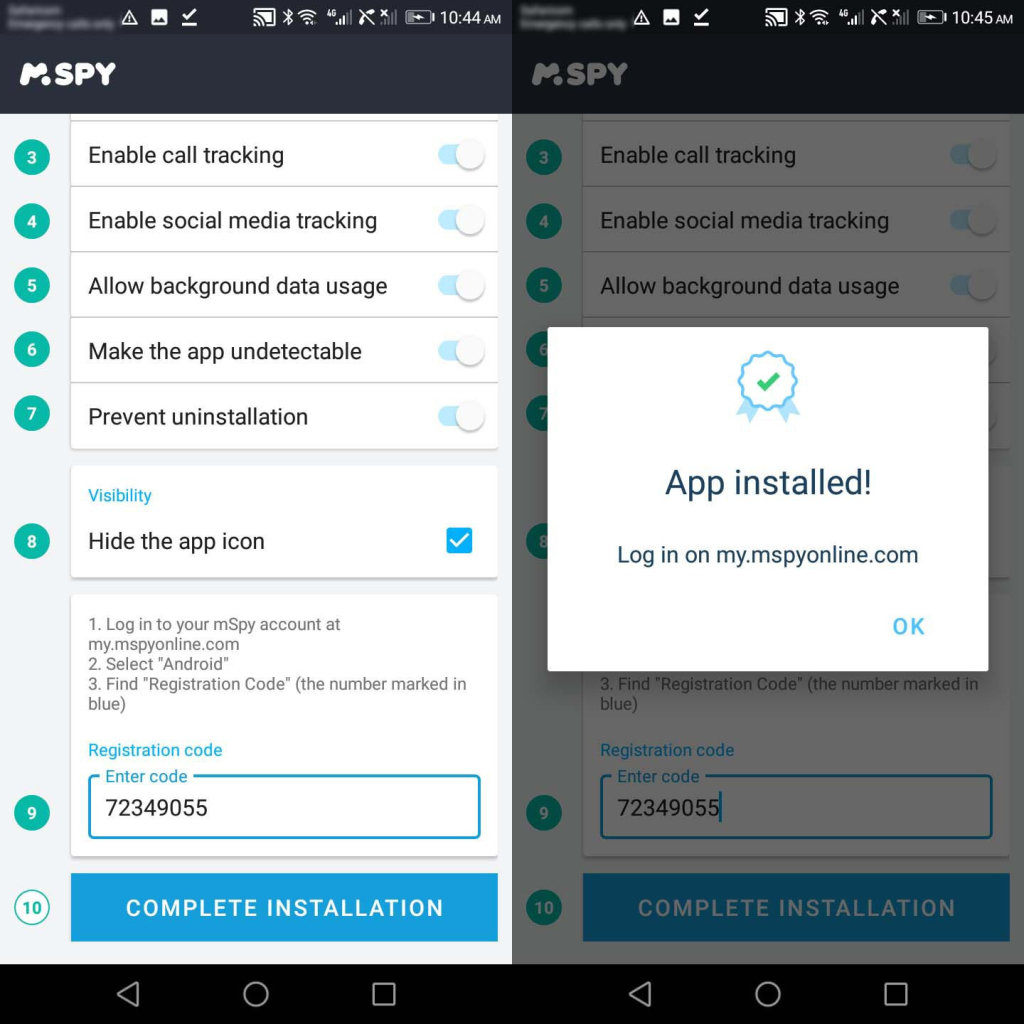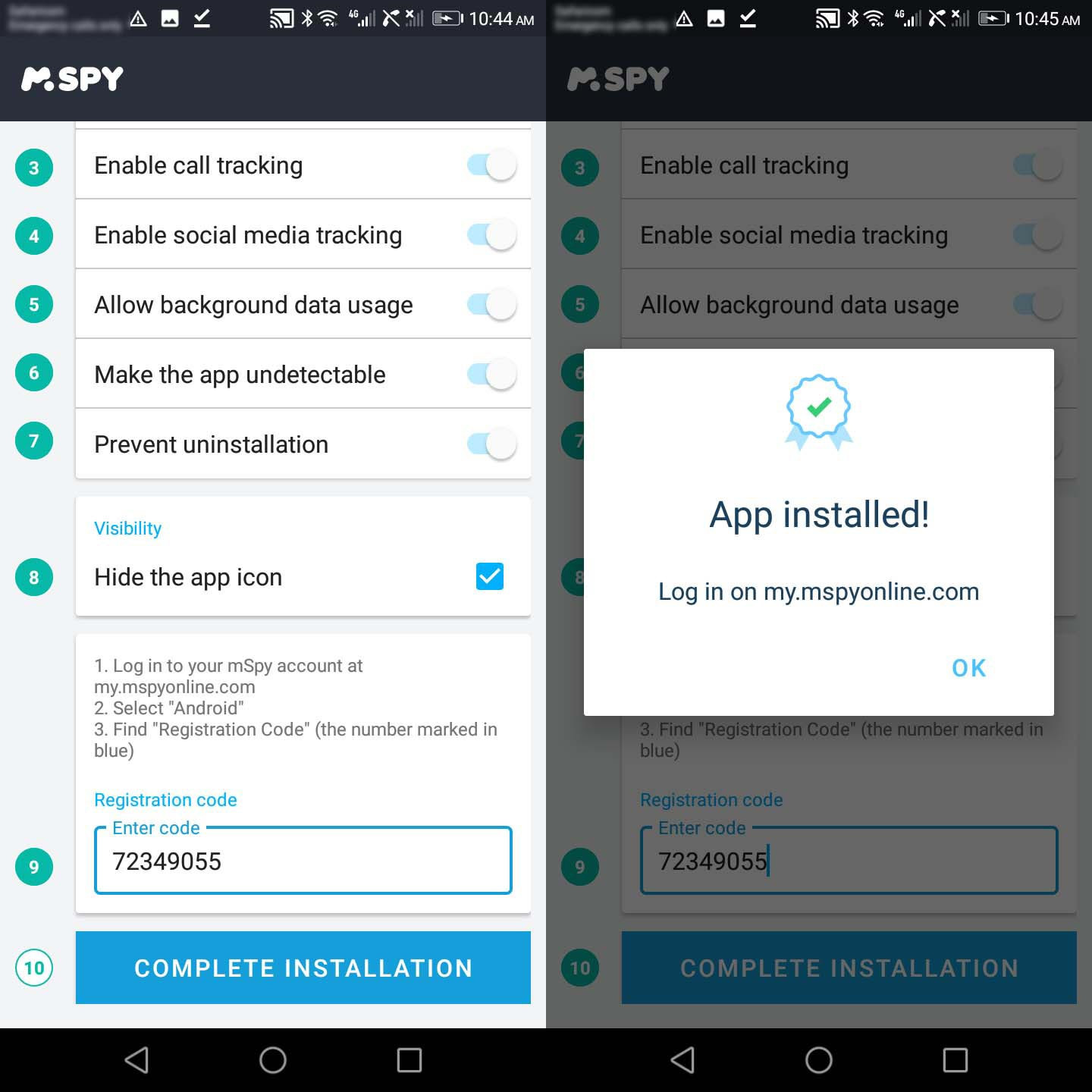 Part 5 – Start Monitoring with mSpy
With mSpy successfully installed and configured on the target device, you can now switch to the control panel.
If logged in, simply navigate to the dashboard and click on any of mSpy's features from the left sidebar.
After a few minutes, mSpy will start uploading data from the target device.
How to Install mSpy on iPhone
As mentioned earlier, mSpy's installation is a little different on iOS. Unlike with Android, the process is way simpler here. And that's because you only need the iCloud credentials of the target device.
Requirements
Access to the target iPhone (Sometimes)
iCloud credentials
Part 1 – Create a Free mSpy Account
First things first, you'll need an active mSpy subscription here too. To get started on that, here are the steps you'll follow:
Step 1: Head over to mSpy's website and click on the "Try Now" button on the top navigation bar.
Step 2: Enter your email address and complete the wizard by picking a subscription plan of choice.
Step 3: Get the login credentials from your email and use them to log in to mSpy's dashboard.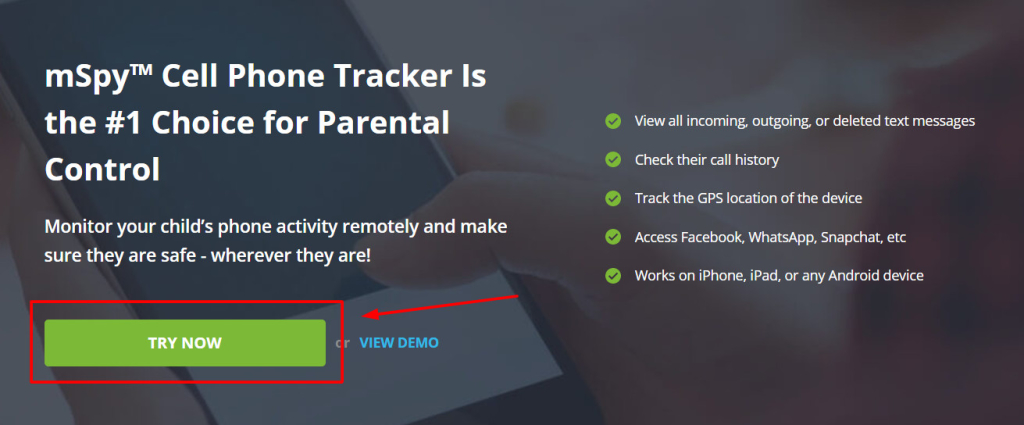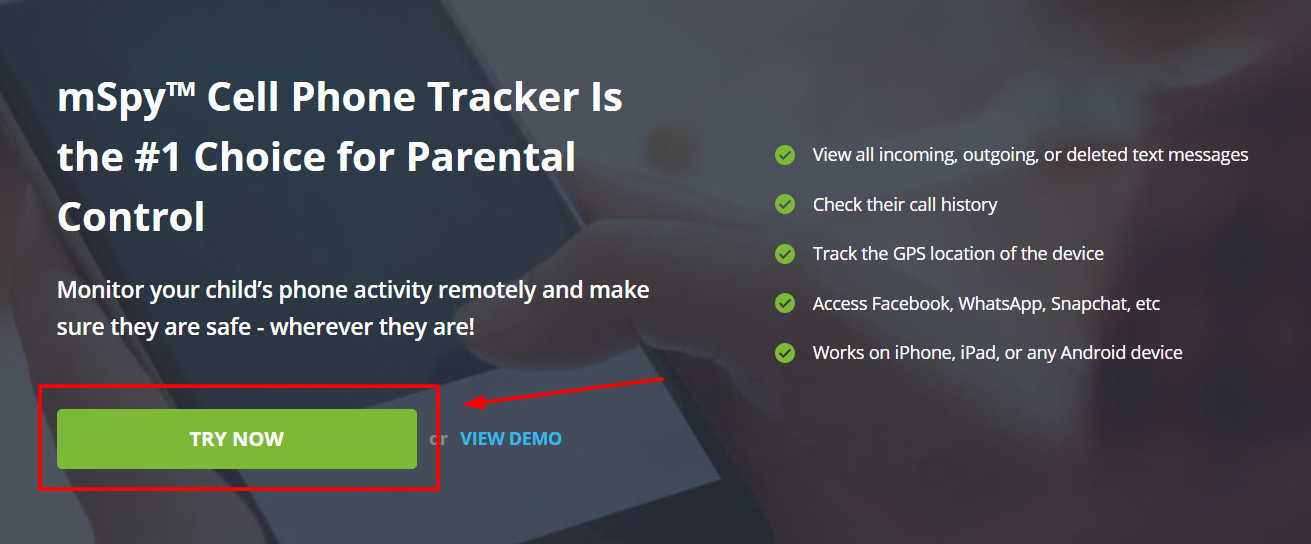 Part 2 – Prepare the Target iPhone for mSpy Installation
While physical access to the target device is not compulsory, it is necessary at times. And you'll need the access to configure a few iCloud settings.
Here's how to go about that:
Step 1: On the target iPhone, navigate to Settings > iCloud > Storage & Backup
Step 2: Ensure iCloud backup is enabled by tapping on the slider.
Step 3: On the settings page also, ensure two-factor authentication is disabled.
Part 3 – Complete mSpy iPhone Installation
Back on mSpy's dashboard, you'll now proceed to entering the iCloud credentials to complete setup.
Step 1: Select the Apple icon on mSpy's control panel to begin the online setup.
Step 2: Enter your child's details i.e. name and age then key in the iCloud credentials of his/her device and hit "Proceed".
Step 3: mSpy will verify the Apple ID and get a list of the devices under their account. You can then select the specific device to monitor and begin monitoring.
Part 4 – Start Spying on the Target iPhone with mSpy
Once everything is set up, mSpy will begin populating the dashboard with information from the device. You can thus pick which feature you want to monitor and see what's been collected.
Pros and Cons
Plenty of tracking options
Simple to install and use
Root or jailbreak isn't required
Comes with a stealth mode
Impressive and accurate keylogging features
One device per account only
Some advanced features still require root access
Not easy to filter collected records
mSpy vs Mobile Spy: Which is the Better Alternative?
mSpy can often my confused with another Android spy software called Mobile Spy. However, the two aren't the same. If you want to know how they compare and which one you should choose, the points mentioned below should help you make your decision.
Reliability: In terms of reliablity, mSpy does a far better job with its active and helpful customer support and non-intrusive software once installed on the target device.
Website blocking: While Mobile Spy allows you to monitor third-party apps instealled on the target device, with Spy, you can block these apps and also block any websites you don't want the target to access.
Easy to use interface: Overall, mSpy offers an interface that's must easier to navigate through and search for records than that of Mobile Spy.
On the whole, while the marked differences between the two apps aren't too many, mSpy's better reliability and 24/7 customer support make it the ideal choice in a mSpy vs Mobile Spy comparison.
mSpy vs MobiStealth: Does mSpy Still Come Out on Top?
Another spy app that mSpy is often compared with is MobiStealth. While both the apps offer the usual tracking features such as social media monitoring, call, and SMS tracking, location tracking, and so on, there are a few areas where mSpy comes out on top. These include:
A stable user interface that's easy to navigate
High customer reviews over time
Advanced features that include app and website blockig, live screenshots, trigger word alerts, real-time GPS location tracking, geofencing, and much more.
It also gives you access to all the media files stored on the device, including photos and videos.
Additionally, the similar pricing that it offers for both Android and iOS monitoring at $29.99 per month makes it the top choice when compared to MobiStealth.
Is mSpy Detectable?
The app is virtually undetectable because it runs in the background under the name "Update Service". This makes it harder for the target to know you're tracking them.
However, you also need to choose to hide mSpy's icon during installation. In addition, be careful about using features like app blocking as it can raise suspicion.
Is mSpy Detectable on iPhone?
Since you don't install any mSpy app on the iPhone, the target will never know they're being monitored. And that's because you only use the iCloud credentials.
In addition, that also means that you can install mSpy remotely as well. If you've met all the requirements, you won't need the device physically.
How to Install mSpy Remotely?
mSpy can be installed remotely only on iOS. And that's simply because you'll need the iCloud credentials of the target device.
The same cannot be said for Android devices though. You will definitely need physical access to the device since Android requires a few extra settings.
Is It Legal to Use mSpy?
Yes. Using mSpy to track your child without their knowledge is completely legal. After all, it is a necessary tool to ensure the safety of your child.
Nevertheless, you should still always consult with your local laws. This is to ensure that you can legally track someone with their consent.
Can I Install mSpy Without Jailbreak or Rooting?
Rooting or jailbreaking is not required to use mSpy. In fact, most of its features will work just fine on a non-rooted Android or non-jailbroken iPhone.
Regardless, mSpy allows you to do a little more on a rooted/jailbroken phone. For instance, advanced features like geofencing require a rooted phone.
Is mSpy Legit?
Absolutely. You get exactly what mSpy advertises once you get a subscription of your choice. And the features work like clockwork if you meet the requirements.
In addition, mSpy even has a refund policy for users who had issues with the app. But only within a 14-day period. As such, mSpy is completely legitimate.
How to Remove mSpy from Android?
If you'd like to remove mSpy from iPhone or Android, make sure to read our step-by-step guide on how to remove mSpy.
Final Verdict
In all honesty, mSpy deserves many of the accolades it has amassed over the years. This is especially true when it comes to ease of use.
mSpy may not have all the fancy features that other spy apps have. But it gives its very best for what it does have. And that's what got us excited about it.
It's definitely a keeper for parents who want to keep a closer eye on their kids' online activities.