12 Top Free Android Spy Apps to Catch Your Cheating Spouse In 2023
Have you noticed your spouse being secretive when texting someone on their phone? Do you suspect that they're cheating on you with someone else? And do you want to spy on your spouse's cell phone to catch them cheating? You need a free android spy app!
In this article, we're going to cover real ways to catch a cheating spouse. We have highlighted some of the best free android spy apps cheating spouse that will give you access to their multimedia files, call logs, real-time location information, and key logs.
Free Spy Apps for Cheating Spouses
The best free methods to catch cheating spouses are not what you'd expect. The features of these methods are mostly limited to location tracking. That's not surprising because fully functional apps to spy are products that demand a lot of expertise, and companies want to make money off it.
The best 'free' android spy apps for cheating offer their services at a fee, and we advise that you pay to get the best of them. The best part is that some of them come with a short free app trial period to test the phone tracker app work before you decide.
There are the best methods to catch a cheating partner:
Google Find My Device
Google Find My Device is a feature used to find lost phones, but who says you can't use it to locate your cheating spouse? The first thing to do is ensure that Find My Device is turned on in their phone settings. Next, you should sign in to Find My Device on your laptop using the same Gmail account. You can create a new account if you don't have your spouse's login details.
Note that when you log in to Find My Device on a laptop, your spouse's cell phone will get a push notification that you're trying to find their device. One way to go around this is to keep the tab open on your browser and never refresh it.
Google Maps
Did you know that you can share your location history with other accounts on Google maps? You can exploit this feature to check on your cheating spouse too! How? Open their Google Maps and turn on the location-sharing feature. If you have a Gmail account stored on their Google contacts, you can easily share the location to the Gmail account. Otherwise, you can generate a link for tracking the location that you can send to yourself via SMS.
The best part of this feature is that it works even when location history is not on.
Uber
We can only imagine the surprise on your face right now. This one's pretty straightforward – log in to your spouse's Uber account on your laptop, and you can see their recent ride history. Note that Uber may send a notification to your spouse's phone about another device used to access their Uber account.
As mentioned earlier, these free android spy apps only allow you to track location. If you want to catch your cheating spouse, their location may be enough, but it provides an easy escape. You need more evidence, and you can get that with several other android spy apps. Check these out:
Before we delve into intricate details about each phone spy app, we'd like you to know how we came about these 12 apps. We did it the right way-our team of experts tested different mobile spy apps for phones and developed a comprehensive list of the best for our readers.
mSpy: Best Android Spy App to Bust a Cheater
mSpy ranks first on any list of the most popular apps to spy. It works on all Android devices and is easy to use. With this cheating spouse app, you can access installed apps, including WhatsApp, Facebook Messenger, and Snapchat, as well as phone files. You can also read your wife's messages from your phone without her knowing.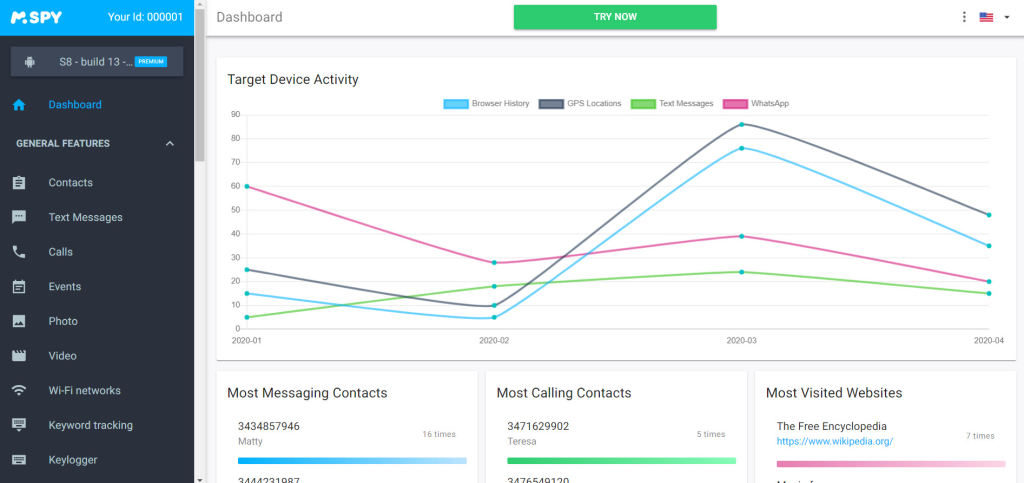 Features
Keylogger;
Calendar;
GPS location;
Multimedia including photo and videos;
Contacts;
Read messaging apps;
Call logs.
Pros
Sits silently on the target device
Excellent customer support – available in many languages
Very reliable and works in real-time
Cons
Requires physical access to the Android phone for installation
eyeZy: App to Spy on Spouse's Phone
eyeZy is also often promoted as the #1 cell phone tracker app. It is quite accessible and works without rooting the Android phone. One feature we enjoy so much is its comprehensive dashboard that gives a summary of every activity monitored. You can access their social media apps, SMS, browser history, and call history anytime.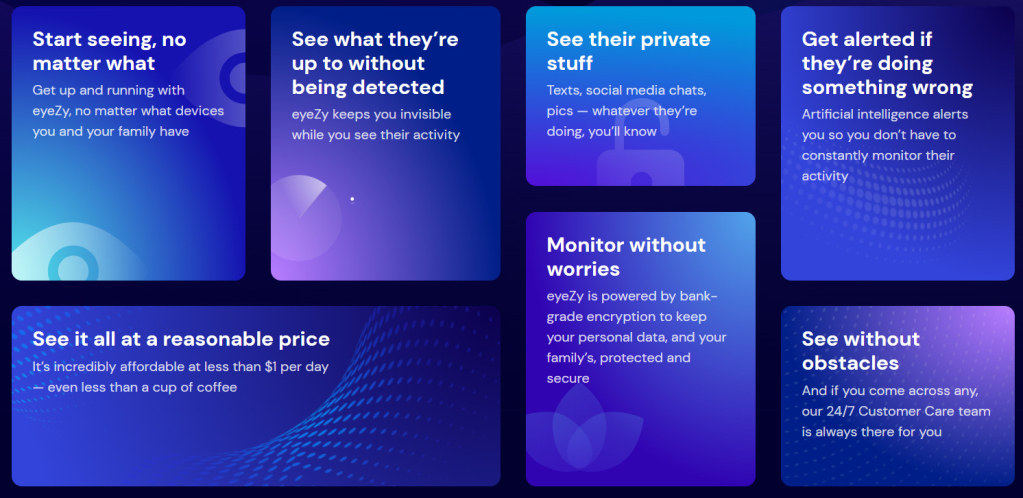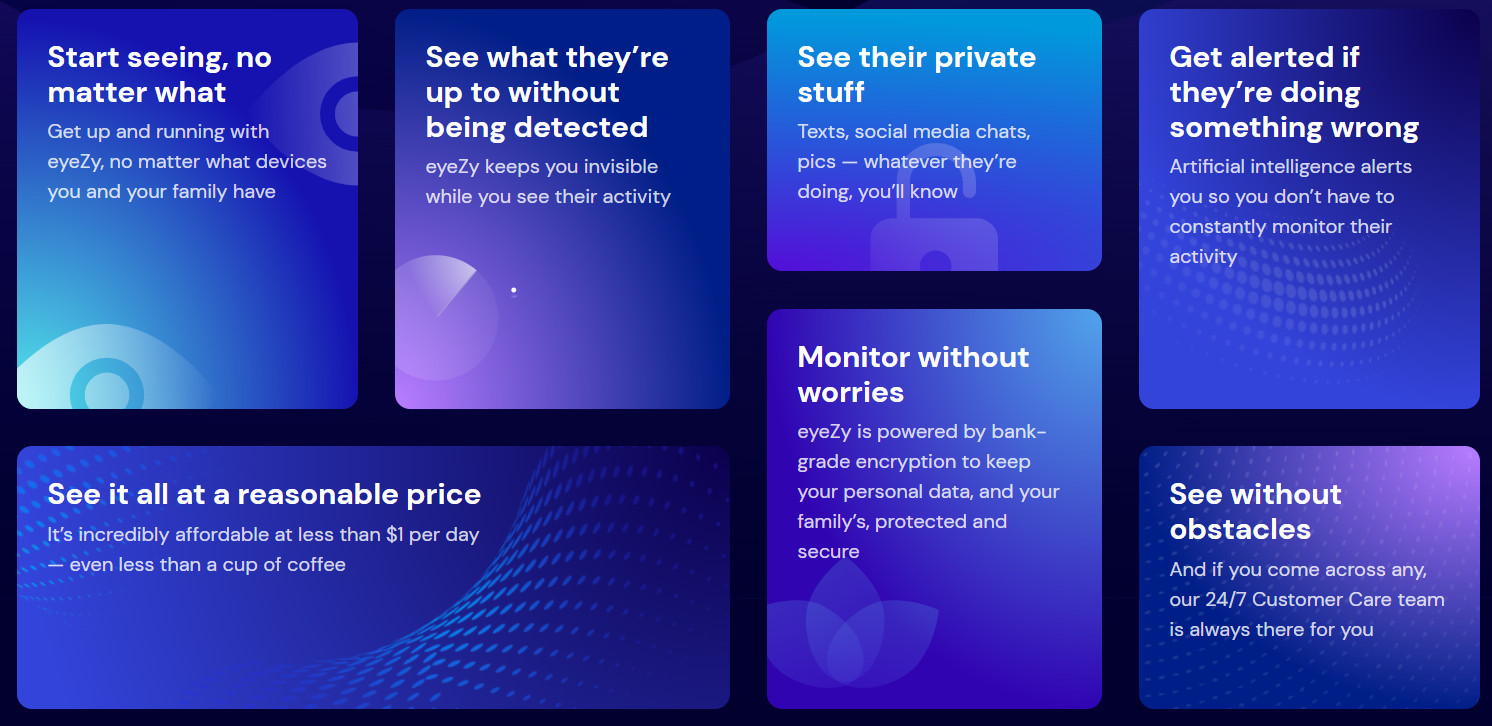 Features:
Social apps including WhatsApp, Viber, and Facebook;
Browser history;
Messages;
Track location;
Keylogger;
Contacts;
Videos and photos;
Calls.
eyeZy comes with a 14-day money-back guarantee which you can use to receive a refund if you don't like the product, making it technically free.
Pros
You get to enjoy all features for free
Will sit silently on the target device
The interface is very easy to use
Cons
It doesn't cover some apps
KidsGuard: Catch Your Cheating Wife
"Kidsguard" sounds 100% like a parental control app, but what if we told you that this app got into the list of the best couple trackers that spouses use to keep an eye on their partner? Well, It did! There's no surprise here because it offers several outstanding features that make it suitable for that purpose.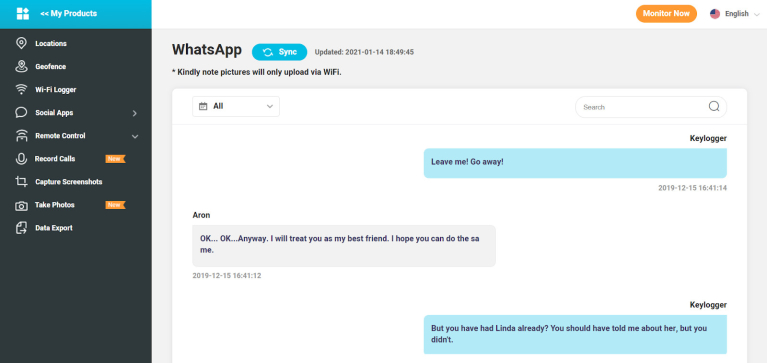 Like any other tool, you can keep an eye on everything happening on the target device with this one. However, it doesn't cover as many messaging apps as other apps.
Features:
Contact list;
Browser history;
SMS;
Call logs;
GPS location;
Photos and videos;
Keylogger;
WhatsApp and Facebook.
KidsGuard comes with a 30-day money back guarantee, so if you don't like the app or have achieved what you wanted to, you can request a refund. You can use the app for free to catch your cheating spouse.
Pros
No rooting required
Offers lots of features
Very easy to use
Cons
Old Android versions sometimes face syncing issues
SpyBubble: Spy App to Bust a Cheater
Another brilliant app that you can use to bust a cheater is SpyBubble. It's compatible with all Androids and offers many advanced features besides the basic ones.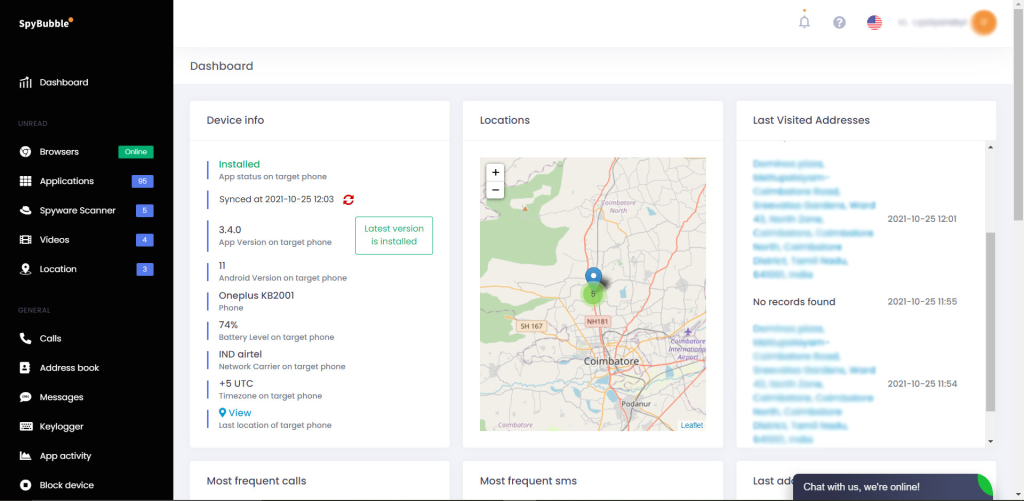 Features:
Given below are some of the unique features that SpyBubble offers:
Call tracking;
Contact list;
Text Messages;
Location Tracking;
Photos and Videos;
Web Browser;
20+ social apps monitoring;
Screenshot reporting.
SpyBubble also has 14-day money back guarantee, so you can try the app for free by requesting a refund once you're done.
Pros
Offers lots of unique features
100% hidden on the target device
Reasonably priced
Intuitive dashboard
Rooting not compulsory
Cons
No geofencing
Some features are limited to iOS
Next on the list is uMobix, which is as powerful as any other spying tool. You can keep track of virtually all activities on the target device, including text messages, deleted pics and messages, location, and much more.
With this app, you will not have to keep an eye on everything; it will send you a message whenever anything suspicious occurs. The app does not come with a free trial, but there's a handy 14-day money-back guarantee, allowing you to receive a refund if you don't like the app.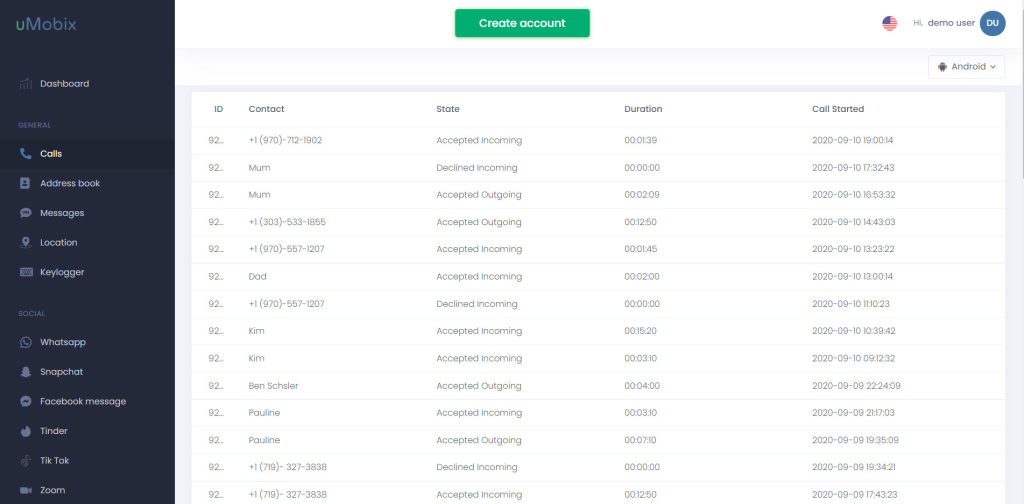 Features:
Activity report;
Location;
Keylogger;

Deleted messages

.
Pros
Straightforward to use
Intuitive user interface
Sit silently on the Android device
Cons
Spynger ranks among the premier spy apps on the market, boasting a rich suite of features that make it a standout choice today. With its advanced tracking capabilities, you can keep a real-time watch on text messages, calls, emails, GPS locations, and more. Detailed reports ensure nothing eludes your scrutiny. Furthermore, Spynger's user-friendly, intuitive interface guarantees a seamless and accessible experience for all users.
Features
Spynger is an advanced surveillance application offering diverse features to help users monitor their devices effectively. Here are some of the critical capabilities of Spynger:
Location tracking
Geolocation tracking
Call recording & Blocking
Social media monitoring
Text message tracking
Email monitoring
Online activity tracking
Screen capture
Live streaming
Spynger empowers users with a comprehensive suite of monitoring tools, providing peace of mind and clarity about their loved one's digital activities.
Pros
Easy-to-use interface
Tracking locations in real-time
Can be used remotely
Cons
No free trial
No lsome parental control features (like blocking certain websites, apps)
FlexiSPY: Husband Tracker
This Android spy software is among the most advanced Android spy apps you'll come by. It comes with some features you will not find on other tools. According to FlexiSPY, it's the only app that remains invisible on Android 10. This spy software takes it a notch above by letting you intercept, listen, and record live cell phone and VoIP calls. Moreover, you can also use the phone's microphone to record its surroundings and know what's happening.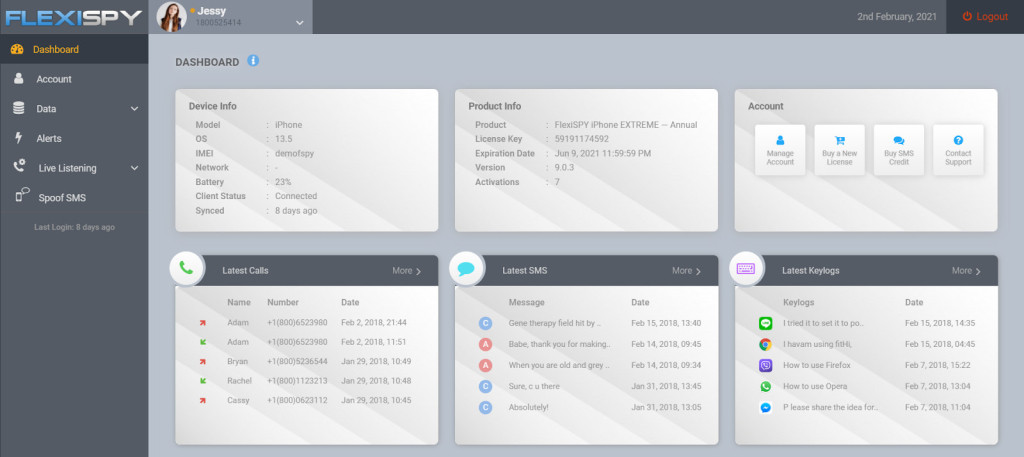 Features:
Social media including WhatsApp, Viber, and Facebook;
Browser history;
Track location;
Keylogger;
Contacts;
Remote camera capture.
The company offers a unique no-hassle installation service. Plus, you can also order a phone that comes with the app pre-installed. The software comes with 150 features. You can use the app for free for a few days, but you'll only have access to limited features.
Pros
Remains hidden on the device
Comes with exclusive features
Excellent customer support – available 24/7
Cons
Some features may not work on the latest Android phones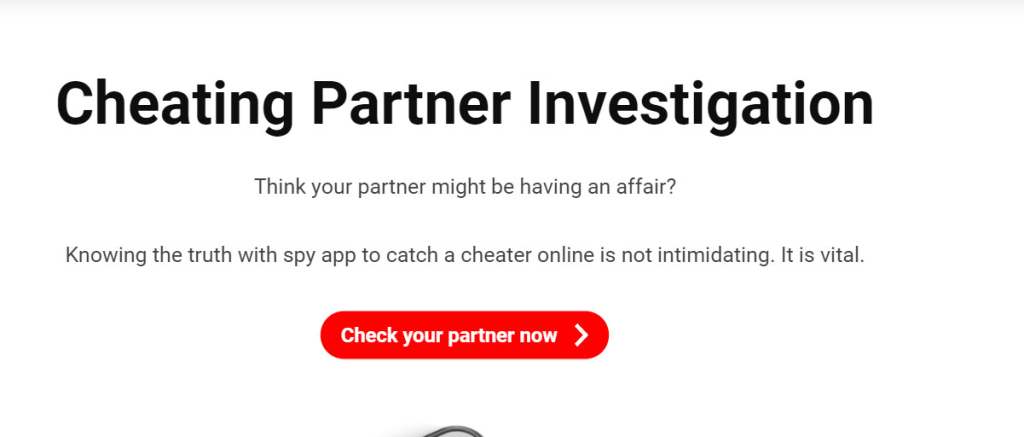 Spyzzz is among the top Android spy apps you can consider if you want to catch your spouse cheating. It's compatible with all Android devices, making it easy to install and start spying on your spouse.
Features:
Spyzzz offers you a variety of tracking features that you can take advantage of to catch them cheating red-handed. These include:
Call logs and contact list;
Text messages;
SIM card replacement;
Browser history;
Keylogger;
Geofencing;
GPS tracking;
Block websites;
Camera snapshots, and more.
Spyzzz offers a 14-day refund policy, so you can use the app for 14 days and then request a refund if it's served your purpose. As a result, you can essentially use the app for free.
Pros
100% undetectable
Offers a variety of tracking features
14-day refund policy
Intuitive dashboard
Cons
Requires physical access for installation on Android devices
Hoverwatch: Free Cheating Spouse App
Now, finally, here's a tool that comes with the same features as other apps but offers a free sign-up.
Hoverwatch seems tailor-made for spouses due to features like SIM change alerts and screenshots. So if you notice some signs of cheating, Hoverwatch is a great way to confirm or deny the telltale signs and get rid of all your suspicions.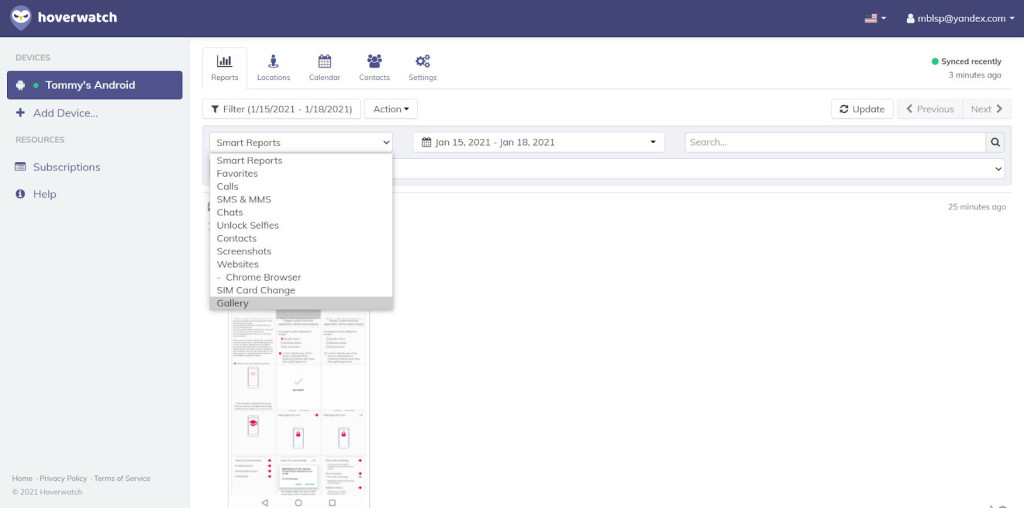 Features:
Text messages and calls;
Social media including Instagram, Snapchat, Facebook, Viber, and WhatsApp;
Geolocation;
Front camera photo;
Internet history;
Contacts;
Todo list;
Screenshots.
The free version of the tool comes with limited features and will give you access to a limited number of devices. Plus, it works on all Android devices and is pretty easy to install and use.
Pros
Perfect for couples
Offers some unique features
Sits silently on the phone
Cons
The free version comes with limited features
Spyrix – App To Spy On Spouse's Cell Phone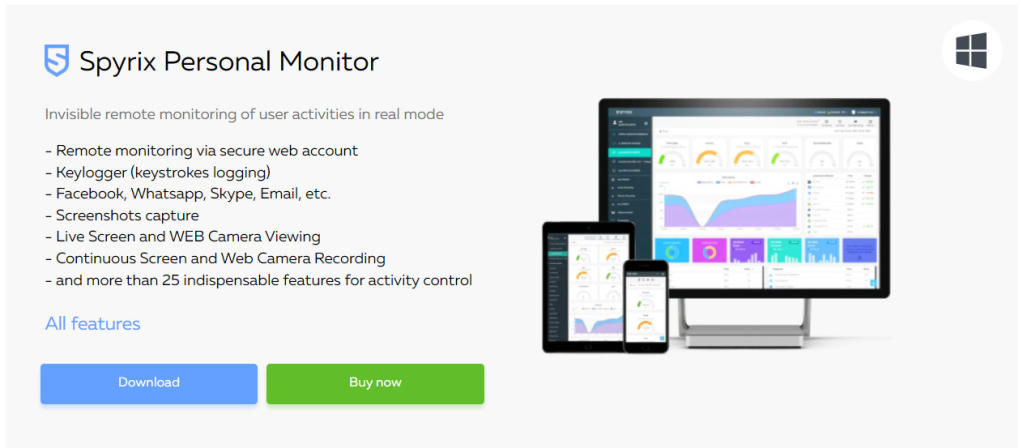 Spyrix is another top option on any spy app list, and that's no surprise to us, given its outstanding features. It's mainly touted as a control app for parents, but it can also help you catch a cheating spouse. The first thing you'll love about the app is the straightforward installation process (15 minutes or less), and it requires no rooting. The best part is you can opt for the free trial before you finalize the purchase.
Features
Remote monitoring via dashboard;
Geolocation and previous location checks;
Track website history;
Keylogger;
Monitor Instagram, Facebook messenger, WhatsApp, Viber, Snapchat and much more;
Comprehensive call logs – Listen to incoming and outgoing calls, with time, duration, and caller info;
View gallery media.
Pros
Online dashboard
Free trial version
14-day money back guarantee
Cons
May not work on older Android versions
Xnspy – App To Catch Cheating Spouse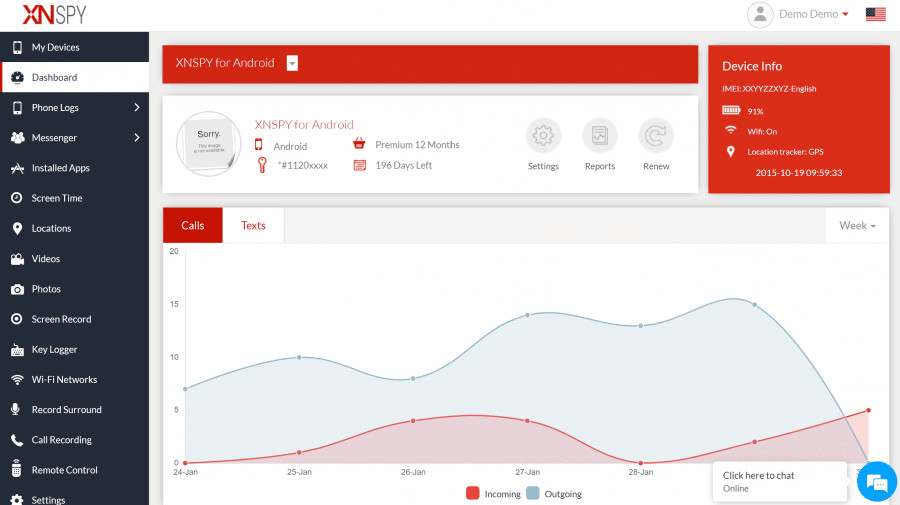 You can install XNSpy on the target phone within 5 minutes, and in so doing, you've launched an app that puts the details of every activity on your spouse's phone at your fingertips. It's one of the cheapest options you can opt for, yet with great value. Before you use the app, you can try out the live demo, so you know what to expect.
Features
Phone Logs;
Constant updates and alerts on phone activity;
Screenshots;
Phone call recording;
Ambient listening;
GPS location tracking;
Geofencing;
Access to all multimedia files;
Social media app monitoring.
Pros
Allows you to record phone's surroundings
Real-time updates
Cheap
10-day money back guarantee
Cons
Cocospy – Spy on Partner's Phone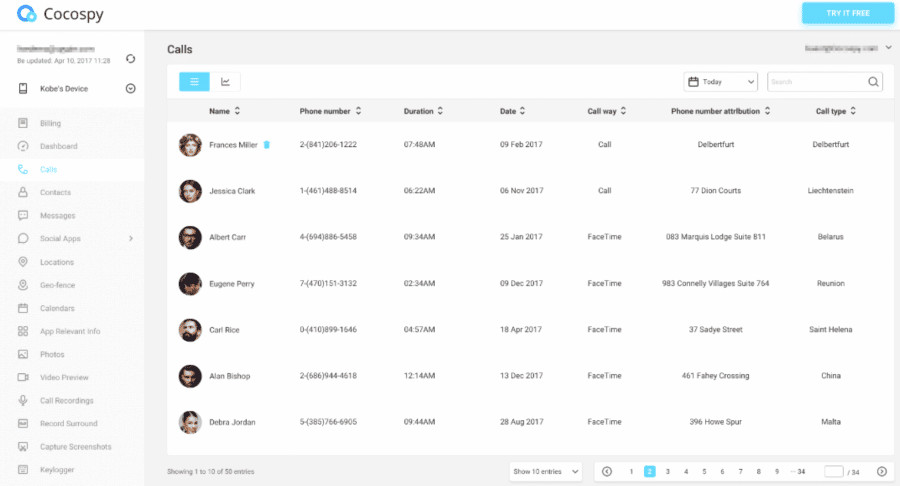 Cocospy runs anonymously and can control the target phone remotely, like the free hidden spy apps for Android. You need a few minutes to install the app on your spouse's phone (you have to do this manually), and you're good to go. They also offer a live demo that will help your decision.
Features
Keylogger;
GPS location;
Geofencing;
Track calls;
Multimedia files access;
SIM card alerts for any change of the chip;
Calendar snooping;
Checks all social media apps and conversations on the target device;
Video preview feature for adult content.
Pros
Awesome customer service
Precise GPS location tracking
60-day money back guarantee
Cons
Rooting needed to access some features
How to Catch a Cheating Spouse?
If you want to know how to catch a cheating spouse – you're in luck because the options are endless. There are many ways to catch a cheating partner, such as hiring a private investigator, going through their social media accounts, or planting a recording device or a GPS tracker.
However, instead of wasting money on private investigators and buying an expensive recording device or GPS tracker, you can go through your spouse's phone with a mobile spying app. These spy apps for cheating spouse can record phone calls, track their GPS location, and analyze social media accounts simultaneously. You can conveniently access all the data from a single place – a web-based dashboard.
So if you want to end your cheating husband's infidelity, choose a spying app in this article to find all the evidence needed to catch a cheater.
Is There a Free App to Catch a Cheating Spouse?
Unfortunately, there isn't a free, reliable way to catch a cheating spouse. Most websites that claim to be free are actually scams that will infect your computer with malware, so stay away from them. The most effective way to catch your cheating spouse is to use one of the apps we've mentioned in this article.
What Is the Best Free App to Catch a Cheating Spouse?
mSpy is the best free Android app to catch a cheater. It offers a variety of different features like phone calls and SMS monitoring, social media monitoring, web browser tracking, and more to help you bust your cheating spouse.
How to Track a Cheater's Cell Phone?
If you're wondering how to catch a cheating spouse, we're excited to report that it is very easy, and it takes less than five minutes. Here's how to track your cheating spouse's phone by using third-party apps from our list:
Go to the software provider's website.
Sign up for an account and choose a subscription plan.
Follow the instruction in the welcome email to set it up.
If your spouse has an iPhone, you can install the software remotely by entering their iCloud credentials – no actual installation required.
If your spouse uses Android, you'll have to obtain physical access to the phone to install the app.
Open the download link from the welcome email.
Download the software on the target's phone.
Complete installation to gain access to your spouse's phone.
Log into your dashboard on the provider's website and all their messages and calls will appear.
Can I Spy on My Spouse's Android Phone Without Touching It?
Yes, you can spy on your spouse's phone without touching it. All the apps on this list allow you to remotely spy on an Android device. However, you'll only need to physically access the device once to install it, after which you can spy on them remotely.
Most Common Things Cheaters Do
If you have some doubts but aren't really sure whether your spouse is cheating, here are some most common signs of a cheating husband or wife:
They're always working late
They frequently call specific numbers that you've never heard of before
They spend too much time with their co-worker
They're gone for a few hours every day without an explanation
You have a gut feeling that something is wrong
They are hiding their cell phone
Conclusion
And, there you have it. Finding out if your spouse is cheating on you can be easy if you enlist the help of secret phone trackers, such as mSpy. Luckily, these phone trackers are effortless to use, and they're also beginner-friendly. So, even if you're a novice, you'll be able to use them with ease. Choose your favorite from our review and find out if your spouse is cheating on you.
What Are Spy Apps?
A spy app is a software that allows you to monitor activity on a target phone – phone calls, track messages, social media apps, GPS location, browsing history, etc. Most spying apps need access to the target device once to install; some even allow you to monitor multiple devices, and you can do all of the monitoring from your device. The best app can allow you to listen in on your spouse's smartphone surroundings and take videos and photos too, all from your own phone. Such apps come at a price though.
Are Spy Apps Legal?
It depends. You need to check the laws of your country to be sure. In the United States, installing a mobile spy app on your spouse's phone is illegal without their consent. However, spy apps for cheating spouse often try to find loopholes in the system and design their products to evade legal restrictions. 
What Is Rooting?
Rooting is a process that helps you gain root access to the Android operating system code. For iOS, the term is "jailbreaking". Rooting allows you to install software (such as free android spy apps) that the manufacturer doesn't want you to. However, there is a considerable risk of malware anytime you root your phone so you should opt for free apps to spy that do not need any rooting. If you must root your Android for a spy app, get a professional to do it.
Are Spying Apps Safe?
Yes. The best apps for cheating spouse make user data safety a priority. However, you may not enjoy such security with some 'best free apps for cheating spouse' that claim to offer spying features at no cost. Some of them are dangerous malware.