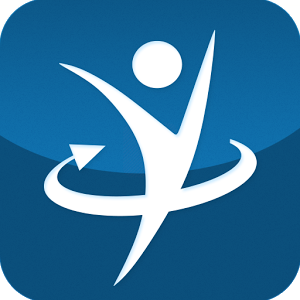 Chidren don't have enough experience to protect themselves online. That's why parents should be responsible for kids' security. SecureTeen can become a great assistant for parental control. SecureTeen ensures a sophisticated cell phone monitoring and parents can be sure that their kids are safe. The following SecureTeen Parental control review will shed a light on this monitoring application.
Some words about SecureTeen
SecureTeen is a monitoring application that was developed specially for parental control. It helps parents to know where their children are and what they are doing. With its help, a user can know everything about his child's SMS messages, GPS location, web searches, activities on social media, etc. He can also manage the target device remotely and save the situation if the phone it stolen or lost.
How does the app work?
The app is easy to use. It provides a user-friendly interface and has a simple installation process. Follow several easy steps to start monitoring your kids' devices:
Download the installation file and install the app;
Configure SecureTeen Application;
Customize user settings;
Create your personal online panel using your email and suitable password;
Monitor all the activities on the target device.
Why should you choose SecureTeen?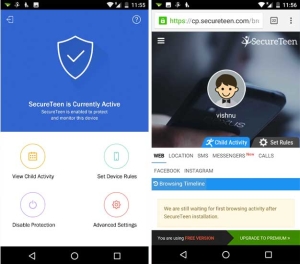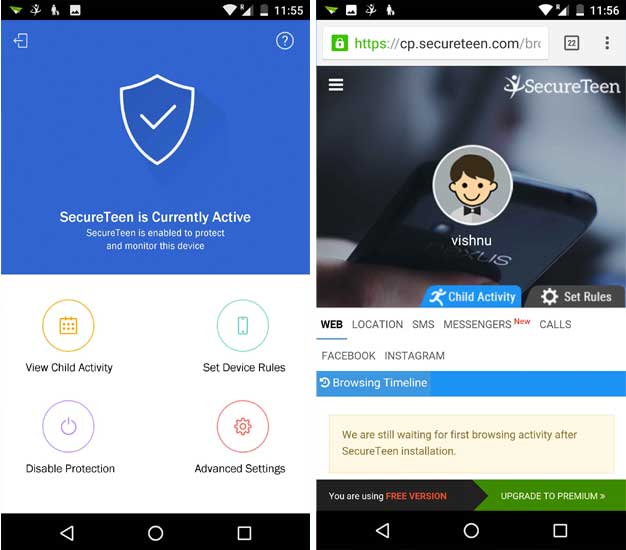 If you have any troubles with your child's phone monitoring, it's time to think about SecureTeen. If you are not sure who they are chatting with or what they are talking about, the app can give the answer in seconds.
All parents have the same problems, but not all of them choose the right solution. Get your benefits using an effective spy app. So why should you choose this app?
You will be able to block harmful and mature content. One your click and SecureTeen sweeps away adult and harmful content with its digital broom. Your kid will not see any dangerous and inappropriate things;
You can determine the time of using the devices. It means that your kid spend the proper time on his phone or tablet and has an opportunity to focus on the important things;
Another great feature is that you have an ability to track several devices at the same time. You can watch for all your kids, and you will not ignore anyone. The app provides important and crucial information on all your children;
You get a right to kick out apps you which you consider unwanted. If you think that a particular application is inappropriate for your kids, the SecureTeen can block it. It shuts it, and that's all;
This application gives you a superb ability to manage and create a timetable for all of your child's activities.
What benefit can you get using SecureTeen?
If you are a user  SecureTeen  Spy App you will be able to:
Avoid cyberbullying and stalking. It became widespread with the development of social media, and we have to protect our children from those dangerous situations;
Block unwanted web content;
Forbid all kinds of violent games.
Main Features Of SecureTeen
Secureteen For Android Monitoring
Monitoring Facebook activities – SecureTeen is able to protect your children from unwanted activities on Facebook. Kids are inexperienced so they can get in troubles communicating with strangers online and sharing personal information. The app gives you an ability to see every move of your kid on Facebook. You can see their Facebook activities using your online account;
Tracking SMS messages – be aware of all SMS messages that you kid sent or received with the help this effective function of parental control. The app sends all copies of SMS messages to your online panel, and you will be able to view them at any time;
Blocking inappropriate content – SecureTeen helps parents to prevent their kids from watching adult and harmful content. You will be able to block mature websites and all web pages which contain inappropriate information;
Tracking web browser history – this spyware monitors all websites and creates a list of URLs. You may access it from any device and check the whole web history with all details;
Tracking current GPS location – with the help of this powerful monitoring feature, you can always be aware of your kid's location. You will be able to track every movement of your kids and help them if they get in troubles.Check Also : Ultimate List of Best Android Parental Control Monitoring Software
Secureteen For iOS Monitoring
Besides those functions which were mentioned above, if you are going to track an iOS device, you will be able to:
Track phone calls – monitor and view all details about outgoing and incoming phone calls of your kids. You can get access to names and numbers, date and time logs;
Monitoring social media – SecureTeen tracks all activities of the owner of the target device on social networks and messengers. Find out all details about KIK, Viber, and WhatAspp activities;
Spying on Skype and LINE – be aware of all activities of your kid on Skype and LINE with the help of spyware.
Computer monitoring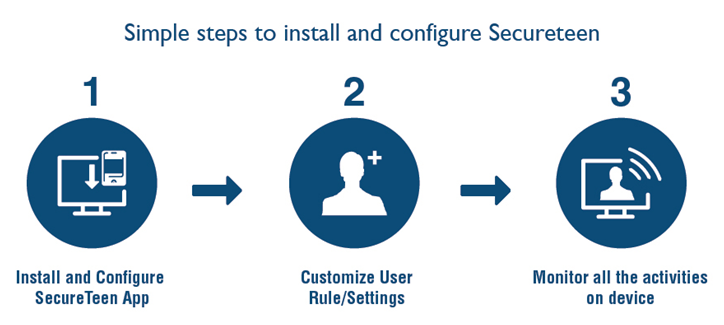 There are also special monitoring features which you can use when tracking target computers:
Safe search – SecureTeen spy app provides special filters which can prevent your child from adult and harmful content and search results;
Filtering Internet activities – if you are a user of SecureTeen, you are able to keep pornography and other unwanted content away from your children. Set up filters and you can be sure that no single inappropriate web page will be shown to your child;
Blocking unwanted apps – you don't have to find and delete an unwanted software or application from your kids' devices. With the spy app, this process is much easier. You should simply add unwanted apps to the block list, and that's all. The app will do the rest of the work.
Prices
It is great that such powerful spy app as SecureTeen provides services for quite an affordable price. You have to pay $39.99, and you'll get a year subscription. Besides, you'll be able to track up to 3 devices.
So don't hesitate! Choose SecureTeen, and you'll get a sophisticated and reliable monitoring for a reasonable price.