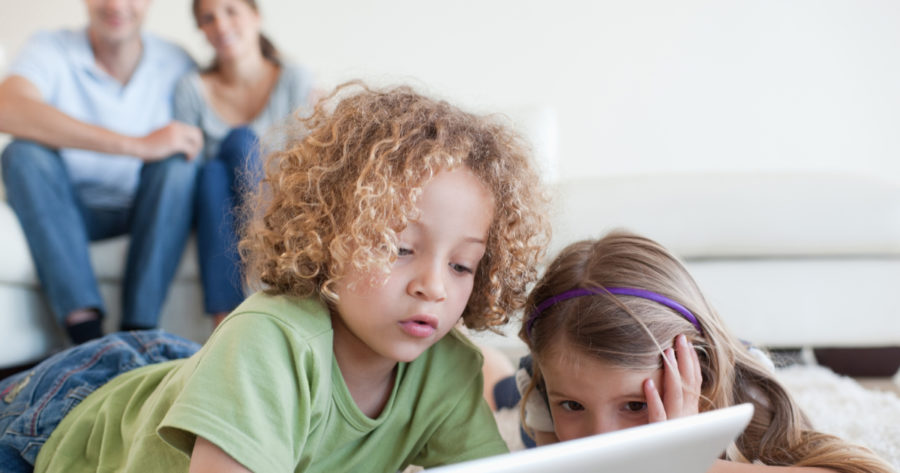 The Internet provides access to tons of useful information, and thanks to this, a child can find a lot of educational materials, learning games, and lots of other great stuff.
But at the same time, there are lots of dangerous content that your kid can easily access.
Those include adult images, violent videos, offensive posts, scary news, and more.
Some content can severely frighten children and damage even their psyche.
Fortunately, there is an Internet filter, which is a software specially developed for blocking a website that can pose a threat.
A lot of psychologists justify their use since too much information (sometimes not always reliable) can be harmful.
At the same time, too much control over your child's life will make you a 'helicopter parent,' which is not right.
Therefore, before prohibiting everything and at once, you should try to think up an effective strategy based on mutual understanding between you and your child.
Although new options appear on the market just like KidsGuard internet filter app, in this article, we will familiarize you with five active Internet filters.
They will help you to have peace of mind, protecting your child even if you are not around.
There are lots of various filters that you can find on the web, and it may seem to be very difficult to choose something.
We can help you narrow the list of options down to just a few. Just pick something from the following most popular applications:
mSpy
MMGuardian
Kidslox
Kaspersky Safe Kids
TheTruthSpy
Let's find out the main advantages of each of them to know what to choose based on your needs.
mSpy: Reliable Protection and Control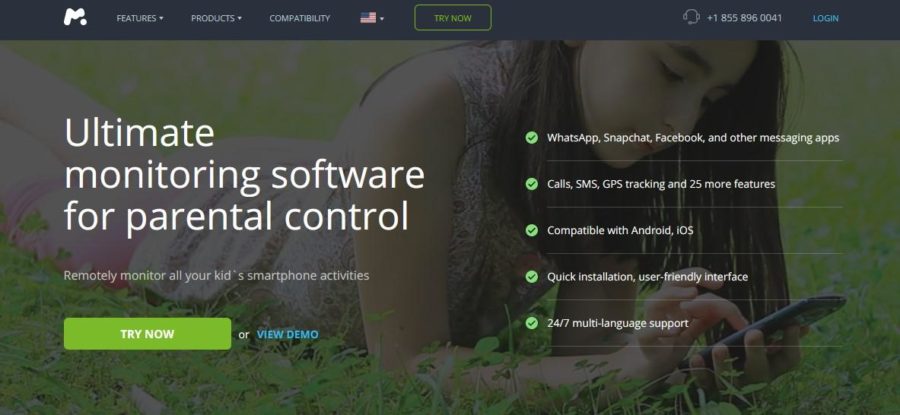 This filter gives a lot of info to parents. They will identify with whom their child communicates, where their child is located at the moment, and what sites he or she visits. The app has some unique features, including the following:
You can adjust the frequency of reports on the child's activity;
It allows revealing all the child's logins and passwords;
It is possible to block incoming calls;
mSpy can block hazardous websites and ads.
This software does not have a trial version but offers a 14-day money-back guarantee.
MMGuardian: Multifunctional Protection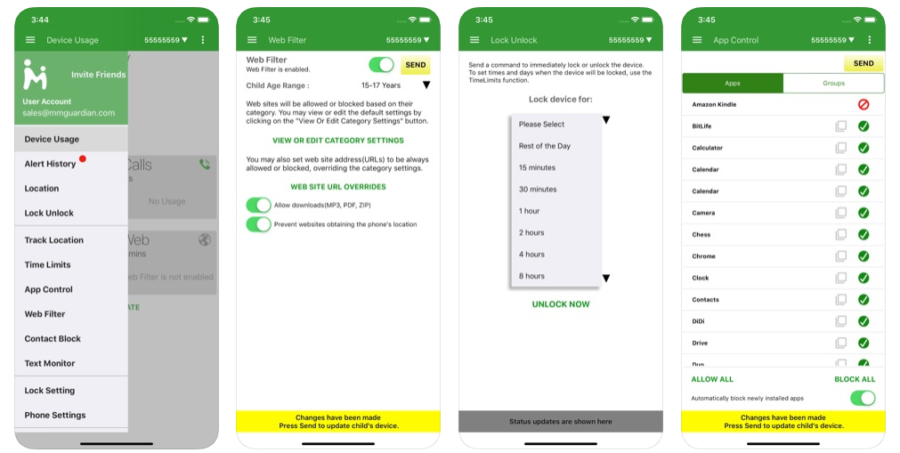 Get MMGuardian application if you want to ensure solid protection of your child from any harm hidden in the depth of the Internet. It comes with the following features:
Locking devices when a child needs to sleep or do homework;
Controlling all installed applications and restrictions on their use;
The ability to monitor and block calls and messages;
Blocking messages containing nude images;
Putting all websites containing adult content in a blacklist.
The app is easy to install on Android devices, and it is also compatible with iPhone and iPad.
Kaspersky Safe Kids: Focus on Internet Security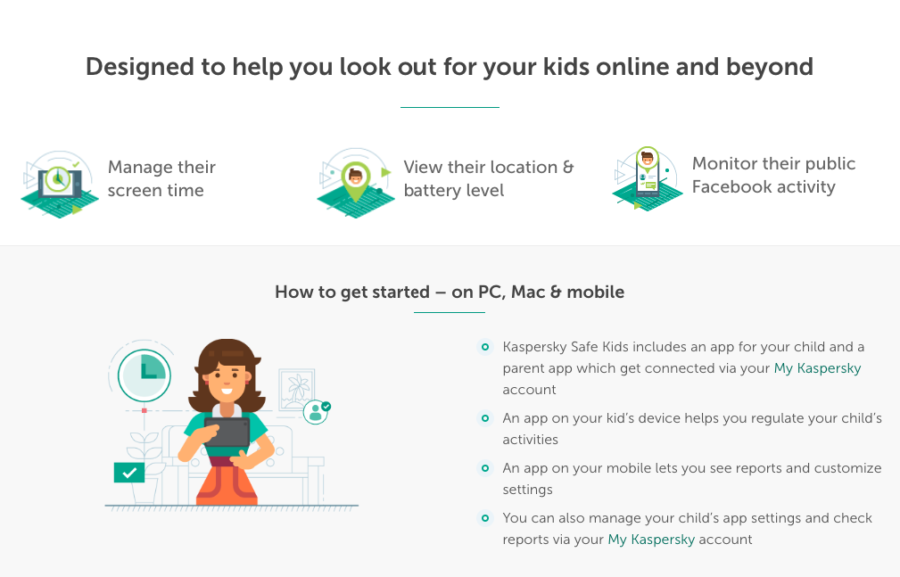 Kaspersky Safe Kids will reliably protect your child from both viruses and unwanted content. Although it does not allow monitoring your child's activities in full, in particular, calls and messages, it effectively tracks dangerous websites. The app is armed with the following:
Possibility of installation on PC powered by Windows;
Websites with unwanted content cannot bypass its protection;
Preset options according to the age of your child are available.
As a filter, Safe Kids is not the most versatile option, as it does not give comprehensive information on what your kid is doing. However, it still helps a lot.
Kidslox: Always Ready To Help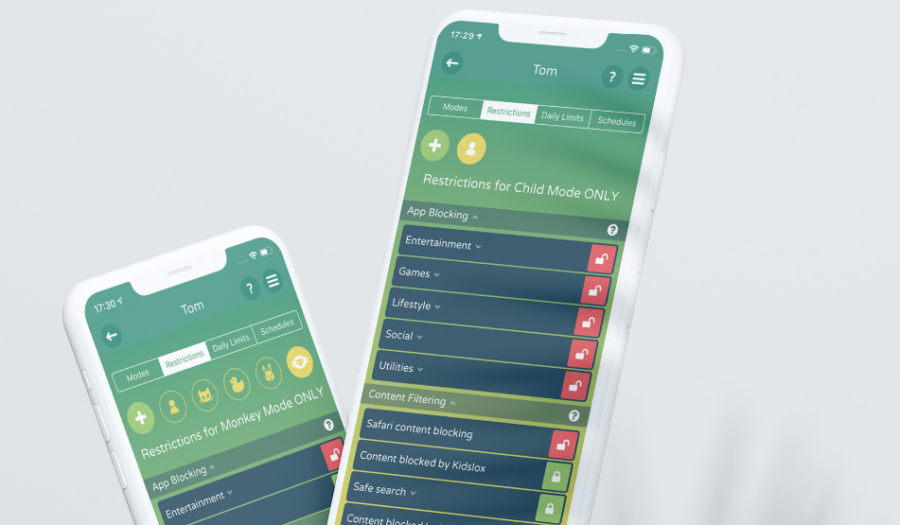 Kidslox helps modern parents control their child's Internet activity through the following:
Tracking the location of a child;
Scanning what apps a child adds on his or her device;
Blocking those apps or limiting their running time;
Disabling cameras on the device so that a child would not be able to take selfies;
Disrupting any browser.
Like the previous filter, Kidslox provides almost 100% control over your child's device.
Sometimes this application is used not only for parental control but also for spying on a spouse. So, if you have any doubts about the loyalty of a beloved on, downloading and installing this application, we help you find out the truth.
TheTruthSpy: Spyware for Parental Care

TheTruthSpy is excellent for finding out how exactly your child is using his or her Mac, laptop, or phone. Thanks to this application, you will always have info about the following:
Location of your child;
All phone calls and messages that he or she receives or sends;
Internet activity;
The application can be used on several devices at once, which is very helpful if you have more than one child. It allows monitoring what is happening, but without the ability to block something. So, if this feature is crucial for you, you should pick another application.
Besides, this software product is often used by bosses to monitor the actions of their subordinates during working hours. Judging by the customer reviews on TheTruthSpy, the software works quite well.
Bottom Line
Each of the mentioned above applications allows you to control the activities of your child on the Internet, which protects them from potential dangers.
Which option you should choose depends only on you. But do not forget that there is no ideal protection, and sometimes a sincere emotional conversation with a child about the dangers lurking on the Internet can be more effective than any filters.
Nothing prevents you from establishing contact with your child and, at the same time, use a reliable Internet filter that will contribute to your kid's protection.
You should act according to the saying 'trust is good, but control is better.'