Best Websites to Find People: Unlock the Power of People Search
Are you thinking about looking for people on the Internet?
We all sometimes look for data about people online. Each person has their own reasons for this. However, you should admit the result disappoints us in 75% of cases. We get the wrong, false information. Moreover, a manual search is often too long.
Sometimes we even think that a paid website will solve our problem. However, it often happens that, having paid, we get a bad result. Again. What to do in this case? What to choose?
Don't worry! We tested many websites to find people and list the best for you. So, let's dive into the topic 👇
What Are People Search Websites?
People search websites are online platforms that help you find someone for free online. They are like search engines specifically designed for finding people.
These websites collect data from various sources (public records, social media, and other online databases). The main idea is to provide details about a person's background, contact information, and more.
You can use these websites to search for long-lost friends and family members or even to perform background checks on individuals.
They aim to make finding people easier and more convenient by gathering relevant information in one place. Below is a list of trusted free people search websites we tested and recommend to use.
🥇 Intelius: Best Website for Comprehensive Reports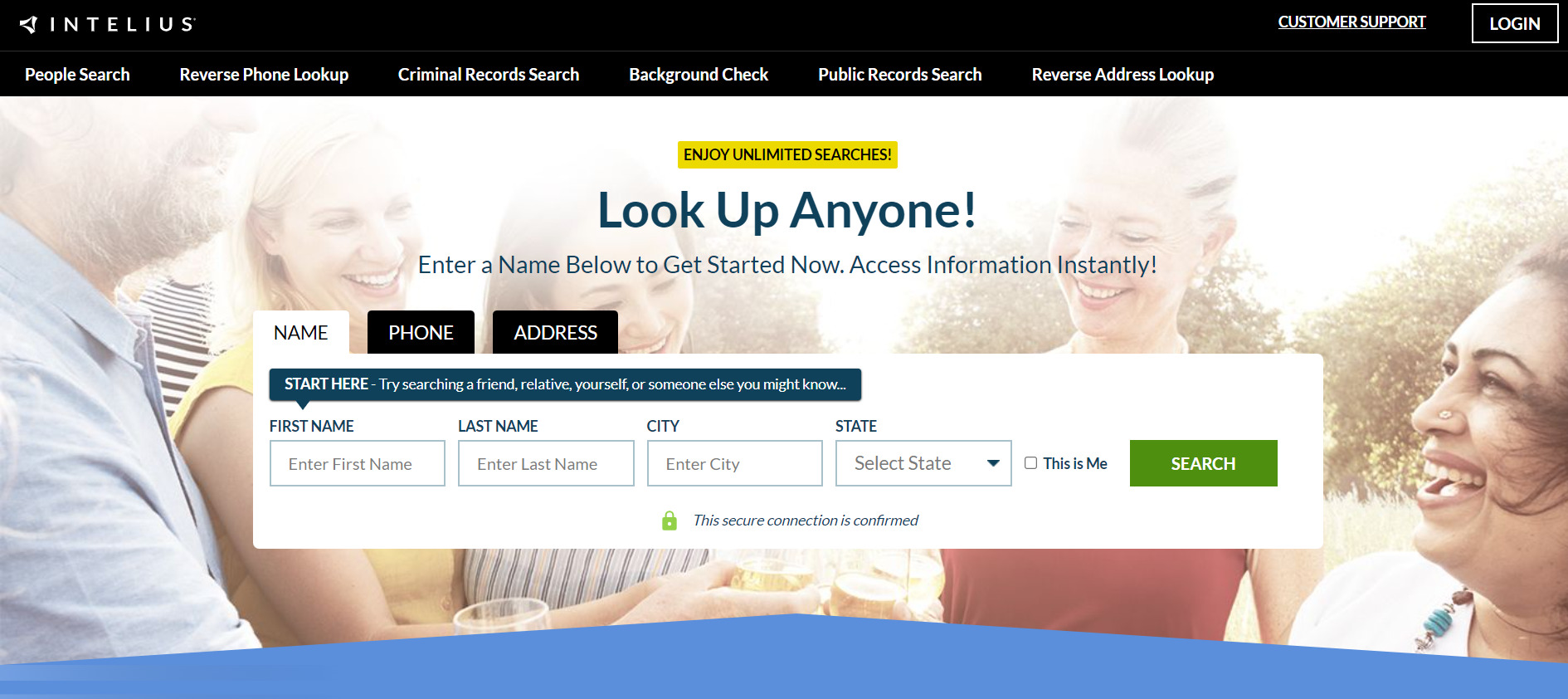 Intelius is a trustworthy public records search service. It has been operating since 2003 and has a good reputation. It is highly rated by the Better Business Bureau, which means it is reliable.
It provides you with legally obtained information from various sources. Intelius helps you find people in the USA. It is one of the best people search engines today.
Features
People Search: You can find a person's full name, phone numbers, past and present addresses, ages, dates of birth, relatives, aliases, and more
Reverse Phone Lookup: With a phone number, you can find owner information, carrier details, etc.
Reverse Address Lookup: It can help you to see location details, ownership history, possible past residences and neighbors, census information, and even crime statistics
Background Checks: When you initiate this feature, you will receive a report that includes the criminal record, marriage and divorce history, lawsuits, bankruptcies, liens against them, and more
💡 You can also use more specific options like Criminal Records Search or Public Records Search. You can gain the same data (phone numbers, address history, age, birthdate, email addresses, social network profiles, marriage & divorce records with relationship analysis, criminal history, etc.), but the search will be deeper.
Pros & Cons
To note Inteluis' advantages and disadvantages, we checked many user reviews on Quora, Reddit, and other blogs. As a result, we made a list of pros and cons for this product:
Provides accurate results
Has cheap memberships
Supports customers responsively
Makes graphical reports
Is one of the most reliable background check websites
US search only
Inaccuracy reports on marriages
Pricing
You can pay only for using particular Intelius tools:
Background Checks = $39.95
Criminal Record Search = $14.95 (statewide) / $29.95 (nationwide)
Reverse Address Lookup = from $4.95 to $14.95
Or you can choose the package:
Basic plan = $3.95
Monthly Premier plan = $19.95
Premier Plus plan = $29.95
✅ Intelius is the best for investigative searches because it includes Criminal Records Search in the background check.
🥈 Spokeo: Best Tool for Basic People Search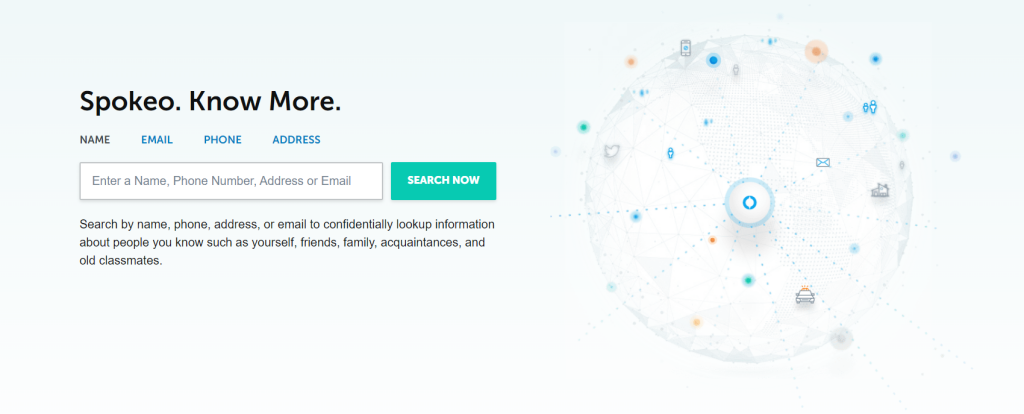 Spokeo is a great option if you're looking for basic information about someone. It's a good balance between being easy to use and affordable.
Spokeo has a user-friendly interface with clear organization and empty spaces, making navigating easy. These are important features for an effective people search website.
Even if you're new to such search engines, Spokeo is designed to be user-friendly and not difficult to use.
Features
With Spokeo, you can get the following:
Private information: names, education data, marriage information, criminal reports, etc.
Place history: addresses and people's locations
Social media accounts
Family members information
Contact details of the person
You can search by name, email, phone, and address on this website. Our analysis of this product shows that Spokeo is one of the best reverse address lookup services.
Pros & Cons
According to users' reviews, we can make a list of advantages and disadvantages of Spokeo:
Provides quick results
Has a mobile app tool
Is easy to use
Gives careful PDF reports
Expensive (you can have 200 profile views for $21/month)
Marriage information can be incomplete
Users don't like misleading advertising. Also, some users got billings after cancelation the membership.
Pricing
One-month plan = $13.95
Three-month plan = $7.95
✅ Spokeo is the best for basic searches of name, location, address, phone ownership, etc.
🥉 TruthFinder: Best Website for Quick Searching and Easy Results

When you need to find people without searching through physical white pages, TruthFinder is your top choice. Whether you're trying to locate distant relatives, colleagues, or friends or perform fast background checks, this is the best people search engine for you. It offers accurate information that you can easily access online.
TruthFinder is a user-friendly platform. When you visit the website, you'll see a big search bar where you can enter the person's name and location to start the search right away.
In our test, we received a detailed and visually appealing report from the website. As we expected, the results were completely accurate.
Features
People Search: A quick and simple way to find information on someone by name
Reverse Phone Lookup: A convenient way to find out information about the owner of a phone number
Reverse Email Lookup: A simple way to find out information about the owner of an email address
Public Record Search: Any documents, information, or data that are created, collected, and maintained by government agencies or other public institutions
Reverse Address Lookup: A search method that allows users to find available information about a particular address belonging to someone, among other types of public records info
Background Checks: An easy way to learn more about someone in your life, such as potential dates, estranged family members, old friends, or new neighbors
Username Lookup: A simple and efficient way to search for information about a person's social media profiles
💡 One more cool feature of TruthFinder is Dark Web Scan. This service searches through tons of data points on the dark web and uses many different ways of surveillance to offer quality data protection.
You can monitor bulletin boards, peer-to-peer file-sharing networks, forums and chat rooms, social media feeds, web servers, file transmissions, servers, and web services.
It provides you with personalized cyber risk intelligence for the dark web. You can monitor Social Security numbers, email addresses, passport numbers, medical card data, bank account information, driver's licenses, and more.
Pros & Cons
Users like that TruthFinder gives you the most recent data. But be ready to have a lot of promotional emails.
Provides detailed reports
Has a free mobile app
Is easy to use
Has background check sites option
Has rich database of online public records
Expensive: you can buy only monthly plans
Pricing
One-month plan = $30/month
Three-month plan = $26/month
✅ TruthFinder is the best for checking and protecting your data and connecting with old friends, acquaintances, colleagues, and relatives.
BeenVerified: Best Website for Professional Phone and Address Lookups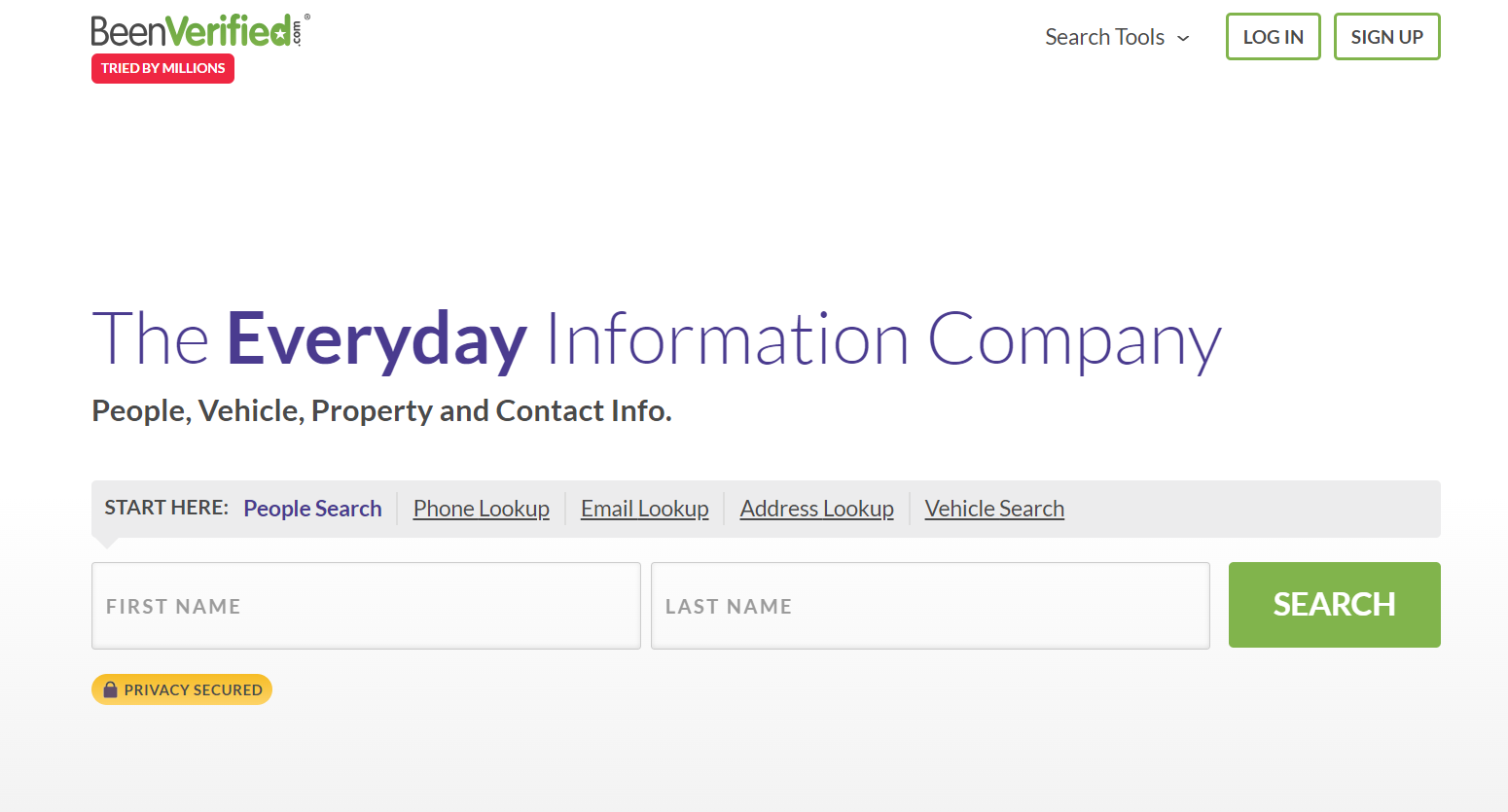 If you're trying to find people you've lost contact with, BeenVerified is one of the top websites to use. But that's not all. You can also explore millions of public records, including criminal records, property information, connections, etc.
Right from the start, the results will provide you with important personal information. But if you want to go further, the site also offers government public records. You can access criminal and arrest records, property details, relationships, and more.
We had no issues when we tested the site; it was a pleasant experience. So, we can say that BeenVerified is one of the most convenient websites where you can search for people for free.
Features
People Search: You can use it to search for information about someone you met online or connect with someone you've lost touch with, check and manage your reputation, and avoid potential scams
Reverse Phone Lookup: It is helpful to check someone you met on the dating website, reconnect with an old friend, protect yourself from scams and fraud, or check your partner if you think he/she is cheating on you
Email Lookup: It can help you to identify the other people on the list (when you use a business Gmail account, for example) and save you from a potentially embarrassing "reply all" case
Address Lookup: You can use this when making decisions when buying a home or flat, reconnecting with old neighbors, verifying information about online sellers, etc.
Username Search: It is useful to avoid scams and online fraud or learn more about your online dating match
💡 We also liked unique BeenVerified tools like Unclaimed Money Search. You can find tax refunds, pension payments, saving bonds, life insurance, back wages, FHA insurance refunds, FDIC refunds, and tax lien overpayments.
One more cool feature is Vehicle Lookup. Why do you need this? By conducting a VIN number lookup report, you can gather information about a vehicle beyond relying solely on the seller's word.
A VIN number search can reveal undisclosed issues, providing valuable insights into potential problems with the car. Armed with this knowledge, you may be better equipped to negotiate a fair price and favorable terms of sale.
Pros & Cons
Provides a lot of search options like finding a VIN number or unclaimed money
Has convenient navigation
Provides good customer support
Sometimes you can have problems with credit card transactions
It is easy to be blocked on the website, so you need to use VPN always
Pricing
One-week trial = $1
One-month plan = $26.89
Three-month plan = $52.44
✅ BeenVerified is the best for professional people searching and gaining deep information about people (like bank account data, vehicle numbers, usernames, etc.). It can be cool if you want to check a person you met on a dating website to avoid scams.
Instant Checkmate: Best Tool for Public Criminal Record Checking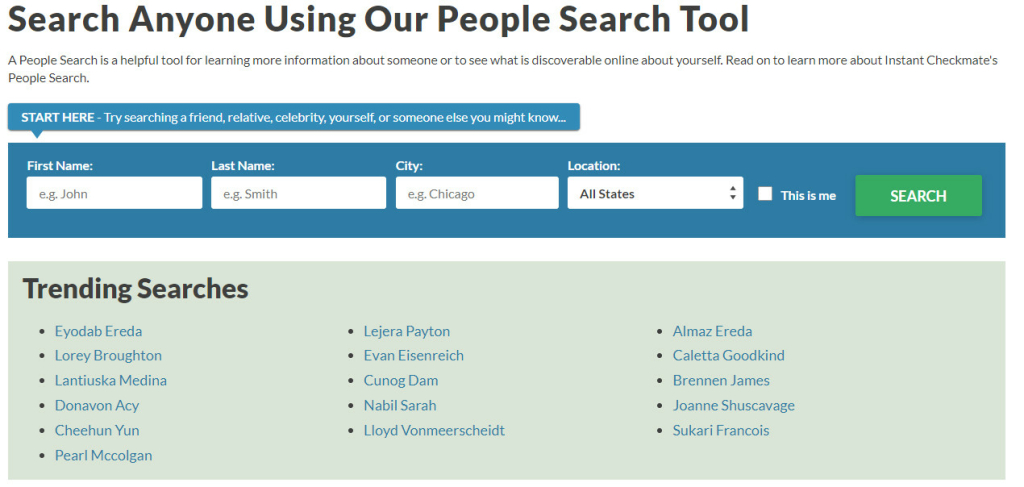 Are you looking for a former classmate or trying to reconnect with a friend? Instant Checkmate can help you do that quickly. Why do people like it? Because it is a simple and reliable tool.
Once you use Instant Checkmate, you can access the person's contact details, family members, ethnicity, political affiliation, criminal history, and more. It's the best website for investigating someone, especially because of its extensive criminal record database.
However, it's important to note that Instant Checkmate is not completely free. There is a cost associated with using the site. However, it is relatively affordable compared to other people's search websites.
Features
People Search: Using it, you can look up publicly available information about certain people
Reverse Phone Lookup: It can be useful if you get a message or call from an unknown number and want to uncover it
Reverse Address Lookup: Use it if you are curious about your new neighbors
Background Checks: You can find details about aliases, education and employment history, location history, possible relatives, social media accounts, bankruptcies of someone
Public Criminal Record Check: You can check people's education and law history if you are worried about scams and security
Pros & Cons
Shows people's locations with dates
Has easy to use
5-day trial for $1
Provides extensive background check
Expensive
There are no consumer, tenant or employment screenings
Pricing
5-day trial = $1
One-month plan = $34.78
Three-month plan = $27.82/month
Premium reports = $19.99
PDF report = $1.99
✅ You can search by phone number using Instant Checkmate and uncover personal information, social media data, online activities, photos, etc.
US Search: Best Website for Locating People in the US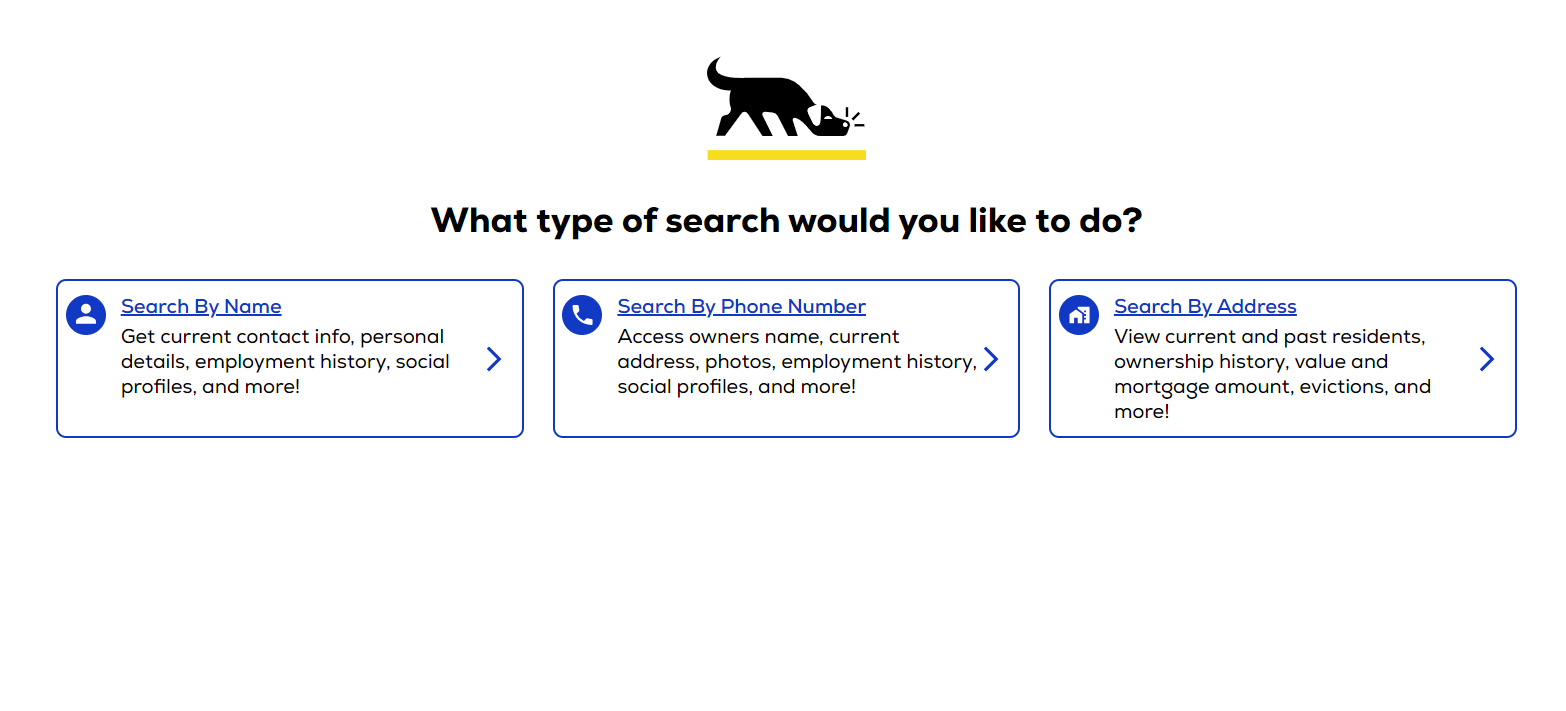 US Search, one of the oldest and most experienced websites to find people, is highly effective at quickly locating individuals in the United States. It is a reliable basic background check tool. Provide a name, address, or phone number, and you'll easily find a match.
During our test, we searched for relatives by name, and within a minute, the site returned basic information. This included full name, age, address history, and family members. Despite this, many users don't like US Search. Why? You can check the cons below to get the answer to this question.
Features
With this website, you can search for people by:
You can also use this tool to check a number that called you.
You also can get information about people's:
Full name
Age
Address history
Family members
Pros & Cons
Provides quick results
Is cheap for basic searches
Provides detailed property records
Has a premium report that contains social network accounts, aliases, properties, lawsuits, criminal records, etc.
Is cool to locate people in the US
Old-school navigation and interface
Data is not fresh
No trial, PDF reports, and no mobile app
Pricing
One-time people search = $2.45
OmniSearch subscription = $20 for the unlimited basic search
Background Check = $40 for the detailed report
✅ US Search will be a cool option if you need a basic search and don't want to pay a lot of money for this.
PeopleFinders: Best for All-in-One Searching

With PeopleFinders, you can explore a massive database of 43 billion public records to find the necessary information. This site allows you to access personal details, educational background, criminal history, and much more about someone, all from the comfort of your home.
The website provides enough information for free. Searching for friends was easier and faster than expected. The results displayed convenient ways to contact them, including contact details, address history, and relatives.
It also showed a list of their neighbors with their personal information. Overall, it's one of the best free people search sites available.
Features
Search by name, phone, and address: You can find and identify people online
Reverse Email Lookup: You can find out if an email is safe and isn't part of a scam
Reverse Phone Lookup: Use it to identify unknown landlines and phone numbers
Criminal Records Search: It is useful if you need to check the criminal histories of people
Reverse Address Lookup: You can check neighborhood data, property tax values, etc.
Public Record Search: You can monitor address history, phone numbers, bankruptcies, liens/foreclosures, traffic citations, birth data, property ownership history, professional and business licenses, marriage and divorce data, etc.
Moreover, you can check your digital footprint to stay safe.
Pros & Cons
Is not very pricey
Has a mobile app
Is simple and straightforward interface
Has different pricing packages
You can meet a restriction on the number of inquiries that can be made each month
Can be incorrect with marriage records
Also, one disadvantage users usually notice is that you should take many steps to cancel your subscription.
Pricing
Trial = $1 (for the first week)
Basic plan = $24.95
One separate report = $39.95 (if you want to get only one report without a subscription)
Report downloading = $0.50
✅ PeopleFinders is still the best choice if you need the lowest prices for a basic report.
People Looker: Best App for Detailed and Deep Searching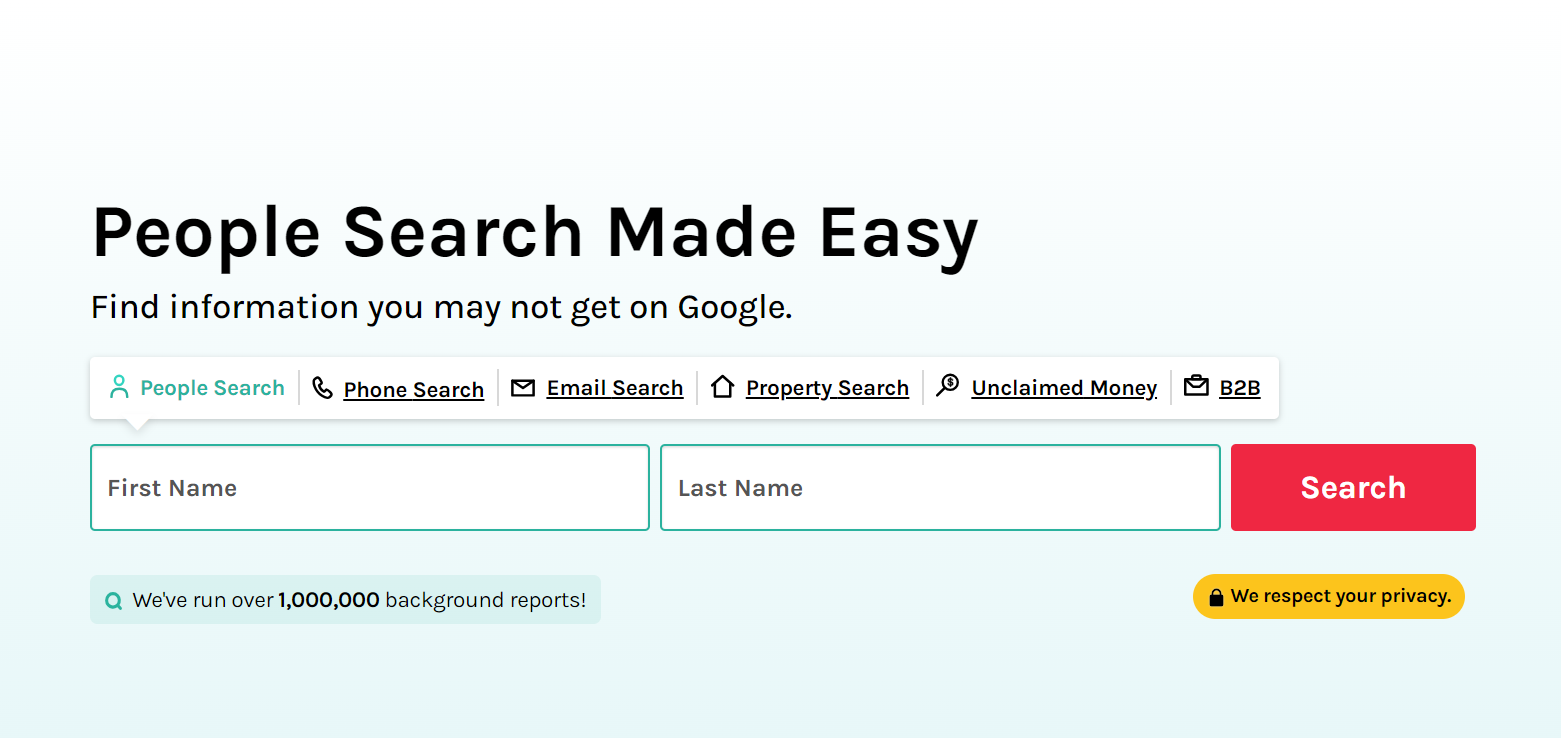 PeopleLooker is a subscription-based service that allows you to search public records. They have conducted over 1 million background reports and are known for providing detailed information about individuals, properties, addresses, and more.
Anyone can anonymously use PeopleLooker to search for information about people in their surroundings. Some people use it to learn more about their coworkers or neighbors. Others use it to investigate properties.
Some even search for their own information, while others use it to uncover the real identity behind a phone number or address.
Features
People Search: Use it to avoid dating scams, pet scams, and online shopping scams
Reverse Phone Search: You can reconnect with old friends, find family members, or find out the phone number of someone who called you
Email Address Lookup: With this feature, you can find out the names, aliases, social media profiles, criminal records, property addresses, age, work and education history, phone numbers, and family members of people
Username Search: It is useful to check social media and unmask online trolls
Address Search: It is helpful if you need to get information about addresses (including the people associated with it, past and present)
B2B: This smart feature is more specific because of detailed reports (you can use additional filters for searching like job title, industry, and seniority)
Also, you can use the Unclaimed Money feature.
Pros & Cons
Provides unlimited searches
Has a mobile app for Android
Is easy to use
Sometimes provides inaccurate or out-of-date information
Has poor customer service
Doesn't have the dark web scanning
But we have a problem: most users leave unsatisfied feedback after using this tool. The biggest problem of the website is poor customer service.
Pricing
One-month plan = $22.86/month
Three-month plan = $18.28/month
✅ People Looker is cool because you can unlimited access background reports, contact information, arrest records, and phone and email lookups.
Pipl: Best Website for Verifying User Identity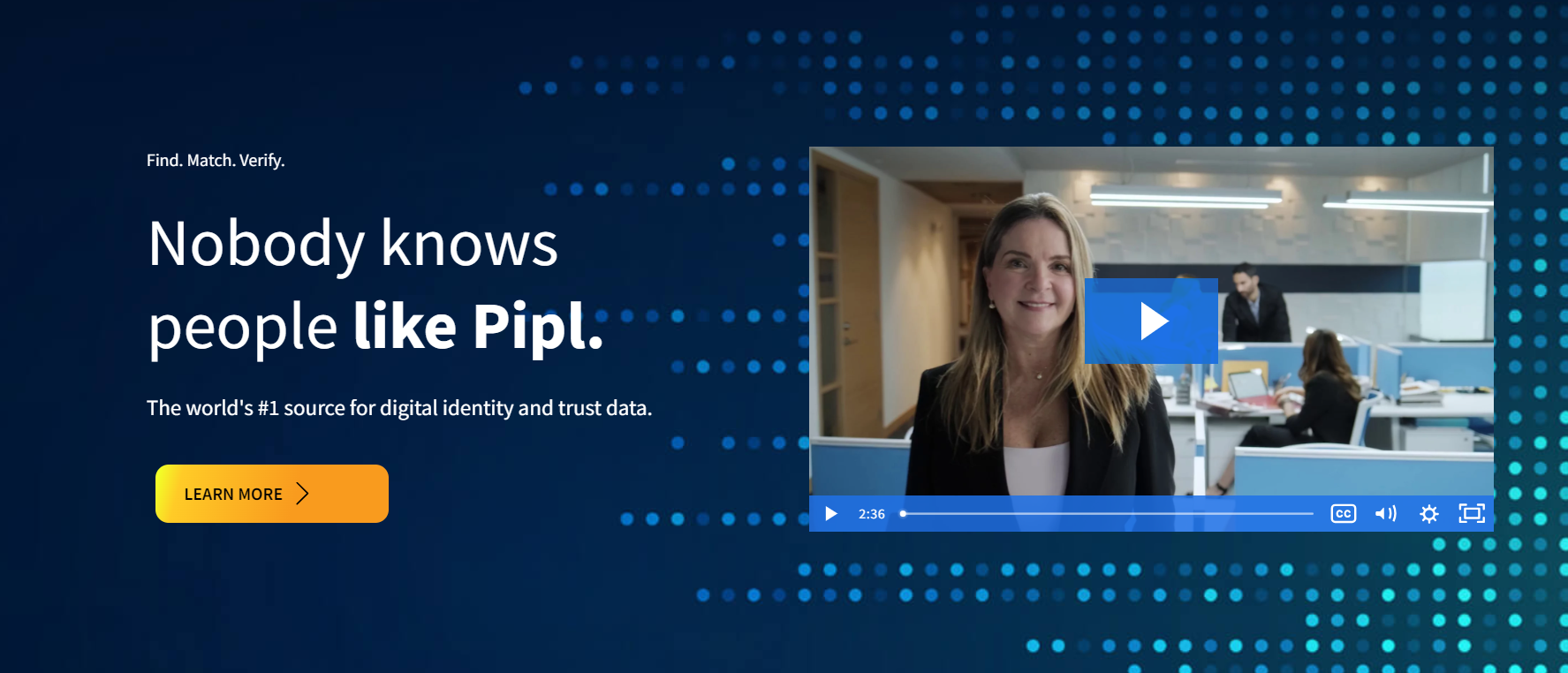 Pipl is an information bank that specializes in finding people and verifying data. It is highly regarded in the industry and is the go-to resource for researchers, investigators, journalists, and analysts. If you work in any of these fields, Pipl will be your invaluable companion.
Unlike other people search websites, Pipl focuses specifically on true people search. It utilizes an identity resolution engine to provide detailed historical and current identity information about individuals.
In addition, Pipl Search functions like a regular search engine for finding people. You can access a person's contact details, emails, addresses, and other personal information through the site.
Features
Using Pipl, you can:
Uncover the complete digital footprint of any person
Separate real identities from fake ones
Fast-track user sign-up, content, and purchase approval
Search people easily
Pros & Cons
Provides information that you sometimes cannot find on Google
Is a great tool for searching social networks
Provides global coverage
Has a very good database
Has no direct pay option or way to sign up without fighting with customer support
Price
Pricing
Here we met a little unusual way of pricing: you pay not for a plan but for different types of options:
Contact = $0.05/ match (with Premium Data Coverage, it will cost $0.10/match): You can get a name, age, gender, address, and landline phone number using this feature
Social = $0.10/match (with Premium Data Coverage, it will cost $0.20/ match): You can get contact info, photos, associates, and social media data
Business = $0.20/ match (with Premium Data Coverage, it will cost $0.40/match): You can get information about contacts, jobs, education, phone numbers, and email address
✅ Pipl is useful to check your new friends or colleagues. It is a good option for business.
TruePeopleSearch: Best Tool for Unlimited Searching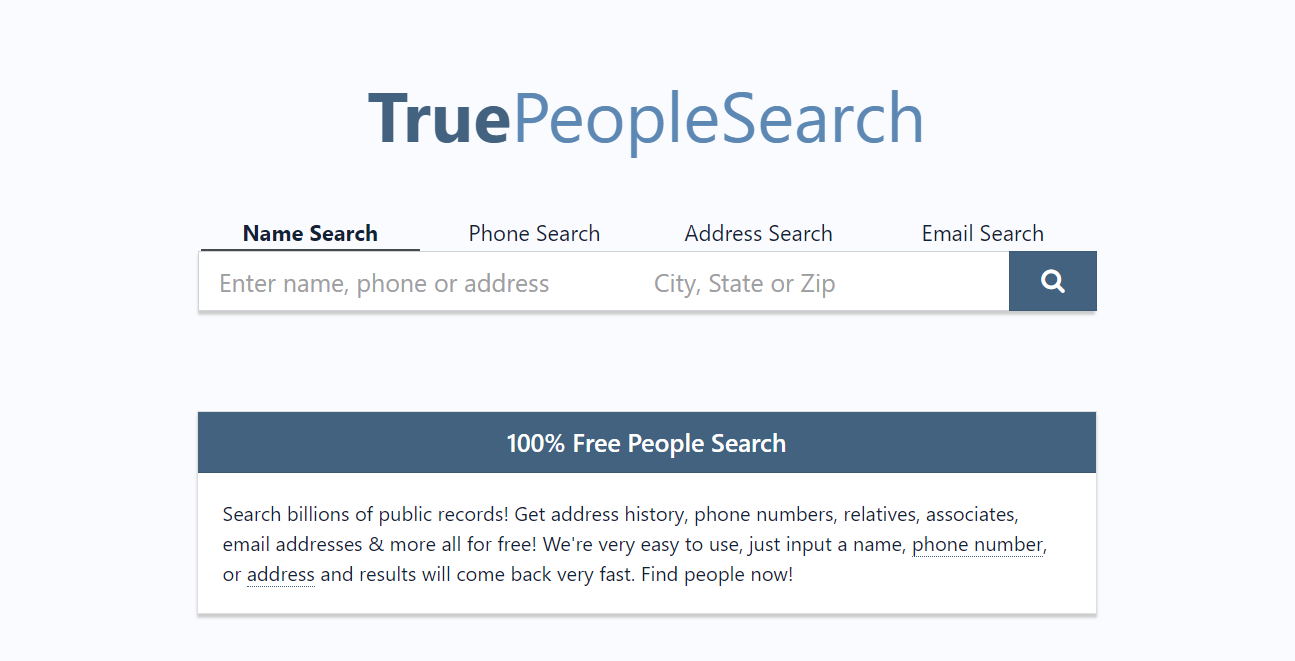 If you want your website to be user-friendly, it should be easy to use. TruePeopleSearch offers an excellent and responsive website for its users. The best part is that it's completely free to use. You don't need to register for an account, which is great for those who value privacy.
Moreover, you cannot limit the number of searches you can perform. You can carry out as many searches as you want without any restrictions.
Accuracy is crucial, and TruePeopleSearch excels in this aspect. Their data is accurate about 98% of the time, ensuring reliable results.
Features
People Search: You can find someone's public information by their name
Phone Lookup: It is useful to avoid phone harassers and telemarketers, identify phone numbers, filter phone calls, etc.
Address Search: Use it to search for property, information about neighbors, get financial reports and company data
Email Search: It is useful for finding out contact and ownership details, browser activity, social media profiles, photos and videos
Pros & Cons
Better Business Bureau tells us about some problems users usually meet with TruePeopleSearch. However, the main complaint is that removing your data from the site is hard. So, it is about using it.
Is safe and secure
Has valuable content
Is an excellent and responsive website for users
Is free!
You can face an invasion of privacy
✅ TruePeopleSearch is cool to cover your curiosity. Even if you don't need specific information about someone, you can look for popular name searches. Why not? It is free.
How We Ranked the Best People Search Sites
When determining the best people search sites, several important factors need to be considered, such as:
Quality of Information: The accuracy, completeness, and timeliness of the information provided by the site are crucial.
Search Capabilities: The ability to search by various criteria like name, address, and phone number is important for accurate results.
Privacy and Security: The site should have clear policies in place to protect individuals' privacy and ensure the ethical use of information.
Support: Good customer support is essential for addressing user questions and concerns.
Ease-of-use: A user-friendly design, clear layout, and mobile-friendly interface contribute to a positive user experience.
Features: Sites offering useful features and online tools scored higher on the list.
Pricing: Affordable pricing is important to ensure value for money.
Database: The size of the online database determines the amount of information that can be accessed.
Accuracy: The information provided by the site must be accurate and up-to-date.
Considering these factors, the following top picks were ranked accordingly.
Free Websites to Find People
One more important question: are there some free websites to find people? We have good news: yes, they are. Below you can see some easy free options for searching people online for free.
LinkedIn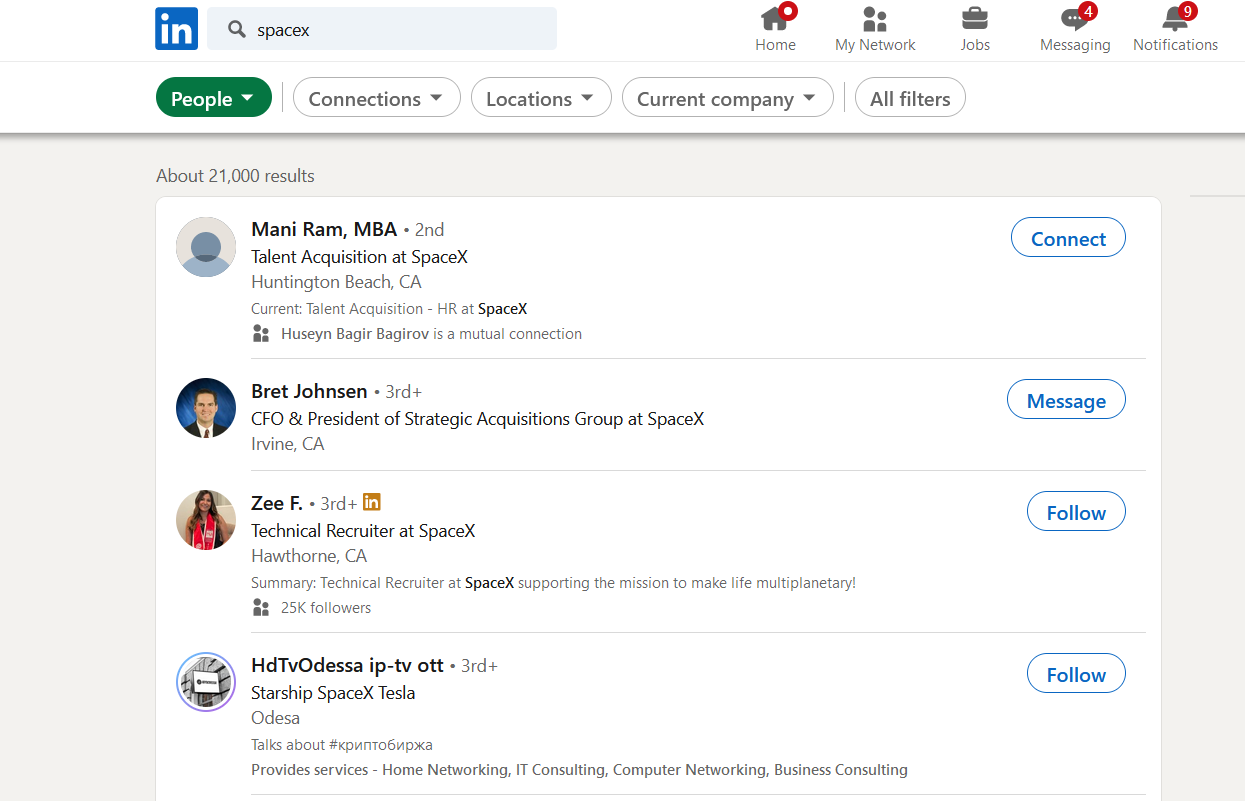 LinkedIn is a platform that primarily displays business profiles. It focuses on showcasing people's professional backgrounds, and you can access this information even without having an account. However, if you're looking for more personal details, LinkedIn may not be the ideal place to find them.
To find people using LinkedIn, follow this way:
Visit the LinkedIn website and sign in to your account. If you don't have an account, you can create one for free.
On the LinkedIn homepage, locate the search bar at the top of the page.
Enter the name of the person you are looking for. For example, let it be "John Smith."
Provide additional information about the person, if you have any.
LinkedIn will display a list of search results that match your search criteria.
Scan through the search results and click on the profile of the person you are interested in to view their professional information, experience, education, and connections.
If you have a premium LinkedIn account, you may have additional search filters and features available to further refine your search and find specific individuals.
LinkedIn provides a professional network, so you can also connect with the person directly through their profile if you have a mutual professional interest or connection.
Features
With LinkedIn, you can search for:
Pros & Cons
Is safe and secure
Has valuable content
Has a big database
You can find mostly formal information
You have to create an account to have access to data
Google
Google, being the largest search engine, can also be used for locating people. However, due to its comprehensive nature, conducting a Google people search may lead to numerous landing pages and search results. Information is scattered, which means finding something specific can be time-consuming.
To find people using Google, you can follow these simple steps:
Open your web browser and go to the Google homepage.
Type the person's name you want to find. For example, let's search for "John Smith" again 😉
If you have any additional information about the person, such as their location or profession, you can include it in the search to narrow down the results. For instance, you can search for "John Smith New York" or "John Smith accountant."
Hit the Enter key or click on the Google Search button.
Google will display a list of search results related to the person you are looking for.
Scan through the search results and click on the ones that seem to be relevant to find more information about the person.
Remember, the information you find using Google might not always be accurate or up to date, so it's important to cross-check and verify any details you come across.
Features
Using Google, you can get:
All information available online
The right information at the right time
Data in the format that's most useful to your query
Pros & Cons
Has exceptional filtering options
Has accurate results
Use built-in quick tools
Sometimes data can be false if your are looking for a person with popular name (like "John Smith")
Facebook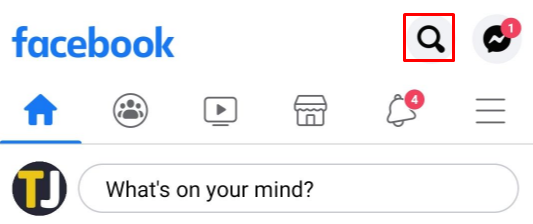 Considering the vast number of users on Facebook, it can serve as a people search tool. However, one challenge is the presence of numerous duplicate accounts and similar names on the social network site.
Let's try to find our John Smith with Facebook:
Go to the Facebook website or open the Facebook mobile app.
If you don't have an account, you may need to create one using your email address or phone number.
Once you are logged in, you will see a search bar at the top of the Facebook page or app.
Type the name of the person you want to find ("John Smith" in our case).
Facebook will display a list of search results based on the name you entered. You may see multiple profiles with the same name.
To narrow down the search results, you can use additional filters like location, education, or workplace if you have that information.
Click on the profile that matches the person you are looking for to view their Facebook profile and public information.
If the person has a common name, you may need to review the profile details, such as their profile picture, location, or mutual friends, to ensure it's the correct person.
If you are not able to find the person you are looking for, you can try sending them a friend request or message if their privacy settings allow it.
It's important to respect people's privacy on Facebook and ensure that your actions comply with Facebook's terms of service.
Features
Using Facebook, you can:
Search for people by name online
Monitor people's activities
Search for people by location
Search for people by job, education
Get personal information
Pros & Cons
Has convenient filtering options
Has accurate results
Is easy to use
Has a lot of users, so you can get a lot of data
You have to create an account to have access to data
You can see data only of someone who has a Facebook account too
You can't be sure that information is accurate
Some accounts can be closed
Benefits of Using a People Search Site
In reality, relying on traditional methods to find someone is not very effective. You'll likely end up empty-handed or with limited resources at your disposal. That's why people search sites are necessary.
Fast Search: You don't need to visit the library or contact local authorities to search for someone and find their contact information. The best people search sites can provide you with the information you need in just a matter of minutes.
Bulk Search: If you're searching for multiple people, doing it manually will consume a lot of time and effort. Instead, a people search engine can streamline the process and quickly provide you with the desired results.
Accurate Results: You could spend time researching and cross-referencing information from books, but why go through all that trouble when you can use an online person finder? These sites have more current and up-to-date information compared to printed materials.
Background Checks: In addition to finding people online, a people search engine allows you to perform background checks on individuals, including their historical data and criminal records, among other relevant information.
Conclusion
Finding someone is not an impossible task, especially in this digital age. Thanks to the internet, you can locate someone quickly, safely, and easily.
To help you in your search, we have compiled a list of the best people search sites. These sites can be the key to finding the person you have in mind.
These platforms offer user-friendly interfaces, multiple search options, fast results, transparent data usage policies, and, most importantly, accurate information.
The top people search websites we have listed provide all these benefits and more. Give them a try today! You won't regret it.
What Is the Best Free Website to Find a Person?
If you're looking to find out someone's location and how to contact them, Truthfinder, Intelius, and PeopleFinders offer basic results for free. These results include up-to-date information like phone numbers, age, and addresses.
However, if you need more detailed information, you will have to pay for their services. Among the paid options, Intelius is the most affordable solution.
What Is the Best Website to Find Someone's Address?
Most of the people search websites mentioned above offer a free address lookup feature. We recommend using websites that have a reverse address search option, such as Intelius or BeenVerified. This feature is helpful when you have an address but don't know who resides there.
What Are the Best Websites to Find People Information?
All of the top people search sites on our list can provide you with information about people, including their whereabouts and contact details. However, when it comes to user-friendliness, accuracy, and accessibility, Truthfinder and Intelius stand out. These platforms offer basic people search capabilities for free.
How Can I Find Someone for Free?
While Google and Facebook are free options for searching people, navigating through the overwhelming number of similar names, profiles, and search results can be challenging.
Alternatively, you can choose a specialized website dedicated to looking up people and their whereabouts. US Search is one such website that provides that kind of information for free.
How to Find Someone for Free by Name?
If someone has a popular name, the search results can be quite broad and make it challenging to find the right person. To increase your chances of success, it would be helpful to have additional information such as the state or city where they reside.
This way, you can narrow down the search and have a better shot at finding the specific person you're looking for.