Cell phone technology has brought a lot of changes in the way people communicate and interact as well as it has made it easier to hack someone's phone remotely through the internet.
In this article, we will share the only way to hack a phone without touching the target phone – with the help of Cocospy app.
What is Cocospy?
Cocospy is a web-based phone-hacking tool with a solid reputation across the world. The services of this phone hacking software have been featured in major media outlets like Forbes.
Over a million users trust this phone hacking software to hack and spy on their iOS and Android target devices.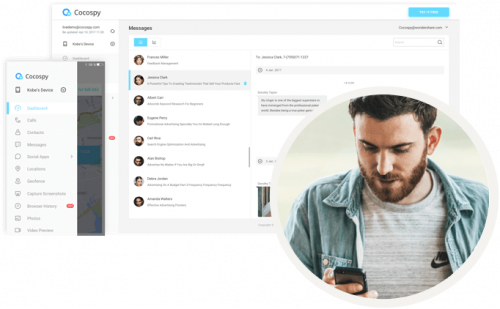 With Cocospy, you can hack someone's phone calls, email, social media accounts, and text messages. Besides, the hacking software allows you to locate the cell phone of your target using GPS technology.
Other phone hacking features you get in Cocospy include keylogging, hacking multimedia files, and locally stored data. After hacking the target phone, all the details about the phone are sent to your Cocospy online dashboard.
How does Cocospy hack?
If you decided to hack a phone without implementing manual ways, but with the help of mobile apps, then it's vital to have them installed.
Android
To hack an Android phone without touching it, firstly, you need to access the Android device physically.
Current technologies do not allow remote hacking of an Android device without accessing it. So you will need to access the target Android phone to download and install the phone hacking app on it.
The Android version of Cocospy is 2 MBs, and it takes less than 5 minutes to install. After installation, the app automatically deletes its icon and disguises itself in the installed apps, meaning that the app runs in the stealth mode and is 100% invisible.
iPhone
iPhones, on the other hand, don't require installing the app on the target. Instead, you can access the target iPhone by using the iCloud credentials of your target iPhone.
With these credentials, you can access all the backup of the target iPhone on iCloud.
Cocospy uses these credentials to extract all data so that you can easily clone a target cell phone and receive real-time updates.
How to hack someone's phone without touching it using Cocospy
It takes a few easy steps to hack someone's phone remotely using Cocospy. As already noted, the only phone you can hack remotely is an iPhone.
In this section, we show you the steps involved:
Step 1: Visit the official Cocospy website to register for the service. While at it, ensure you choose a plan that suits your hacking needs.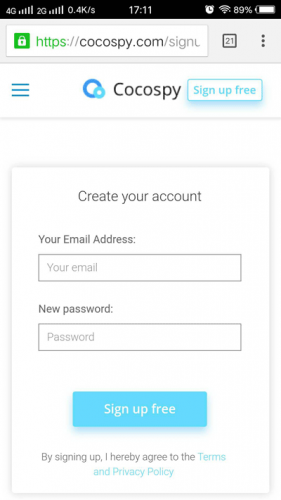 Step 2: Choose the operating system and device you want to hack. In this case, iOS.
Step 3: To set up the device, you need to provide the iCloud credentials of the target iPhone. After providing them, click the Verify button.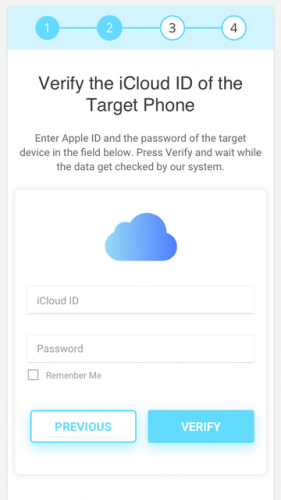 Give the software a few minutes to sync all the data.
Step 4: After syncing the data on the from the target iPhone, click the Finish button to exit the setup.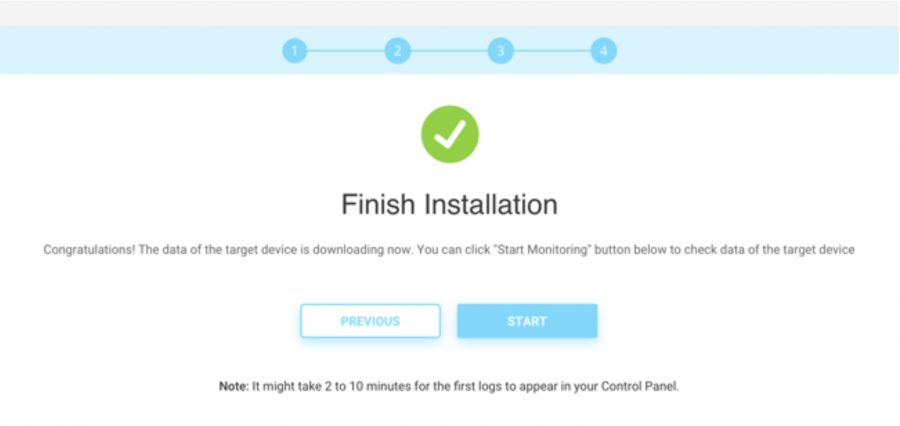 Step 5: Log in to your Cocospy dashboard to start hacking your target iPhone.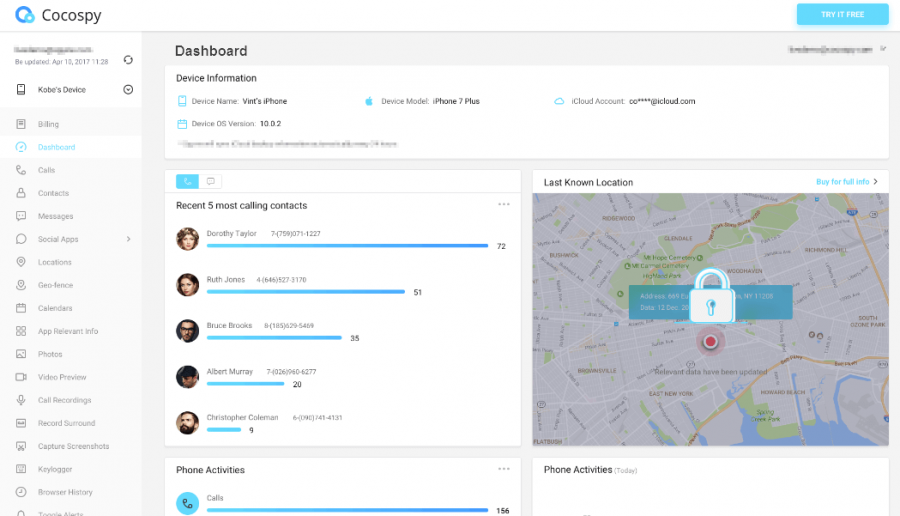 Here, Cocospy allows you to access virtually every aspect of the target iPhone. It will enable you to hack your target's whereabouts, online activities, and chats all in one place.
Key features
Cocospy uses cutting-edge technology and is equipped with over 35 phone hacking features that let users access all the areas of the target.
Below are some of its remarkable features and capabilities.
Hack phone discreetly
The best thing about using Cocospy is that it is undetectable and stays hidden on the target phone. The user of the target cell phone won't know that they've been hacked.
For iOS devices, you only need to know iCloud credentials to let the app secretly monitor activities taking place on the target device.
On Android devices, Cocospy allows you to uninstall the app remotely in just one click.
Legal
Cocospy is legal to use in accordance with the law in the United States of America, providing you apply to it to monitor underage children or company's devices issued to employees.
However, if you use the product outside of the US, you'd need to refer to local laws to make sure particular monitoring activities are legal in your country.
Safe and secure
Cocospy doesn't require rooting Android or jailbreaking iOS target devices as these processes make your phones a prime target for malware and viruses online.
Also, Cocospy doesn't gather data from third-party apps to store on its server.
Web-based hacking
Cocospy is an online-based phone-hacking tool that lets you hack and monitor cell phones remotely. To do this, you only need to log in to your Cocospy dashboard to start hacking phones remotely.
What's more, you have the liberty to use any web browser of your choice. So, after setting up your target phone, all the activities of the phone are accessible on your dashboard.
You can use any device to hack your target phone remotely, starting from social media apps to the whereabouts of your target cell phone.
Keylogger feature
Cocospy comes with a keylogger that captures every keystroke on the target phone. It allows you even to hack the usernames and passwords used by the user of the target cell phone.
Conclusion
Cocospy's overall customer rating is 96%; it is an incredible hacking tool that provides users with an unmatched level of stealth when hacking and spying on their targets.
On top of that, it supports both iOS and Android devices.