A Detailed Cocospy Review: Everything You Need to Know
Cocospy is one of the prevalent Android spy apps in over 190 countries around the world, endorsed by more than a million users and counting. Their strong team of IT specialists, developers, and researches boasts 10+ years of experience in the online security sector.
By far, not every spyware provider has such an impressive achievement record, so our experts decided to give the app a closer look. You'll find everything notable in this review:
An in-depth look at primary features
How to use the app on Android and iOS
Easy installation manual
All possible pricing plans
Tips and FAQs
Don't waste any more time researching and read away!
What is Cocospy?
It is a remote parental control, tracking, and surveillance application that helps you keep your loved ones safe. Working invisibly in the background, it discreetly tracks of your target's phone activities.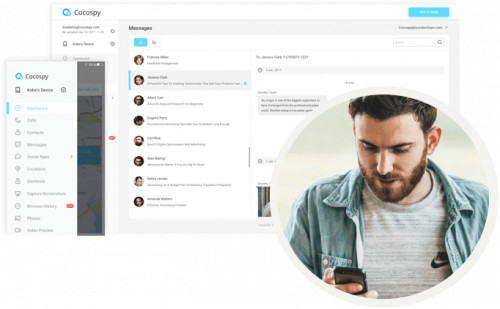 The logs are then sent to a neat control panel that you can use from any browser. The app keeps you informed and allows you to step in when things get tricky.
Whether your child gets lost, your partner intends to cheat on you, or employees are slacking off – Cocospy can serve as an essential precaution.
Cocospy features
Contacts & Call Tracker
The app tracks all the incoming and outgoing calls of the target device and gives you access to the contact list. It shows call duration, call frequency, timestamps, most calling numbers, and saved contact info like email or physical address.
SMS Monitoring
The software allows you to read all the incoming, outgoing, and even deleted messages with timestamps. You'll also be able to see MMS media files on the target phone.
Location Tracking
With this app, you can track not only the real-time GPS location of the target device but also its Wi-Fi-based position if location services are deactivated on the target's phone. Moreover, you get the geographical parameters and times of arrival and departure.
Geofence Alerts
With Cocospy's geofence marker, you can set safe and forbidden areas on the map and get alerts when the target enters or leaves such a zone, view their location history.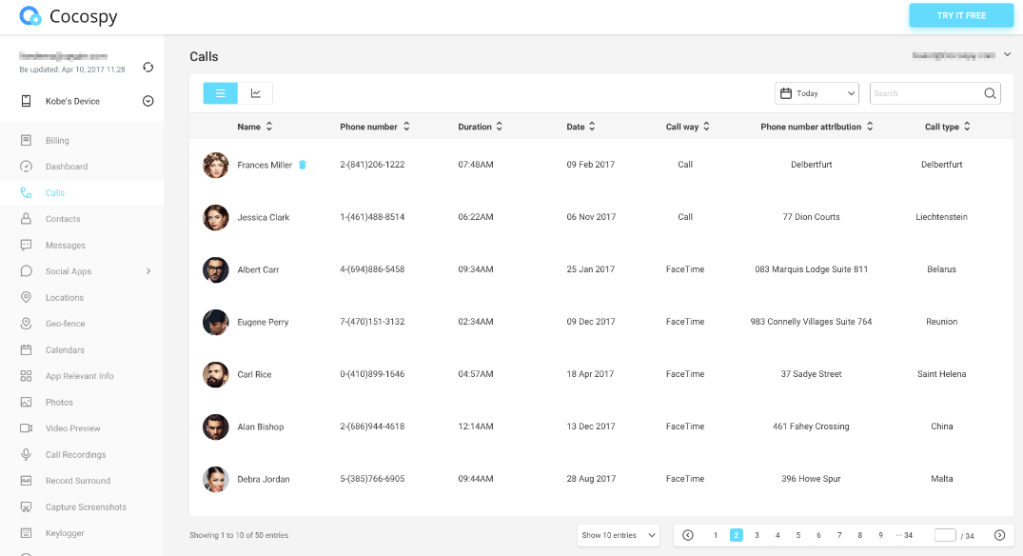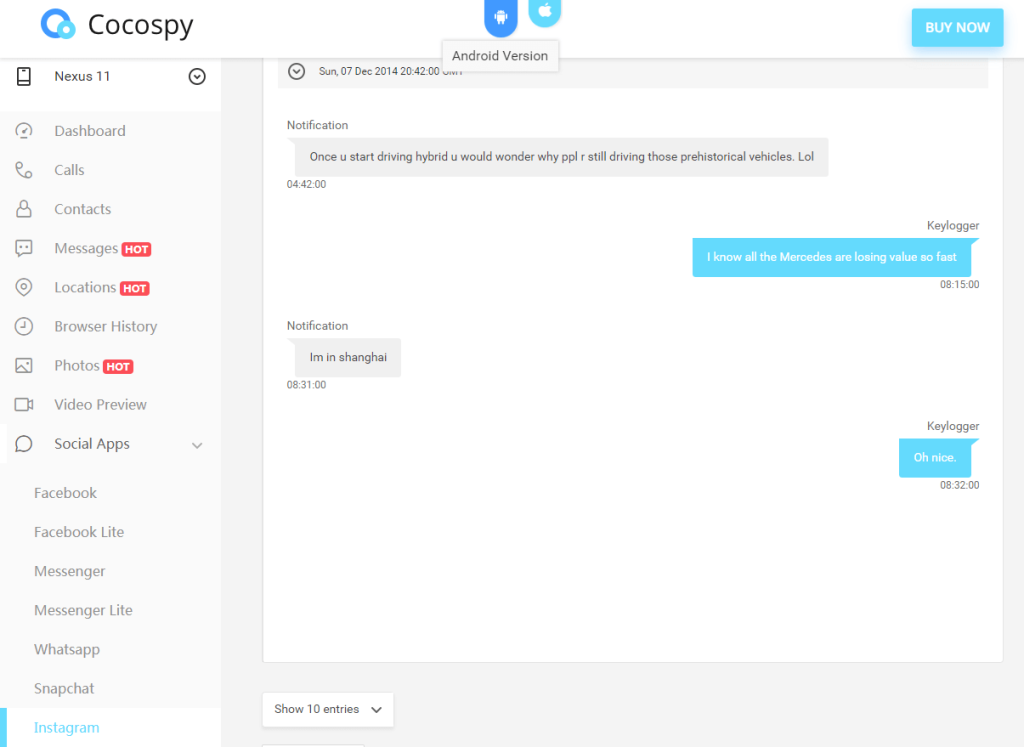 Social Media Messages
Cocospy will let you access the target's various social media platforms like Facebook, Whatsapp, Snapchat, Instagram, Viber, and other 10 popular instant messengers. Without jailbreaking or rooting, you can check chats, videos, and images received or sent through them.
Website History
This feature captures the internet history with exact date & time, the bookmarks added by your target, and visit frequency. It marks the most visited websites and provides you with their short description.
SIM Card Info
This function lets you extract the sim card information, IMEI number, network/carrier details, and notifies you when the SIM card is changed. Most importantly, Cocospy can track the target's location using GSM, which is a rare feature to find.
Android Keylogger
There's also an Android-only feature that captures every keystroke on the Android phone and can provide you with credentials, notes, or any other text your target types. Other things you can view are media files on the device storage like photos and videos, calendars, and installed applications.
How do you use Cocospy?
It is easy to use on both Android and iOS devices. It requires no rooting or jailbreaking to spy on the target device, which is impressive, considering the powerful features it offers.
To get started, all you need to do is register an account on the Cocospy website.
If you wish to monitor an Android phone, you are required to download the Cocospy Android app. It takes less than 2MB in size and just 5 minutes to install.
On the other hand, if you want to monitor an iOS device, you won't need to install anything on the device. Instead, you will only need access to the iCloud credentials of the target phone to fetch the data remotely.
Once you set up the app, you can receive real-time updates on the app's web-based dashboard. We suggest you check out the live demo of the app to get the hang of it. Rest assured, it is pretty easy to use.
Cocospy for Android
Cocospy for Android can be installed on the target Android device without rooting and operates in a stealth mode . It works by logging activities performed on an Android device and sending them to the provider's servers only you can access. The app uses a negligible amount of system resources and remains undetectable.
Julie, a single parent of 3 naughty kids, can confirm. In her words:
"Cocospy works wonders with Android phones, and my kids don't even know that I have been monitoring them. It keeps my mind at peace when they're not around."
Cocospy for iPhone
Cocospy provides remote access to an iPhone, an iPad, or an iPod Touch. All you need are the iCloud ID (email address) and the password the target phone uses. You don't need the target device at hand to monitor iOS devices.
The app doesn't require you to jailbreak the device to provide you with access to call logs, GPS location, contacts, messages, events, and calendar. However, if you want advanced features like Facebook and Instagram monitoring, you will have to jailbreak the device.
Max, an entrepreneur, comments:
"I have downloaded this app on my employees' corporate iPhones, now I can make sure they use the devices as intended."
How do I install the Cocospy app?
Step 1: Sign up for a Cocospy account.

Step 2: Choose and purchase your subscription.
Step 3: Choose your target platform, i.e., Android or iOS. Follow the installation prompts after that.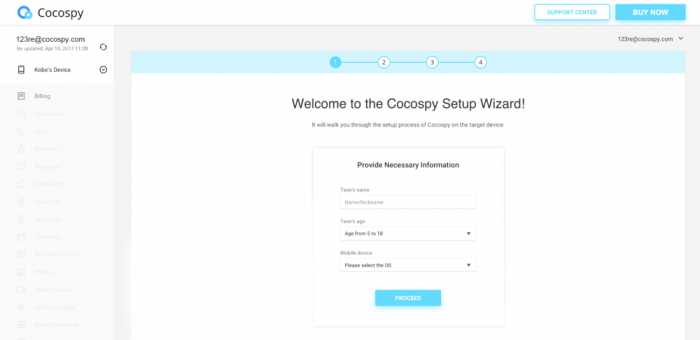 You will have to provide iCloud credentials if you wish to spy an iOS device. If you need to spy on an Android phone, you will need physical access to the device for 5 minutes to install the Cocospy app.
Step 4: Log in to your account to get access to the control panel through which you can monitor the target device remotely.
How much does Cocospy cost?
The software is quite affordable when compared to other spy apps. See for yourself:
iOS
Android
Premium
Family
Business
Basic
Premium
Family
$10.83/month
(1 device)
$33.33/month
(5 devices)
$83.33/month
(25 devices)
$8.33/month
(1 device)
$9.99/month
(1 device)
$16.66
(3 devices)
Is Cocospy legit?
Yes, Cocospy is legal in the US and most countries in the world. However, it should strictly be used for monitoring devices of underage children and the ones issued to employees by the company.
It can also be legal to use when monitoring personal devices if you inform the phone's owner of your intentions and get their consent. Also, it is advisable to research local laws before using any tracking app in your country.
How good is Cocospy?
Cocospy is everything that a customer demands from a monitoring device for hacking someone's phone without touching it. It is function-reach, 100% secure, easy to use, and trusted by more than a million people around the world. Definitely worth a try.
Requires no jailbreaking and rooting
Built-in Android keylogger
Easy to install and use
Includes all basic and some unique features
Affordable
Only for Android and iOS devices
Doesn't offer any free trial
What our team of cybersecurity experts values most in Cocospy is that the provider boasts an impressive range of features without rooting or jailbreak and makes it look easy.
Most other no-root/no-jailbreak apps limit their functionality drastically to allow customers to leave target devices intact, keep the warranty, and save much time and effort.
The only noticeable drawback is the lack of free trial, which is compensated through a full-featured free demo and a 7-day money-back guarantee.
Bottom line: highly recommended!
FAQs
Is Cocospy detectable?
No, it works stealthily in the background. After the app is set up, it gives you a choice to keep the app icon hidden or reveal it. If you leave it hidden, the app will be 100% undetectable for the target.
How long does it take to download Cocospy on the target phone?
It only takes a few seconds to download the app on the target Android phone. It is a tiny app of less than 3 MB. If your target device runs on iOS, you don't need to install anything.
Are Cocospy and Spyic the same company?
While similarities in the functions of most premium spy apps come as no surprise, the resemblance between Cocospy and Spyic makes you think about the same manufacturer behind this spyware.
These two apps come hand-in-hand on most review websites, their official pages, and free demos are designed almost identically, the features are 100% the same.
Nevertheless, there's no official confirmation about the single provider, so we can't claim it's true.
How do I pay for Cocospy services?
Cocospy supports a range of payment methods, depending on the country of your residence. You can buy the subscription using credit cards like Visa, MasterCard, American Express, and Diners Club.
For international payments, you can use PayPal, JCB, and Giropay. The company also accepts fax and vendor-to-vendor orders upon request.
How many devices can I monitor?
It depends on your subscription plan. The family or business pack subscription allows you to monitor up to 3 Android devices and up to 25 iOS devices.
Where can I get technical support?
To gain technical support, just email your query to [email protected] Explain your problem as clearly as possible. You can expect a reply within 24 hours.
Tip: Check the Support Center on the official website first, the knowledge base is so vast you may not need any support.