Qustodio Parental Control App Review
Qustodio is a popular name when it comes to parental control apps. But while it can help keep your kid safer, there are tons more to know about its capabilities.
As such, today we'll be taking an in-depth look at Qustodio's:
Features
Compatibility
System Requirements
Pricing Plans
Installation Process
What is Qustodio?
Put simply, Qustodio is among one of the best phone tracker apps for monitoring your child's online activities.
It comes jam-packed with smart monitoring tools that can help you manage, protect, and supervise your kids.
In addition, it is also one of the few parental control apps that works on a wide variety of operating systems. From Android and iOS to Windows or Kindle, Qustodio will work on almost any device your child may own.

Top 9 Qustodio Features
In terms of functionality, Qustodio has plenty to offer. But below, we'll only focus on the top 9 features that set it apart from other parental control apps.
SMS and Call Monitoring
Qustodio can let you view your child's calls and SMS messages without their knowledge. But the best part about this feature is that you can also see timestamps and call durations.
That makes it easy to know who your child frequently communicates with and when they communicate too.
Inappropriate Content Blocking
You needn't worry about your child accessing inappropriate sites. This is all thanks to Qustodio's real-time internet filter that blocks inappropriate content.
What's more is that the app can also block most inappropriate sites even when the target is browsing in private/incognito mode.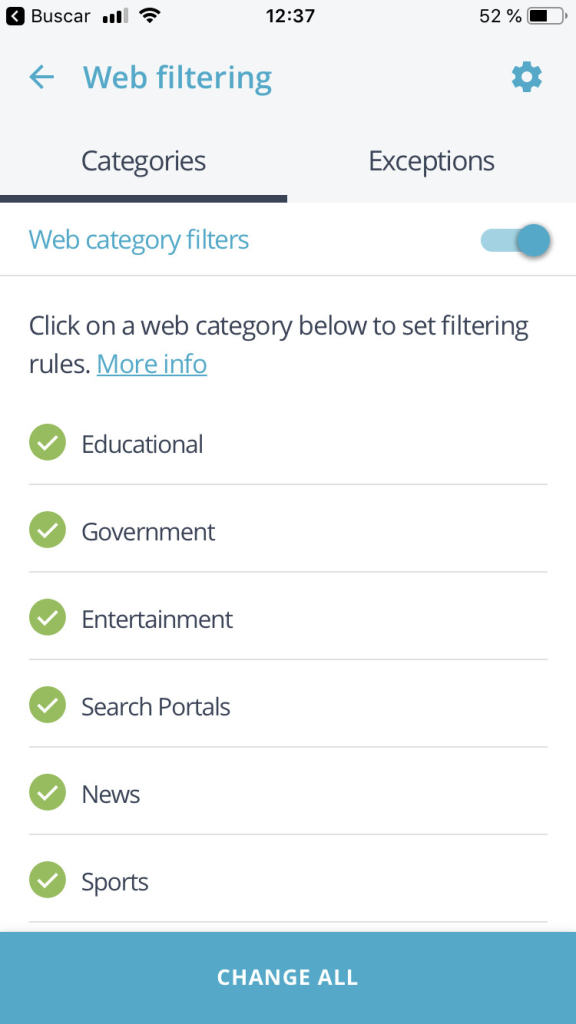 Control Games and Apps
This feature allows you to set limits for games and apps on your child's device. But it additionally lets you view installed applications on the connected device.
You also have the option of blocking the apps that you don't want your child to use on his/her device.
Balance Screen Time
Qustodio enables you to set time limits on your child's screen time across all target devices. This can also be done for specific apps and games on the device.
Since kids spend lots of time on their devices, this feature will be necessary to help avoid screen addiction.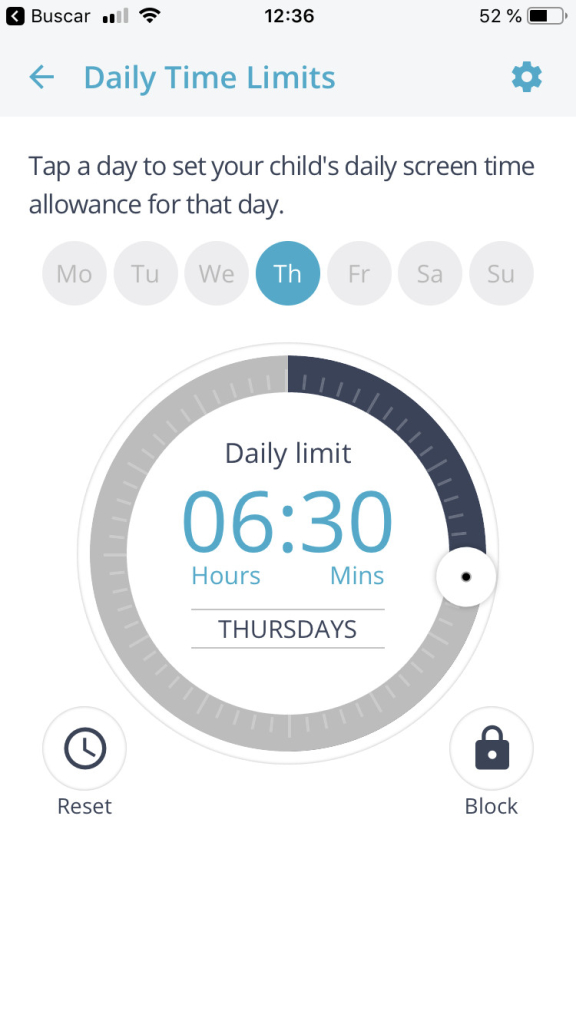 Social Network Monitoring
Viewing your child's social network activity will also be easy and straightforward.
With Qustodio, you can not only monitor his/her activity, but manage time spent on Facebook, Instagram, or Whatsapp.
All this information will better help you protect your kids against cyberbullies and cyber predators.
Family Locator
This new feature allows you to find your child's location. However, it's also worth mentioning that Qustodio has geofencing capabilities.
Thus, you can also get notifications when your child moves from one location.
Also, this could be invaluable for anyone who wants to know how to locate a lost phone.
Extended Reporting
Qustodio gives you a full 30-day breakdown of your child's activity right in your inbox on a weekly or daily basis. You can find out who is calling them, texting them, and a lot more.
This will give you an idea of what your child uses his/her devices for. Additionally, this can help reveal any issues your child is facing e.g. cyberbullying.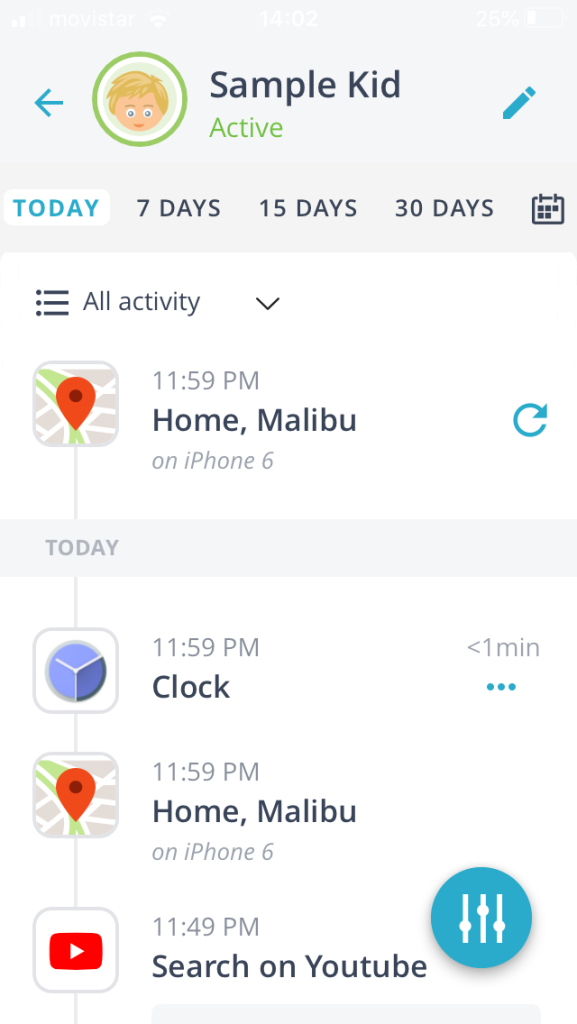 Panic Button Alerts
The SOS button is a handy tool that will always send location-based alerts if your child is in trouble.
This feature works a little bit differently from the Family Locator though. Once turned on, panic button alerts will be sent to three trusted contacts for even faster emergency response.
Multi-Device Operation
Qustodio can work on multiple devices without any complications. But the best part about it is that you can use it on almost any OS.
The application currently runs on any of the following operating systems:
Windows
Mac OS
Android
iOS
Kindle
Qustodio Compatibility
Qustodio's ability to run on many different operating systems is what makes it great for many parents. But it's also important to confirm if it'll be compatible with both the OS and browser versions you have.
OS Compatibility
The table below shows the minimum OS versions that Qustodio currently supports.
| | |
| --- | --- |
| Operating System | Minimum Version |
| Android | v5.0 (Lollipop) |
| iOS | v11 |
| Windows | Windows 7 (Service Pack 1) |
| Mac OS | OS X Maverick (10.9) |
| Kindle | Kindle OS 5.0 |
As you can tell, Qustodio will work with most devices you already own. This is because there are high chances that your devices are already using up-to-date operating systems.
Nevertheless, Qustodio is not compatible with the following operating systems:
Linux
Chrome OS
Windows Phone OS (discontinued)
Browser Compatibility
Qustodio doesn't specify the versions of browsers it can work with. However, Qustodio's website and the Family Portal will work flawlessly on latest versions of:
Google Chrome
Microsoft Edge
Mozilla Firefox
Safari
Amazon Silk
NB: Qustodio will automatically block unsupported browsers by default.

Qustodio for Android
Like we mentioned before, there's a high chance Qustodio will work on the Android device your child owns. This is because most Android devices today run on OS versions higher than v5.0.
Regardless of the OS version though, Qustodio's Android app has almost all the features we discussed earlier. These include:
Smart web filters
Advanced Facebook monitoring
Location tracking
Call and SMS monitoring
Games and apps blocking
Panic button alerts
Time controls by device
With all these features, it's no wonder why Qustodio also doubles as one of the best Android spy apps.
Qustodio for iPhone
On iOS, the case is almost the same. Since iOS 14 is the latest version, you can bet that Qustodio will work on most iPhones or iPads.
Nevertheless, the app does not offer all the features you'd get in the Android version. Below are some of the specific features that Qustodio offers on iOS:
Advanced Facebook monitoring
Location tracking
Games and apps blocking
Time controls
Smart web filters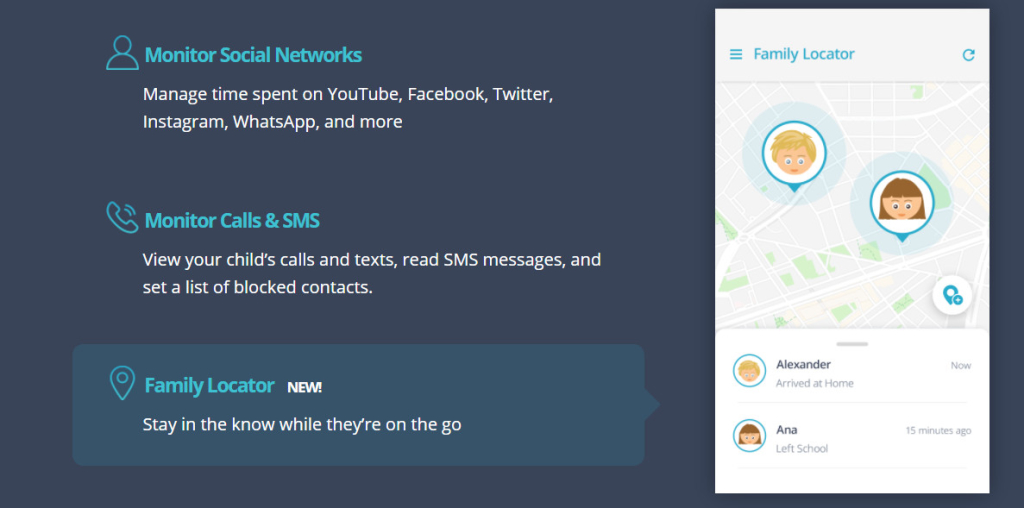 Qustodio System Requirements
Depending on the device you'll install Qustodio on, there may be a few system requirements to consider beforehand. In most cases though, the requirements aren't too demanding since Qustodio is lightweight.
Qustodio Desktop Application Requirements
To run Qustodio on your PC, it needs to meet these requirements:
OS: Windows 7 (SP1) or higher / Mac OS X Mavericks or higher
RAM: 1024MB or higher
CPU: 1.8 GHz or faster
Free Hard Disk Space: 1.6 GB or more
Qustodio Website and Family Portal Requirements
You can access the website and family portal using any device that connects to the internet.
However, Qustodio is known to work best on any of these four main web browsers:
Google Chrome
Microsoft Edge
Mozilla Firefox
Safari
NB: You can access the website and family portal on web browsers that are running in Linux or even Chrome OS.
How to Install and Use Qustodio
Installing Qustodio is a straightforward process across all supported operating systems. But the truth is that the processes are different depending on the OS.
Installing Qustodio on Android Devices
Below are the steps to follow to install Qustodio on your child's Android device:Visit Google Play Store and search for Qustodio.
Step 1: Go to Qustodio's website and register for a free account. After you find the app, tap on it then click on "Install".
Step 2: Once downloaded, ensure the "Enable auto-update" option is selected on the menu.
Step 3: Open the app and tap on "I'm new to Qustodio" to create a free account.
Step 4: Log in to your account by entering your email address and password.
Step 5: Setup Qustodio by keying in the device name and selecting who will be using the device.
Step 6: On Qustodio's setup wizard, activate accessibility by choosing "Activate now".
Step 7: Next, activate user permissions by tapping on "Activate now" once more for authorizing access to functions on the device.
Step 8: When asked to activate uninstall protection, tap on "Activate now". This prevents unauthorized uninstallation.
Step 9: Finally, disable battery saving options as they may affect Qustodio's performance.
Step 10: Select the device and you're ready to go.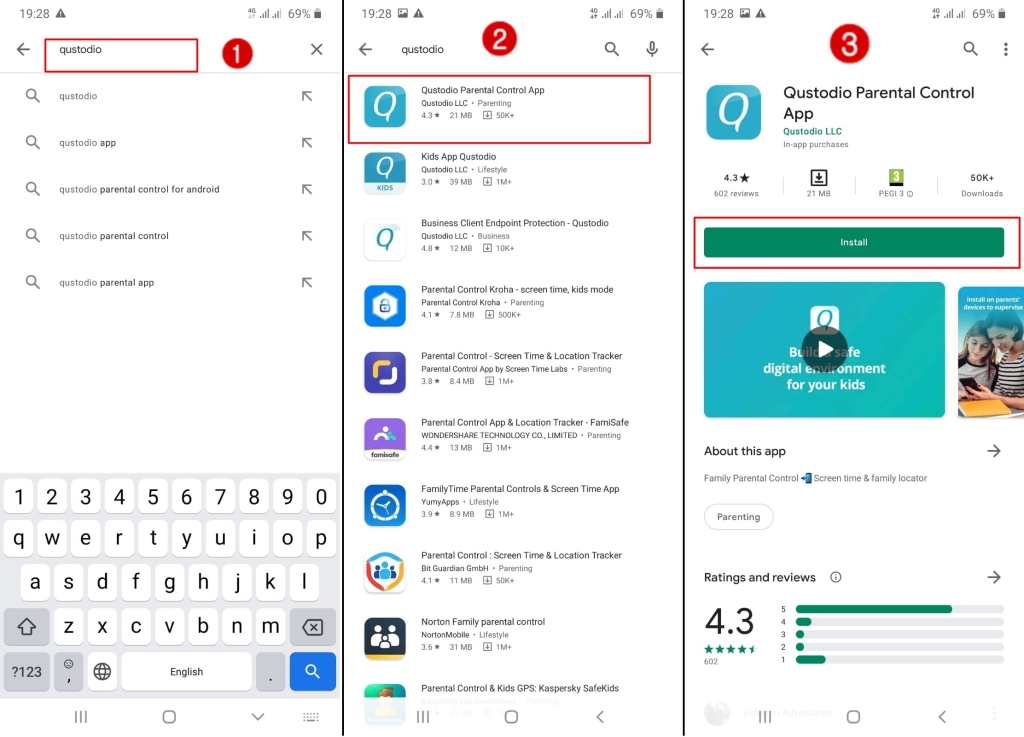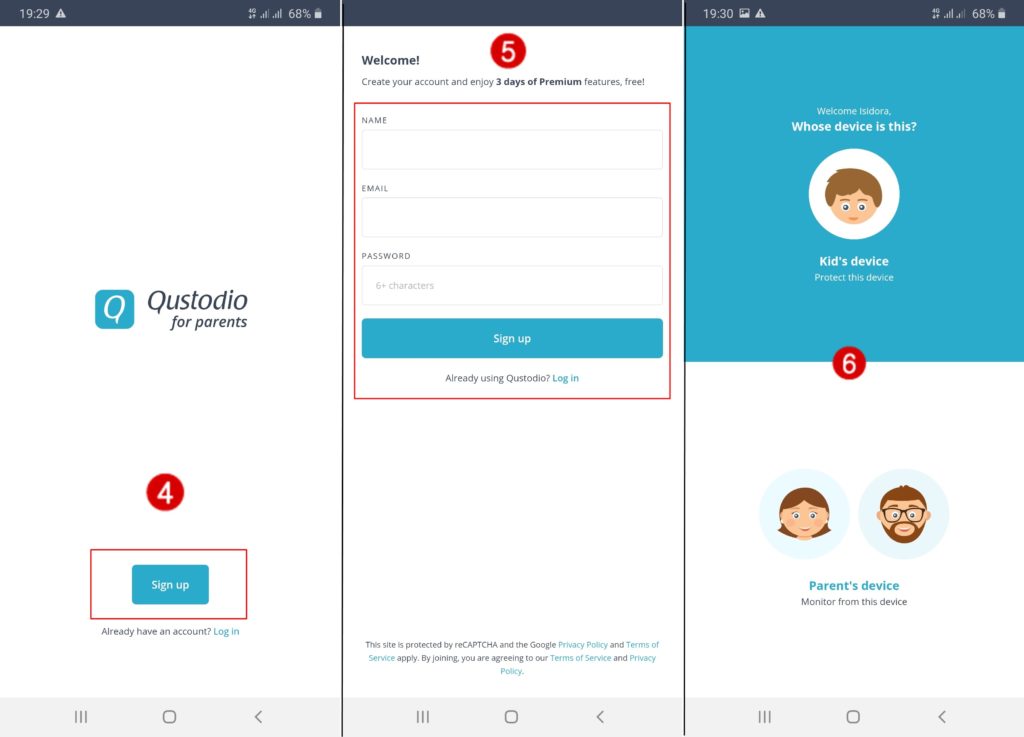 Installing Qustodio on iOS Devices
Qustodio has two different apps for iOS:
Qustodio Kids App
Qustodio Professional
However, the installation processes for these parental control apps are similar. As such the steps below will apply to either of the two apps.
Step 1: Go to Qustodio's website and register for a free account.
Prepare your iOS device for Qustodio installation by performing the following:
Remove any restrictions on the device
Ensure Javascript is activated in Safari.
Uninstall any previous version of Qustodio.
Step 2: Open the App Store on the target iOS device and search for Kids App Qustodio or Qustodio Professional and tap on "Install".
Step 3: Select the "I am new to Qustodio" option and proceed to creating a free account.
Step 4: Enter your email address and password to log in to your account.
Step 5: Continue the setup process by keying in the child's:
Step 6: After setup is complete, grant necessary permissions to the app.
Step 7: Next, install the iOS profile to allow Qustodio to supervise the target device. This will download a configuration profile which you should then install.
Step 8: If you're using iOS 10.3 or later, you'll need to ensure that two of the installed certificates are "trusted". To do this, navigate to Settings > General > About > Certificate Trust settings.
You can then toggle both Qustodio MDM Root CA and Qustodio Service CA.
Step 9: Open Qustodio app to verify that it's been set up correctly. You'll also get an email with a passcode indicating that you successfully installed Qustodio's iOS profile.
Pricing
Qustodio offers three simple pricing plans that are great for families of all sizes.
| | | | |
| --- | --- | --- | --- |
| | Small Plan | Medium Plan | Large Plan |
| Cost | $54.95 | $96.95 | $137.95 |
| Number of Devices | 5 | 10 | 15 |
Small Plan
This is the cheapest of the three plans and is ideal for small families. It protects only 5 devices, but you still get to enjoy all premium features.
As this is the entry subscription plan, you'll be paying approximately $4.58 per month.
Medium Plan
The medium plan offers protection for up to 10 devices. And it also comes with all the premium features you need.
While it is more expensive than the Small Plan, it also gives the best of both worlds in terms of pricing and value.
Large Plan
This is the best plan for large families. But it is also the costliest as it translates to $11.50 per month.
Final Take
Qustodio lived up to its expectations as a parental control app. It has all the features any parent would need to monitor his/her child's activities. 
However, one of its biggest perks is that it offers true multi-device operation. And that's something that is rare even among other parental control apps.
Is Qustodio Detectable?
You can only hide Qustodio on computers that are associated with your account. However, due to technical limitations, you can not hide the app on mobile devices.
Can Qustodio See Private Browsing?
On Android 6 or higher, Qustodio can filter and report pages that are visited in private browsing / incognito mode. However, for Android 5 and below, Qustodio works by detecting and blocking inappropriate content.
Is Qustodio Safe?
Yes, Qustodio is safe to use and it is also a great tool for keeping an eye on your children's online activities. The fact that you can download it directly from the App Store is also an indication that it meets the necessary safety requirements.
How Many Devices Can I Monitor?
Depending on the subscription plan you choose, you can monitor 5, 10, or even 15 devices. But the great part about Qustodio is that regardless of the subscription you'll select, you still get all premium features.
Does it Offer a Money-Back Guarantee?
Qustodio offers a 30-day money-back guarantee in case you are not satisfied with their services. You can initiate the process by contacting their support team and requesting them to cancel your subscription.