Step-by-Step Guide: How to Spoof a Phone Number Safely
Phone number spoofing often conjures images of telemarketing scammers trying to deceive unsuspecting recipients. However, contrary to its negative connotations, there are legitimate reasons why one might want to spoof a phone number.
This article will delve into telephone number spoofing, exploring the valid reasons for employing this technique. We will discuss the WHY behind number spoofing and provide insights into the HOW of this practice.
Additionally, we will guide you through the options available and the essential steps to execute this process safely and responsibly.
What Is Caller ID Spoofing?
Caller ID or telephone number spoofing is a trick some people use to change the number on your phone's screen when they call you. They make it look like they are calling from a different phone number, even though it's not their real one.
This can be done for various reasons, both good and bad. It's like wearing a disguise for their phone number to hide their identity or location. While some people may use it for harmless pranks or surprises, others may use it for dishonest purposes, like pretending to be someone else or trying to scam you.
You can spoof not only caller ID. There can be different options, for example, text messages spoofing.
Best Ways to Spoof a Phone Number and Make Spoof Calls
If you're interested in making spoof calls, numerous phone number spoof apps cater to your needs. Based on our experience, some apps offer limited free features or trial periods, and completely free telephone number spoofing is currently unavailable.
Nevertheless, let's delve into an overview of the top phone number spoofing apps, their capabilities and costs, and step-by-step directions on making a successful spoof call.
SpoofCard: Convenient and Easy Way to Spoof Phone Numbers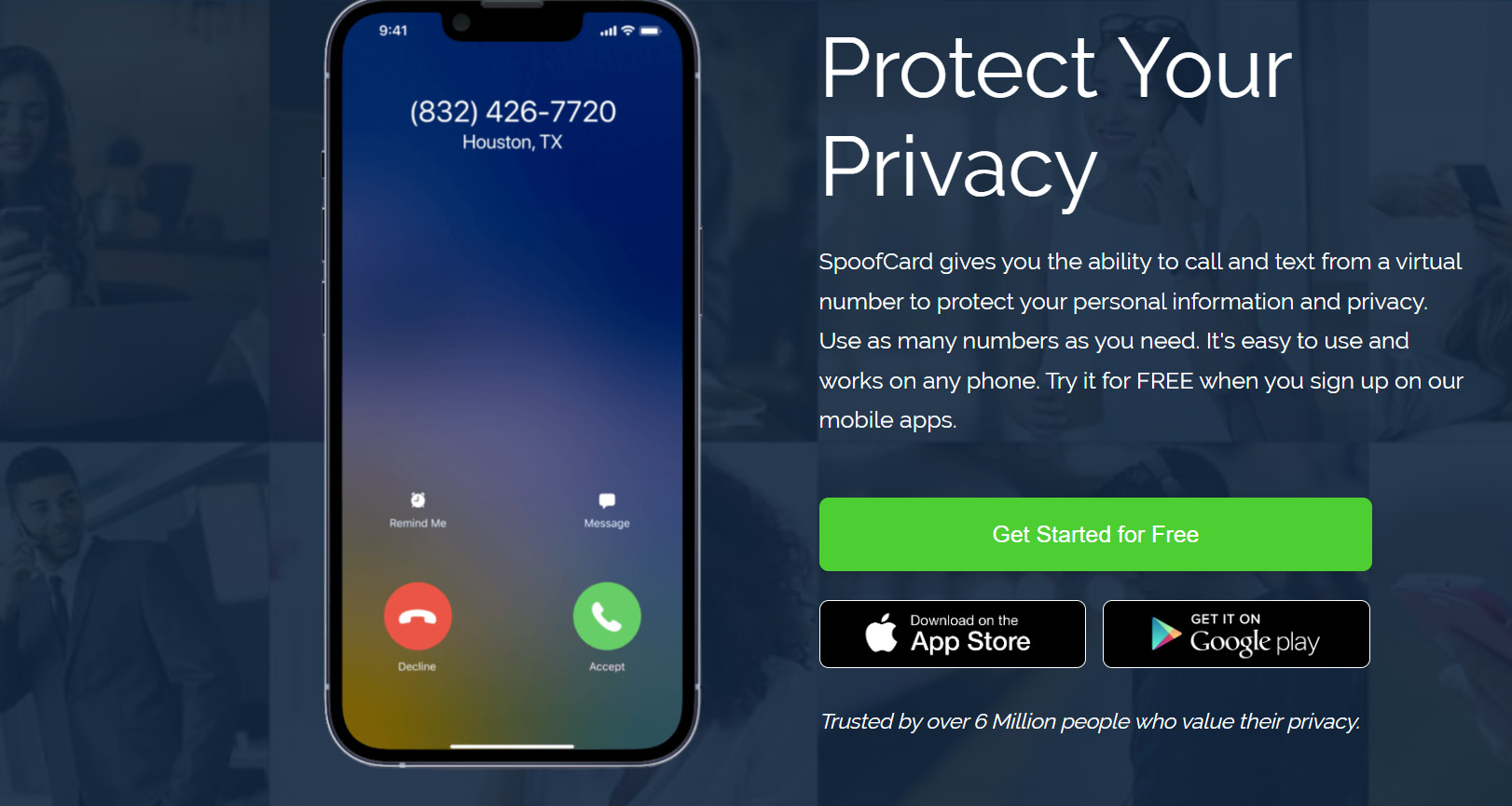 As our tests have shown, among the top apps offering caller ID spoofing, SpoofCard is one of the most renowned and longstanding options.
Saying simply, it allows you to impersonate a telephone number. How does it work? You call via SpoofCard, and the person you call sees an incoming call with another number.
It is convenient because it is available for iOS and Android platforms.
Features
According to our experience, you can gain access to the following SpoofCard features:
Recording Spoofed Calls: You can effortlessly record your calls, revisit conversations, or save essential information for later reference.
Direct Voice Mail Spoofing: Make direct spoofed calls to someone's voice mail, ensuring your message reaches the intended recipient without disturbing their current availability.
Voice Disguise: SpoofCard empowers you to disguise your voice during calls, adding an element of fun and surprise to your communication.
Spoofed Texts: Dive into the art of text spoofing, sending messages that bear a spoofed phone number for a unique communication experience.
Background Sounds: Add an extra touch of authenticity to your calls with SpoofCard's background sounds, creating a convincing environment for your spoof conversations.
Price
SpoofCard offers convenient subscription plans, allowing you to choose what best aligns with your requirements. Both monthly subscription and pay-as-you-go options are available, providing flexibility for all users.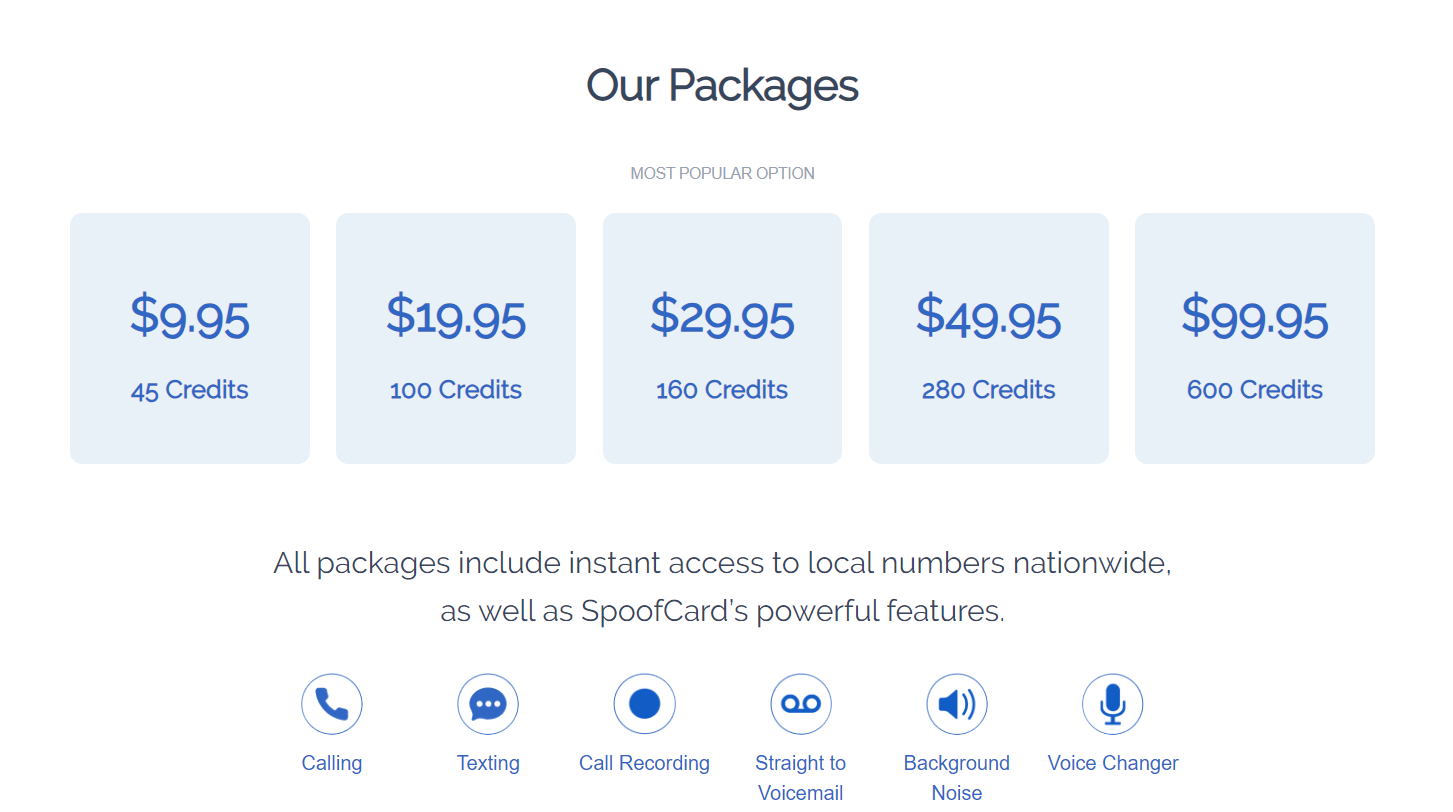 Unlike some other services, SpoofCard offers an extensive array of features without any additional charges. This ensures you can fully explore and enjoy the app's capabilities without any hidden costs.
Pros
The voice changer is a bit ridiculous, but it works
It is untraceable
It is available for both iOS and Android devices
Also, we collected other users' feedback for you:

Maybe it will be interesting for you to see some Reddit feedback too: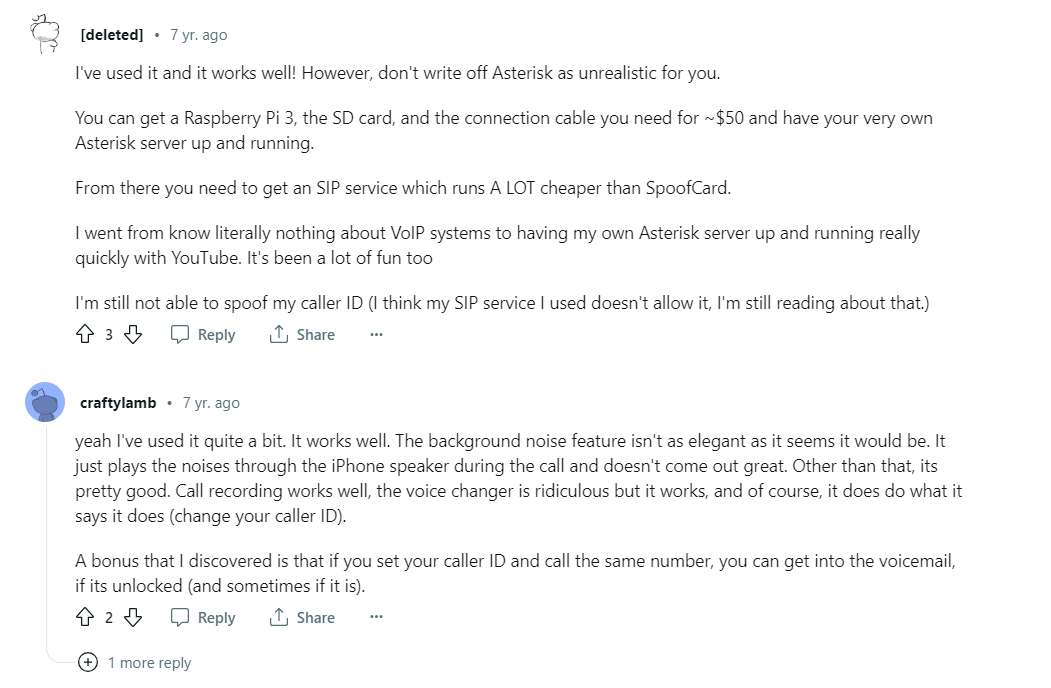 Below, we can see SpoofCard estimation by Amazon users: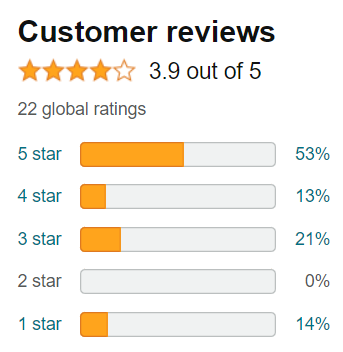 So, we can conclude that most users are satisfied. After trying this product, we can also say that it works.
Cons
The background noise feature doesn't work well. It makes noises through the iPhone speaker during the call and doesn't sound good
As you can see, there are not so many consumer complaints.
How to Use SpoofCard?
Step 1: Download and install SpoofCard using the website.
Step 2: Sign up or log in (if you already have an account). You have to provide your own phone number and email.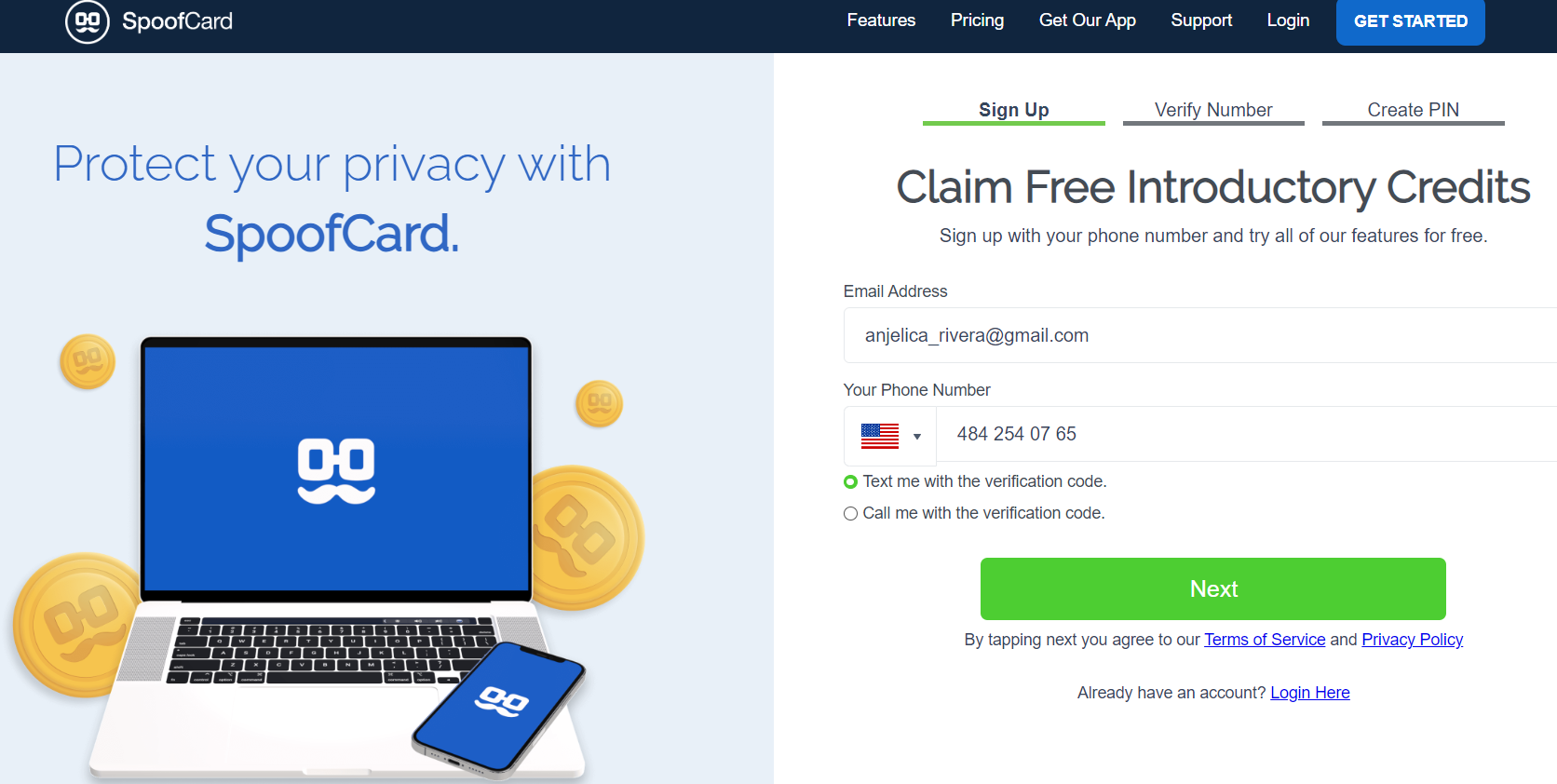 Step 3: Get SpoofCard credits.
Step 4: Choose SPOOF CALL.
Step 5: Enter Caller ID details. Enter the phone number you want to call and the number you want to display on the recipient's caller ID (the spoofed number).
Step 6: Enable Special Features (optional). SpoofCard offers additional features like voice disguising or sending spoofed text messages. You can enable these features if needed.
Step 7: Press the CALL button to initiate the spoof call.
Below, you can see how it works: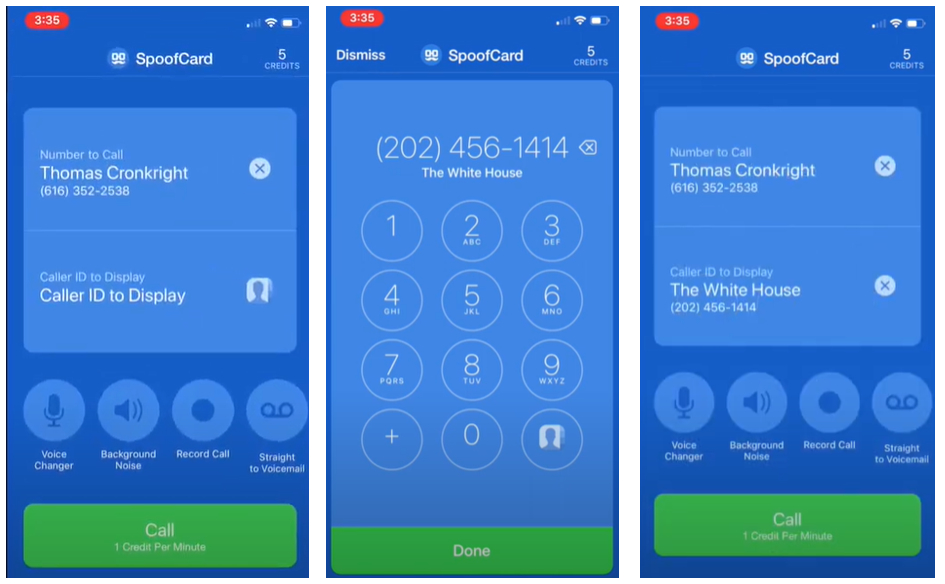 It means that you can use this phone service and, for example, use spoofed numbers to prank people. Here, we use the White House number. So, when the users answer calls, they will see the White House number. The main idea of spoofing calls is, as you can see, displaying a different number on the user's phone screen when you call someone.
SpoofTel: Simple App for Phone Spoofing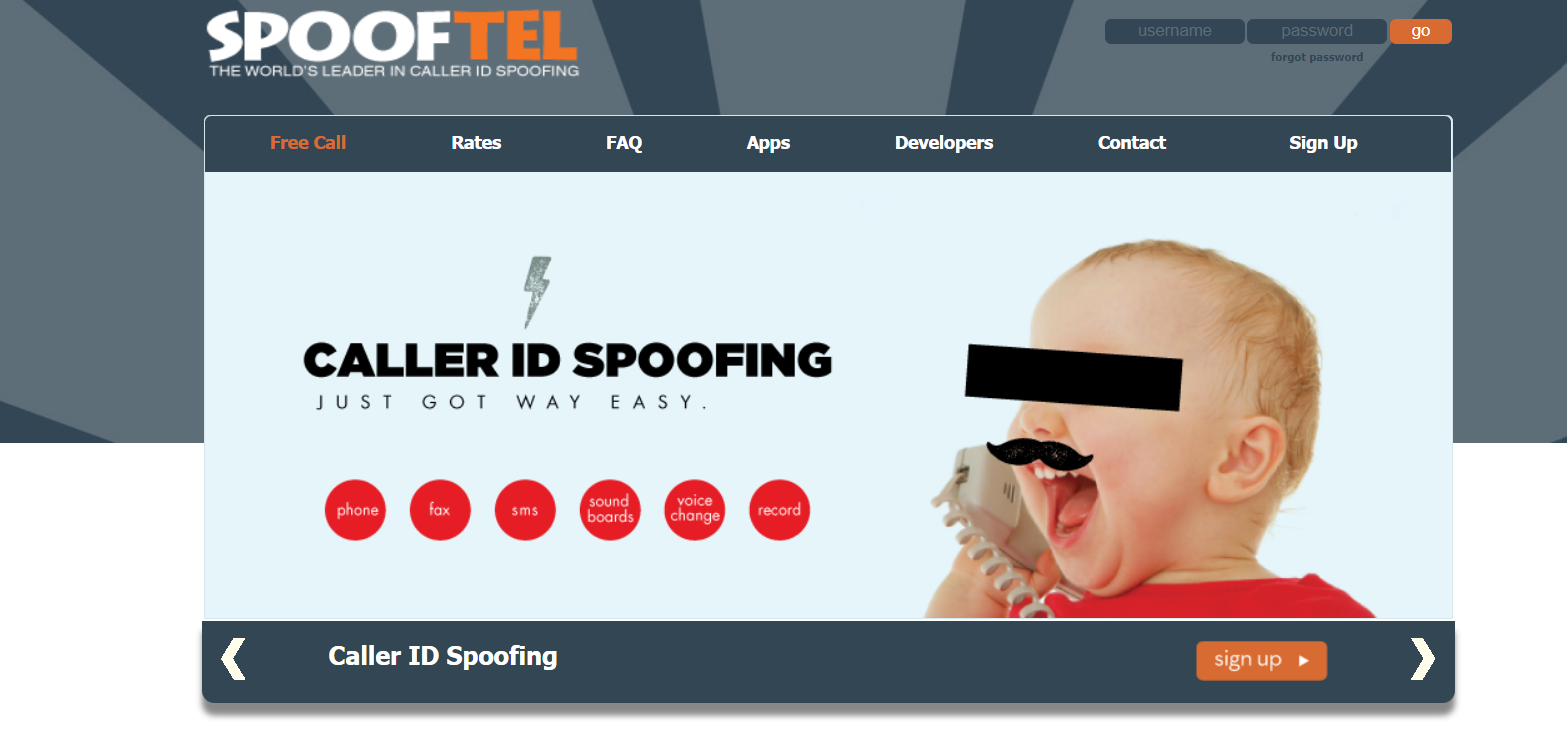 SpoofTel offers a distinctive approach to spoofing, setting itself apart from SpoofCard with a few differences. Almost all of them are connected with payment options. SpoofCard has debit & prepaid card support, as well as PayPal support, and SpoofTel does not.
The cool thing is that you have a free trial. You can try neighbor spoofing using unknown numbers. The free online version of SpoofTel allows users to make three 30-second calls, offering a chance to try out all its features except geographical restrictions.
Features
Caller ID Spoofing: You can change from and to ID numbers.
Call Recording: SpoofTel allows recording your calls for future reference or playback.
Voicemail Spoofing: You can send spoofed calls directly to someone's voicemail, allowing you to leave messages with a different caller ID.
Voice Disguising: SpoofTel can disguise your voice during the call, adding an extra layer of anonymity.
Spoofed Messages: In addition to calls, SpoofTel allows you to send spoofed text messages to recipients.
Background Sounds: Enhance the authenticity of your spoofed calls by adding background sounds to simulate various environments.
Price
Caller ID Spoofing = $0.50/minute
SMS = $0.50/message
Voice Changing = $0.25/call
Record a Call = $0.50/call
Soundboards = free
Pros
It is very fast
You can really spoof any number you want
According to the SSL check, the certificate is valid
Due to our practical knowledge, we checked other users' reviews too:

We can conclude that SpoofTel is good for non-professionals. You can use it for neighbor spoofing or friend pranks.

Cons
You need to wait for balance updating. Sometimes your balance is not updated for a long time
Weak customer support

How to Use SpoofTel?
Step 1: Sign up. Visit the SpoofTel website and sign up for an account. You may need to provide your email address and create a password.
Step 2: Purchase credits. Before you can start spoofing calls, you'll need to purchase credits. SpoofTel offers different credit packages to choose from.
Step 3: Select the spoofing option. Once you have credits in your account, log in to SpoofTel. Choose the type of spoofing you want to do, such as Caller ID, Voicemail spoofing, or sending Spoofed messages.
Step 4: Enter caller ID information. Enter the phone number you want to call, the phone number you want to spoof, and any additional options like voice disguising or background sounds.
Step 5: Place the spoofed call. Click the PLACE CALL button to initiate the call.
Step 6: Record calls (optional). If you want to record the call, ensure you have selected the call recording option before making the call.
Don't forget about a free trial. We also tried it: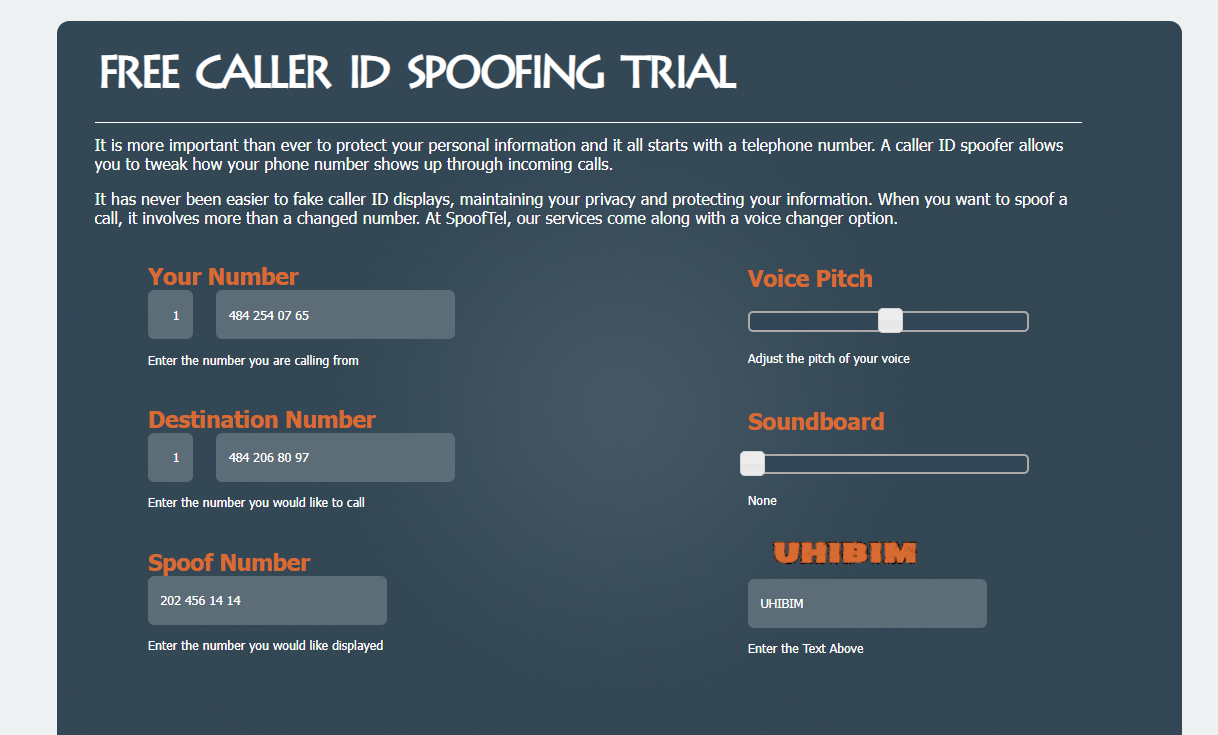 Spoof My Phone: Reliable Tool to Spoof Phone Calls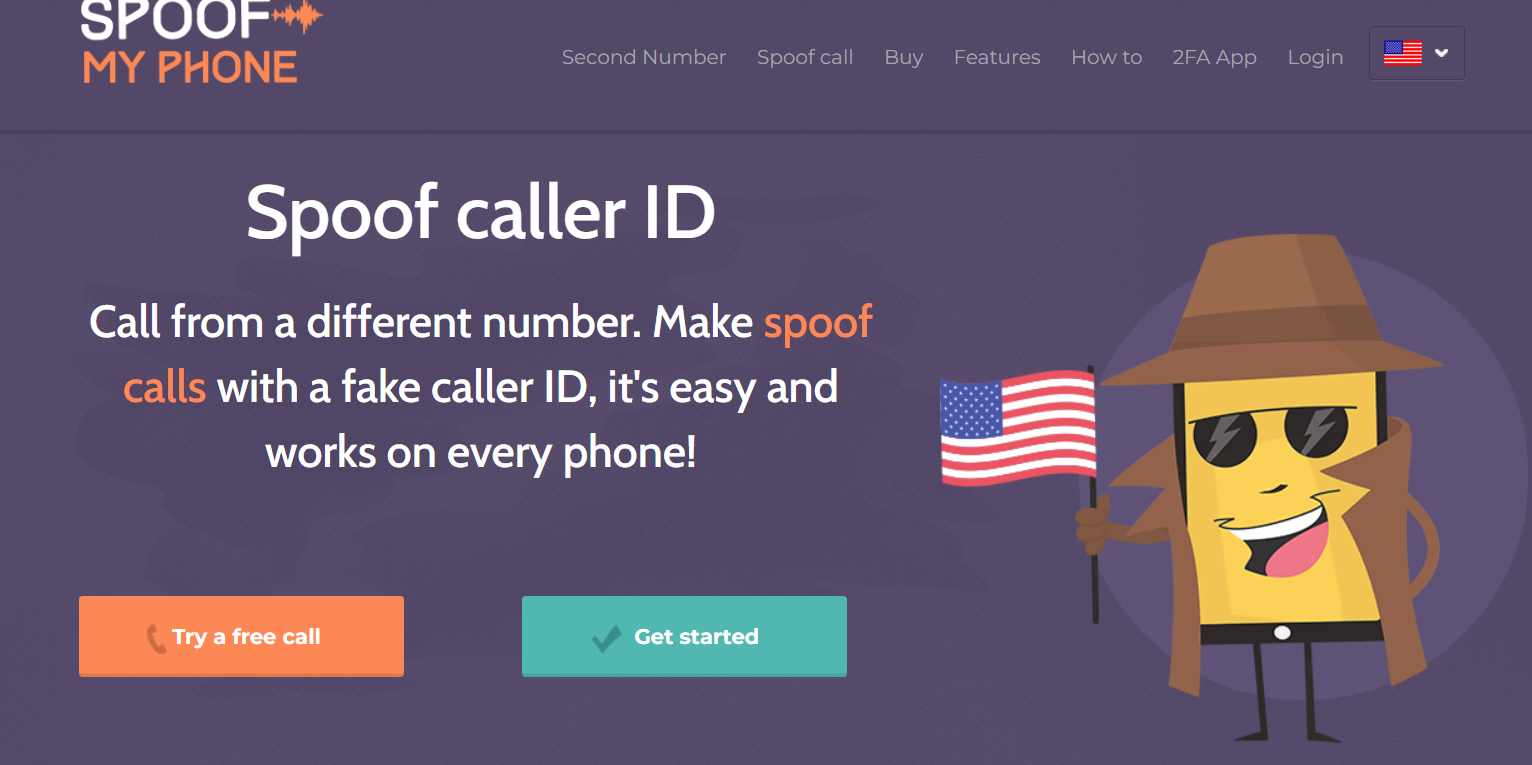 For those seeking an alternative to SpoofTel, Spoof My Phone presents a viable option, offering similar functionality with a few distinct features. Like SpoofTel, it has a free version, but with an interesting twist: users can earn free credits by making posts on social media, making it an attractive option for those who prefer a more interactive approach.
Features
Caller ID Spoofing: Spoof My Phone allows you to change the caller ID on the recipient's phone, making it look like the call is coming from a different number.
Convert Text to Speech: Spoof My Phone offers a unique feature that allows you to convert text messages into speech, which can be useful for adding a personal touch to your spoofed calls.
Social Media Rewards: By using the free version and sharing on social media, you can earn credits to make additional spoofed calls.
Authenticator App: You can secure your accounts with the free authenticator app.
Sound Effects: You can add custom background noises to make it more realistic.
Record Your Calls: Record your calls to keep backups of all your conversations.
Price
Here, you buy credits, not pay for each option:
20 credits = € 7
60 credits = € 12.6
130 credits = € 25.2
200 credits = € 35
350 credits = € 56
750 credits = € 112
Pros
It has reliable security system
You can use Group Calls feature
You can pay with cryptocurrency
Cons
It calls you first before redirecting the call to the recipient
How to Use Spoof My Phone?
Step 1: Sign up or log in using the website.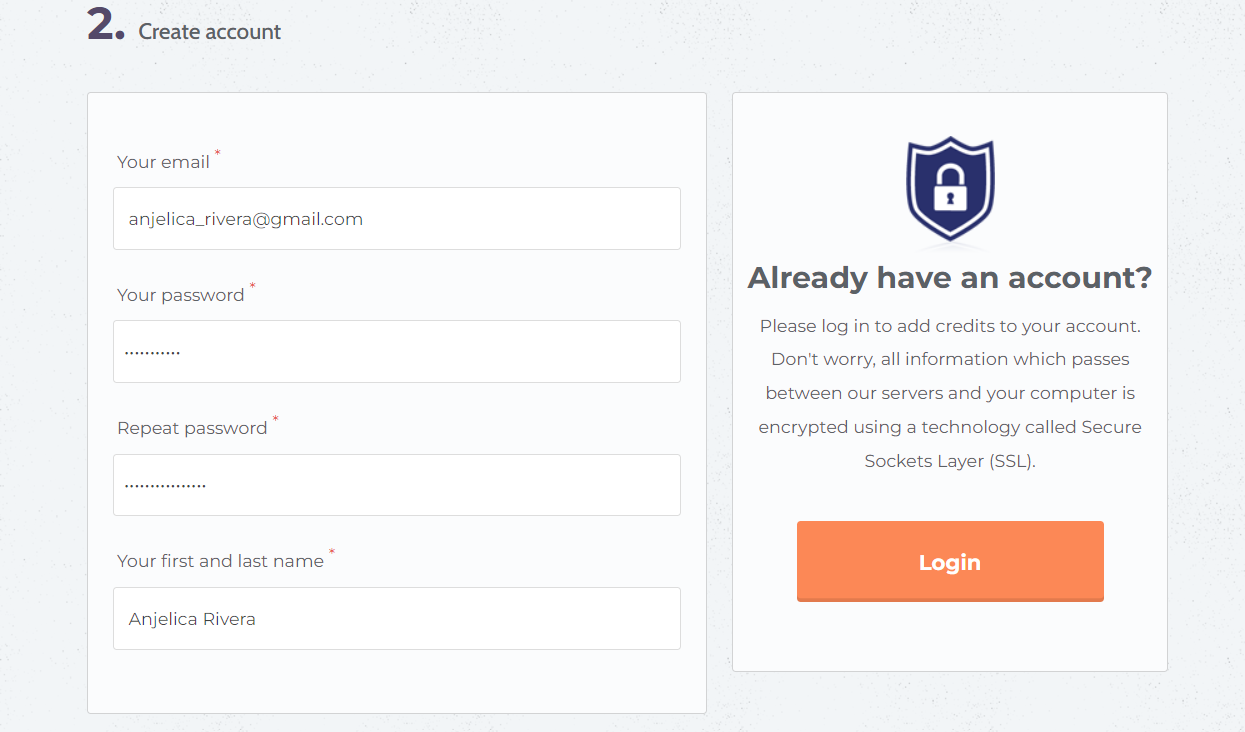 Step 2: Get credits (optional). If you want to use the free version of Spoof My Phone, you can earn credits by sharing the service on social media. Alternatively, you can purchase credits through the website.
Step 3: Choose a spoof method. Spoof My Phone offers various ways to spoof calls, such as through their web app, desktop app (for Windows), or iPhone app (for the jailbroken phone).
Step 4: Enter information. This includes the phone number you want to call, the phone number you want to display as the caller ID (spoofed number), and any additional features you want to use, such as text-to-speech.
Step 5: Initiate the call. After entering the information, initiate the spoof call. Spoof My Phone will handle the process and connect the call for you.
Step 6: Disguise your identity (optional). If you wish to add an extra layer of disguise, Spoof My Phone offers features like text-to-speech, allowing you to modify your voice during the call.
Why Spoof a Phone Number?
Ultimately, we must answer the simple question: Why use a spoofed number?
While regulated in the United States to prevent fraud and harm, caller ID spoofing serves several legal and practical purposes. The Caller ID Act has made it illegal to spoof numbers for malicious intent, but many legitimate reasons exist for using this technique.
So, below, you can see why people usually want to spoof a phone number.
Concealing Identity: Legitimate Needs for Hiding Caller Information
Professionals, such as physicians, often require anonymity when contacting patients or clients. Similarly, remote workers communicating with customers may need to appear as if calling from their workplace.
Reaching Someone in Emergencies: A Last Resort for Urgent Matters
In critical situations, getting through to someone becomes paramount, even if they are not answering regular calls.
We explore how spoofing a phone number can be the only option to reach loved ones or individuals in emergencies, emphasizing its responsible use and the importance of reserving it for critical moments.
Surprising Loved Ones: Adding a Touch of Magic to Calls
Whether it's surprising your children or delighting friends, caller IDs spoofing allows you to add a touch of magic and wonder to your calls.
Sometimes, certain services and apps offer fun features, such as calling Santa Claus or beloved fictional characters, complete with disguised voices, making for unforgettable experiences.
Conclusion
Our investigation shows that SpoofCard is a leading phone number spoofing app renowned for its longevity and robust features. While the free version offers a glimpse of its potential, the full version provides various powerful tools, from recording spoofed calls to voice disguises and group spoof calls.
With flexible subscription plans and no extra fees for special features, SpoofCard empowers users to engage in seamless and enjoyable spoof communications. Whether for fun, privacy, or professional purposes, SpoofCard offers an unrivaled experience in phone number spoofing.
By following the step-by-step guides provided by reputable spoofing apps and being mindful of the limitations and features offered, you can safely utilize phone number spoofing when necessary.
Is It Illegal to Spoof a Phone Number?
In many countries, phone number spoofing for illegal activities is considered a criminal offense. For example, in the United States, the Truth in Caller ID Act, signed into law in 2009, makes it illegal to spoof phone numbers to defraud, cause harm, or wrongfully obtain anything of value.
Similarly, the U.S. Federal Communications Commission (FCC) requires telemarketers to use accurate caller IDs when contacting people.
Spoofing phone numbers for purposes such as scamming, harassment, or committing fraud is strictly prohibited and can result in severe legal consequences.
How Do You Disguise Your Phone Number for Free?
You can use a special spoofing app with this feature. But here is a free option, too.
To disguise your phone number, you can use the *67 feature. Whether you have a smartphone or a landline, open your phone's keypad and dial *67, followed by the number you want to call. This free method will conceal your number, showing up as PRIVATE or BLOCKED on the recipient's caller ID.
Can Call Spoofing Be Traced?
While telephone companies can sometimes trace spoofers, the process is often time-consuming. Attempting to trace spoofers on your own may require even more effort and time.