Recover Your Lost Files with the Best Android Data Recovery Software
Looking for a way to restore deleted files on your phone? Concerned about the safety of downloading Android data recovery software? We have you covered!
This post will share the best Android data recovery software to help you recover various data types, such as photos, videos, app data, and more.
Dive into this article to find the most reliable and efficient Android data recovery software available.
Can You Recover Lost Files?
Yes! Today, numerous Android phone users encounter data loss for various reasons. It can be device crashes, complete resets, formatting errors, accidental deletions, etc. We are eager to recover those valuable files. So, how can you recover data that has been permanently deleted from your Android phone?
In reality, the deleted files haven't been completely erased. They are merely marked for deletion and remain invisible to us. You must use reliable Android data recovery tools to locate these hidden files.
💡 The main question: what apps to recover lost data work? So, here you can see how we found out the answer:
| | |
| --- | --- |
| 💽 Number of apps we have tested | 25 |
| 📆 Testing period | 4 weeks |
| 💰 Average cost | $50 |
| 🪙 Minimum cost | for free |
What Parameters Do We Use to Check Android Data Recovery Software?
We strongly believe that the best Android data recovery software should place the utmost importance on security, reliability, ease of use, and comprehensive technical support.
As a result of our tests, we have determined that the key factors you have to pay attention to when you choose Android data recovery apps are:
Security: It is imperative to ensure that the chosen Android data recovery tool is free from viruses and guarantees the safety of your data. So you can be sure to use it for recovering data safely.
Supported file types: A robust Android data recovery software should be able to recover a wide array of files from internal storage and external, of course, too.
Technical support: Professional technical support is pivotal, particularly for paid Android recovery software. You may encounter questions or technical difficulties when you recover lost data.
A user-friendly Android data recovery tool can assist you in recovering data — lost or deleted files from the SD card, internal memory, etc.
What Is the Best Data Recovery Software for Android?
Android users can easily find many tools on the app store that simplify the data recovery process. However, due to the multitude of options available, it is natural to experience some confusion.
So, what is the best Android data recovery? Our findings show that we can make a list of different tools for your Android phone which you can use to recover lost data.
Wondershare Dr. Fone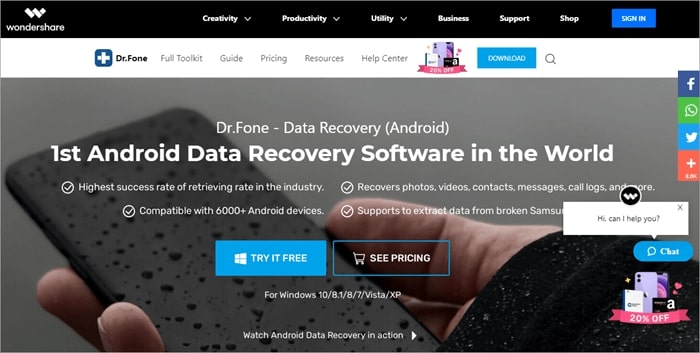 The first one is Wondershare Dr.Fone. This data recovery software is designed to help you effortlessly recover files — lost or deleted data from the internal memory, using the SD card, etc. Its advanced features and intuitive interface make it the go-to solution for all your Android data recovery needs.
Recovering lost data from Android phones has never been easier. Wondershare Dr.Fone automatically roots your device, enabling it to perform comprehensive operations to recover lost files. This software covers whether you've accidentally experienced a system crash.
Key Features
Scan phones to recover data from Android
Supports recovery of all major file types (text messages, call logs, WhatsApp messages, etc.) using the Android internal memory
Compatible with over 6000 Android tablets and smartphones
Preview files before initiating the recovery process
Price
Basic package — $39.95
Full Android Tool Kit — $79.95
Verdict
Wondershare Dr.Fone is one of the best Android data recovery tools. You can recover almost any data from your Android device with simple steps.
Tenorshare UltData for Android Data Recovery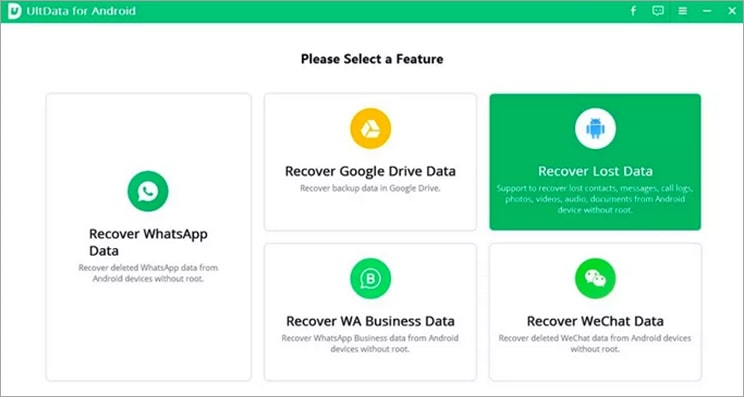 With Tenorshare UltData, you can easily recover your valuable data. It is compatible with popular Android devices like Samsung, Motorola, HTC, Google Nexus, and many others.
Tenorshare UltData can recover internal memory and SD card data without needing a computer or rooting your device.
Key Features
Can successfully retrieve data lost due to accidental deletion, system crashes, water damage, OS updates, etc.
Recover data from the SD card
Supports retrieving WhatsApp Business data
Includes a unique photo enhancement feature that improves the resolution of recovered images
Offers a convenient way to recover broken Android data, including files stored in Google Drive
Price
Tenorshare UltData for the Android phone provides flexible pricing options to suit your needs. You can choose between:
1-Month License — $35.95
1-Year License — $39.95
Lifetime License — $49.95
The software offers a 30-day money-back guarantee, giving you peace of mind.
Verdict
Tenorshare UltData is an easy-to-use recovery software for deleted or lost data for Android phones and tablets. Its user-friendly interface guides you through a simple three-step process: connect your Android device, scan for lost files, and recover them.
Eassiy Android Data Recovery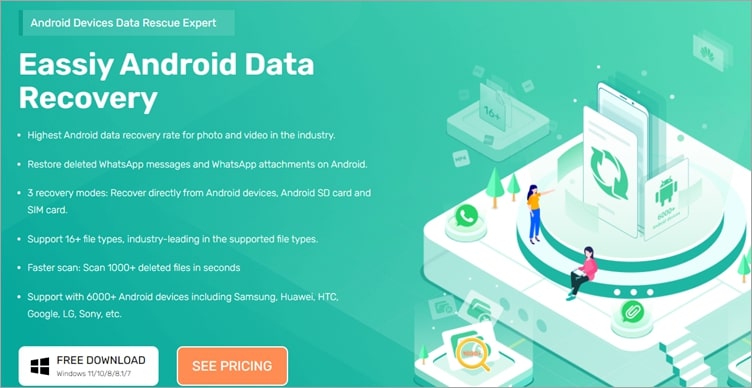 This data recovery software serves to restore valuable data from Android phones. Based on our own experience, it is very convenient for Android users.
This data recovery software has covered whether you accidentally deleted important files or experienced data loss due to various scenarios.
Key Features
Can recover deleted information (call logs, photos/videos, deleted WhatsApp messages, etc.) directly from your Android device, Android SD card, or SIM card
Performs lightning-fast scans, allowing you to scan over 1000 deleted files in seconds
Supports Android phones and tablets
Price
Eassiy Android Data Recovery offers flexible options to suit your preferences. You can choose from three plans:
1-Quarter License — $35.99
1-Year License — $39.99
Lifetime License — $69.99
Verdict
Based on our experience, it is the top choice for recovering deleted photos and videos from Android devices and the SD card. If you want to try something easy!
Disk Drill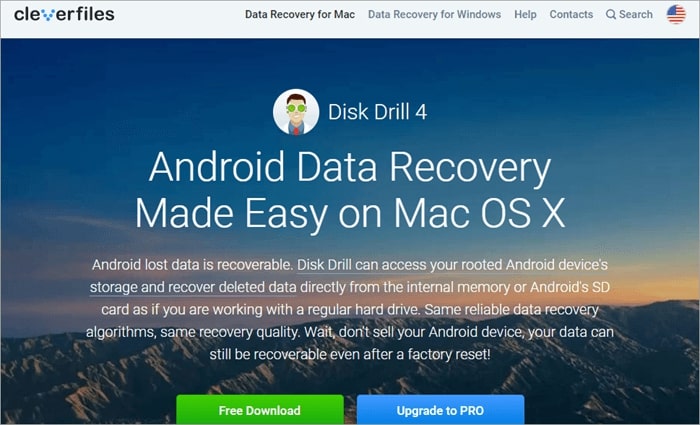 Disk Drill is a free data recovery tool that offers a wide range of features. It recovers data from different storages, including the SD card, photos, videos, text messages, and Android phone documents.
It sets itself apart from other Android data recovery software, ensuring an experience that appeals to users of all levels, from novices to experts. The free Android version of Disk Drill lets you preview recoverable files, ensuring you only recover the data you need.
Regarding other Android recovery software, Disk Drill stands out by offering a straightforward installing process:
Connect your Android device to your system.
Enable USB debugging on your phone and grant the software any necessary permissions.
Key Features
Supports all Android tablets and phone devices, ensuring broad accessibility for users
Employs targeted scanning techniques to locate and recover lost data efficiently
Allows you to preview recoverable files and restore the data you need selectively
Can recover all types of files, ensuring that they can be restored no matter what data is lost
Excels in promptly recovering various types of data
Price
Disk Drill for your Android phone offers different pricing options:
Free Version allows you to explore its features and functionality
Pro Version costs $89.00, providing additional benefits and advanced recovery options
Enterprise Version: For enterprise users with more extensive requirements. It is available at $899.00
Verdict
Disk Drill is an exceptionally powerful Android recovery tool that may not cater to everyone's preferences. According to our experience, this is easy and user-friendly recovery software.
However, its robust features make it an outstanding choice for efficient and effective data recovery. Regardless of the reason behind a data loss, Disk Drill can help you restore all data types swiftly and effortlessly.
FoneLab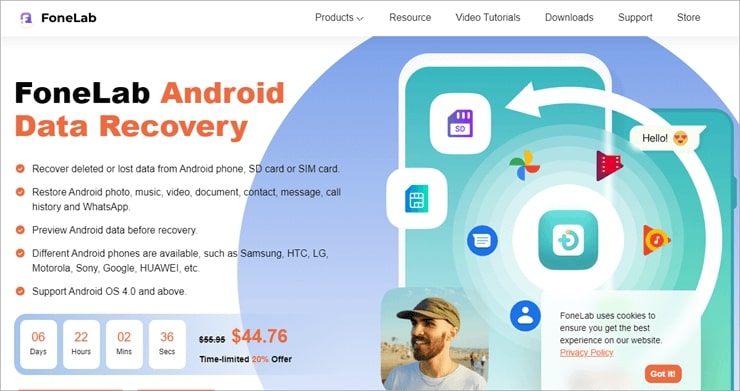 The best Android data recovery solution is here for quick file restoration and recovery. Whether you have experienced a virus attack or a broken phone, FoneLab can rescue you with its powerful recovery capabilities.
This data recovery software is a breeze and only requires three simple steps to retrieve your valuable data. Connect your Android device, initiate a scan, select the files you wish to recover, and save them to your device.
FoneLab is proficient in restoring various file types, including plain text and MS docs.
Key Features
Ensures comprehensive recovery by supporting retrieval from various sources, including your Android phone, SD card, and Sim card
Allows you to preview the data to ensure you're restoring the correct files
Supports all major Android devices running on OS 4.0 and above, ensuring compatibility with a wide range of Android smartphones and tablets
Can also restore your call history and messages, allowing you to recover important communications
Price
Pricing for this data recovery software starts at $20.76, making it an affordable option.
A specialized Broken Phone Data Extraction Pack is also available for those with broken phones for $31.96.
Verdict
FoneLab is a user-friendly data recovery solution for individuals seeking to recover lost data from their Android devices. Featuring effortless usability, compatibility with the Android phone from version 4.0 onwards, and a remarkable capability to recover deleted Android files.
FoneLab is a reliable choice for retrieving your lost data, regardless of the cause behind the data loss.
EaseUS

EaseUS MobiSaver boasts compatibility with numerous Android phones and tablets, making it suitable for virtually all Android devices. Effortlessly, it can retrieve data from both internal and external memory.
This powerful tool can comfortably recover them all, whether photos, documents, or any other file type. One notable feature of EaseUS MobiSaver is its file preview functionality. Before initiating the recovery, you can preview the files, allowing you to verify their contents and quality.
Additionally, the software enables you to recover and export your files in various formats like CSV and HTML, providing flexibility in managing your recovered data. This intuitive software provides a simple, quick, and user-friendly approach to recovering valuable files.
Key Features
Three-step recovery process: connect, scan, and select files for recovery
File preview option before initiating the recovery
Export recovered files in multiple formats
Extensive compatibility, supporting recovery for almost all Android devices
User-friendly interface for a hassle-free Android data recovery experience
Price
Free version
Verdict
If you haven't experienced Android data recovery before, EaseUS MobiSaver is the ideal starting point. Its simplicity, efficiency, and broad compatibility make it a reliable choice for recovering lost data from Android devices.
Whether you accidentally deleted files, encountered data loss for various reasons, or need to recover WhatsApp data, EaseUS MobiSaver has you covered. It prioritizes the safety of your Android data and simplifies the otherwise complicated data recovery procedures.
Moreover, it has one more pro: this is a free Android app!
FonePaw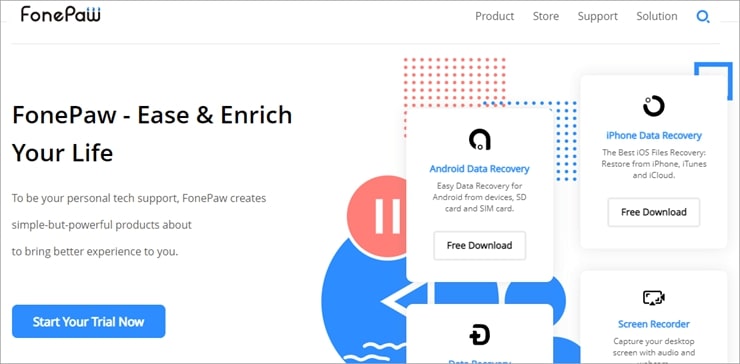 If you need to recover deleted files or data from your Android phone, FonePaw is the ideal solution for simple media recovery. FonePaw is compatible with Android versions ranging from 2.3 to 9.0.
FonePaw empowers you to recover lost files from your Android phone and export them in various formats, such as CSV and HTML. In addition, to recover permanently deleted files, the software provides a useful preview feature that allows you to preview the files before initiating the restoring process.
The recovery procedure is straightforward: connect your Android device, perform a scan, and select the data you wish to restore.
Key Features
Swift recovery of all media and text files
Pre-recovery file preview
Rapid phone scanning speed
Recovery from internal memory, SD card, and sim cards
Price
Unfortunately, there is no free version. But the price is not very painful:
Single User License — $49.95
Family License — $79.95
Verdict
FonePaw is an impressive and user-friendly data recovery tool designed for Android devices. It guarantees a swift restoration process for all media and text files.
Regarding speed, FonePaw stands out among other Android data recovery applications. We highly recommend this tool to Android users running version 2.3 to 9.0.
DiskDigger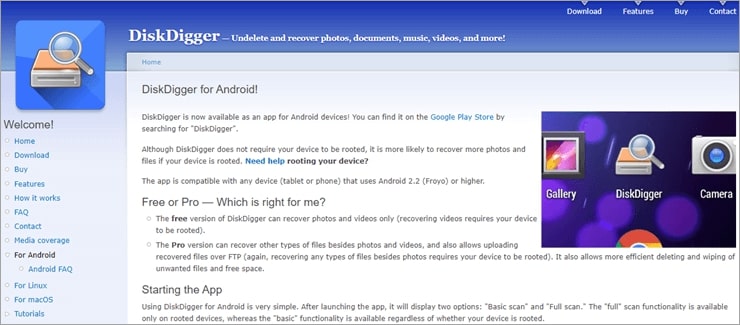 Looking for a reliable solution to recover data from your Android phone? Look no further than DiskDigger, a top-notch data recovery software that retrieves lost files from your Android device.
With DiskDigger, you can effortlessly recover deleted photos, videos, and other valuable data, making it the perfect tool for freeing media files. The software offers a free version that allows you to recover videos and images without cost.
If you are willing to upgrade to the paid version, you can unlock the ability to recover files beyond photos and videos. Furthermore, the premium version allows you to recover deleted files and upload them over FTP conveniently.
Key Features
Basic and full scan modes for the Android phone
File deletion and disk space cleanup
Enjoy the benefit of free data recovery for your media files
Compatible with Android devices 2.2 and higher
DiskDigger provides two scanning modes: Basic and Full. The Basic scan mode works seamlessly on both rooted and non-rooted Android devices, ensuring you can recover your data regardless of your device's status.
However, if you have a rooted Android device, you can access the Full scan mode, which offers a more comprehensive data recovery experience. Apart from data recovery, DiskDigger offers additional features such as file deletion and space cleanup on your Android phone, allowing you to manage your storage efficiently.
Price
DiskDigger is a free Android app with a personal license priced at $14.99. Don't let accidental deletion or lost files cause concern — rely on DiskDigger to safely recover your valuable Android phone data.
Verdict
In summary, DiskDigger is an excellent choice for free data recovery of media files. Its easy setup and compatibility with various Android devices are the ideal software for recovering unlimited video and photo files. And if you opt for the paid version, you unlock even more powerful recovery capabilities.
Pro Tips
Opt for a user-friendly tool with a simple installation process and an aesthetically pleasing user interface.
Ensure the software is immune to viruses and malware while performing read-only procedures during scans to safeguard your device.
Verify that the software can recover data from your Android device's internal and external memory cards.
The Android data recovery software should be able to recover all types of files in various formats.
Confirm compatibility of the tool with your specific Android smartphone to guarantee a seamless operation.
Lastly, the software's pricing structure should be transparent and within your comfortable budget range.
Whether you need to recover deleted WhatsApp messages, files from internal memory, or lost data, a reliable and safe Android data recovery app is crucial.
Let's sum it up!
| | |
| --- | --- |
| 💽 Best recovery process | Wondershare Dr. Fone |
| 🖼️ Best free photo and video recovery | Tenorshare UltData |
| 📱 Best for SIM card recovery | Eassiy Android Data Recovery |
| ☎️ Best customer support | Tenorshare UltData |
| 🧑‍💻 Best UI | EaseUS |
Conclusions
Choosing a data recovery tool that suits your specific needs and preferences and guarantees the safety of your Android smartphone and data is important.
By selecting a reputable and reliable Android data recovery app, you can confidently retrieve lost data, whether accidentally deleted, lost due to a system crash, or affected by a factory reset.
Remember, the recovery process can sometimes be complex, but with the right tools, you can recover deleted data directly from your Android device's internal and external memory.
Therefore, take the time to explore the various options and select an Android data recovery program that aligns with your requirements, offers a straightforward restoring process, and ensures the safety of your valuable data.
Is Android Data Recovery Software Available for Free?
If you want to recover data, you'll find numerous options. Many tools provide the ability to recover data without any cost. Even premium software often offers a free version, enabling users to recover data within specific size restrictions. EaseUS MobiSaver, for instance, is one such tool that allows free data recovery.
Is Android Data Recovery Safe?
Yes, Android data recovery software is generally safe to use. Reputable data recovery tools for Android adopt a read-only approach, ensuring that no modifications or deletions are made to the existing data on your Android device.
However, it's important to note that performing a complete Android file recovery from the internal storage often requires a rooted device. Rooting can be complex and carries risks, so caution should be exercised.
Is It Possible for an Android Recovery Tool to Assist in Recovering Permanently Deleted Files?
The ability to recover data is a testament to the fact that no data is truly lost forever. Android recovery tools have powerful features like Full Scan or Deep Scan modes, enabling you to successfully recover difficult-to-retrieve data from a smartphone's internal and external memory. However, it's crucial to note that once data has been overwritten, it becomes irretrievable, and recovery efforts are ineffective.
What Is the Process for Recovering Deleted Files from Android Devices?
For the recovery of deleted files from your Android device:
1. Install a data recovery tool from the provided list.
2. Launch the app, and scan your device.
3. Select the desired files and restore them to a safe location.