Best Recovery Software for Mac: Restoring Your Data Made Easy
The worst modern people's dream is to lose their data. If earlier we said that time is money, today we can say that money is information. Therefore, knowing how to recover your data in case of loss is essential.
It is better to note that Macintosh devices have their specifics of data storage. Some good news: Mac users have many options regarding data recovery tools. To help you quickly and efficiently recover your lost files, we have compiled a list of Mac's best data recovery software.
Due to our practical knowledge, we suggest the best data retrieval tools for Mac with various features. Below is the list of the top 10 data recovery software for Mac that we have tried recently.
| | |
| --- | --- |
| 💽 Number of tools we have tested | 30 |
| 📆 Testing period | 5 weeks |
| 💻 Our macOS version | 13.1 Ventura |
| 💰 Average cost | $100 |
| 🪙 Minimum cost | for free |
How Did We Select the Software for Testing?
Based on our observations, we finally made our selection list according to the following parameters:
Limitations;
Functionality (features);
Compatibility,
Price.
Regarding Mac data recovery, we can find numerous options available in the market, including data retrieval software specifically designed for Mac. Such apps may help you to recover accidentally deleted files, lost data, or files from different file formats.
Our final list of the best data recovery software apps is here. Also, take note that after trying each product, we made a table using all parameters we have mentioned:
| | | | |
| --- | --- | --- | --- |
| Apps | Limitations | Compatibility | Price |
| 🥇 Disk Drill for Mac | Limited free version, file system support, data types | macOS 10.13 or later (macOS Ventura ready) | $89 (full version) |
| 🥈 EaseUS Data Recovery Wizard | Limited free version, file system support, scan time, data types | mac OS X 10.9 or later | $119.95/year |
| 🥉 Stellar Data Recovery | Limited free version, file system support, scan time, file conditions, data types, hardware | macOS 10.11 or later | $99.99/year |
| Iboysoft Data Recovery | Limited free version, technical support, scan time, file conditions, data types, hardware | fully compatible with T2 and Apple silicon | free |
| Lazesoft Mac Data Recovery | Limited free version, file system support, scan time, file conditions, data types, hardware | all macOS versions | free |
| Softtote | Limited free version, file system support, scan time, file conditions, data types, interface | macOS 10.6 or later | $59.99 (full version) |
| Data Rescue 6 for Mac | Scat time, devices with complex RAID configurations, interface | macOS 10.12 or later (Intel only) | $99 (full version) |
| R-Studio | Steeper learning curve, technical expertise, scan time, file conditions | macOS X 10.9 or later | $79.99 (full version) |
| Recoverit | File types, recovery success rate, overwritten data | macOS X 10.8 | $95.99/month |
| TestDisk | Command-line interface, steep learning curve, graphical user interface, file format support | macOS X 10.4 or later | free |
A comprehensive overview of the finest data recovery software solutions available for Mac is presented here. This compilation includes various options, encompassing paid and freeware data recovery applications designed specifically for your Mac or MacBook.
Keep reading to discover the features of each app.
Disk Drill for Mac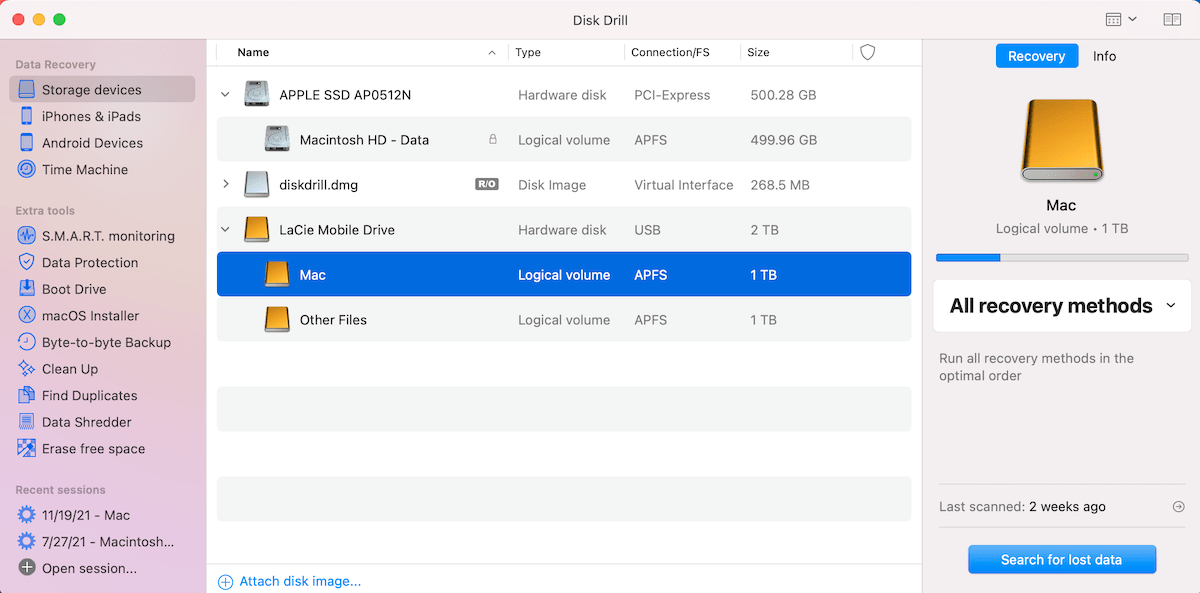 Do you need reliable and efficient data recovery software for Mac? Look no further than Disk Drill. Disk Drill is one of the best data recovery software apps available for Apple users.
Features
Disk Drill for Mac boasts many features, making it an outstanding choice for data retrieval.
Comprehensive Free Disk Tools. It comes bundled with several useful free disk tools. These tools, such as SMART Monitoring, Mac Cleanup, Duplicate Finder, Boot Drive, Data Protection, and Data Backup, assist in organizing and safeguarding your files.
Effortless One-Click Scanning. Its user-friendly approach sets Disk Drill apart from other data recovery apps for Mac. With its one-click scanning feature, recovering your data becomes incredibly easy. Even with limited technical expertise, you can initiate the recovery process with just a single click.
Seamless Data Recovery Process. Disk Drill simplifies the data retrieval process with its intuitive interface. Once you've installed the software, select the hard disk you want to scan and wait for the scan to complete. If Apple were to create a data recovery app, it would undoubtedly resemble Disk Drill.
Installation and Working Process
Here you can find a step-by-step guide for the data recovery process using Disk Drill on a Mac:
Install Disk Drill: Begin by downloading and installing Disk Drill on your Mac.
Select the hard disk: Launch Disk Drill and select the hard disk or storage device from which you want to recover data.
Scan for lost data: Once you have selected the target drive, initiate the scan process by clicking the SCAN button. Disk Drill offers two scanning options: Quick Scan and Deep Scan. Quick Scan is faster but may have limited results, while Deep Scan thoroughly searches the drive for more comprehensive recovery.
Wait for the scan: Disk Drill will begin scanning the selected drive for lost or deleted files. The scanning time may vary depending on the drive size and the chosen scan type.
Review found files: After the scan, disk Drill will display a list of recoverable files. The software provides detailed information about each file, including name, size, and file type.
Preview files: Disk Drill offers a convenient preview feature that allows you to preview the recoverable files before proceeding with the recovery. Click on a file to preview its contents, ensuring you recover the correct data.
Recover data: Once you have identified the files you wish to recover, select the desired files or folders and click the RECOVER button. Choose a destination on your Mac where the recovered data will be saved.
Wait for recovery: Disk Drill will initiate the recovery process, restoring the selected files to the specified destination. The time required for recovery depends on the size and number of files being recovered.
Verify recovered data: After recovery, verify the recovered data to ensure its integrity. Open the recovered files and check if they are accessible and intact.
Pros and Cons
Easy to use, even for beginners
Delivers outstanding results in data recovery
Offers a free recovery evaluation
Includes additional free disk tools for better file management
Preview function allows you to review files before recovery
Free version only supports file previewing
Price
Disk Drill PRO: $89
Disk Drill Enterprise: $499
EaseUS Data Recovery Wizard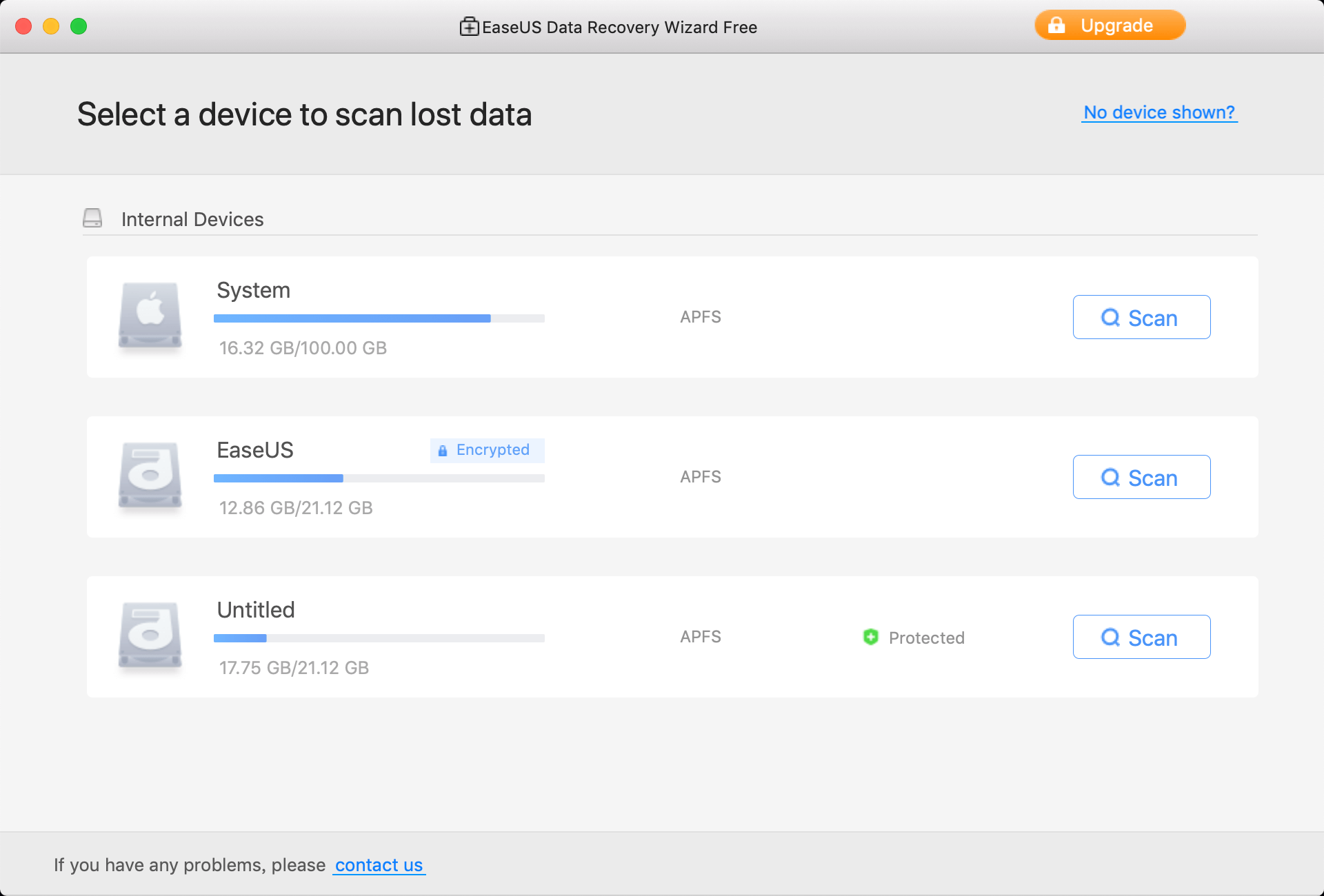 EaseUS, a renowned software company recognized for its widely-used partition manager, presents another noteworthy tool called EaseUS Data Recovery Wizard for Mac.
This exceptional software facilitates the retrieval of lost files and deserves acknowledgment for its remarkable capabilities.
Features
EaseUS Data Recovery software for Mac is a cutting-edge data retrieval solution that allows users to restore up to 2 GB of deleted or formatted data, all free.
It seamlessly supports Time Machine backup drives, allowing users to recover files such as photos, videos, music, documents, and emails.
Furthermore, it harmonizes with the most recent macOS versions, including macOS 10.14, 10.13, 10.12, and macOS X 10.11, 10.10, 10.9, 10.8, 10.7, and 10.6.
The data recovery process with EaseUS Data Recovery Wizard for Mac is simplified into three effortless steps. The application even allows bootable media creation when macOS fails to boot up.
Pros and Cons
Enables free data recovery of up to 2 GB
Supports Time Machine backup drives
Boasts a user-friendly interface
Lacks an abundance of supplementary features
Price
Monthly: $89.95/month
Annual: $119.95/year
Lifetime Upgrades: $169.95
Stellar Data Recovery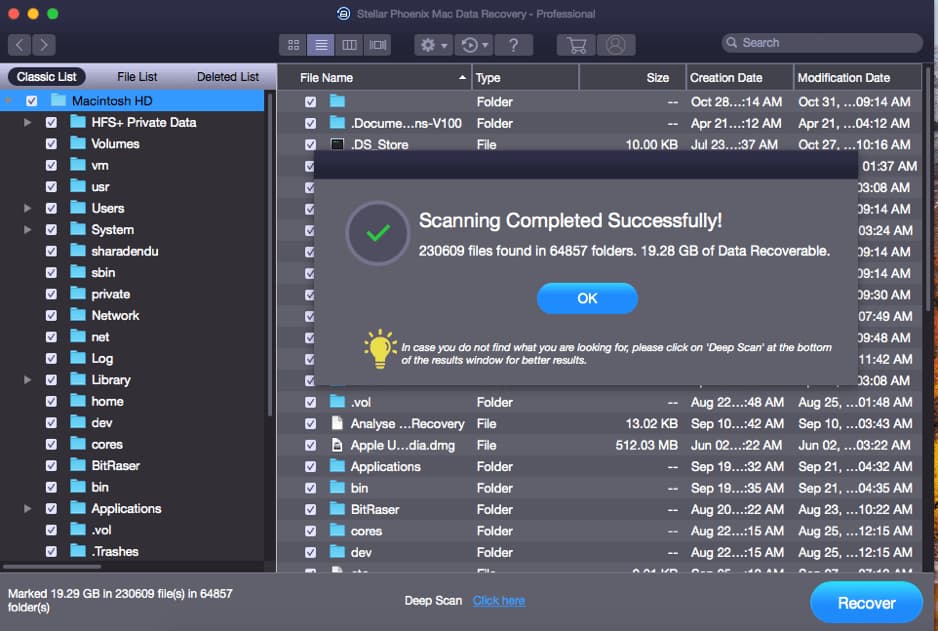 Stellar Data Recovery Software for Mac is a powerful tool to help users recover lost data and files. While it may offer more features than the average Mac user needs, it still deserves recognition for its impressive capabilities.
Features and Using
One of the standout features of Stellar Data Recovery for Mac is its ability to recover data from various sources. They include Time Machine, Fusion Drive, encrypted drives, and NTFS drives.
Moreover, it boasts full compatibility with the APFS file system.
Depending on your chosen version, you can also use advanced features like repairing corrupt photo and video files and restoring corrupt thumbnails.
But the free version only previews recoverable files and doesn't allow actual file recovery.
Stellar Data Recovery for Mac has presented challenges, particularly with my MacBook Pro 16″ running Big Sur 11.2.3. Other users have reported successful recoveries using this software, so compatibility issues may vary across systems.
Pros and Cons
Reliability
Corrupt media repair
Recovery from encrypted drives
No free recovery options available
Price
Professional: $126.64
Premium: $169.13
Technician: $406.94
iBoysoft Data Recovery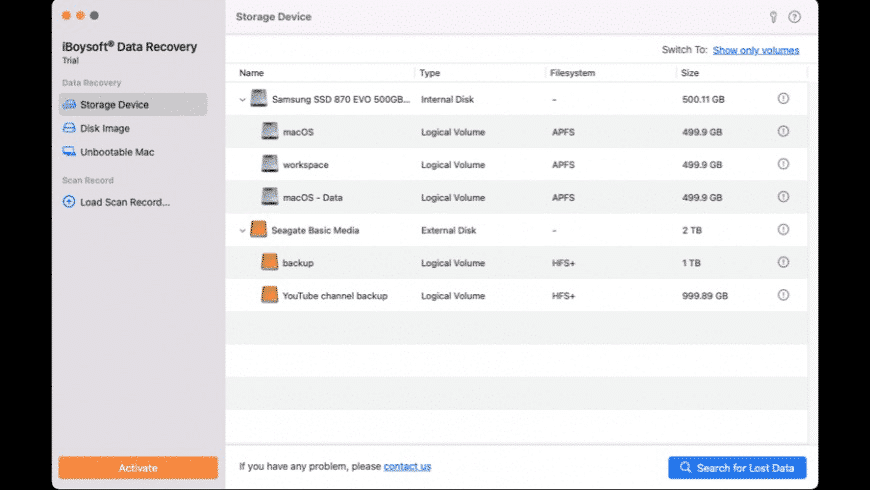 iBoysoft Data Recovery is an efficient and reliable Mac file recovery software designed to retrieve removed data from various storage devices.
Whether you're facing a non-bootable Mac or have accidentally emptied your Trash bin, this versatile application can come to your rescue. It even offers a version for Windows users.
Features and Using
Recovering your valuable data with iBoysoft is a breeze, ensuring that Apple users of all levels can easily perform this task.
The software employs a user-friendly three-step process: scanning the device, previewing recoverable data, and allowing you to select the specific files you wish to restore. To get you started, a free download allows you to recover up to 1 GB of data while you test the product's capabilities.
With support for over 1000 file types, iBoysoft Data Recovery can retrieve nearly any data deleted from your Mac.
It covers various disk-based storage devices, including SD cards and external USB drives.
This software is a comprehensive solution for various data loss scenarios, such as formatted disks and emptied Trash bins.
It combines a simple interface with professional-grade recovery functionality.
Pros and Cons
Free Mac data recovery: Recover up to 1 GB of data for free
Compatibility with M1 and T2 Macs
Quick and Deep scans
Free scan and preview
Save and reload scan results for future reference
Price
Monthly license: $89.95
Yearly license: $99.95
Lazesoft Mac Data Recovery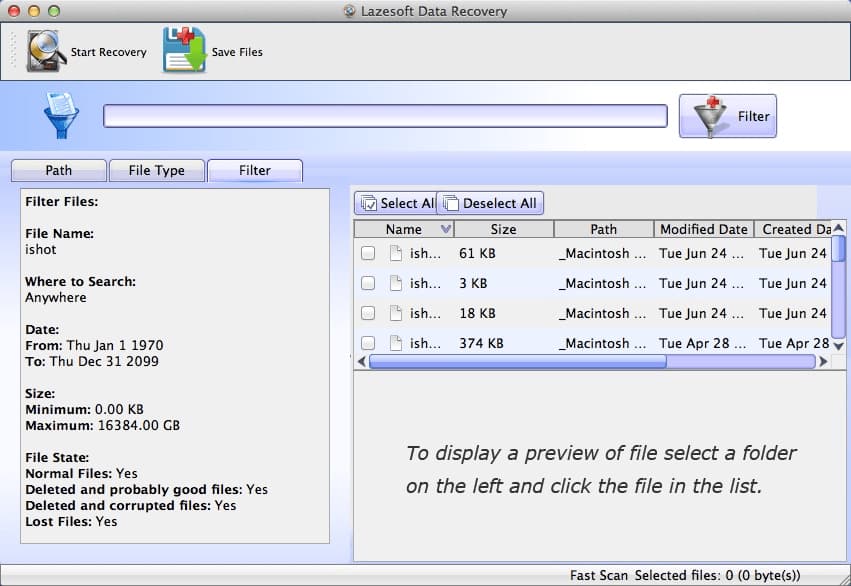 Lazesoft Data Recovery is a free data recovery tool for Mac. It, unfortunately, hasn't received updates for several years, rendering it incompatible with some modern operating systems.
Features and Using
Despite the lack of recent updates, Lazesoft Mac Data Recovery can still be used on relatively recent macOS versions.
Being a free tool, it can be a viable option if you're looking for inexpensive recovery software. Our findings show that the outdated operating system support may pose a risk if you attempt to recover highly valuable data.
The software can recover files in multiple formats, including audio, video, documents, and images.
It offers fast, deep scan options to help you recover files and partitions.
Moreover, it allows you to initiate the recovery of specific files while the scan is in progress, speeding up the overall process.
However, our analysis of this product shows that the lack of updates since 2014 indicates that the developers have likely abandoned the project, suggesting that no further improvements will be made to this application.
Pros and Cons
Free data recovery tool for Mac
Recovers partitions and formatted drives
Native support for macOS X
Preview option for recoverable files
No software updates since macOS 10.9
Price
Softtote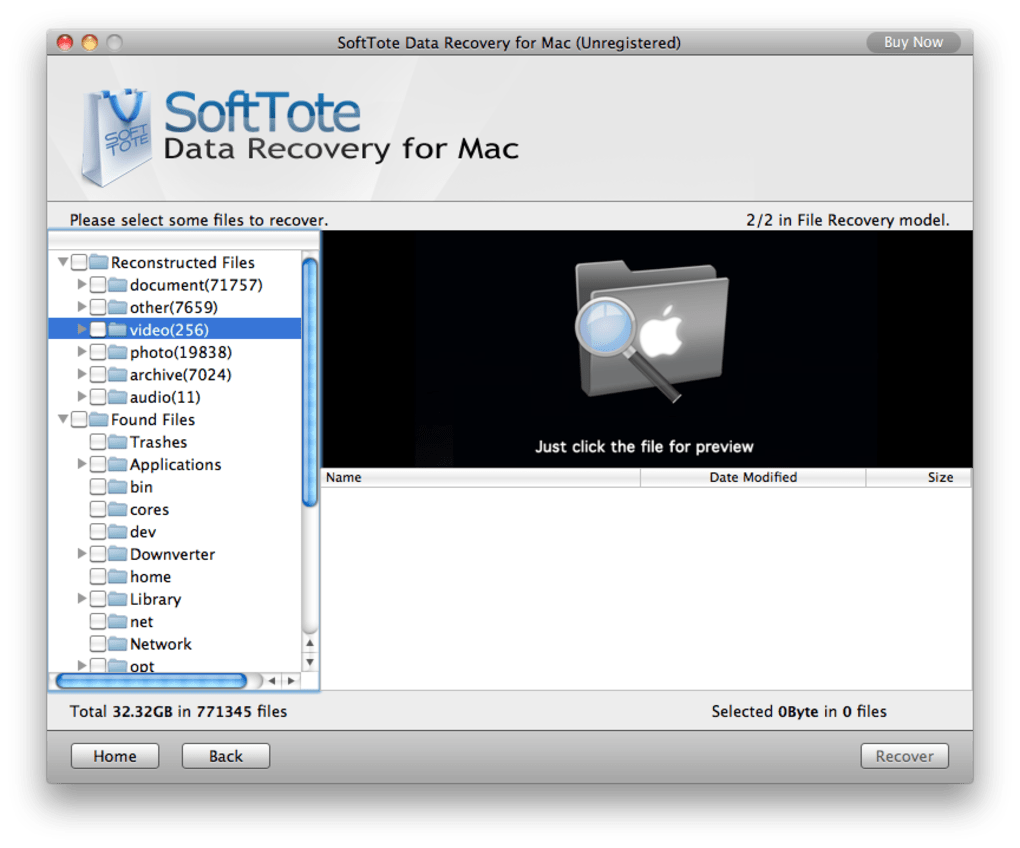 Softtote Data Recovery Mac is a comprehensive software for recovering files on Mac. It can retrieve lost or deleted files and recover data from formatted drives and missing partitions.
The tool can rescue data from corrupted or erased HDDs, USB flash drives, cameras, memory cards, and MP3/MP4 players.
Features and Using
With Softtote Data Recovery Mac, you can preview files before initiating the recovery process.
The user interface is designed to assist novice computer users in restoring their lost data.
The software utilizes advanced search technology to locate and recover as many files as possible.
However, according to our experience, the tool has a limited number of supported file formats. Therefore, it may not be suitable for complex data loss situations. Nonetheless, you can take advantage of its 1 GB of free recovery before considering an upgrade, allowing you to test its functionality for your needs.
The utility works with macOS High Sierra 10.13 and earlier versions, including Mac OS X 10.6. It can recover data from HFS+, HFS Wrapper, HFS, HFSX, NTFS, and FAT file system volumes while maintaining the original file structure.
Pros and Cons
Recovery wizards to guide you in recovering files, photos, or partitions
Preview feature for reviewing found files before recovery
User-friendly interface that is easy to navigate
Utilizes RAW searching technology for more effective recovery
Does not support the latest macOS versions
Lacks direct customer support
Price
Data Rescue 6 for Mac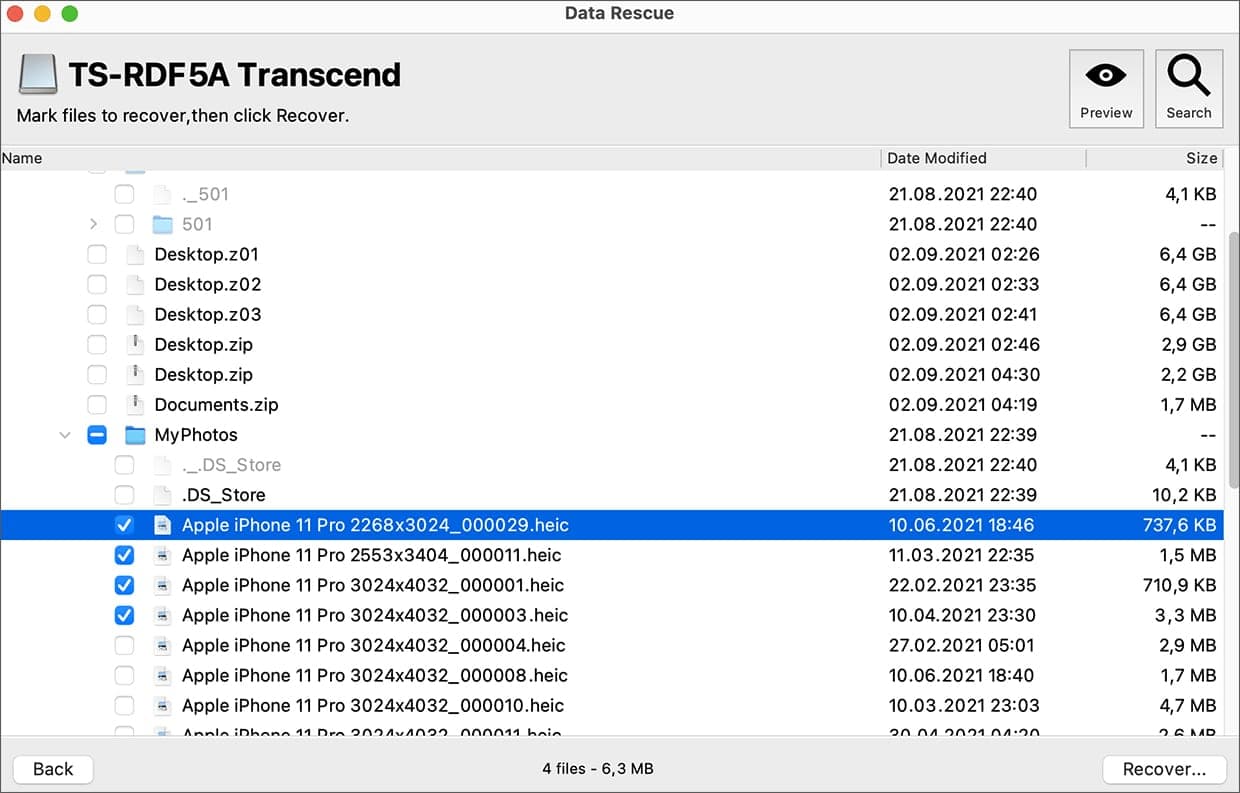 Ideal for those seeking the best value in data recovery, Data Rescue 6 for Mac is a highly regarded software designed with regular users in mind.
This Mac data recovery software offers comprehensive features for recovering deleted data and files.
Features and Using
The Data Rescue software provides two scanning options: Quick Scan and Deep Scan.
The Quick Scan feature operates swiftly, while the Deep Scan option takes longer but offers a more thorough search.
Once the scan is complete, you can utilize the preview feature to examine files before initiating the recovery process.
While the software's user experience may not be as modern and seamless as Disk Drill, it compensates with its affordable price, making it an excellent data recovery option.
Pros and Cons
User-friendly interface
Easy to navigate
Compatible with Time Machine
Ability to clone a hard drive
Access to previous scan results
Email notifications for progress updates
Option to select the scan source
Limited functionality in the free version
Basic data recovery capabilities
Price
Standard: from $19
Professional: $399.96
R-Studio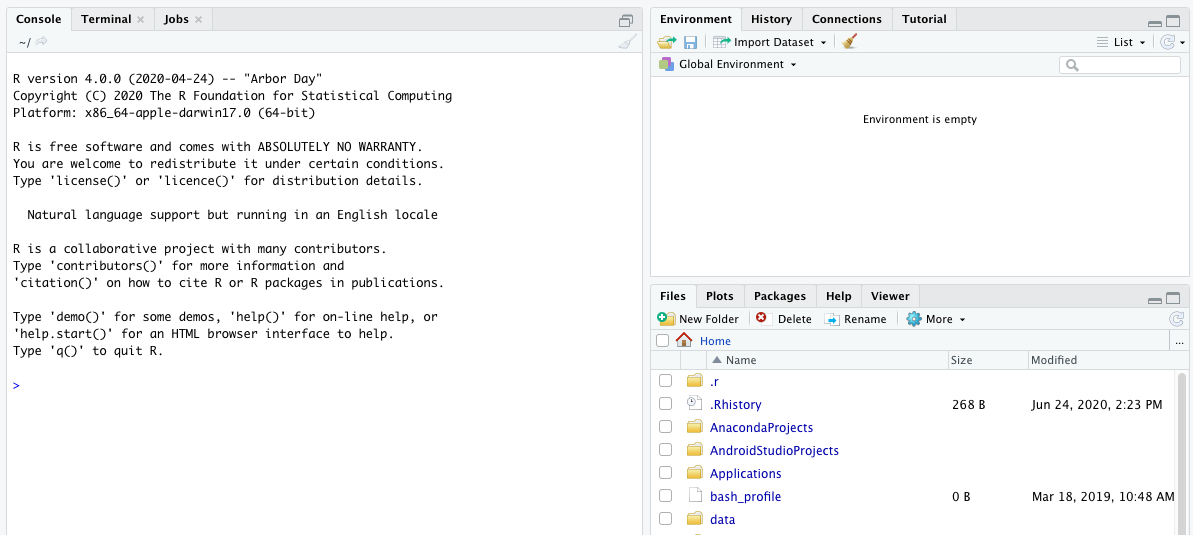 R-Studio is an advanced file recovery software designed specifically for Mac OS X. It offers many features and capabilities to help you recover your precious files, even in heavily damaged or unknown file systems.
Features and Using
With R-Studio for Mac, you can easily recover files from various partitions, including APFS, HFS+, HFS (Macintosh), FAT, NTFS, ReFS (Windows), UFS1, UFS2 (FreeBSD, OpenBSD, NetBSD, Solaris), and Ext2/Ext3/Ext4 FS (Linux).
It handles severe file damage, ensuring your data retrieval efforts succeed.
Additionally, R-Studio includes a professional hex editor, adding value to this comprehensive data recovery software.
For network administrators dealing with data breaches, R-Studio for Mac also supports data recovery over local networks.
While R-Studio may not boast the same visually pleasing interface as Disk Drill or Data Rescue, it prioritizes functionality over design. Despite its utilitarian appearance, R-Studio effectively performs its core purpose.
Through trial and error, we found that it successfully located and displayed recoverable files, demonstrating its stability.
Pros and Cons
Employs powerful data recovery algorithms
Offers a quick scanning process
Bundles professional data recovery tools
Supports recovery over local networks
Designed with professionals in mind
Considered relatively expensive
Interface can feel overwhelming due to excessive features
Does not support Android and iPhone data recovery
Price
Recoverit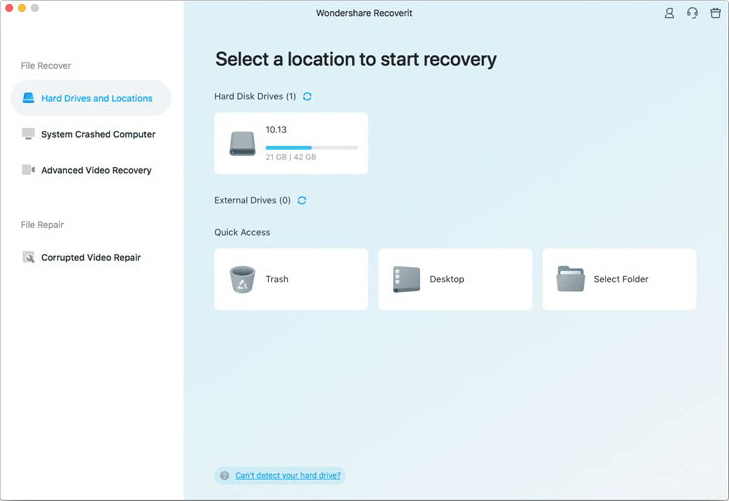 Recoverit, a remarkable data recovery app for Mac, specializes in restoring lost files and recovering data from various devices. With its extensive support for large devices, it offers a hassle-free three-step recovery process, making the retrieval of your deleted files a breeze.
Features and Using
Having assisted users since 2003, Recoverit has garnered the trust of millions worldwide.
It has proven effective in retrieving data across various scenarios, including files deleted from the Trash, accidentally formatted disks, and data lost due to virus attacks.
It supports external drives, SSDs, memory cards, and numerous other devices. With support for hundreds of file types, including popular video, image, audio, and document formats, Recoverit ensures comprehensive data recovery.
Utilizing Recoverit was a seamless experience. Simply launch the application, initiate a scan on your Mac, and witness its prowess in locating and previewing your files. You can then effortlessly recover them without any hassle. True to its word, Recoverit delivers on its promises.
Pros and Cons
Preview files before initiating recovery
Wide compatibility with various disk-based storage devices
Streamlined recovery process for user convenience
Limited functionality in the free trial version
Lack of comprehensive data protection tools
User interface could be more user-friendly
Price
Essential: $89.95
Standard: $139.95
Advanced: $159.95
TestDisk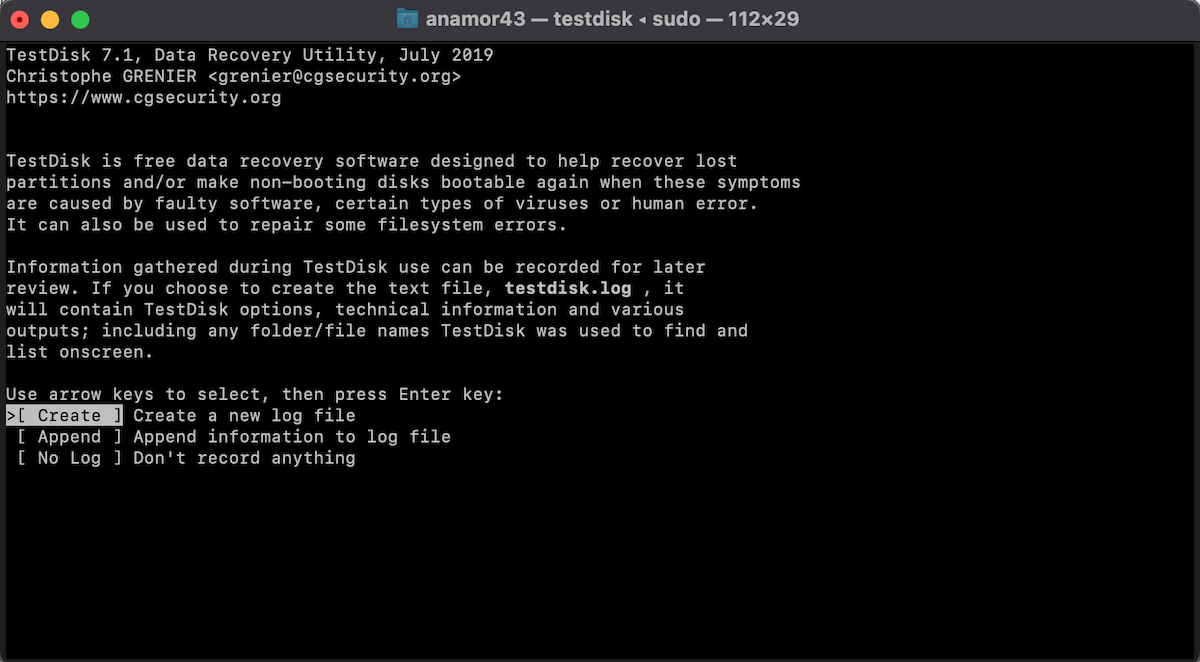 If you need reliable data recovery software for Mac that specializes in recovering deleted files, TestDisk for Mac is an excellent choice.
Features and Using
This software offers a command line interface instead of a graphical user interface, which may initially seem intimidating, especially for beginners.
However, it compensates for this with its powerful data recovery algorithms and comprehensive support for various file systems. Don't let the command line interface discourage you from trying it.
The data recovery process with TestDisk involves using a textual interface, which might require some time to get accustomed to.
Since it's a free tool, there's no harm in downloading it and following a step-by-step guide provided for its usage.
In terms of actual data recovery, TestDisk performs admirably.
It successfully located files on my Mac and even allowed me to recover a file from the Trash without complications.
If you're seeking the best data recovery software for Mac, particularly one that can recover deleted files, TestDisk is a strong contender.
Pros and Cons
It has been developed and refined over time, making it a reliable choice for recovering your valuable data
It offers extensive compatibility with various file systems, ensuring that it can handle a wide range of scenarios
Delivers impressive results when it comes to recovering lost or deleted data
The lack of a graphical user interface might be inconvenient for users who prefer a more user-friendly experience
Due to its textual interface, understanding and interpreting the results can be a bit confusing initially
Price
Free and open-source software
Conclusion
The top Mac data recovery software list offers a range of significant features that ensure comprehensive data recovery benefits. Choosing the right software based on your specific file recovery requirements and circumstances is relatively simple.
It's important to consider factors such as compatibility with different operating and file systems. Additionally, ease of use is crucial, as user-friendly software requires no technical expertise and is preferable to those requiring proficiency.
Is It Safe to Use Data Recovery Software?
Yes, the majority of data recovery programs are considered safe. All the programs listed here are verified to be safe so that you can download them without any concerns.
However, if you choose to obtain software from other sources, ensuring it originates from a trusted and reliable provider is essential.
In What Situations Does a Mac Data Recovery Tool Operate Effectively?
If you have accidentally deleted a file on your Mac, there is still hope for data recovery. It is crucial to discontinue using your Mac immediately after performing actions such as emptying the Trash, deleting a volume, or erasing a drive. It is also essential that your Mac can boot up properly.
Moreover, if you have stored the deleted file on an external storage drive, you can still recover it by utilizing file recovery software. However, remember that successful recovery depends on the connected storage drive being detectable in Disk Utility, even if it appears grayed out or in the System Information tool.
Does a Free, Unlimited Data Recovery Software for Mac Exist?
Yes, indeed. TestDisk is a free, open-source file recovery software for Mac, Windows, and Linux. It empowers you to retrieve recovered files in various formats without any constraints.
Why Isn't Mac Data Recovery Guru Included in the List?
We decided to exclude this application from the list due to its negative reviews. It appears that Mac Data Recovery Guru frequently fails to meet user expectations.
What Is the Cost Associated with Mac Data Recovery?
The cost of Mac data recovery can vary depending on several factors, such as the extent of data loss, the complexity of the recovery process, the chosen data retrieval service provider, and any additional services required.
If you are seeking a cost-free solution, TestDisk is a viable choice. However, if you are open to paid options, they typically range around $100. Many paid options offer a trial period, allowing you to evaluate their effectiveness before purchasing.
What Is the Procedure for Retrieving Files From a Mac That Is Unable to Boot?
If you find yourself needing to retrieve files from an unbootable Mac's disk drive, you will likely need to consider utilizing a data retrieval service.
Mac recovery software requires the disk to be accessible to the operating system, and if your Mac won't boot, the device remains invisible to the OS.