Track a Cell Phone Location Without Them Knowing
Wondering how to track an iPhone by phone number without them knowing? The modern world is a scary place, but luckily, advanced technology gives us excellent means such as surveillance phone apps.
They make us confident that our partner, spouse, children, and other nearest and dearest are safe. These phone apps are easy-to-install and work in a stealth mode. Therefore, your target won't realize that you are spying or trying to hack his/her Facebook, monitoring activity and locations, and gathering information about the visited places. How to do it without someone's permission? Read on to find out how to track a cell phone location without them knowing.
Why would you start thinking of installing a secret phone tracker to track the location of another smartphone user?
Do you have a reason to buy an iPhone locator? Do you want to protect your relationship? Do you want to keep an eye on your kids or aging parents? Do you want to control your employees in working environments and monitor their activities remotely? Don't worry about these issues anymore. Follow our useful tips on how to select a suitable track phone application for your needs.
How to Track Someone by Phone Number Without Them Knowing
The best way to track someone's phone without them knowing is to use a phone tracker app. Of course, you will need to make sure that it is a hidden app, which they cannot remove. If you want to use this type of software, it is easy to install, though you will need to have access to their device to install the app there. One way to get around this is to give them a phone with the hidden app preinstalled. Install the app on their phone, and it will be hidden while sending data to the app servers.
You will be able to view all the info on the app's online platform. Depending on which software you choose, you can monitor the phone's location, social media accounts, calls, text messages, chat apps, browsing history, and more. We recommend mSpy as the most advanced phone tracker app you can use without permission.
mSpy – Best phone tracker app without permission
Wondering how to track an iPhone without them knowing and take advantages of more powerful features? Download mSpy that works on iOS and Android.
What are the capabilities of this cell phone tracking app?
Using mSpy app, you'll have access to:
Track cell phone call logs and monitor all calls
View social media-related activity and see posts on Facebook and other platforms
Intercept text messages and check photos and videos
View browsing history and know what websites your teenager visits
Monitor messaging apps such as Viber, Skype, Whatsapp, Instagram
Get instant access to your mSpy account from your computer or any other device and monitor multiple phone devices if needed. If you want to track a phone with more robust features, read more on cell phone spy app reviews here.
How to Track Phone Location?
There is a large number of cell phone tracker apps on the market that allows you to put a GPS tracking device on a cell phone. There are options to track a cell phone location for free.
Find My Friends app is one of the easiest ways to track someone's smartphone because it comes as a built-in feature with every new iOS phone. The problem is you will need to access their mobile phone for a short period, just a few minutes, to enable this free phone app which was designed for iPhone and iPad.
How to Track A Cell Phone Location by Number for Free
There are a few things you can do to track a phone's location using the phone number. First, you can look up its location using yellow pages or white pages. These services use public records that can sometimes contain a wealth of information. Sometimes a Google search of the number can tell you a lot, mainly if it has frequently been used for spam calls. Phone carriers can track the location of any device connected to their services.
However, they will not likely share this information since it would be a breach of privacy. If you need to track the exact location of a mobile device, you will need a phone tracking app, or, better yet, a spy app.
Free Phone Tracking apps
There are plenty of free apps you can use to track the location of a cell phone. We will discuss a few of them. Of course, you should keep in mind that these free apps are not hidden, so the phone's user may know they are there and can remove them at any time. Still, they can be handy if you want to know your friends, kids' or employee's location.
1. Track an iPhone via Find My Friends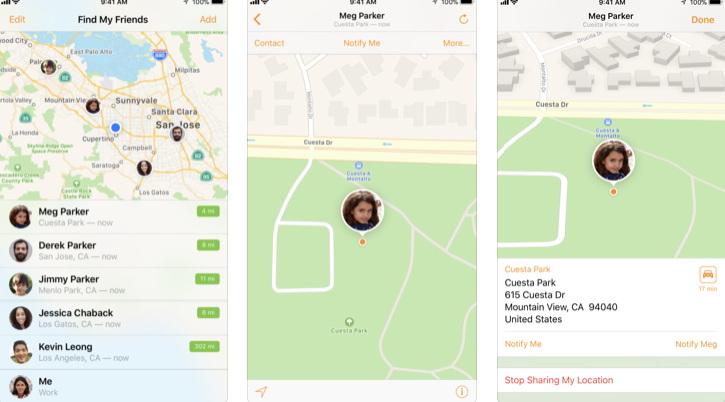 Find my Friends is designed as a family-friendly app. Each user can choose to switch off location sharing whenever they want. Of course, if you see location being switched off by your children, spouse, or employees, you will know that something is up. But that will only tell you so much, and will not be much help in case of an emergency.
Enable "Share My Location" on your iPhone.
Choose your email address or phone number from the list of contacts, send a message with an invitation to your phone to monitor the target's location.
Accept the invitation but don't share your location if you don't want your phone to be followed.
Check incoming emails or SMS on your cell phone.
Hide this program on their phone to follow the locations and be completely sure they won't suspect you of doing this.
Find my Friends has plenty of other drawbacks when compared to spyware such as mSpy. It is easy to find, switch off, and remove. It will give you no additional information, such as chat monitoring, call logs, social media monitoring, keylogger, etc.
2. Track an iPhone without them knowing via Find My iPhone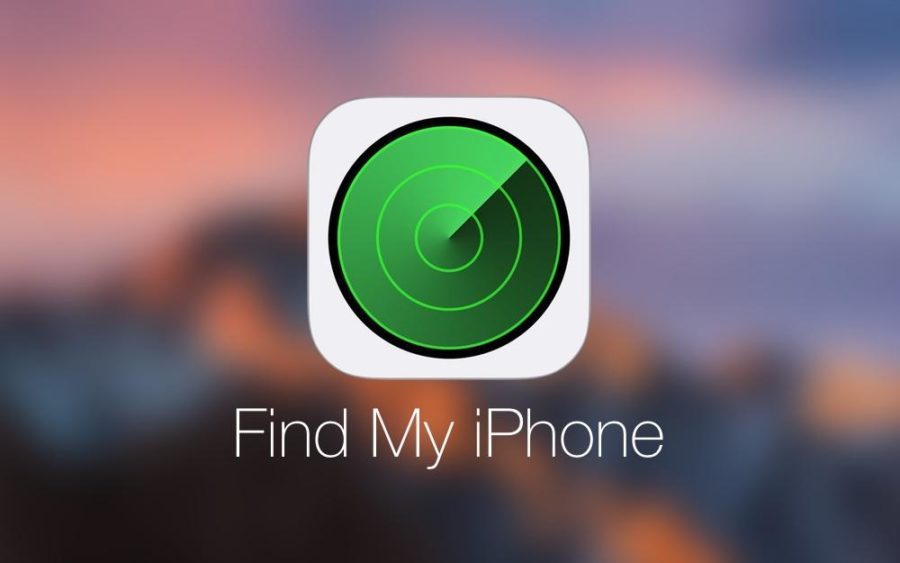 Find My iPhone is an excellent app for finding a missing Apple device. It will show you the location of any iPhone, iPad, Apple Watch, iPod touch, Mac, or set of AirPods on a map. It also features an Activation Lock to prevent anyone from being able to use your missing device in case it gets lost or stolen.
You can use it to track someone else phone as well, though you will need them to install it, using their Apple ID. It makes it challenging to use without them knowing. But if you have access to their phone, as well as their Apple ID, and they are not tech-savvy, it could work.
This app has a limitation, however. You can only use it on Apple devices, and you cannot track an iPhone. If you want to track someone else's phone with the app, you will have to use Apple Family Sharing.
3. Track an Android Phone without them knowing for free: Find My Device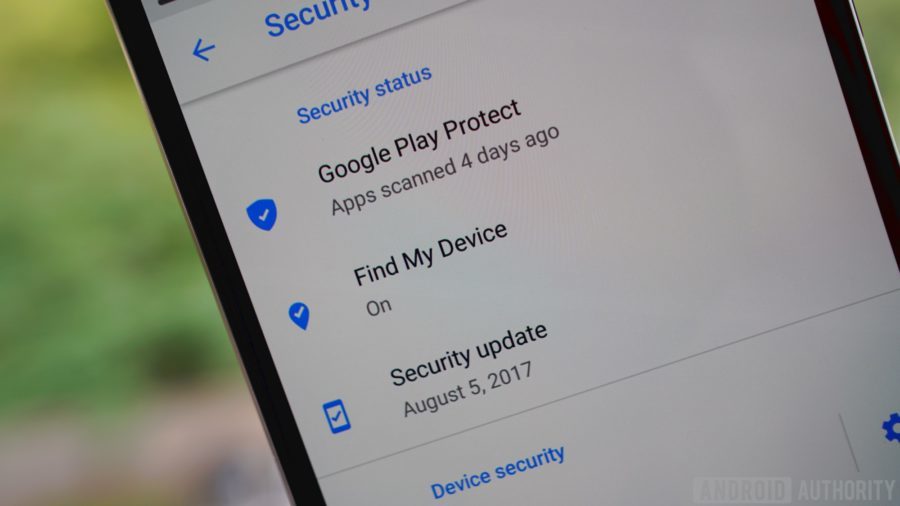 Find my Device is similar to Find My iPhone, but it is for Android devices only. It is offered by Google as part of Google Play Protect. It will use Google tracking to help you locate your missing phone, watch, or tablet.
Besides standard Google Maps, it also offers indoor maps for airports and large buildings. It will also play a sound to help you see where your missing device is. As a last measure, you can use it to erase or lock the device, displaying only a custom message and contact number on the screen. This feature is irreversible, meaning you will have to reboot the device after, losing all information stored on the device.
If you want to use this feature to track someone's phone, make sure the phone is registered as an active device on your personal Google account. If it is, all you need to do is:
Go to the Google Find Device Platform
Log in using your Google Account
It is very simple to do this for a device belonging to a small child, though getting access to an adult's Google account is probably more complicated.
4. Track a Cell Phone Remotely: Find My Mobile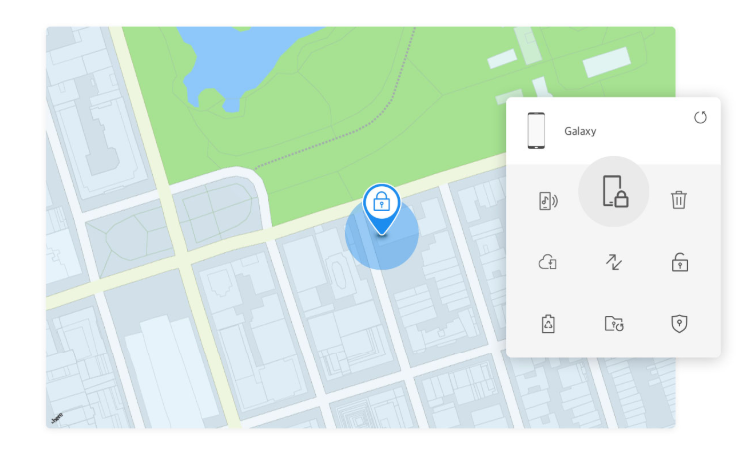 Find My Mobile is similar to Google's Find My Device. It is a Samsung to help you find your missing Samsung Device and protect your data. It can even unlock your Samsung phone if you forget your password or PIN. If you want to use it, follow these two steps:
Head to Samsung's Find My Mobile
Log in using your Samsung ID
If you want to use Find My Mobile to track a cell phone location without them knowing, all you need is their Samsung ID.
One way to do this would be to give them a Samsung phone where you already set up the Samsung ID. This method has certain drawbacks, however. It will not show you a location history, nor will it send you alerts, meaning you will have to log in regularly to know where they are. You will also not get the advanced features for tracking and parental controls you would get with apps like FlexiSPY or Qustodio.
How to Track an iPhone by Phone Number without Them Knowing and without Installing a Software
What if you cannot install software on the target cell phone? How to track an iPhone by phone number without them knowing?
There is a method for existing GSM networks. Some mobile operators offer services in locating a phone if you can provide documents that prove you are a relative of a target person. But there is a problem. You will need his/her permission on phone surveillance to track a phone with a sim card anytime anywhere.
Your target person doesn't have to make calls to be located. But he/she will know you are tracking them.
Spy Apps: the Best Way to Track A Cell Phone Location by Number Without Them Knowing
Are you looking for even more advanced tracking functionality? Free Google, iPhone, and Samsung apps will only go so far. If you are looking for the next level of tracking, or hidden apps, we suggest downloading and installing spy software or parental control software. Both of these types of apps offer advanced monitoring features.
FlexiSPY – The Ultimate Spy App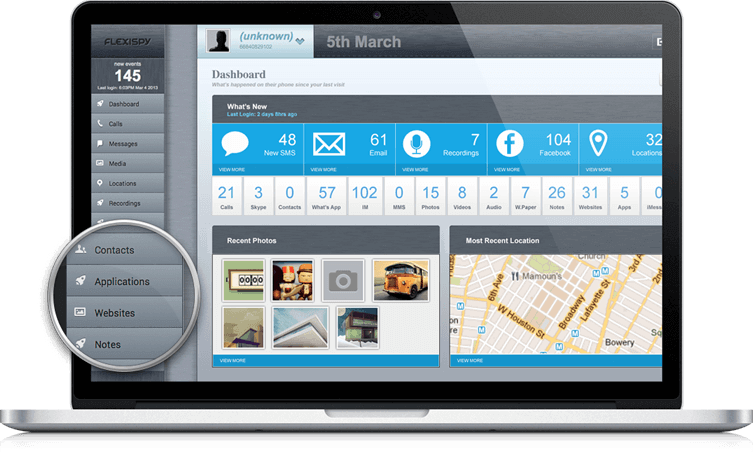 FlexiSPY has the complete package when it comes to tracking a cell phone location without the user knowing. It offers location tracking, and you can set up geofencing, which will send you alerts any time it enters a restricted zone on the map. You can also use it to browse messages, track Snapchat, WhatsApp, Instagram, Tinder, and more. It will keep track of every keystroke, using the built-in keylogger. You can even listen in on calls, record calls, and use the device to record the surroundings, take photos, and also make remote videos with your target device.
Qustodio – Parental Controls to Keep Your Kids Safe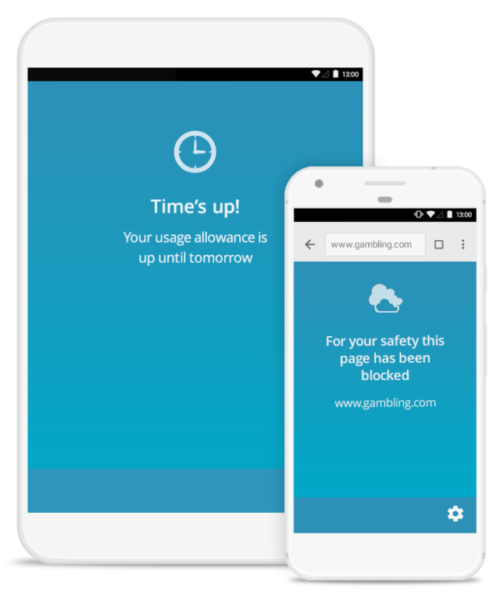 While FlexiSPY is the most advanced spy app, Qustodio is much more of an app for parental control. It will monitor your child's location and features a panic button that will alert you in case of an emergency. The software will also help you monitor and set limits to screen time on various apps, including Snapchat, Facebook, Twitter, Instagram, or WhatsApp. It is less secret than mSpy or FlexiSPY and will help your child understand what is being blocked and why. It is also an effective porn blocker, making it one of the best apps for parental supervision.
Conclusion
These days, every responsible person should take advantage of state-of-the-art solutions that technological progress offers to us. It may be crucial to get access to updated data about the whereabouts of people we care.
In this article, we have discussed some main ideas on how to track a cell phone without them knowing.
Do you have any experience in using tracking phone apps to obtain remote control of a child's online activity and messaging? Can you recommend any advanced surveillance app for a cell phone that we should include on our list? Tell us about the methods you employ to track someone's phone in the comments.