WebWatcher App Review | Do You Need to Buy It?
We decided to highlight all peculiarities of WebWatcher in the following review. Comparing to new rising software like mSpy, WebWatcher was founded in 2002 by Awareness Technologies.
The app has proven itself as one of the leaders in computer and cell phone monitoring software.
WebWatcher is worth your attention because it runs on all popular operating systems and platforms like PC, Mac, Android, and iPhone/iPad.
✔ Having children is like one more job for parents, especially when they enter school.
You start to worry about internet usage affecting their home tasks and other school activities, as well as where he or she spends free time.
Installing a parental control monitoring app like WebWatcher on the child's target device is the answer.
✔ For business owners, the company is like a big family, so you require the info about your employees when you cannot control them directly. Luckily, there is a solution.
A wide variety of cell tracking apps and spy apps for monitoring corporate devices helps to control the situation.
General Overview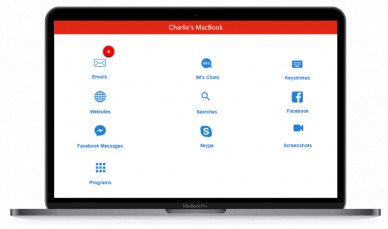 Over a million people use WebWatcher. The audience of the program includes two target groups: people with parental control motivation and managers.
For both groups, WebWatcher's features help to be in the know, secure net, provide practical options to monitor both deleted & recorded data (including app usage, files, activity on social media platforms, etc.) and ensure almost complete control of every target device.
This app is much more potent than the other applications. It leads to WebWwatcher's pros and cons:
Pros:
Excellent at recording and filtering web history
Compatible with 5 operating systems (Windows 10/8/7, macOS, iOS, Android, Chrome operating system)
No rooting, jailbreaking, or sophisticated hardware required
Spies on most in-demand social media (TikTok, Tinder, Instagram, Kik, Viber, WhatsApp, Facebook Messenger
It takes just 5 minutes to install
24/7 customer service
Reliable refund policy
Cons:
Requires additional payments for updates and several services ("white glove" aka remote installation, screenshots, email alerts, etc.)
Available features vary depending on the target device (limited functionality for PCs)
Monitoring multiple devices at once is not possible.
Tech-savvy users can easily bypass blocking features.
The reports are automatically deleted after some time.
The software is comparatively pricey.
No free trial
Webwatcher features on different platforms
The program gives the same multiple functions for both PC and Mac, while the mobile versions are slightly different.
Here are WebWatcher's similar features for Mac, PC, Android, and iPhone/iPad:
WebWatcher is protected from tamper.
App views activity in the control panel with a neat user interface from a remote cell phone or another device.
You get notifications on the alert words typed or received on the target device.
It includes web-based customer support.
The app allows seeing Internet site history in several browsers.
Additional WebWatcher app features for personal computers
WebWatcher covers all computers with Windows 8/7 and newer, all Chromebooks, and all macOS PCs starting from 10.8.
As the provider noted, compatibility with other operating systems is not guaranteed, but possible. WebWatcher features on PC or Mac also include the following:
You can see website searches at most of the searching engines.
Simply see all that goes through significant email programs and webmail.
Skype tracking
Read all keystrokes typed, even deleted ones.
Get information about instant messages and view them.
Terminate any program with program blocking option
Alert Word Screenshots
See reports about LinkedIn usage.
Get a review of the Facebook Messenger and other FB activities.
Due to a user-friendly interface, it is easy to go through body texts and also find all required data about email recipients, subject, day/time, and more.
WebWatcher parental control app shows both sides of instant messages and chat conversations. The program covers all major messaging applications and web-based chats. You will see not only Facebook messages; the app allows you to get notification about Facebook account activities.
WebWatcher on a PC or Mac will also make screenshots whenever alert words are used. If you want, you can find and read every keystroke ever typed and even deleted.
Finally, there is an option to block any program on the PC or Mac you wish, on time-based schedule or permanently.
Extra WebWatcher Functions for Android, iPhone or iPad Users
The dominant application gives almost total control of the device. You can:
View sent photos or pictures from a camera roll.
See all text messages (SMS and others). It helps to prevent "sexting."
Quickly see the entire call logs history as if it was your phone.
Record deleted text messages (in basic on Android; for iPhone, you need an extra package).
Put the GPS tracker on the phone immediately.
There are also advanced features that will be available with Unlimited Update Package for an additional $29.95, such as GPS Locations and deleted text messages from iPhone, Viber, Snapchat, WhatsApp, Installed Apps, etc.
How does WebWatcher work?
It takes only five or fewer minutes for the installation to get a remote view of the target person's activities.
The application does not appear in all places where it can tamper, such as Process List, App List, Task Manager, Desktop, Registry, System Tray, or in Add/Remove programs.
To ensure proper use, a company requires a user to have both password and physical access.
WebWatcher starts recording activities remotely and then sends all monitored information to your secure online account. After that, you can download recorded data to any of your devices.
If a user selects any words as triggers, the app will send an email every time these words are viewed on the screen of the target phone or typed.
Using this program, you will monitor the website history in popular browsers. A great option here is that you will see not only the list of visited sites but the exact time and duration of using them.
How much is WebWatcher?
The application offers licensing for PC, Mac OS, Android, or iPhone/iPad for $99.95.
You should pay an additional $9.95 to get a backup insurance program and have an option to reinstall it anytime you want.
How much is an Unlimited Webwatcher?
Developed Unlimited Update Package for mobile devices costs an additional $29.95 and gives more extensive configuration.
If you need to download recorded content directly to your email, you need e-Notify for an additional $29.95.
WebWatcher's overall customer experience
WebWatcher Reviews
Being a winner of the 2019 National Parenting Product Awards and the Editor's Choice of the PCMag, WebWatcher is hard to overlook.
It has more than 2600 reviews on the Google Play market with an average score of 4.4, which is pretty impressive. 3.5 stars out of 5 on Trustpilot are also a good result for a monitoring app.
Customer Support
With the year-round 24/7 support, WebWatcher's customers can rest assured that all their questions will be answered promptly.
All you have to do to reach out is to fill in the contact form on the official website if you prefer email or make use of live chat. The phone number and the physical address are also stated on the Contact page.
Is WebWatcher a good program?
WebWatcher is far from being a simple application. It is a powerful tool to control every single byte that goes through target devices. If you need such an app for your investigation, the program is perfect for you.
However, the proper use of the program is entirely up to users. Please don't misuse WebWatcher. If you have some questions or doubts about operating it in specific circumstances, consult specialists about terms and compliance with laws.
Without any doubt, WebWatcher can prevent many bad things. Some ingenious person said that it is better to overestimate the danger than to expose kids to risk—download WebWatcher parental control app to keep your child away from the significant threats.
Although there's no free trial, the risk-free money-back guarantee will help you to determine if it's the right software for your needs without really reaching for the wallet.
You may also find more useful reviews about various spying apps on our website.
They provide basic or advanced monitoring features for different purposes. Just pick the most suitable and start enjoying it!