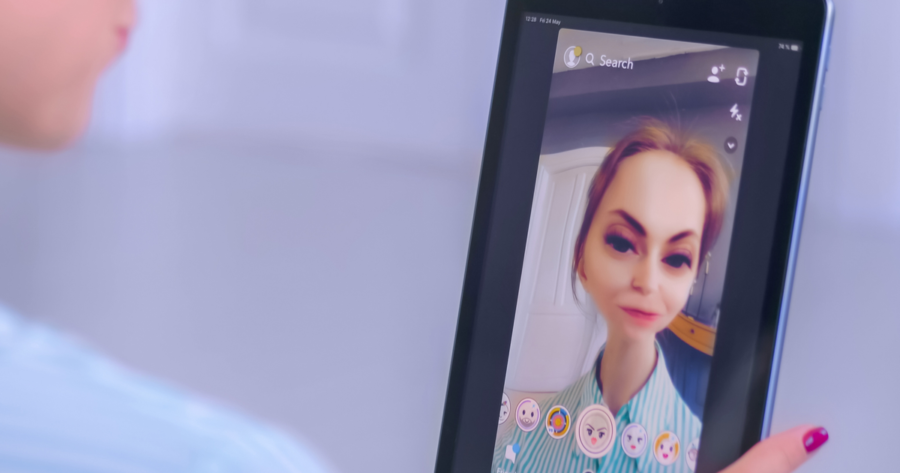 There are plenty of potential reasons to hack someone's Snapchat password. Nowadays, almost all children have smartphones and tablets with an internet connection. Though this may be beneficial, giving them access to entertainment, communication, and education, it also puts them at potential risk. Using Snapchat or other communication apps, they could be at risk from online predators, bullies, stalkers, and undesirable friends. What better way to communicate secretly than an app that deletes all messages automatically. It is also a favorite app for sexting. If you suspect the wrong people are contacting your child, you may have to use a Snapchat password hack.
Another reason to hack a Snapchat password is fidelity issues. Cheating partners use it as the app of choice since it has a bit more secrecy than other apps. If all messages are deleted, how will you ever find the evidence? And so how to hack someone's Snapchat password? If you want to know the truth, you may need a Snapchat password hack tool.
Why is the messaging app so different?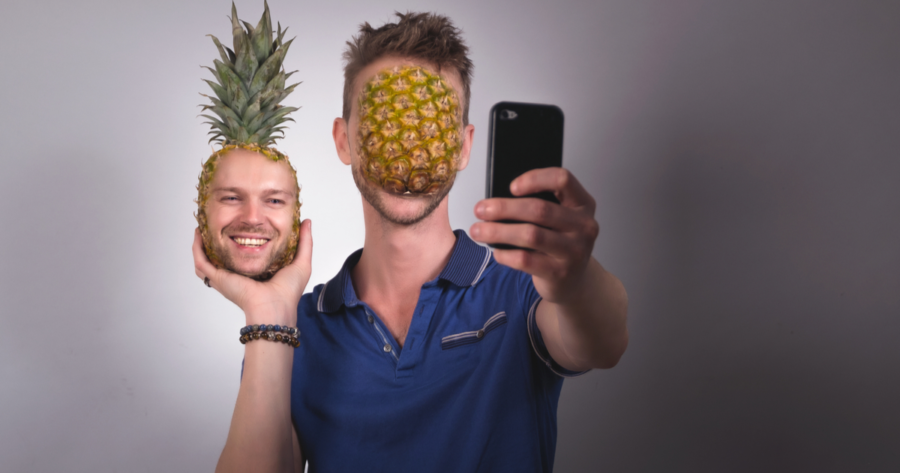 Snapchat offers similar services to other chat apps. Allowing users to share location, make calls, and send voice messages, images, and videos. However, it is very different from WhatsApp, Messenger, Instagram, or Line-in one crucial way. It deletes all messages automatically and sends an alert to the user if the other person takes a screenshot. That makes it the perfect app for flirting and hookups since all evidence is automatically destroyed. This secrecy is why it has become the app for choice for many youngsters, allowing them to keep their conversations secret from prying adult eyes. If you want to find out what is being sent before it is deleted, you will need a Snapchat password hack.
The best solutions for Snapchat password hack
If you want to find out what someone is sharing, you will have to install a spy app on his or her mobile device. It may sound complicated, but it is, elementary.
Choose the software you want and download it to your target device. Once there, the software will install itself while deleting its launch icon. It will save all Snapchat messages to the app server before the platform removes them. That way, you can access them from the app's website through a secured online portal.
You can also track other apps such as WhatsApp, Viber, Facebook, Tinder, Telegram, and more. Many spy apps also have a keylogger; this feature will let you know what the device's user is typing. That way, you will see the password to Snapchat, but also which websites they visit, and what they are typing on other chat apps as well.
Hack Snapchat password with mSpy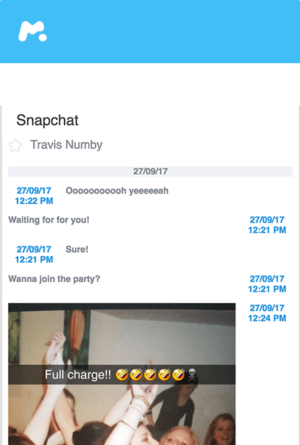 mSpy is the world's best and most often used spy app. It functions as a Snapchat password hack app and more. Once you download it on your target device, it will send you virtually everything about the tool. You can use it to track all social media, including Snapchat, WhatsApp, Twitter, and Instagram. It has a keylogger that tracks every keystroke typed to access to passwords type, but also all messages ever sent and all URLs ever visited.
That way, you will never lose your target's Snapchat messages as it sends up-to-date screenshots of Snapchat activity, even deleted messages. Besides, you will be able to check all outgoing Snapchat data remotely from your control panel and track its exact time and data. However, hacking isn't the right word for using mSpy app. The app gives you total control over the phone, including all social media content.
To get a Snapchat password with mSpy: head to the mSpy website, purchase a license, and download mSpy to your target device. You will receive Snapchat updates, as well as much more for as long as your consent lasts. We recommend this app as it is the most reliable and most complete hack app, both for Android and iOS.
What is Snapbreaker?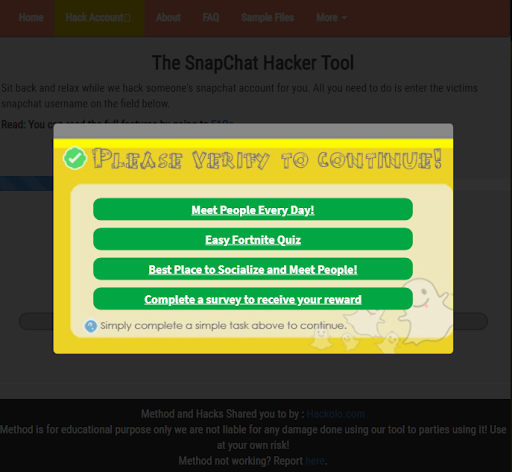 Snapbreaker is another well-advertised Snapchat password hack tool. It says that all you need to do is add a Snapchat name to hack someone's Snapchat password. Then, you can access to deleted images, chats and videos.
It seems a bit easy, doesn't it?
The truth is, the site will ask you to perform tasks to access this "free service". These tasks involve visiting spammy and useless sites, like fake dating sites.
We suggest staying away from the websites since it contains malicious shareware and only proven ways to know about personal details.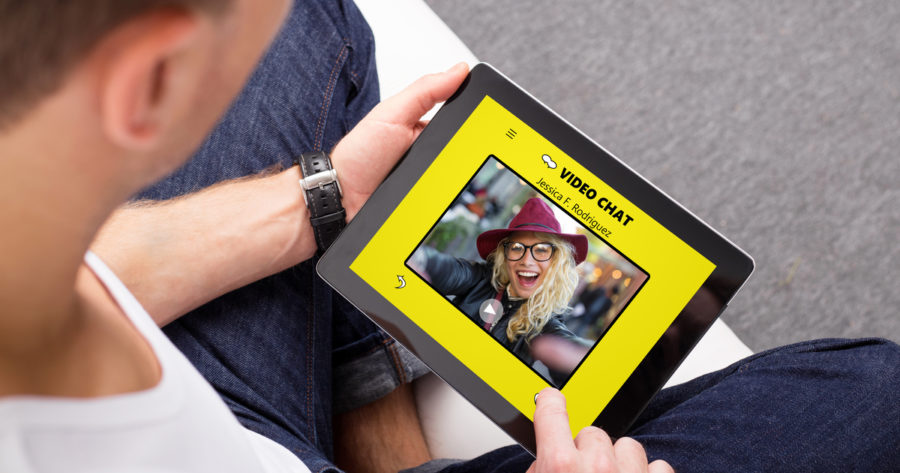 Highster Mobile is an excellent tool to hack a Snapchat password that proved itself on the market. Social media monitoring (including WhatsApp, Snapchat, Line, Tinder, and more), location tracking, geofencing, app management, and keylogger help in achieving your hacking goals.
Snapchat spying is also quite advanced Snapchat spy app. It allows you to extract all Snapchat data: Snaps, full Snapchat conversations, media files like photos and videos. On top of that, the app is entirely invisible meaning you can spy on someone's account without them knowing.
Using Spyzie for Snapchat password hack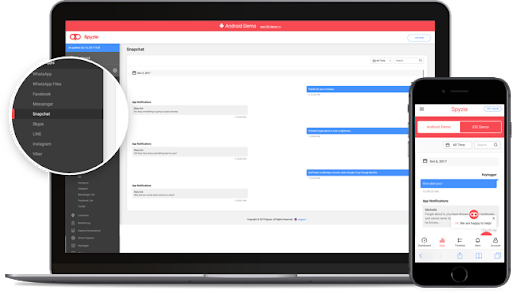 Spyzie has also become one of the well-known parental control apps. Most users want to use it as a spy app and find how to hack someone's Snapchat password. Spyzie claims itself as the world's spying software that has plenty of features for Android and iOS.
According to it, the application provides various functions: monitoring Snapchat on iOS without a jailbreak, the Snapchat location history, as well as all messages sent and received; automatic screenshots of Snapchat conversations.
Update: Based on a reader survey reporting issues: the app may have a varied list of features, but it doesn't work as described.
Why?
The 7-day trial doesn't work on iOS as promised.
Bugged functionality: sometimes it turns off your phone.
No information about the compatibility of software on different phones: e.g., To monitor social media, you need to root an Android device that isn't made clear on Spyzie's website. Do not buy for Android unless you can root your target phone.
Unacceptable customer support.
We do not dissuade you from using Spyzie app. However, take into consideration the mentioned above points to avoid unpleasant situations. You can always try a 7-day trial to find out whether it's worth your money and time.