Not so long ago, the loss of a cell phone meant you would have to buy a new device. Fortunately, things have changed since then, and now you can do the magic and identify the exact location of almost anything, including fridges and hoovers. Let us all thank the improvement in network infrastructure! If before, mobile phones were rarely connected to the Internet, nowadays, it is hardly possible to find a device that is not a part of the World Wide Web. And this web is used to find your device.
If you have no idea on what phone number finder tools may become in handy, we have prepared a full selection of the best applications that not only help you locate your phone but also block all its content in case the device is stolen.
Wheres My Droid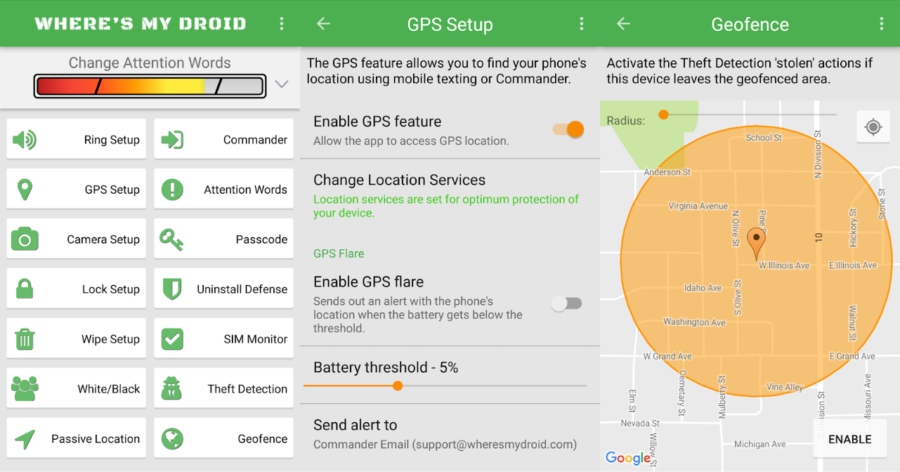 Wheres My Droid can rightly be called the most widely known and popular Android phone finder application. The utility allows you to find your phone using Google Maps or remotely adjust the sound volume on the device when you make a call. Thus, you are able to track the location of your gadget, even if the device is outside the mobile network as this can be done via SMS. Pro version of the application contains several interesting additions, allowing you, for example, to take a front camera photo from your stolen phone.
Need to know the exact coordinates of your spouse? Not sure if your child is at school now? Phone number trackers will help you get all your questions answered!
Android Lost (Free)
As its name suggests, Android Lost is a free and effective cell phone finder application that helps in finding a lost or stolen phone. Nevertheless, this is a great opportunity to make some unpleasant minor dirty tricks for someone who decided to use your smartphone. You are able to turn the GPS on and off, turn Wi-Fi on and off, activate the alarm and access the list of recent calls.
Find My Phone
The phone finder app is quite simple to use, and all you need to do is to send a text message "FindMe" to your number, and your phone will be found owing to the GPS data. To make a phone call, send a text message "ringaloud". If you have no other device to send a message from, you can do it from the website or from a friend's phone.
Cerberus
Cerberus has established itself as a solid anti-theft application for Android devices. It is also a great tile phone finder. The functional set of the solution was developed to protect the device from its loss or theft. The greatest features of the utility include location tracking, remote locking, SD card cleaning, and microphone recording. Cerberus will allow you to search and control up to three devices at the same time; what's more, you have the opportunity to enhance the set of functions in case you pay the subscription fee.
AntiDroidTheft
In case you want to be sure that you will be able to find your phone anytime you need it, we recommend using AntiDroidTheft. Along with the standard app package, you will get the standard function "to find your phone using GPS", as well as several additional features that will help you manage your lost phone. You will be able to track if anyone tries to change a SIM-card, view photos taken with a smartphone, and access a lot of other information.
If your device is stolen and some important information could be compromised, we recommend deleting history on your cell phone. It is a special spy app that will help you with the task.
avast! Anti-theft
The anti-virus developers decided not to stand aside from this problem. What is the finder app on my phone #1 — this is the mission Avast pursued when they were working on the Anti-theft app. In addition to the basic functionality — device location tracking, locking it and memory cleaning — the application boasts of some more interesting features like the remote snapshots, interception of the phone microphone, as well as sending a SIM change notification to another device. That's really useful! So if you are in search of a Samsung phone finder, as well as any other vendor, feel free to pick this one!
We hope we answered most frequent questions like "How does phone finder work", "How to use phone finder", or "What is the best phone finder app for Android" in this post. A stolen smartphone or tablet promises not only financial expenses but also a high probability of complete loss of valuable information and important documents. Fortunately, the capabilities of modern gadgets and related software can not only provide access to data on a stolen device but also simplify its search.